Hallmark Channel pulls, then reinstates ads featuring kiss between lesbian brides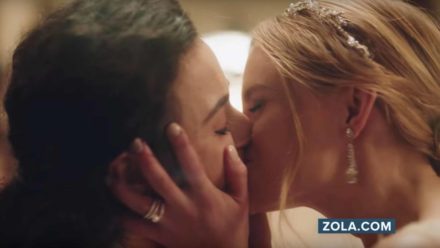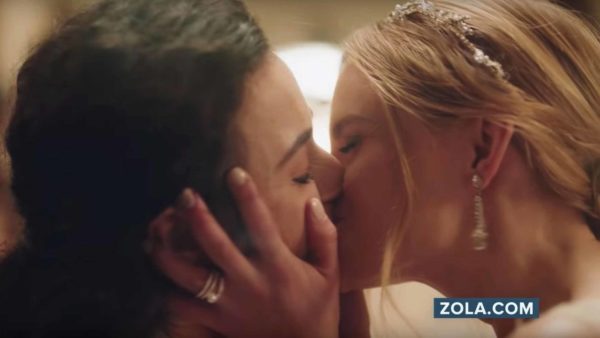 At the end of a tumultuous week for The Hallmark Channel, the pay television network has announced it would reverse its decision to pull several ads featuring a same-sex kiss.
The controversial commercials were among a series of six ads for Zola, a wedding planning website, which had been airing on the Hallmark Channel since Dec. 2. In all of the ads, couples standing at the altar for their wedding wonder if guests might have arrived on time and bought them better gifts if they had used Zola to create a custom wedding website. Most of the ads include a same-sex couple; while only one focused specifically on the lesbian brides, the two women were shown kissing in several of them.
According to the New York Times, the ads which featured same-sex kissing were pulled after the channel deemed their content "controversial." The decision was made by executives at the network after the anti-LGBTQ hate group, "One Million Moms," published a petition urging Hallmark to "please reconsider airing commercials with same-sex couples."
One Million Moms is a division of the conservative American Family Association, an organization that defines its mission as the "fight against indecency," and which has been listed by the Southern Poverty Law Center as a hate group for the "propagation of known falsehoods" and the use of "demonizing propaganda" against LGBTQ people.
Following the posting of the petition, anti-LGBTQ comments began to flood Hallmark's online message board, such as one from an unnamed user who said, "Why would you show a lesbian wedding commercial on the Hallmark Channel? Hallmark movies are family friendly, and you ruined it with the commercial."
On Thursday, Hallmark notified Zola via email that it was pulling four of the ads – the ones featuring a kiss between the two women – because the channel is "not allowed to accept creatives that are deemed controversial," according to an account representative from the television network.
On Friday, a Hallmark Channel spokesman implied in a statement that "overt public displays of affection… regardless of the participants," was against the network's current policy. However, later that evening, Hallmark's parent company, Crown Media Family Networks, issued a statement saying, "The debate surrounding these commercials on all sides was distracting from the purpose of our network, which is to provide entertainment value."
The response from Zola was one of both surprise and skepticism. The company's chief marketing officer, Mike Chi, commented that Zola had previously run ads featuring same-sex couples on the channel without incident. He also observed that the ads including kisses between same-sex couples were allowed to remain on the air.
Chi pointed out, "The only difference between the commercials that were flagged and the ones that were approved was that the commercials that did not meet Hallmark's standards included a lesbian couple kissing. Hallmark approved a commercial where a heterosexual couple kissed. All kisses, couples and marriages are equal celebrations of love and we will no longer be advertising on Hallmark."
Outcry was swift from the LGBTQ community and its advocates.
In a statement from GLAAD, president and CEO Sarah Kate Ellis said "The Hallmark Channel's decision to remove LGBTQ families in such a blatant way is discriminatory and especially hypocritical coming from a network that claims to present family programming and also recently stated they are 'open' to LGBTQ holiday movies. As so many other TV and cable networks showcase, LGBTQ families are part of family programming. Advertisers on The Hallmark Channel should see this news and question whether they want to be associated with a network that chooses to bow to fringe anti-LGBTQ activist groups, which solely exist to harm LGBTQ families."
In addition, GLAAD created a petition calling on the network to reinstate the ads.
Pro-LGBTQ voices also took to social media. The hashtags #boycotthallmark and #BoycottHallmarkChannel trended on Twitter over the weekend, with one commenter including a graphic featuring the word "Homophobic" using the same font and crown design used by Hallmark in its own branding.
#Halmark, any employees have #LGBTQ friends or family members? How do you make them feel, when you show support for anti-same sex marriage? Is this your idea of inclusiveness?#HallmarkChannel the Heart of TV for the #Homophobic#HomophobicHallmark #BoycottHallmarkChannel pic.twitter.com/YbJ13WQdeY

— WHY (@8w8h8y8) December 15, 2019
Then, on Sunday afternoon, Hallmark president and CEO Mike Perry issued a new statement, saying, "The Crown Media team has been agonizing over this decision as we've seen the hurt it has unintentionally caused. Said simply, they believe this was the wrong decision,"
The statement goes on to stress Hallmark's commitment to "diversity and inclusion," saying it has "the track record to prove it" and citing its publication of LGBTQ greeting cards, previous commercials featuring same-sex couples, and recognition it has received from HRC and Forbes for its inclusive business practices. It also announces the company's plan to work with GLAAD on how "to better represent the LGBTQ community," as well as its intention to reinstate the commercials from Zola.
Shortly afterward, GLAAD issued a statement, with Ellis saying, "The Hallmark Channel's decision to correct its mistake sends an important message to LGBTQ people and represents a major loss for fringe organizations, like One Million Moms, whose sole purpose is to hurt families like mine. LGBTQ people are, and will continue to be a part of advertisements and family programming and that will never change. GLAAD exists to hold brands like The Hallmark Channel accountable when they make discriminatory decisions and to proactively ensure families of all kinds are represented in fair and accurate ways."
Speaking on CNN immediately after Hallmark's announcement was released, Ellis confirmed Perry's statement that Hallmark and GLAAD would be working together, saying, "We're talking with them, we've been talking with them all weekend, because they want to do the right thing, and I think that the quick decision was the right thing. And now we have to watch and see what they do in the future."
DC Center to host estate planning seminar series
Three sessions presented by Murray Scheel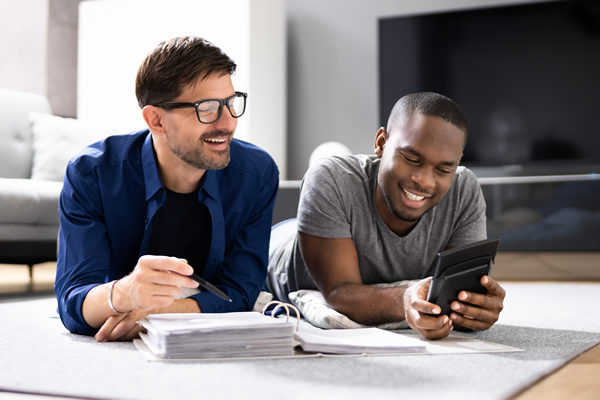 The DC Center for the LGBT Community and the DC Department on Aging and Community Living will host "Estate Planning Tools with Murray Scheel" via Zoom. 
Scheel will walk guests through the process of taking care of the end-of-life planning business that needs to be addressed during the golden years. Scheel is Senior Staff Attorney at Whitman-Walker Health's Legal Services.
This event series will consist of three 1.5-hour sessions:
Jan. 19, 3 p.m. – "Tools for while you're living" (overview, general power of attorney, healthcare power of attorney, disposition of remains, etc.)
Jan. 26, 3 p.m. – "Tools for after you're gone" (living wills, last wills, assets, etc.)
Feb. 2, 3 p.m. – "Healthcare insurance & long term care" (Medicare, Medicaid, correcting misinformation, skilled nursing, hospice care, etc.)
To register for this event, visit the DC Center website.
DC Center to host legal seminar for trans people
Attorney Richard Tappan and paralegal Miranda Shipman to give legal advice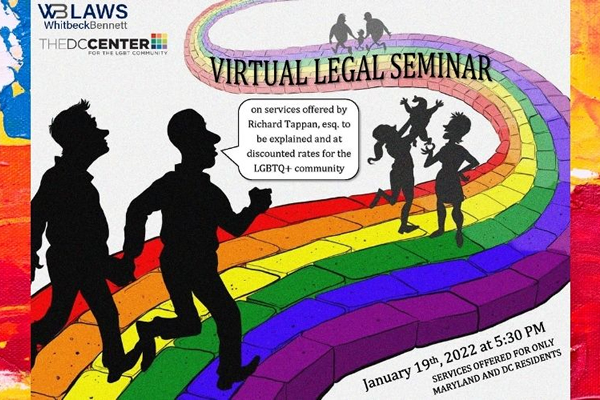 The DC Center for the LGBT Community will host a "Gender and Name Change Legal Seminar" on Wednesday, Jan. 19 at 5:30 p.m. online.
Attorney Richard Tappan and paralegal Miranda Shipman will give legal advice and speak on the importance of the legal community within the LGBTQ community, the difficulties of the LGBTQ community in the legal field and name and gender changes.
Guests can find the link at the DC Center website.
Seeking love and community in Nicaragua
'High-Risk Homosexual' explores author's youth, coming out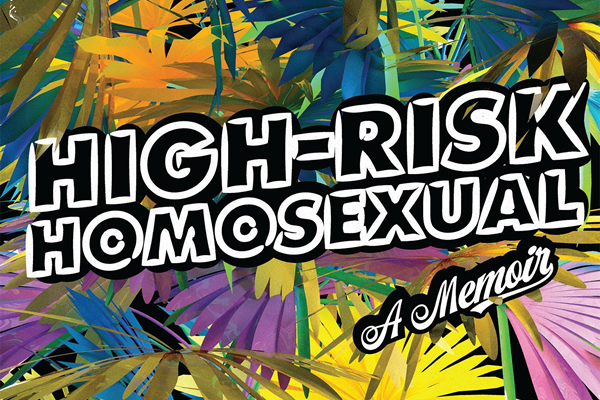 'High-Risk Homosexual: A Memoir'
By Edgar Gomez
c.2022, Soft Skull Press
$16.95/304 pages
Here. Try this.
It fits you, but the color isn't flattering. It's too long, too short, too tight, too loose. That's not your style, so try something else until you find the thing that looks like you. The perfect thing is out there. As in the new book "High-Risk Homosexual" by Edgar Gomez, when something's right, it's right.
He was 13 when he figured out that he was a problem to be solved.
Edgar Gomez' mother had left him in her native Nicaragua with his tíos, just for a while because she had to return to Florida to work. He wasn't there without her for long, but it took years for him to understand that his time with his uncles was meant to make him more masculine.
In retrospect, he says, nobody wanted him to be a man more than he did. He wanted to be liked by other kids and so he told lies in school to make himself stand out. He wanted his mother to see his love of pretty things and say that it was OK. He wanted his brother to acknowledge that Gomez was gay, and to tell him that he loved him.
Instead, after his brother left for college, Gomez got his first boyfriend, a boy he came out to but who couldn't come out to himself. He was called names in school. He came out to his mother, who freaked out about it. He befriended a drag queen, but "Princess" used him.
Things he wanted: a real boyfriend. Love. A ban on the stereotype of a macho Latinx man.
Things he still had, while in college: his mother and older brother. A tormentor-turned-mentor. A part-time job. His weirdness. His virginity.
Things he wanted to lose, while in college: his room at his mother's house. His virginity, but that wouldn't happen until later, during a painful one-afternoon-stand with a hot man who said he had a girlfriend. That hurt, both physically and emotionally but like so many things at so many times, Gomez tried not to think about it.
If he never considered what he didn't have, he says, "I wouldn't miss it."
In a way, you could say that "High-Risk Homosexual" is a book in search of a point. It's really quite random and told (mostly) linearly, but not quite. It has its peaks, but also low valleys. And you won't care about any of this, because you'll be enjoying every bit of it.
Yeah, this memoir is good: author Edgar Gomez's literary wandering makes it feel much like an honest conversation with readers. There are wince-worthy moments that allow empathy here, and experiences that are unique but oddly ubiquitous, that leave space for a sense of sympatico. There are passages that are so wistfully uncomfortable that you might squirm, or start "snort-laughing," or want to stop a moment and just think.
And there's room for that, too, so take your time. "High-Risk Homosexual" is an affable book with just enough seriousness to make it worth a try.