December 14, 2019 at 3:38 pm EST | by Alexandra Radovic
2019 Gift Guide IV: fast, fun and easy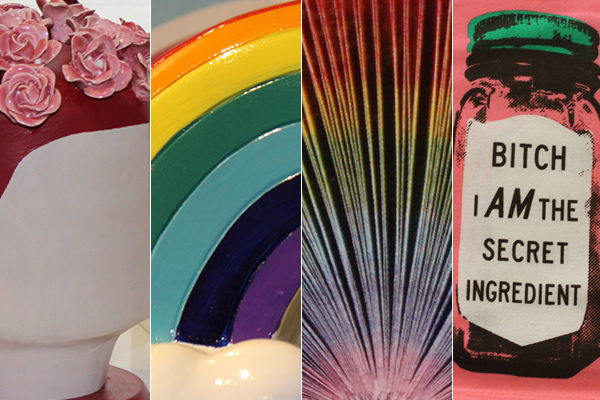 Editor's note: This is part four of four 2019 Blade holiday gift guides. Previous installments (pop culture, home and hot this year) are online.
To add extra sauce to any kitchen, these playful oven mitt and apron sets from Chocolate Moose (1743 L St., N.W.) make a laughable and functional stocking stuffer. Most sets run at $13 for mitts and $12 for aprons.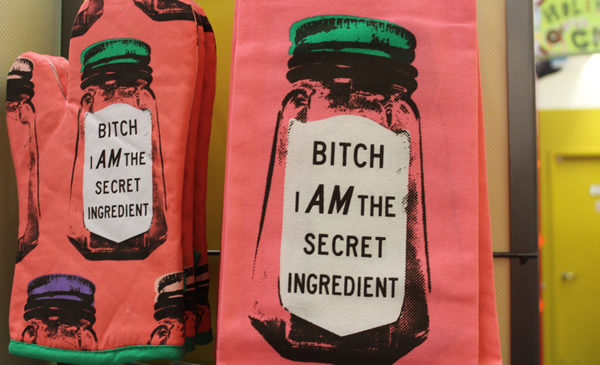 Take a walk into Urban Dwell this season (1837 Columbia Rd., N.W.) to find homey trinkets for all your friends and family who live (or decorate) outside the box. For $3.95, you can collect a bag of Kyanite, Quartz, Fluorite, Citrine and Amethyst to sprawl through your center piece or toss in a clear vase.
For $40 a piece, these GurglePots from Urban Dwell are definitely a conversation starter in any setting.
Also at Urban, these rainbows ( $29.50) and pop art coasters ($12-15 a piece) would add a bold statement to any coffee table.
Who needs an ordinary candle when you can snag one with an icon or a bold statement? The Drake and Beyoncé candles at Urban Dwell run at $24, whereas the others go for $20.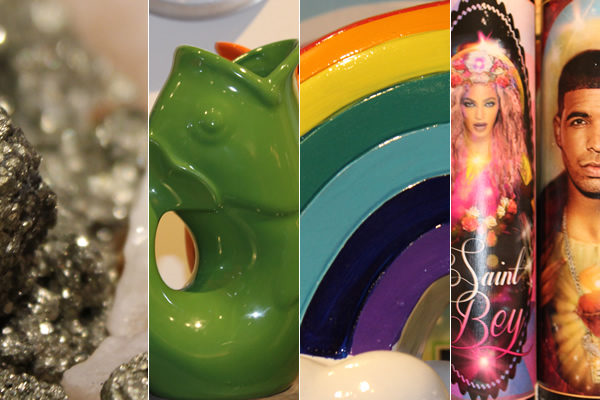 The Circle Gallery (18 State Circle, Annapolis, Md.) offers new showing from local artists that can certainly add personality to your decorating style this season. This set of "The Swim Club" sells for $150 per head/"swim cap."
This piece, "Aperture to the Void," is a creative way queer gift givers can challenge or embrace masculinity. It currently runs in The Circle Gallery for $120.
Whether they light up, or include a delicate engraving, these altered books by Nichole Leavy at Circle Gallery redefine how you'll decorate your library this season. Prices range from $75-200.
Surf's Up Candle (234 Main St, Annapolis, Md.) adds a beachy twist to an otherwise chilly season. All-natural soy-based candles, with phrases like "Don't get your tinsel in a tangle" run typically at $10.
These witty hand towels at Surf's Up go for $10 as well.
Lou Lou Boutique (locations in Washington, Fairfax, Alexandria and more in the region) offers modern décor and trendy trinkets that make handy grab bag gifts. The graphic mugs sell for $22 and the inspirational bracelet/card sets go for $24.
The boutique has also teamed up with "Love Is" project, which supports artisans in Indonesia, Vietnam, Guatemala, Ecuador, Bhutan and India. A bracelet for your loved one costs $30, as well as the tote.
Lou Lou also offers cute stocking stuffers like a foldable rainbow gratitude notebook ($9.95) and playful graphic ankle socks ($12).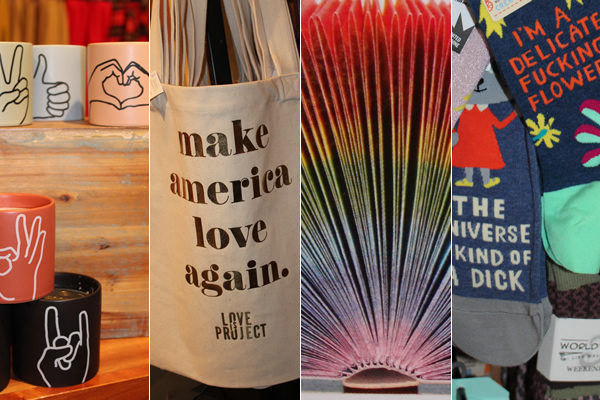 Annapolis Pottery (40 State Cir, Annapolis, Md.) has something colorful for all tastes. These psychedelic vases currently range from $116-264 and the bubble clock opens up any room at $56.95.
Barefoot Dwelling (65 Maryland Ave, Annapolis, Md.), a vintage interior decorating store downtown offers candles such as: "Stay Weird: as if you had a choice" ($25) and "Bad-Ass Bitch Balm" ($4).
Stockings to Stuf, a kiosk in the Francis Scott Key Mall (5500 Buckeystown Pike) in Frederick, Md., has LGBT-themed ornaments such as grooms (sadly no lesbian couples!) and "Love is Love." $11.99 each.
Also at the Francis Scott Key Mall and other malls in the region, Spencer's has its own version of a "Love is Love" ornament ($9.99) and equality mug (also $9.99).
For the local music lover on your list, this Anthem Pride Tee, a black, unisex 100 percent cotton T-shirt, is $20 and celebrates one of D.C.'s hippest venues. Available at the Anthem (901 Wharf St., S.W.) or online at merch.930.com.