January 1, 2020 at 12:59 pm EST | by Joey DiGuglielmo
QUEERY: Year-in-review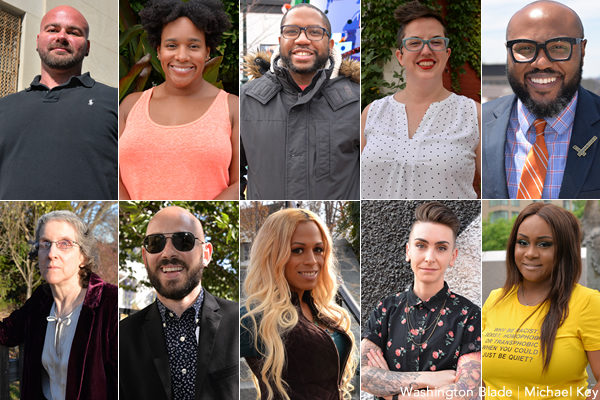 How long have you been out and who was the hardest person to tell?
Since college. It sounds cliché but probably myself. I was called fag in school before I really even knew what I was. Guess they were right! (Brian Pitts)
Who's your LGBTQ hero?
My cousin Jamal. He came out to our entire family back in the mid-'90s and was completely unapologetic about it. I admired and envied his courage. (Darryl Pilate)
What LGBTQ stereotype most annoys you?
I don't like when people believe that gay couples have to adapt to heterosexual gender norms in a homosexual relationship. There doesn't have to be a masculine and feminine role. We're not trying to replicate straight relationships. (Kevin Wiggins)
What's your proudest professional achievement?
After receiving a request from Lambda Legal for AARP to file an amicus brief in support of Marshal Wetzel, my proudest professional achievement was the day AARP Foundation Litigation Chief Bill Rivera emailed me the brief we filed in the U.S. 7th Circuit Court. Marsha had become the subject of harassment in an assisted living facility because she's an out lesbian and the administrators did not act to keep her safe from harassment. I knew doing so was a consequential next step for our organization and the LGBT movement. (Nii-Quartelai Quartey)
What terrifies you?
Leaving the world worse than I found it. That and locked-in syndrome. (Van Goodwin)
What's something trashy or vapid you love?
Candy corn and circus peanuts. (Amanda J. Hackett)
What's your greatest domestic skill?
I can properly fold a fitted bedsheet! (I worked in home fashions at Sears in high school.) (Darryl Pilate)
What's your favorite LGBTQ movie or show?
"Sense 8" — I love how the LGBTQ storylines are just naturally interwoven in the story and I love the fantasy/science fiction aspect of the show. (Sharifa LaVonne Love-Schnur)
What's your social media pet peeve?
The humble brag. (Kathi Wolfe)
What would the end of the LGBTQ movement look like to you?
It's hard to envision what an "end" would entail, but definitely more queer/trans people of color in decision-making positions. (CV Viverito)
What's the most overrated social custom?
Cheesy bachelorette parties with the sash, veil, all of that. (Brandt Ricca)
What was your religion, if any, as a child and what is it today?
First Pentecostal, then Holiness and now Baptist. I love church. I could never see myself not fellowshipping and getting a word from God. (Beverly "Miss Chocolate" White)
What's D.C.'s best hidden gem?
The Volta pool in Georgetown. (James Taglauer)
What's been the most memorable pop culture moment of your lifetime?
Seeing Sylvester walking around King's Dominion then later watching him join Patti LaBelle onstage. (Tony Nelson)
What celebrity death hit you hardest?
Aaliyah. She was young and I was around her age at the time. I could not believe that something like that could happen to such a sweet person. I could not get out of my head how tragic the accident was and for it to happen after ending a great music video shoot. It seemed unreal. (Carlos Richardson)
If you could redo one moment from your past, what would it be?
Not allowing fear to hold me back from who I am so long but oh well I'm here now! (Morgen Hunt)
What are your obsessions?
Binge watching "Charmed." In the past five years, I've watched all eight seasons about 20 times. I think I'm due for another. (Nichelle Johnson/DJ Honey)
Finish this sentence — It's about damn time:
We had more LGBTQ Americans in state and local elected office, in judgeships, in Congress and in the White House. We have a lot of "firsts" left to go. (Byron Macfarlane)
What do you wish you'd known at 18?
That everything passes and that your tribe is one of the most important things in life, family is what you make it. (Luke Frazier)
Why Washington?
Hometown Pride baby! (Timur Tugberk)