January 11, 2020 at 3:06 pm EST | by Kevin Majoros
Lesbian softball lover builds championship team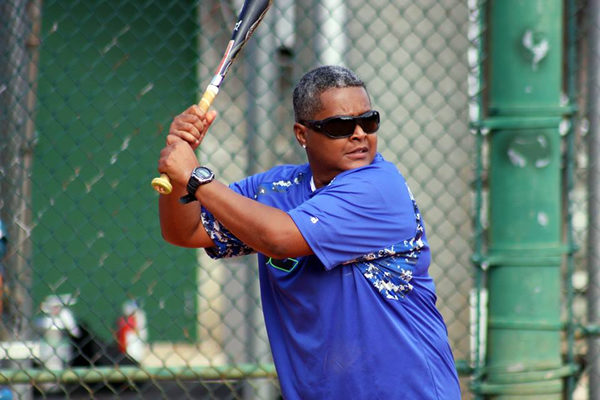 This week in the Game Changers series we meet an athlete from Chesapeake and Potomac Softball (CAPS) who has taken its women's softball program to new heights.
Growing up in New England, Rhonda Jackson found a safe haven in sports as a three-letter athlete in basketball, softball and field hockey.
"Sports was a completely freeing experience and a place where I could express myself," Jackson, who identifies as a lesbian, says. "It also gave me an avenue to connect to a community."
After completing four years at Virginia Commonwealth University on a basketball scholarship, Jackson took a break from sports to refuel. She remained in Virginia and was soon asked to play softball with the Chesapeake and Potomac Softball League.
Playing on a CAPS team led to starting her own CAPS team in 2008. After the Sunday games, she would sit on the hill and socialize with other players before they all went home. Jackson found herself wanting a more complete experience.
Out of her team the Capitol Cougars, came the formation of their new travel team, D.C. Swag. Jackson had a vision of growing the CAPS women's division and creating a more competitive environment.
"I often say to players that we want the CAPS to be your softball home. It's important to build something that has value in your community," Jackson says. "It's not always about the sport, it's about how you connect to people."
At the Amateur Sports Alliance of North America (ASANA) Softball World Series in 2018, D.C. Swag captured the championship title in the D Division. The women from D.C. fought their way back from a deficit in nine of the 14 games they played.
ASANA was created in 2007 as a non-profit organization comprised of women dedicated to promoting the participation of LGBT people in an organized softball competition.
"In the ASANA community, D.C. is known for our ability to be inclusive and provide access to a diverse group of people — deaf, sober, partnered, single — all are welcome," Jackson says.
Last summer, CAPS hosted its largest MAGIC Tournament with over 40 teams participating, including its largest ever women's division. Members are expecting another big women's division this year as MAGIC has once again been named as a qualifying tournament for the 2020 ASANA Softball World Series in Norfolk.
Recently, D.C. was awarded the 2021 ASANA World Series with Jackson serving as co-chair along with CAPS Commissioner Tony Mace. They're hoping to draw 60 teams from around the country with 1,300 athletes, friends and allies.
"D.C. is an amazing city filled with diverse, talented and vibrant people. The World Series will be an opportunity to highlight the best of the city," Jackson says. "We want to give all of our participants a memorable experience."
Jackson works as an epidemiologist in a program that evaluates standards for the military. She plays softball from April to November, three days a week at shortstop or third base.
"Sports is where I have found my comfort and it is where I am grounded," Jackson says. "My spirit is collaborative and the sports community has given me a wonderful opportunity to connect with interesting people."