January 29, 2020 at 1:00 pm EST | by Michael K. Lavers
Group becomes lifeline to migrants in Mexico border city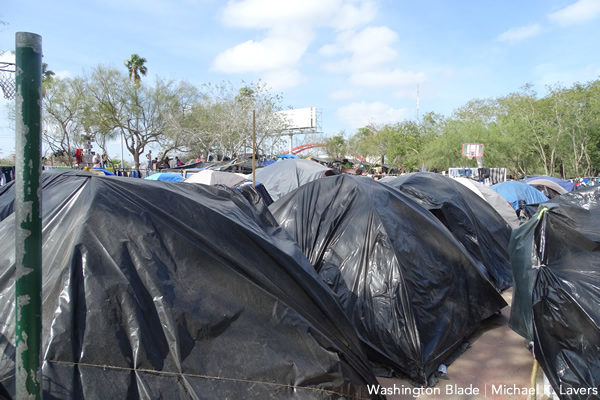 MATAMOROS, Mexico — It was shortly before noon on Jan. 14 when Gaby Zavala, co-founder of Resource Center Matamoros, walked into a camp in the Mexican border city of Matamoros in which more than 2,000 migrants are currently living.
Zavala passed a man who was getting his beard trimmed in a makeshift barbershop before she arrived in the portion of the camp that Resource Center Matamoros manages. Zavala began to speak with a group of migrants and volunteers, including Reuven Magder, a 12-year-old boy from D.C., who were erecting a tent for two families from Honduras and Ecuador who had just arrived in the camp.
Zavala said the Mexican government last month built a canopy over the tents after officials learned Resource Center Matamoros was planning to install "better shelters" that would be "more appropriate for a refugee camp setting." Zavala told the Washington Blade the organization now works with Mexican immigration authorities "to help set people up under them with better, more spacious tents."
"We're working as a collaborative to relate to the Mexican government," she said.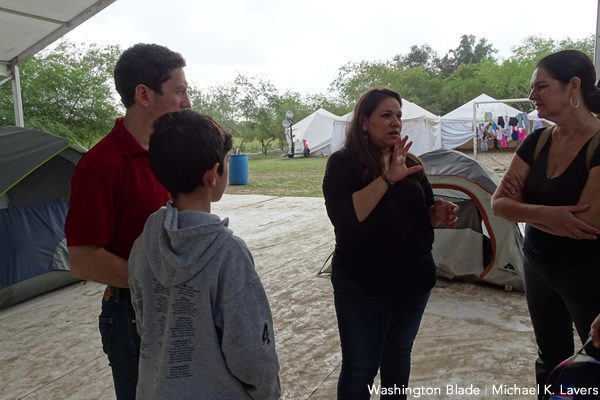 The camp is located adjacent to the Gateway International Bridge that spans the Rio Grande and connects Matamoros with Brownsville, Texas. Resource Center Matamoros is among the myriad groups that provide assistance to migrants who live there.
Zavala noted Resource Center Matamoros was the first group to bring clean, treated water to the camp. She said the drowning of a 15-year-old girl in the Rio Grande prompted her to bring water tanks into the camp and build privacy tents with cups, buckets and donated shampoo and conditioner that migrants could use to bathe.
"Before that people were bathing in the river, washing clothes in the river, using the restroom in the river," said Zavala.
Resource Center Matamoros last October moved into a building that is across the street from the camp.
Lawyers for Good Government's Proyecto Corazon and the South Texas Pro Bono Asylum Representation Project (ProBAR) work alongside private attorneys at Resource Center Matamoros to provide legal assistance to migrants who have asked for asylum in the U.S. Resource Center Matamoros also provides a variety of other services that include massage therapy and yoga for migrants who have suffered trauma.
Resource Center Matamoros next month will launch an HIV testing program in the camp. Ray Rodríguez, a gay Cuban man who asked for asylum in the U.S., were among the migrants who were working at Resource Center Matamoros on the day the Blade visited.
"People, when they left their countries, they were fully functional people," said Zavala during an interview in her office. "They had jobs. They had houses, they were supporting their children. They were self-sufficient at one point."
"The whole migration has victimized them … in so many different ways," she added. "So, they are now basically, left as a dependent, dependent on other people for food and for shelter."
Zavala, 37, has been a community organizer for nearly two decades. The Valley AIDS Council, an HIV/AIDS service organization in Texas' Rio Grande Valley, and Planned Parenthood are among the groups for which she has worked. Zavala's family is also from Matamoros.
Zavala in 2018 began to cook food for migrants in Matamoros. She later brought them to "consultorios" in the city where they could see doctors and receive medications.
Zavala last spring started to provide meals, clean clothes, personal hygiene items and other items to migrants who U.S. Customs and Immigration Services and U.S. Border Patrol dropped off at Brownsville's main bus station, which is a few blocks from the Gateway International Bridge. Zavala also helped organize a respite center for migrants at a Brownsville church.
"It just made sense that we were to take the people at the bus station to them so that they can take a shower, they can get information about what's happening, get supplies that they needed," she said.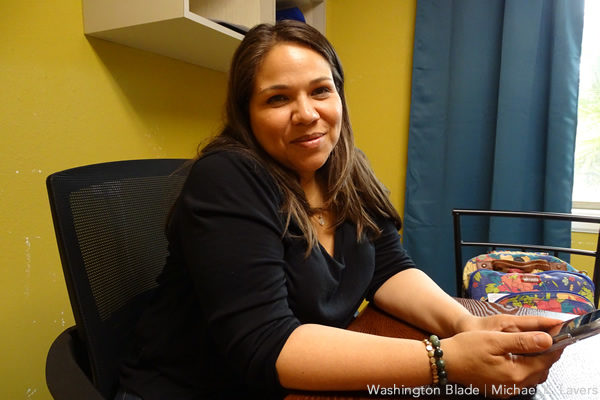 A State Department travel advisory urges U.S. citizens not to travel to Mexico's Tamaulipas state in which Matamoros is located because of "crime and kidnapping." Many of the migrants who live in the Matamoros camp have been forced to return to Mexico under the Trump administration's controversial "remain in Mexico" policy and await the outcome of their U.S. asylum cases there.
"Now we have MPP," Zavala told the Blade, referring to the Trump administration's overall immigration policy that includes a requirement for migrants to place their name on a waiting list in order to apply for asylum at a U.S. port of entry. "And now we have several others that have just been implemented that are completely unfair, and they leave asylum seekers available in this country."
Zavala, who identifies as bisexual, also told the Blade that LGBTQ migrants who live in the camp are even more vulnerable to mistreatment, discrimination and even violence from groups that include drug cartels and Mexican police officers.
"For me seeing that in the context of the camp is hurtful," she said.
Resource Center Matamoros works with the Texas Civil Rights Project, a group that provides assistance to LGBTQ migrants. Resource Center Matamoros also provides LGBTQ migrants with a space in which they can privately meet with lawyers and volunteers.
Zavala said she hopes to provide HIV tests to up to 150 migrants a month once the program launches and connect those who test positive to HIV/AIDS clinics known by the Spanish acronym CAPASITS (Centro Ambulatorio para la Prevención y Atención en SIDA e Infecciones de Transmisión Sexual) that the Mexican government operates. Zavala conceded the program will prove challenging, in part, because LGBTQ migrants in Matamoros are often not out and have fled countries where violence based on sexual orientation and gender identity is rampant.
"You really have to take extra, extra caution when you're having a 'charla' because rumors run through the camp like wildfire," she added, noting confidentiality remains a top priority. "It's very sensitive."
Resource Center Matamoros is 'a big family'
Zavala told the Blade she has faced resistance from organizations outside the Rio Grande Valley who "feel like you can't do it … and want to usurp all the hard that we've ever done." Zavala also said she has felt judged and not supported in her efforts to help migrants, but stressed she has become part of the "main stakeholders of the work in Matamoros."
Zavala also described Resource Center Matamoros "a big family."
"What I have found here is life, is love, is compassion," she said. "We all take care of each other and I've never felt so backed by a group of people."