February 6, 2020 at 2:22 pm EST | by Michael K. Lavers
Va. House of Delegates passes nondiscrimination bill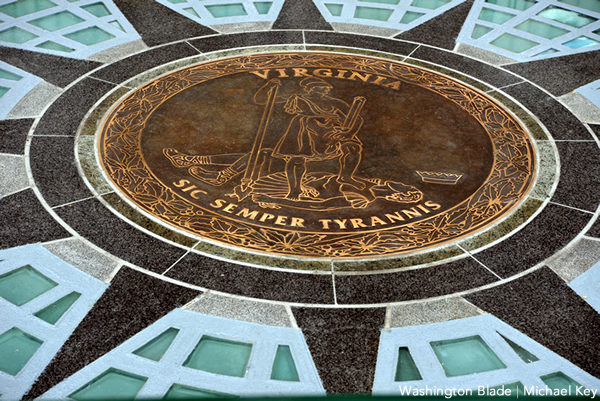 A bill that would add sexual orientation and gender identity to Virginia's nondiscrimination law passed in the Virginia House of Delegates on Thursday.
State Del. Mark Sickles (D-Fairfax County), the openly gay man who introduced the Virginia Values Act in the House, before the vote insisted the bill does not "interfere with anybody's religious freedom."
"What it does is punish discrimination," he said.
The Virginia Values Act was a top legislative priority for Democrats who regained control of the General Assembly last November.
House Speaker Eileen Filler-Corn (D-Fairfax County) is among those who spoke at an Equality Virginia reception that took place at the Library of Virginia earlier this week. The Virginia Senate on Thursday approved its version of the Virginia Values Act that state Sen. Adam Ebbin (D-Alexandria) introduced.
"Discrimination against our gay, lesbian and transgender friends, family, neighbors and co-workers in employment, housing and public accommodation has always been abhorrent and unacceptable," said Filler-Corn in a statement after the vote.
"Today, we have laid a marker down that every Virginian can work hard, earn a living wage, and live their lives without fear of discrimination based on who they are or who they love," she added. "The sun shines brighter on the Commonwealth of Virginia with the House's passage of this landmark legislation."
Governor Ralph Northam has said he will sign the Virginia Values Act into law once the House and Senate reconcile their versions of the bill. Advocates on Thursday noted Virginia will become the first state in the South to include sexual orientation and gender identity in their statewide nondiscrimination laws.
"Virginia is home to over 250,000 LGBTQ adults and this legislation will have a profound impact on these individuals, their families, and their communities," said Equality Virginia Executive Director Vee Lamneck in a statement. "Our organization has been advocating for bills that would protect LGBTQ people for years. We're very proud that this legislation also includes protections for people who live at the intersection of multiple marginalized identities, including people of color, women, veterans, and people with disabilities."
Every Virginian deserves to live and work without the fear of harassment, discrimination, or violence," added James Parrish, director of the Virginia Values Coalition, a group that supported the Virginia Values Act. "We couldn't have come this far without the support of our lawmakers, faith leaders, allies, parents, law enforcement officers, veterans and people of all political ideologies committed to protecting LGBTQ Virginians."
The Human Rights Campaign and the National Center for Transgender Equality are among the organizations that were part of the Virginia Values Coalition.
"Today, history was made in Virginia, and LGBTQ Virginians are one step closer to being protected from discrimination simply because of who they are or whom they love," said HRC President Alphonso David.