February 7, 2020 at 11:17 am EST | by Kevin Naff
Pete's win is a historic first and deserves its moment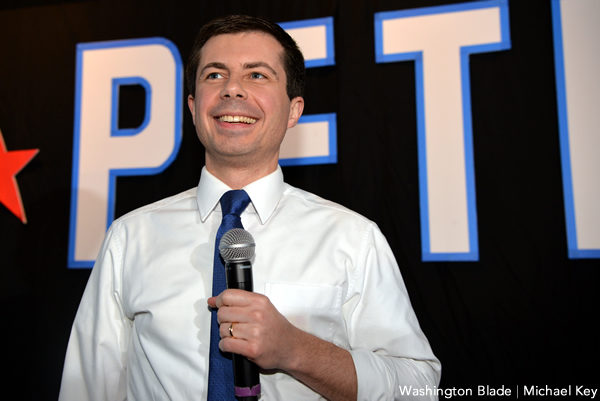 The biggest downside of the Iowa debacle is that it cheated Pete Buttigieg — and the rest of LGBTQ America — out of our moment.
It was OUR moment. The moment that an openly gay candidate won a presidential nominating contest. That's never happened before and the significance of it was overshadowed by coverage of failed apps and delayed vote counts. Sure, the major networks mentioned it, but imagine the difference if, on caucus night, Buttigieg had been declared the winner in prime time.
It would have been a huge story and, more importantly, the fundraising bump — estimated in the tens of millions — he could have expected from such a win would have boosted him further.
But the bumbling Democratic Party of Iowa trusted an untested app that failed and so all the countless hours of door knocking and the millions spent on campaigning and ancillary projects were undermined. The head of the party should be fired and the antiquated caucus circus must end. In fact, maybe Iowa should go last in 2024.
Back to Pete. Those of us who covered the 2004 George W. Bush re-election campaign have a vivid and painful memory of the cynical attacks Bush and Cheney launched that year. That campaign was run on the backs of gay and lesbian couples, demonized in attack ads and ballot initiatives in 11 swing states to ban same-sex marriage. The heartless campaign was run by a closeted gay man — Ken Mehlman — who later came out publicly and worked for redemption.
To think we've gone from those dark days to an openly gay (and married!) man winning Iowa in the span of just 16 years is pretty damn mind blowing.
Congratulations to Buttigieg and his team. Regardless of what happens next, no one can take this victory and its significance away from him — or us.
Is America ready for a gay president? Maybe, maybe not. But Buttigieg has changed the narrative around what's possible for openly LGBTQ public officials, in part by confounding Republican bigots with his military service and eloquent speeches about faith. LGBTQ Americans are not a monolith; we come in many surprising packages. Buttigieg may not be "gay enough" for some or "too gay" for others. But he just showed the rest of the country that if you stay positive, on message, and focus on the issues that matter to everyday voters, you can overcome the doubters and the haters. What he's achieved this week is reminiscent of what Danica Roem did in Virginia two years ago, winning a state delegate seat from the most homophobic, transphobic bigot in the state by focusing on local issues important to constituents.
Imagine what's possible in the next 16 years. Imagine the young kids out there watching who will never live in a world where an openly gay presidential candidate is a first or an oddity.
There's no overstating the importance of this moment for LGBTQ America. Thank you, Mayor Pete.
Kevin Naff is editor of the Blade. Reach him at knaff@washblade.com.