February 20, 2020 at 11:32 am EST | by Joe Phillips
Sedans that sizzle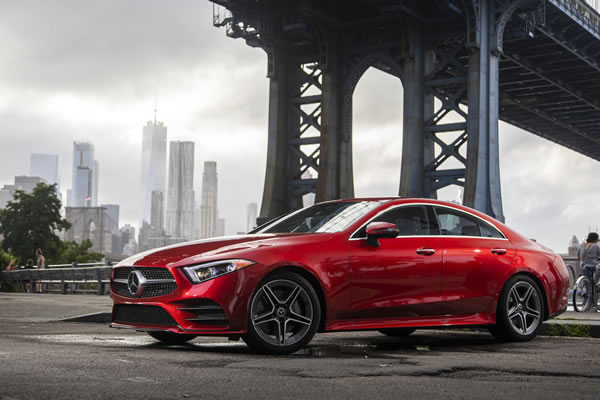 Now that crossover SUVs are all the rage, four-door sedans simply have to try harder. That means flashier looks, feistier engines and fantabulous features. Below are three of the finest sedans on the market today.
LEXUS ES 350 F-SPORT
$45,000
MPG: 22 city/31 highway
Zero-60 mph: 5.9 seconds
The Lexus ES, long the epitome of old-school cool, keeps nipping at the heels of Audi and BMW. This mid-size ride was restyled just last year, with a jazzy grille, jagged headlights and sexy tush that would make Billy Porter blush.
This isn't your parents Lexus, and it shows — especially in the F-Sport version. While it has the same sturdy V6 as a base-model ES, the F-Sport boasts tighter steering and a huskier engine growl. Add in large 19-inch wheels, extra bolstering in the seats and a finely tuned suspension, and the result is a firm yet pleasant ride. Inside, a fluctuating wave pattern on the interior aluminum trim looks almost three-dimensional.
I fell in love with the large 12.3-inch display in the center dash, though the touchpad was too touchy at times to operate smoothly. The parking camera provides a nifty split screen, with rear-view image on one side and panoramic birds-eye view on the other. And while a base ES comes pretty loaded — LED headlights, simulated leather, 10-speaker stereo and more — the F-Sport includes other niceties, such as heated/ventilated seats and power-adjustable steering wheel. It's been five years since I drove an ES virtually nonstop from Palm Beach to D.C. But even though I'm feeling (and showing) my age, this Lexus seems young and refreshing.
VOLVO S60 T6 AWD R-DESIGN
$48,000
MPG: 21 city/32 highway
Zero-60 mph: 5.3 seconds
The Volvo S60 T6 AWD R-Design. Yes, its' a mouthful. And yes, the name of this particular vehicle sounds nerdy. But make no mistake, this is one sophisticated hot rod.
The design is lean and sinewy — a stretched hood, aggressive air dams and side panels as taut and chiseled as John Kasinski's oblique muscles. The grille, window trim and mirror caps are all painted with a chic black-gloss finish. I forgot how much fun a true sport sedan can be until I slipped behind the wheel of this souped-up S60. Acceleration is swift, thanks to a clever four-cylinder engine that's both supercharged and turbocharged.
There's aluminum everywhere, which makes the S60 feel light and lively. Yet those large wheels and impeccable all-wheel-drive configuration help you hug the road. Inside, the seats are satisfyingly snug, and the cabin is as quiet as a sanctuary. The 9-inch vertical infotainment screen in the center of the dash mimics an iPad, allowing you to swipe left or right to access various functions. A separate horizontal screen is chock full of digital gauges for the driver. At $48,000, the S60 R-Design isn't cheap (a base-model S60 is $12,000 less).
Toss in various option packages — a head-up display, heated rear seats, maybe even the premium Bowers and Wilkins stereo — and pricing jumps to almost $60,000. But this is still less than a comparable Audi, BMW or Mercedes. Now, if Volvo could only do something about that name.
MERCEDES CLS 450
$71,000
MPG: 23 city/30 highway
Zero-60 mph: 5.1 seconds
The Mercedes CLS 450 is a sport sedan on steroids. With Lexus-like comfort and the verve of a Volvo, the CLS 450 amps everything up: power, performance and panache. Launched some 15 years ago, the CLS was the first sedan marketed as a "four-door coupe." A swooping roofline and low chassis help the CLS mimic the look, feel and handling of a coupe.
Yet there's room for five passengers, as well as decent trunk space. But backseat headroom is tight. And beware bumping your head the first time you try to lower yourself into a CLS (I learned the hard way). But just when it seemed Mercedes focused too much on form over function, a quick press of the ignition button proved otherwise. This finely tuned machine roared to life, with different drive modes ramping up the exhaust growl.
The headlights immediately do a dance routine — rolling up, down and all around — before settling into a normal setting. A space-age cockpit is like something out of "Ad Astra," with panoramic digital readouts stretching far across the dash. There's also a choice of 64 interior colors for ambient lighting, with color-illuminated rings even on the air vents. And a built-in perfume system in the glovebox sends any scent you like wafting through the cabin.
Stressed out from choosing among so many amenities or from a long commute? A built-in exercise program can guide you through muscle-relaxation exercises as you drive. But you may not need it, considering the fast acceleration, precise braking and able steering that seems to anticipate your every move (even without the semiautonomous driving assistant feature turned on). This isn't one of Mercedes' high-performance AMG models, but it sure feels like one. And the CLS can cost as much: over $100,000, when you tack on assorted must-have options.