Sedans that sizzle
Flashier looks, feistier engines enliven '20 models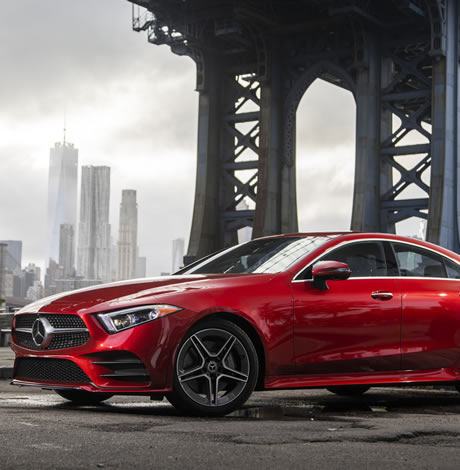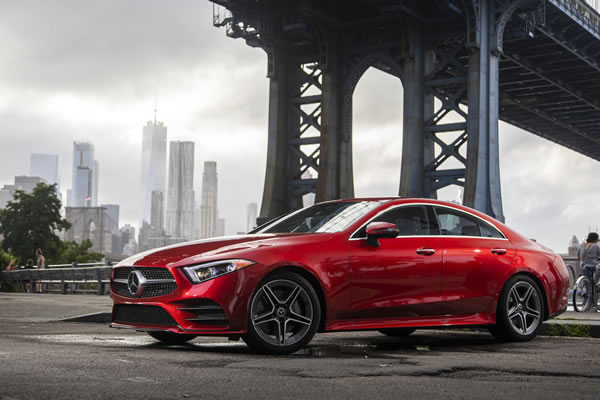 Now that crossover SUVs are all the rage, four-door sedans simply have to try harder. That means flashier looks, feistier engines and fantabulous features. Below are three of the finest sedans on the market today.
LEXUS ES 350 F-SPORT
$45,000
MPG: 22 city/31 highway
Zero-60 mph: 5.9 seconds
The Lexus ES, long the epitome of old-school cool, keeps nipping at the heels of Audi and BMW. This mid-size ride was restyled just last year, with a jazzy grille, jagged headlights and sexy tush that would make Billy Porter blush.
This isn't your parents Lexus, and it shows — especially in the F-Sport version. While it has the same sturdy V6 as a base-model ES, the F-Sport boasts tighter steering and a huskier engine growl. Add in large 19-inch wheels, extra bolstering in the seats and a finely tuned suspension, and the result is a firm yet pleasant ride. Inside, a fluctuating wave pattern on the interior aluminum trim looks almost three-dimensional.
I fell in love with the large 12.3-inch display in the center dash, though the touchpad was too touchy at times to operate smoothly. The parking camera provides a nifty split screen, with rear-view image on one side and panoramic birds-eye view on the other. And while a base ES comes pretty loaded — LED headlights, simulated leather, 10-speaker stereo and more — the F-Sport includes other niceties, such as heated/ventilated seats and power-adjustable steering wheel. It's been five years since I drove an ES virtually nonstop from Palm Beach to D.C. But even though I'm feeling (and showing) my age, this Lexus seems young and refreshing.
VOLVO S60 T6 AWD R-DESIGN
$48,000
MPG: 21 city/32 highway
Zero-60 mph: 5.3 seconds
The Volvo S60 T6 AWD R-Design. Yes, its' a mouthful. And yes, the name of this particular vehicle sounds nerdy. But make no mistake, this is one sophisticated hot rod.
The design is lean and sinewy — a stretched hood, aggressive air dams and side panels as taut and chiseled as John Kasinski's oblique muscles. The grille, window trim and mirror caps are all painted with a chic black-gloss finish. I forgot how much fun a true sport sedan can be until I slipped behind the wheel of this souped-up S60. Acceleration is swift, thanks to a clever four-cylinder engine that's both supercharged and turbocharged.
There's aluminum everywhere, which makes the S60 feel light and lively. Yet those large wheels and impeccable all-wheel-drive configuration help you hug the road. Inside, the seats are satisfyingly snug, and the cabin is as quiet as a sanctuary. The 9-inch vertical infotainment screen in the center of the dash mimics an iPad, allowing you to swipe left or right to access various functions. A separate horizontal screen is chock full of digital gauges for the driver. At $48,000, the S60 R-Design isn't cheap (a base-model S60 is $12,000 less).
Toss in various option packages — a head-up display, heated rear seats, maybe even the premium Bowers and Wilkins stereo — and pricing jumps to almost $60,000. But this is still less than a comparable Audi, BMW or Mercedes. Now, if Volvo could only do something about that name.
MERCEDES CLS 450
$71,000
MPG: 23 city/30 highway
Zero-60 mph: 5.1 seconds
The Mercedes CLS 450 is a sport sedan on steroids. With Lexus-like comfort and the verve of a Volvo, the CLS 450 amps everything up: power, performance and panache. Launched some 15 years ago, the CLS was the first sedan marketed as a "four-door coupe." A swooping roofline and low chassis help the CLS mimic the look, feel and handling of a coupe.
Yet there's room for five passengers, as well as decent trunk space. But backseat headroom is tight. And beware bumping your head the first time you try to lower yourself into a CLS (I learned the hard way). But just when it seemed Mercedes focused too much on form over function, a quick press of the ignition button proved otherwise. This finely tuned machine roared to life, with different drive modes ramping up the exhaust growl.
The headlights immediately do a dance routine — rolling up, down and all around — before settling into a normal setting. A space-age cockpit is like something out of "Ad Astra," with panoramic digital readouts stretching far across the dash. There's also a choice of 64 interior colors for ambient lighting, with color-illuminated rings even on the air vents. And a built-in perfume system in the glovebox sends any scent you like wafting through the cabin.
Stressed out from choosing among so many amenities or from a long commute? A built-in exercise program can guide you through muscle-relaxation exercises as you drive. But you may not need it, considering the fast acceleration, precise braking and able steering that seems to anticipate your every move (even without the semiautonomous driving assistant feature turned on). This isn't one of Mercedes' high-performance AMG models, but it sure feels like one. And the CLS can cost as much: over $100,000, when you tack on assorted must-have options.
Surprise rides of 2022
Fun, frugal, and full of frills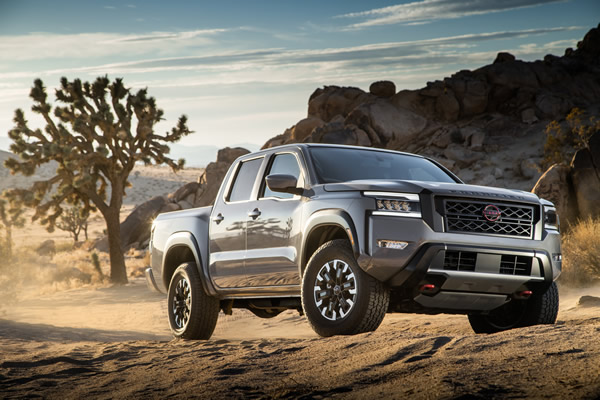 Each January, I list my top vehicle picks of the year. But with so many contenders this year, the focus this time is on surprise rides: Three solid choices that are unexpectedly fun, frugal and full of frills.
NISSAN FRONTIER
$29,000
Mpg: 18 city/24 highway
0 to 60 mph: 7.3 seconds
Sure, Tesla, Rivian and other newcomers may be garnering lots of press these days. But other automakers also have been upping their game. Cue the Nissan Frontier pickup, completely redesigned with bold, bad-boy styling. This includes a pugnacious grill, menacing headlights and sleek LED taillights. Inside, new laminated side windows reduce wind and road noise. Refined, soft-touch surfaces are a pleasant surprise, as are various clever storage spaces. And then there are the zero-gravity seats, built to alleviate driver fatigue. Despite the space-age description, these NASA-inspired seats have a traditional design but are built with 14 different pressure points to reduce stress on tired muscles. They may not be as fancy as massaging seats in luxury vehicles, but they feel just as effective. Other cabin niceties include large easy-to-read gauges and an optional 9-inch touchscreen, along with wireless charging, Wi-Fi and 10-speaker Fender stereo. One minor annoyance: the steering column tilts but has no telescopic function. While there may be a few less-expensive pickups on dealer lots, none come with as many features. As for performance, the 310-horsepower V6 is the best in its class, and overall handling is more akin to a well-mannered SUV than a workhorse hauler. For off-road enthusiasts, a Pro-4X model comes with heavy-duty Bilstein shocks, electronic locking rear differential for better grip and beefy all-terrain tires.
JEEP WAGONEER
$60,000
16 city/22 highway
0 to 60 mph: 7.3 seconds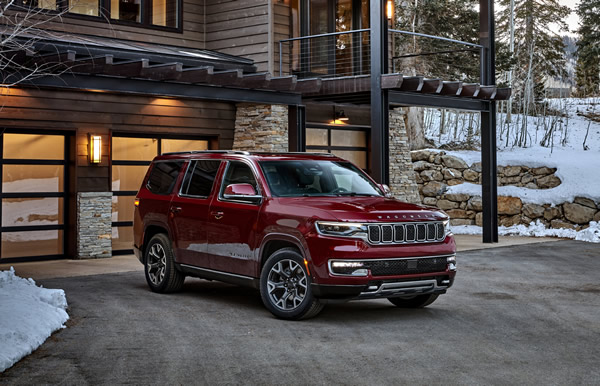 While oversized rides don't really fit my urban identity, the all-new Jeep Wagoneer had me almost pining for a Brady Bunch lifestyle in the burbs. Out of production since 1991, this resurrected land yacht made me feel safe and secure on the road. It also tapped into my love of a beloved cruiser: the Pontiac Grand Safari station wagon that I drove across country in my 20s. (Alas, those tawdry travel tales are another story.) But while such behemoths may be described as big and boxy, the Wagoneer is definitely chic, echoing many of the more sculpted elements of a ritzy Range Rover. Powered by a gutsy V8 Hemi engine, this super-sized SUV quickly hustles down the road. A mild-hybrid system not only helps conserve fuel but also adds some extra oomph. Front-wheel drive comes standard, though many buyers will prefer one of the four-wheel-drive options for even better drivability. Air suspension lets you raise and lower the Wagoneer, which has up to 10 inches of ground clearance and can trek through two feet of water. Along with offering more standard features than most competitors, there's also more second- and third-row legroom. The rich interior, with contrast piping and stitching on the seats, includes a wraparound dashboard with up to three large screens. Two more screens are available for rear-seat passengers, who can stream thousands of programs via the Wi-Fi. Notable amenities include automated parking, rear-seat monitoring camera and premium 19-speaker McIntosh stereo. Fully loaded, a Wagoneer can reach $75,000. That's still less than the primo Grand Wagoneer ($89,000), which can sprint from 0 to 60 mph in a wickedly fast 5.7 seconds. That glam model, with goodies such as a refrigerated front console and a hidden touchpad safe to store valuables, can easily top $100,000.
MITSUBISHI OUTLANDER
$28,000
Mpg: 24 city/31 highway
0 to 60 mph: 8.6 seconds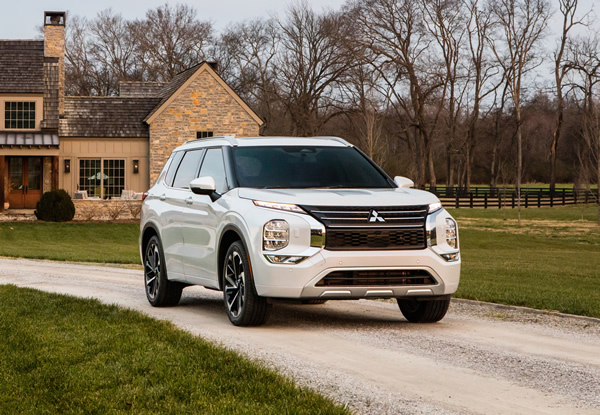 Of the three vehicles reviewed here, the updated Mitsubishi Outlander was the biggest surprise. After all, the automaker isn't the most popular or reliable brand on the block. But like a washed-up diva making a stunning comeback, the Outlander is now taking its star turn in the highly competitive crossover market. The overall styling is dazzling, with sheet metal that has been stretched and pulled into an edgy origami design. Built on the same platform as the Nissan Rogue, this new Outlander is taller, wider and longer than that popular compact. It also offers a third seat, even if legroom here is miniscule. And despite what is a capable but rather tepid engine, the Outlander handling is crisp and spirited. Driver visibility is especially good, and I found the cabin to be pleasantly quiet. But most notable are all the amenities, including head-up display, wireless smartphone integration, 10-speaker Bose stereo, panoramic sunroof, power tailgate, heated steering wheel, heated seats (both front and back), a full slate of the latest safety gear and much more. Another plus: the 10-year/100,000-mile limited powertrain warranty. All in all, it's nice to see Mitsubishi start to regain its footing—with the Outlander center stage.
Merry motoring
These rides will bring miles of smiles along the way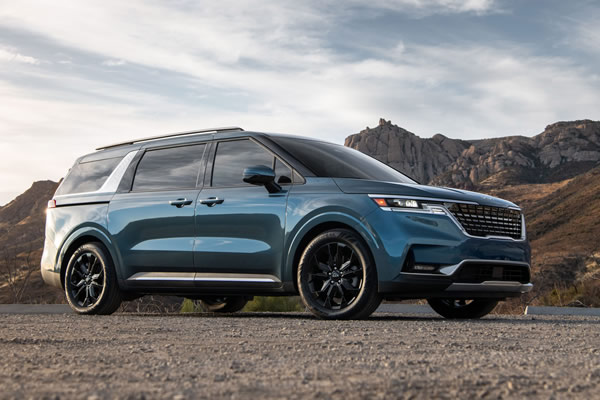 KIA CARNIVAL SX PRESTIGE
$46,000
Mpg: 19 city/26 highway
0 to 60 mph: 7 seconds
The all-new Kia Carnival is an apt name for this comfy cruiser, a fun ride with room for eight passengers. This ultramodern minivan—Kia calls it a multipurpose vehicle—has the same rugged profile as a rough-and-tumble Land Rover Discovery. While you won't be taking the Carnival on any off-road adventures, it does deliver a well-balanced ride. There's no body sway when tackling sharp corners nor is there any of the annoying bounciness found in other minivans.
Surprisingly, there's also no all-wheel-drive option, which is offered by many competitors. But acceleration is peppy, and braking feels solid. Standard features include LED headlights, power-sliding doors, push-button start, smartphone integration and nine USB ports. I drove the top-of-the-line SX Prestige, which comes with larger 19-inch wheels, hands-free power tailgate and heated steering wheel. It also costs $15,000 more than the base model. But the list of safety features is impressive, including lane-departure warning, drowsy-driver alert, collision-avoidance warnings (for both the front and rear) and side cameras that show you an image of vehicles in your blind spot. While drivers will appreciate the two 12.3-inch digital displays—one for vehicle gauges and the other for navigation and audio—it's the rear-seat passengers who get some extra thrills. This includes a robust entertainment system, dual sunroof, in-vehicle intercom and VIP lounge seats—luxe-like captain's chairs that fully recline, are nicely heated/ventilated and come with power footrests. Who knew a minivan could be such an adventure. Add in some cotton candy, and you could almost be at a real carnival.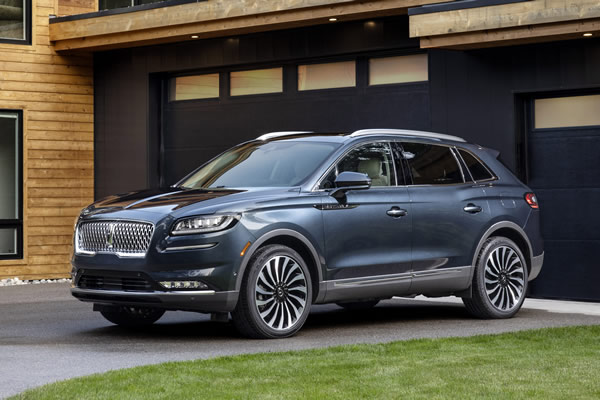 LINCOLN BLACK LABEL NAUTILUS
$65,000
Mpg: 19 city/25 highway
0 to 60 mph: 5.9 seconds
Long known for its land yachts, Lincoln sent the iconic Continental into the sunset in 2020. But though sedans are no longer in its lineup, the automaker offers a crop of comely crossovers that still exude plenty of old-school luxury. Such is the case with the midsize Lincoln Nautilus, a refreshing antidote to crossovers that try too hard to be sports cars but end up being a real pain in the butt—literally. The comfy ride and handling in the Nautilus are more akin to a Lexus RX 350 rather than some glorified go-kart racer.
With soft-touch surfaces, tasteful wood and snazzy chrome accents, the cabin is refined yet modern. It's also quiet, almost too quiet. I drove the premium Black Label trim level, featuring 22-way powered seats with massage functions and a 19-speaker premium stereo. With the stereo turned up at the end of a quiet tune, I didn't expect the next song to start with a rimshot so staggeringly loud it is still ringing in my ears. That's how crystal clear the acoustics are in this anechoic chamber. There's a choice of two engines: turbo four-cylinder or twin-turbo V6. Along with the latest tech and safety features, there's also an automated parking system and evasive steering assist, which quickens the vehicle's response time when you try to avoid a collision. Other amenities include a simulated suede headliner, panoramic sunroof and the ability to use your smartphone as the vehicle key. While the base model starts at $44,000, opting for the Black Label does add $20,000. But all those extras will be hard to resist.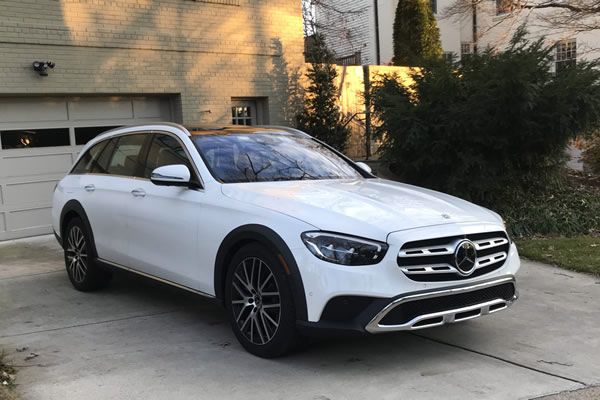 MERCEDES E450 S4 WAGON
$68,400
Mpg: 21 city/28 highway
0 to 60 mph: 4.4 seconds
Yes, you read that right. The Mercedes E450 wagon explodes from 0 to 60 mph in just 4.4 seconds. It also gets decent gas mileage for a 4,585-pound hauler, thanks to a 48-volt hybrid system that assists the 362-horsepower V6. I've always had a fondness for station wagons, ever since I drove a hulking Pontiac Bonneville Grand Safari across the country many times in my early twenties. But the Mercedes E450 is like piloting a rocket ship, with speed-of-light performance and space-age electronics.
Despite a slightly firmer suspension this year, the E-Class wagon feels like it's floating on air. Everything here is upscale, from the handsome exterior styling to the first-rate fit and finish inside. And there is so much room, even in the backseat for tall passengers with long legs. Cargo space is also huge at 35 cubic feet—which, in case you were wondering, means it could hold about 90 basketballs. Along with two 12.3-inch screens for driver info and the entertainment system, there's a "Hey Mercedes" digital assistant that responds to voice commands. It's extremely effective and doesn't require you to keep repeating yourself, as with other systems. If only it could have joined my partner Robert and me in some holiday karaoke.
Fun holiday gifts for car fans
Something for everyone, from Bentley trikes to a Mercedes tree topper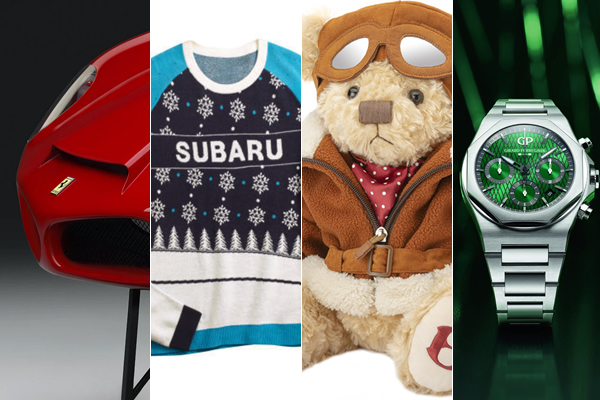 For all those gear heads in your life, here are some fun holiday gifts to get their motors running. Many of these stocking stuffers are affordable. Others, well, not so much.
Bentley Trike for Tykes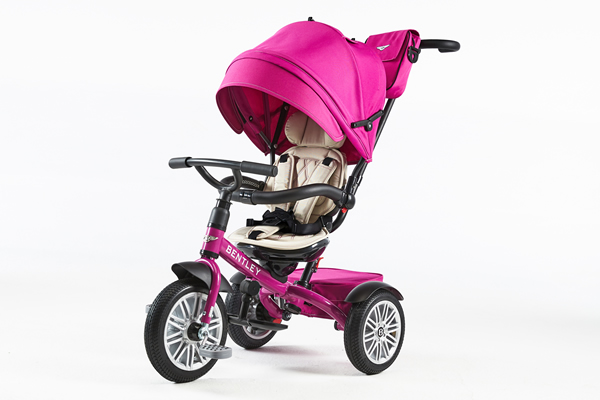 Leave it to Bentley to create a fancy fuchsia trike ($500). With six modes, from stroller to tricycle, parents can adjust this three-wheeler as a toddler gets older. Along with the "Big B logo," the Bentley name is emblazoned on the down tube. Yes, there are more subdued colors, but why bother?
Ford Sherpa Blanket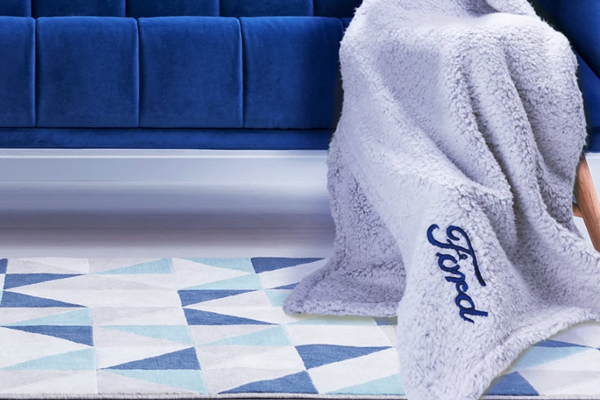 Cuddle up with a warm and fuzzy Sherpa blanket ($30), made of 100% polyester and the Ford logo embroidered in the corner.
MINI Travel Bag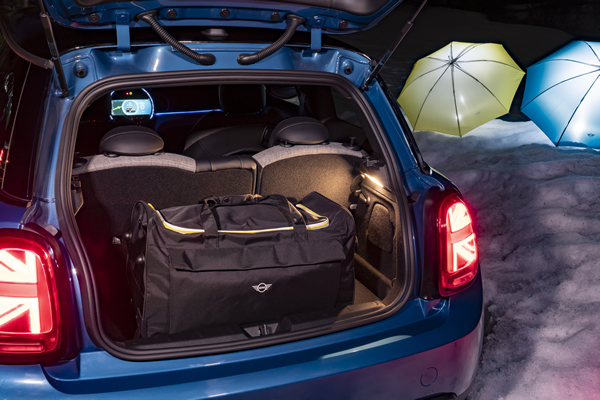 For quick weekend getaways, MINI has a large soft-luggage travel bag ($190) with extendible handle, two wheels, large main compartment, outer pocket and removable zipped pockets.
Porsche Table-top Clock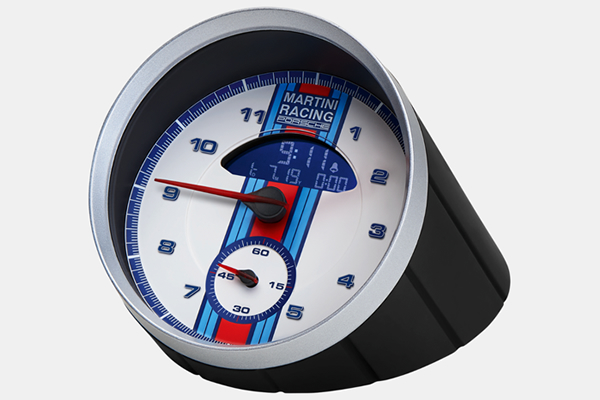 The alarm tone on this tabletop clock ($250) sounds just like a throaty Porsche 911 engine. Includes Martini Racing design, as well as a countdown function and analog/digital display.
Rolls-Royce Portable "Pursuit Seat"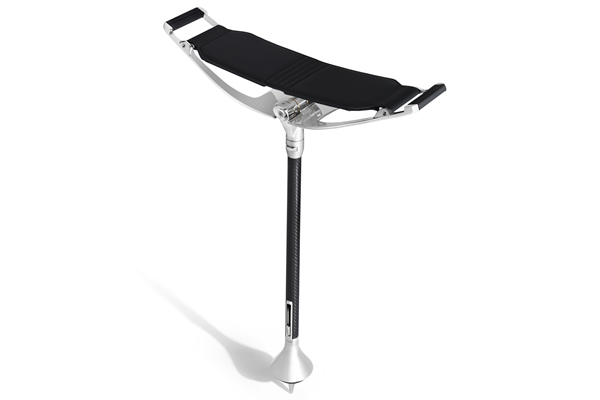 Rolls-Royce, known for its relentless pursuit of perfection, now has a portable "Pursuit Seat" ($8,800) — perfect for any derriere. The adjustable seat is anything but old school, made of carbon fiber, polished aluminum and cushy leather (tastefully embossed with the Spirit of Ecstasy insignia, of course).
Mercedes Tree Topper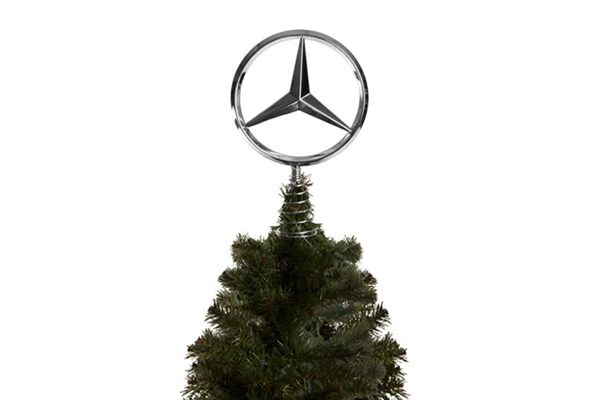 What better tree topper than a Mercedes three-pointed metal star ($52), which measures 8 inches across. Post on social, and dare anyone to top that!
Aston Martin Wrestwatch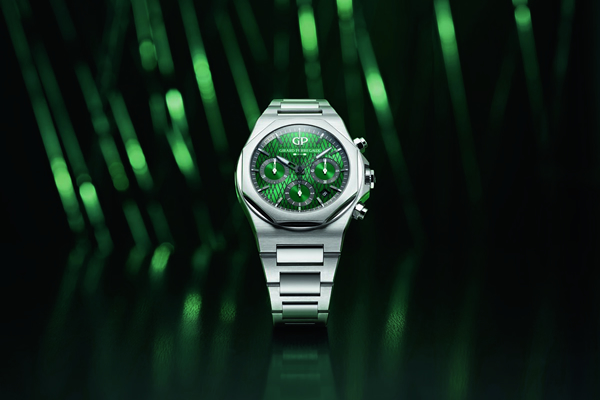 Just in time for the holidays, there's the Laureato Chronograph Aston Martin Edition ($18,000). Made by Girard-Perregaux), this ritzy wristwatch has a high-grade stainless-steel case, finely polished edges on the bezel, sapphire-crystal pane on the back, and racing-green paint applied to the dial 21 times.
Jaguar Suitcase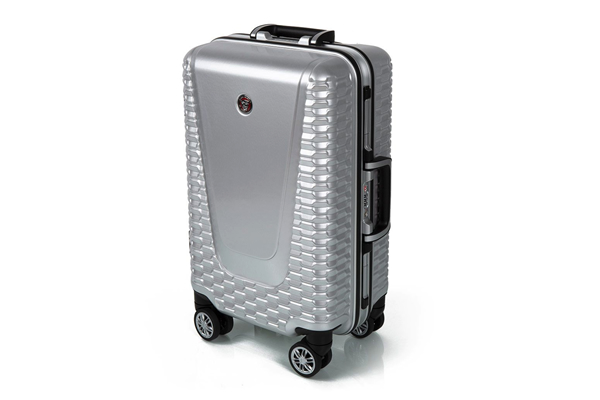 Simple but elegant, Jaguar's compact suitcase ($282) has a polycarbonate shell, aluminum frame and multidirectional wheels that look like real alloy car wheels. Two larger suitcases also available.
Subaru Holiday Sweater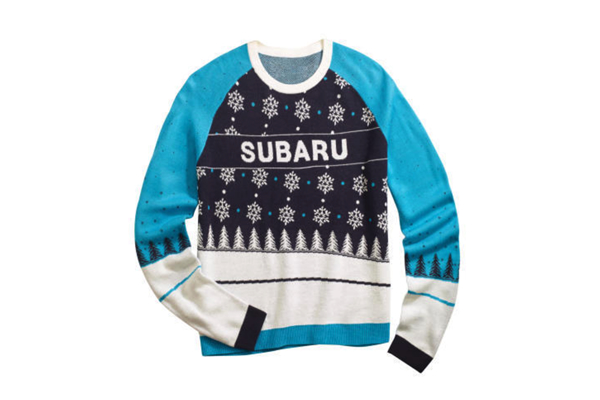 Just shy of being an entrant at some ugly-sweater contest, this festive Subaru holiday sweater ($70) is 100% acrylic and incredibly comfortable.
Front End of a 1962 Ferrari 268 SP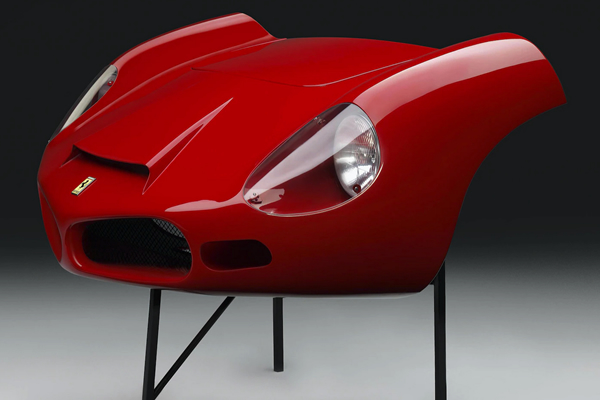 Only one 1962 Ferrari 268 SP race car was ever built, and now there's a full-scale replica of the front end ($22,000). A pedestal is available, or enthusiasts can mount this work of art on the wall.
Ferrari Vintage Steering Wheel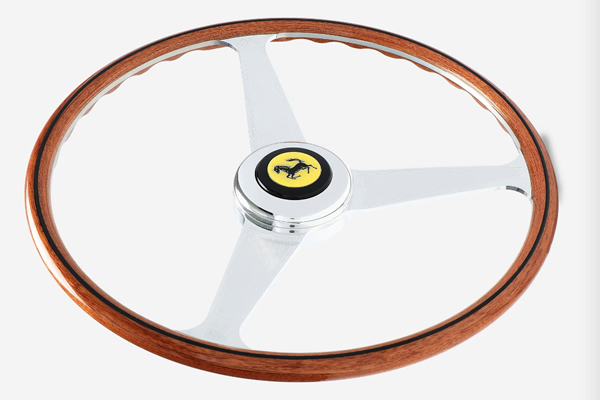 For more frugal fare (kinda sorta) Ferrari offers a vintage three-spoke steering wheel ($4,010). Such steering wheels were used in Ferraris between 1959 and 1965, and this full-scale repro—made of mahogany and polished aluminum—features the iconic prancing horse in the center.
Bentley Heritage Bear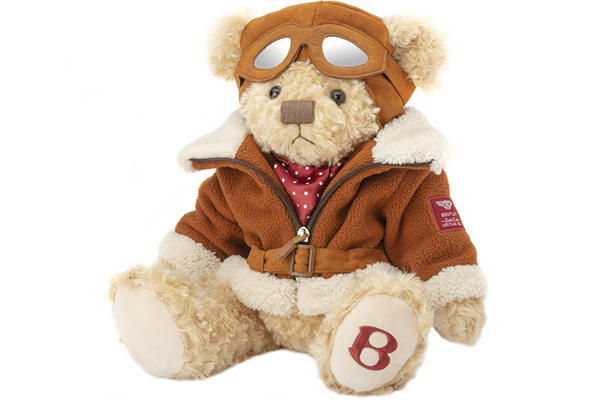 Many automakers offer cuddly teddy bears, and Bentley is no exception. The limited-edition Heritage Bear ($57) is decked out in snazzy fleece jacket, suede-like helmet and racing goggles. There's even a dust bag with drawstring for safekeeping.