February 21, 2020 at 8:37 am EST | by Kathi Wolfe
New book gives nuance to gender-neutral pronoun controversy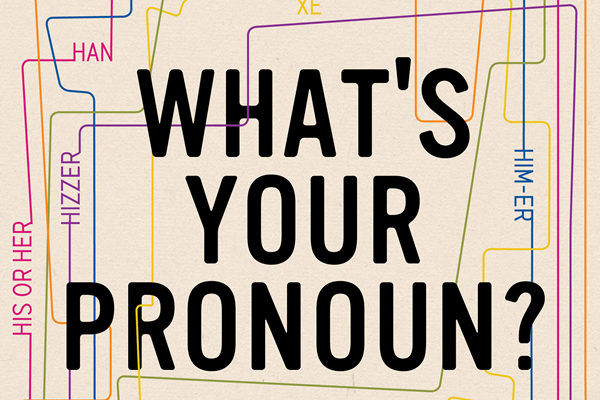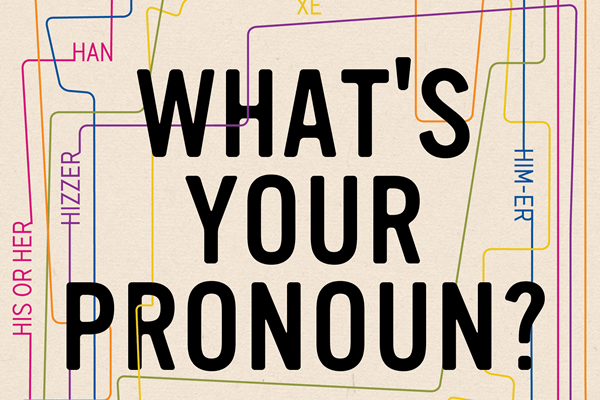 'What's Your Pronoun?: Beyond He&She'

By Dennis Baron

Liveright Publishing

$25.95

283 pages
"Ask the question: What is your pronoun?," Lady Gaga told an audience last year at a concert on the 50th anniversary of Stonewall, "For a lot of people, it's really hard, and their pronouns aren't respected or they're not asked."
This is one of the many stories that Dennis Baron tells about the passion and politics surrounding pronouns in the new book "What's Your Pronoun?"
You might think a book on a part of speech is as fascinating as reading the tax code: that it has as much to do with your life as climbing Mount Everest. But you'd be wrong.
Today, pronouns are up close and personal for everyone. We sign our emails with our pronouns. Trans, nonbinary and gender nonconforming students and prisoners fight to be addressed by their preferred pronouns. The Meriam-Webster dictionary declared "they" to be the word of the year in 2019.
"Pronouns are suddenly sexy," Baron writes, "They're in the air, on the news, all over social media. People are asking each other, 'What's your pronoun?' — it's the new 'Hello, my name is ___.'"

Asking about pronouns is a question about a part of speech, Baron writes. But, he adds, the question is also "an invitation to declare, to honor, or to reject, not just a pronoun, but a gender identity."
It's cool now to talk about pronouns, but the discussion is often heated. Why is this such a contentious topic? Because, "English has masculine and feminine and neuter pronouns," Baron writes, "but it is missing a pronoun for someone whose gender is unknown, unclear, nonbinary, or 'other.'"
Historically, "he" has been used to refer to everyone (male, female, nonbinary, gender nonconforming, etc.). Many grammarians thought using the "generic" he was fine. But, using the "generic" he left many feeling excluded. "Too often he means 'only men,'" Baron writes.
Feminists have decried this exclusionary use of he. People who are nonbinary or gender nonconforming feel excluded when the pronoun he is used to describe them. Many find using "he or she" to be both too clunky and binary.
"The grammar sticklers are always sure that English speakers don't need any new pronouns," Baron writes, "they've gotten along just fine with generic he, thank you very much."
Many people are working to fill the void of the "missing," inclusive, gender-neutral pronoun by creating new pronouns such as zie or tey. Fortunately, the grammar "sticklers are becoming hard to find," Baron writes.
Finding a new gender-neutral, inclusive pronoun that people will use isn't easy. Language is always evolving. Yet new words, especially when they're personal like pronouns, often sound or look strange to us. Yet a growing number of people realize that we've had the pronoun we've been searching for all along, Baron says. "It's singular they," he writes.
Saying "Alex eats their burger with mustard" may sound strange to some of us. Yet we've been saying sentences like "everyone forgets their passwords" for centuries. The Oxford English Dictionary traces the use of the singular they back to 1375 in the medieval romance "William and the Werewolf," Baron writes.
In "What's Your Pronoun?," Baron connects the current buzz around pronouns to our focus on gender inclusivity, nonbinary gender and gender non-conformity. Discussing pronouns could be an exercise in deadly earnest pedantry. Thankfully, Baron, professor emeritus of English and linguistics at the University of Illinois (who does not give his own sexual orientation, gender identity or preferred pronoun in the book), has a sense not only of the seriousness of language, but of fun.
No matter how impassioned you are about using inclusive pronouns, Baron is bound, at times, to make you smile. Some students resist declaring their pronouns. One "did by declaring that his pronoun was his majesty," he writes.
Arguments over gender and pronouns aren't new: they began centuries before Stonewall. "What's Your Pronoun?" is a bit repetitive, but that's a minor quibble. It's a riveting history of gender, language and pronouns. If you want to understand why pronouns matter, it's the book for you.