February 25, 2020 at 4:33 pm EST | by Evan Caplan
Empanadas are specialty for D.C. gay couple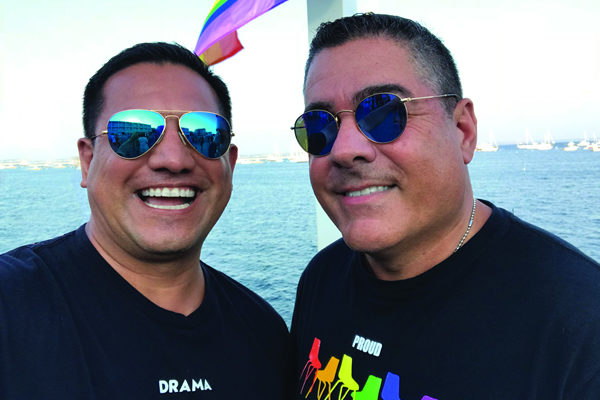 In Spanish, La Buena means "the good one." La Buena Empanada (labuenaempanada.com) aims to show how one gay couple has made a savory baked good even better.
Hernan Gigena and Chris Casinella (married in 2016) are pure Washington: they have each led careers in the private sector and at multinational organizations like the World Bank. But it is through the package of the empanada — bite-sized, hand-held, easy to eat — that they are able to express their deepest passion, founding La Buena Empanada earlier this year. Wunder Garten in NoMa (where one of the owners, Christopher Lynch, is gay) is their current pop-up post, where they will be serving their empanadas through the end of February.
Before meeting Gigena, Casinella had been married to a woman and was dedicating his life to career and family. It was with Gigena that the two decided to open La Buena.
"I told Chris that this was his time to finally open the food business that he'd dreamed of, but together with me," Gigena says. "He has a new partner, and a new outlook on life — this was the opportunity."
With their savings combined, they started making empanadas.
Gigena, born in Argentina, came up with the empanada idea. After his grandmother and mother both died, Gigena realized that he and Casinella could make empanadas to honor their legacy.
Plus, he says, "I think empanadas may become the new burrito. Twenty years ago, Mexican food wasn't nearly as prevalent. Today, Latin food is extremely popular."
Gigena explains the background of the empanada. While originally from Spain, each Latin American country has developed its own style. Some are made using corn or plantain flour, for example. Other countries deep-fry their versions, or even include sweet fillings.
Argentine empanadas, he says, are influenced by French and Italian cuisines that immigrants from these countries brought to their new homeland. The dough is light and flaky: reminiscent of European pastry. This leaves room for the filling to shine.
La Buena currently offers three kinds of empanada: beef, ham and cheese, and spinach and feta. The beef option, with onions, garlic potatoes, egg and spices, is directly from the pages of his grandmother's recipe book. The spinach and feta option comes from Casinella's grandmother, using Italian seasonings — the same filling she utilized to make ravioli. The ham and cheese (mozzarella, provolone, pecorino) is a tried-and-true Argentine recipe.
To top it off, Gigena serves the empanada with a vibrantly green and punchy chimichurri sauce.
The couple crafts the empanadas by hand, pre-cooking the fillings. At service, they finish the empanadas in an air fryer for a mere four minutes to cook the dough, ensuring that it's fresh and crispy.
"Empanadas are a simple dish to serve and consume," Gigena says. "This removes extensive preparation that might be required at a full restaurant."
Instead of swinging the food-truck route, as they had initially considered, the couple decided to serve the empanadas at pop-ups, for catering, and eventually, commercially.
"My idea is that customers can open a box of easy-to-prep empanadas along with popping a bottle of Argentine wine. And at the pop-up so far, we have been overwhelmed with the positive reaction we have received."
Beyond cooking, Gigena is also a visual artist, donating his work to LGBT causes in Washington for fundraising. The couple also partners with Tom of Finland vodka and its foundation to promote LGBT art.
As for future plans, La Buena has catering contracts with several institutions. Gigena is in talks with other venues around the city for future pop-ups. And in time for National Empanada day (April 8), La Buena will be back at Wunder Garten.
"We hope to create a positive food experience using fresh ingredients and a healthier cooking alternative, while also honoring our family's legacy and culture at a time that was perfect for us and for our audience," Gigena says.