March 17, 2020 at 1:49 pm EDT | by Evan Caplan
Lesbian entrepreneurs in N.C. dazzle with delicacies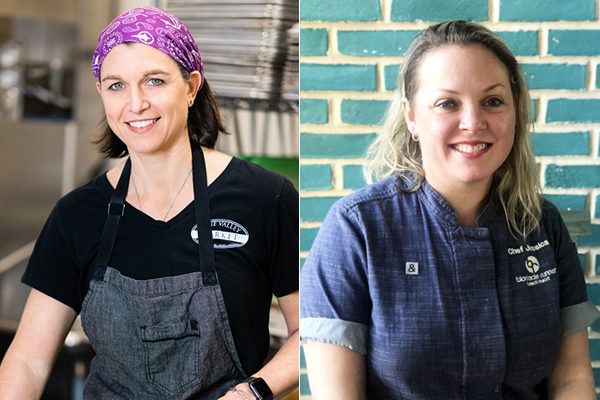 Christi Ferretti doesn't need to hang a rainbow flag outside the café she runs with her wife in Wilmington, N.C. Her identity is present in every made-from-scratch Southern biscuit sandwich she sells.
"Unpretentious-Americana" is how owner and South Beach Wine and Food Festival chef-participant Christi Ferretti describes Pine Valley Market. Ferretti and wife Kathy Webb-Ferretti are not just business partners, having married and adopted a son. But when they opened shop in 2002, the community didn't often see it that way.
Ferretti grew up in Florida, rolling calzones by her father's side. A teacher and caterer, she met Webb-Ferretti, who was raised in North Carolina, and settled in Orlando. When the opportunity arose to move to Wilmington and open their own store, they couldn't say no: but they also had to move somewhat back into the closet.
"Being an LGBT-owned business in the heart of the South has had its challenges," Ferretti says. "I remember the game of telling people Kathy and I were 'partners' which left it up for interpretation."
Owning a hangout along the town's main drag meant the two were popular figures. When they purchased Pine Valley, it was a small corner store. Today, it's a gourmet café, focusing on local products that highlight their pride in North Carolina and themselves.
"We love selling these old-timey products from Eastern North Carolina," says Ferretti, noting that it connects them even closer to the community they love. Some of her favorites: an elderberry syrup made from local berry bushes and a sea salt mix pulled right from the nearby Atlantic.
Half of their business, however, comes from catering, including weddings.
"With the political climate as it is, we get some flak for catering political events," she notes. But as one of the most popular caterers in Wilmington, "people want our food when they want to impress."
In 2012, after significant consideration, the couple decided to speak to the town that they weren't just together to craft home-style sandwiches and make house-aged steak. "My wife and I finally decided to step out into the light as a LGBT family. … I remember waiting for the fallout and there was none. We were embraced by our community and if we lost customers because of it, we didn't notice."
Ferretti says it was easier to be out in Orlando. But the lesbian community in Wilmington was older and "rooted in Southern-ness."
In 2005, the two started a biannual women's tea dance fundraiser. They rented out a venue on the beach, but hidden from street view.
"We remember crying at the end of first one," she says. "There were couples together 20 years but couldn't dance together in public." The only concern, she notes, is that the DJ has to balance country music with Billboard pop songs.
Today, Ferretti volunteers with the Girls Leadership Academy in Wilmington, an organizations connected to former Food Network president Judy Girard. Food Network chef Tyler Florence headlined a recent event, where he and Ferretti connected. Last month, at the South Beach Wine and Food Festival, Ferretti partnered with Florence to cook up Southern-style fried chicken at Florence's exclusive "Chicken Coup" chicken and champagne event. She also has a Washignton, D.C. connection: after Hurricane Florence, Jose Andres' World Central Kitchen partnered with Pine Valley as a satellite kitchen to assist in relief efforts.
Ferretti isn't the only lesbian chef making waves in Wilmington, however. Right on the sand is Jessica Cabo, executive chef of Blockade Runner Beach Resort in Wrightsville Beach, just across the intracoastal waters from Wilmington. Originally from Long Island, she landed in Wrightsville Beach after a stint in California, bringing a blend of New York Italian cooking with Asian-style influences from the West Coast.
At the resort leading the restaurant and bar, Cabo has ensured that her "kitchen staff has always been very diverse. Being a woman chef," she notes, "there are some things to overcome."
This she has done: In 2005, Cabo's skill planted her on the premier season of "Hell's Kitchen," the fiery TV show hosted by Gordon Ramsey. Cabo excelled, ending up third place. She gained fame not as much for her snappy comebacks, but for what might have been the first lesbian kiss on national television.
"I saw my girlfriend at the time for the first time in a month, and of course I kissed her. It was instinct," she says. Fox, the network on which it aired, had never introduced Cabo as a lesbian on the show, so "it did come as a surprise when it aired. I am proud of that moment as I've had LGBT people reach out to me ever since to thank me for my courage."
As leading women in their beachside community, Ferretti and Cabo are visible and proud markers of who they are and what they create.
"Food is a way to people's hearts," Cabo says — and also is a route to acceptance.