January 29, 2020 at 12:48 pm EST | by Evan Caplan
Entrepreneur goes for 'dive bar' vibe at Last Call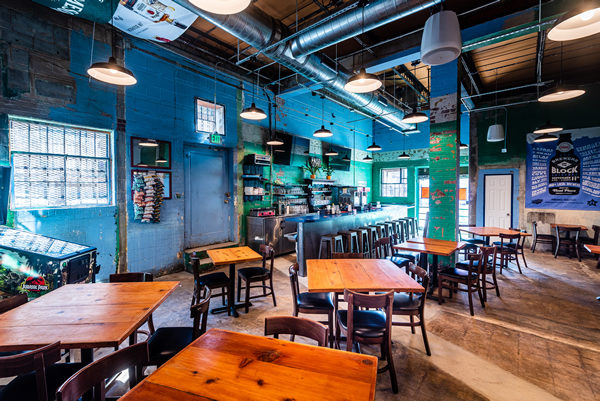 As a bar, Last Call officially opened in October. Its spirit, however, dates from the time its doors received a striking coat of green.
The inexhaustible Gina Chersevani, also known by her nom de cocktail Mixtress D.C., is at it again, opening not one but two new watering holes in the space of two months.
The first is Last Call, (1301-A Fourth St., N.E.), tucked into the shadowy warren of alleys a mere block from the highbrow vendors in Union Market, where Chersevani operates the Brooklyn-flavored Buffalo & Bergen stall.
Easy to miss, Last Call sits in a low-slung converted warehouse, but its history is as varied as it is inglorious. That green door painted is a Prohibition-era signifier that it was safe to sample and sip the pours flowing inside.
Yet Chersevani, who's straight, isn't attempting an exaggerated homage to a speakeasy. Last Call hews as close to a dive as a new bar can, upholding an effortless ease that its owner exudes. Beers start at a mere $3 (PBR, Budweiser); other drafts don't break $7.
As for the cocktail list, "it was an exercise in constraint, since we love all kinds of booze," Chersevani says. "It's really hard to make great drinks cheaply without comprising product, but we found a way and they are all damn tasty."
Drinks are in the $5-11 range, the last double-digit price for a caffeinated concoction with Jameson, Irish cream, coffee and a New Orleans-inspired green chartreuse float. Partygoers can partake in Jell-O shots to recall college days. Should they want to reminisce about study abroad, Last Call serves a play on the Aperol spritz, swapping out refined prosecco with a more approachable Schlitz.
The bar's décor matches its attitude. Every piece of furniture is a found or donated object. The previous green-blue interior paint job remains intact; retro lockers line the walls in the back.
"The design was actually really thought out, so it's not just slapped together," Chersevani says.
Modern elements? Flat-screen TVs allow for views of the game.
PBRs and frose drinks call for munchies. A short list of DIY noshes: choose chips (Zapp's chips, flown in from New Orleans) or locally made Snacklin's to pair with dips like French onion and pimento cheese.
"Didn't you ever go out with friends and tell the story the next day that, 'I was out until last call last night?'" Chersevani says. She's aiming for much more of that.
A mere 36 days later, Chersevani opened a grown-up version of Buffalo & Bergen in Capitol Hill (240 Massachusetts Ave., N.E.), an outgrowth of her wildly popular Union Market stall.
"B&B Capitol Hill is a gorgeous little place that leads with drinks and bagels," Chersevani says.
This "drinkery-dinette" marries Chersevani's throwback style with cheeky modern flair "into this little jewel box of a place," she calls it.
Named for a cozy corner of two streets in her native Brooklyn, this new Buffalo & Bergen lets Chersevani flip dishes reflective of all the character of New York (and D.C.).
New York-style side-eye is a major component of the menu. Chersevani's true love — bagels — shines in the Cheezus Has Risen, a generous package of gooey double-cream brie, smoked Gouda and cheddar. Latkes are no longer just Hanukkah fare: the Live, Love Latkes is a heaping pile of crispy potato pancakes aside the appropriate toppings — crème fraiche, mascarpone and a smoky-sour bourbon applesauce.
Chersevani isn't Jewish, but grew up in a Jewish neighborhood and takes license with her Brooklyn heritage. She spikes her bloody Mary with an everything bagel stuffed with lox, cream cheese, capers and red onion. She also offers the opportunity to make your bagel very, very bad: the Original Sinner tosses verboten bacon on the classic lox combo.
Drinks are even more wide-ranging, but almost all infuse apples as a nod to, well, the Big Apple. Splashing south-of-the-border into a touch of Lower East Side is the "A Dolla & A Dream," with mezcal, quince, honey, and yes, Manischewitz.
Through all this action, Chersevani was back at work to plan her fourth annual madcap Mardi Gras Extravaganza party to rival anything the French Quarter could offer. Taking over Union Market's Dock 5 on Fat Tuesday (Feb. 25), the party features celebrity chefs, live music, and benefits D.C. Central Kitchen.
Chersevani was effusive about the event, as is her style. "Mardi Gras Extravaganza is incredible — it's a great [expletive] party with a Hurricane competition in the dead center of it."