Hanks opens on the Hill
New oyster bistro slightly different from its sister locations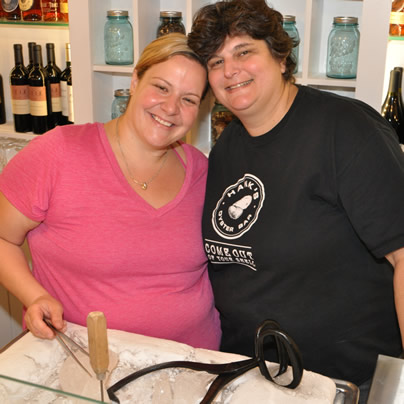 Jamie Leeds is doing something right — Hank's Oyster Bar is a Dupont Circle mainstay that came to fruition in the spring of 2005. In 2007, she opened a second Hank's in Old Town Alexandria.
Now she's expanding the Alexandria location and she opened a third Hank's Oyster Bar on Capitol Hill (633 Pennsylvania Ave S.E.) this week. Leeds says opening Hank's on the Hill while expanding the Alexandria location is her "most exciting accomplishment."
Leeds has partnered up with "mixtress" Gina Chersevani for this new venue. This 40-seat location features Leeds classics such as the lobster roll and her famous "Meat and Two" option, where patrons receive protein and two sides. This location also includes a 20-seat bar named The Eddy, where patrons can belly and enjoy a handcrafted cocktail.
Hank's on the Hill feels like a New England cottage with white trim, light grey walls and whitewashed slats hanging from the ceiling. The white marble bar has a block of ice sitting front and center so Chersevani, who's straight, and staff can carve ice for drinks. The raised oyster station at the back of the restaurant is purposefully the center of attention. Eventually, the Capitol Hill location will also have outdoor seating. Leeds is not anticipating the same trouble obtaining permits as in Dupont where half the outdoor seating area remains closed due to opposition from residents.
Leeds is excited to "deliver excellent seafood and become part of the neighborhood." Her favorite items on the menu are the fried oysters and the molasses-braised short ribs. At the Capitol Hill location Leeds applies what she has learned from her other restaurants; one important lesson is surrounding herself with the right people. She looks for people who are dedicated, committed to teaching and service oriented. This is how she runs a successful business and balances her family life with partner Leslie Detenber and their son Hayden.
Leeds first hired Chersevani 10 years ago when working at 15ria. Thy have talked about working together and both were excited when the opportunity arose. Chersevani happily tells a story of an early experience with Leeds at 15ria when she had to make a Blueberry Smash — she simply threw the ingredients together, including frozen blueberries. Leeds was not impressed. Chersevani realized this was an opportunity to grow, and take her cocktails to the next level. Chersevani says that "training with chefs like Leeds has allowed her to become a better mixologist." Cocktails should "tell a story," and many of the stories she tells on the current Hank's list are political.
The new mantra for Hank's Capitol Hill is "swirling liquors and turbulent mixers" and Chersevani is excited to bring "better" cocktails to the neighborhood. Her beverage program consists of 20 intricate cocktails like her personal favorite, The Georgia Mafia, which contains peanut washed Michter's Whiskey, Sweet Vermouth and marshmallow bitters. Chersevani dubbed this cocktail the "X-rated Fluffer Nutter." She says that while it may be a small list at Hank's on the Hill it's a "small list with impact."
On Tuesday night, I dined at Hank's on the Hill and ordered grilled pork chop. I chose the heirloom tomatoes and the buttermilk onion rings as my sides. Both sides were palatable, but the pork chop was cooked unevenly and some morsels were juiceless. The short ribs were not available on the night I dined, but the fried oysters were and I agree with Leeds. The oysters were delicious fried bites that perfectly combined the crispy breading and delicate flavor of the oysters. I chose the Gnome Water Rebellion as my drink for the night and I was blown away by the freshness brought to the drink by the cucumber water and the overall balance of flavors.
Hank's Capitol Hill "is not like anything else," says Chersevani. "It will feel like home, with laughter and good times." On the night I was at Hank's the bar was bustling and Chersevani was chatting with patrons and handing out shots. Everyone was listening to her stories and enjoying the night. Hank's on the Hill is open Sunday thru Wednesday from 5-10 p.m. and Thursday through Saturday from 5-11 p.m. The Eddy is open daily from 5 to midnight.
Celebrating sports history: DC Gay Flag Football's 25th season
Head of District's premier league says it's 'groovin' to its silver anniversary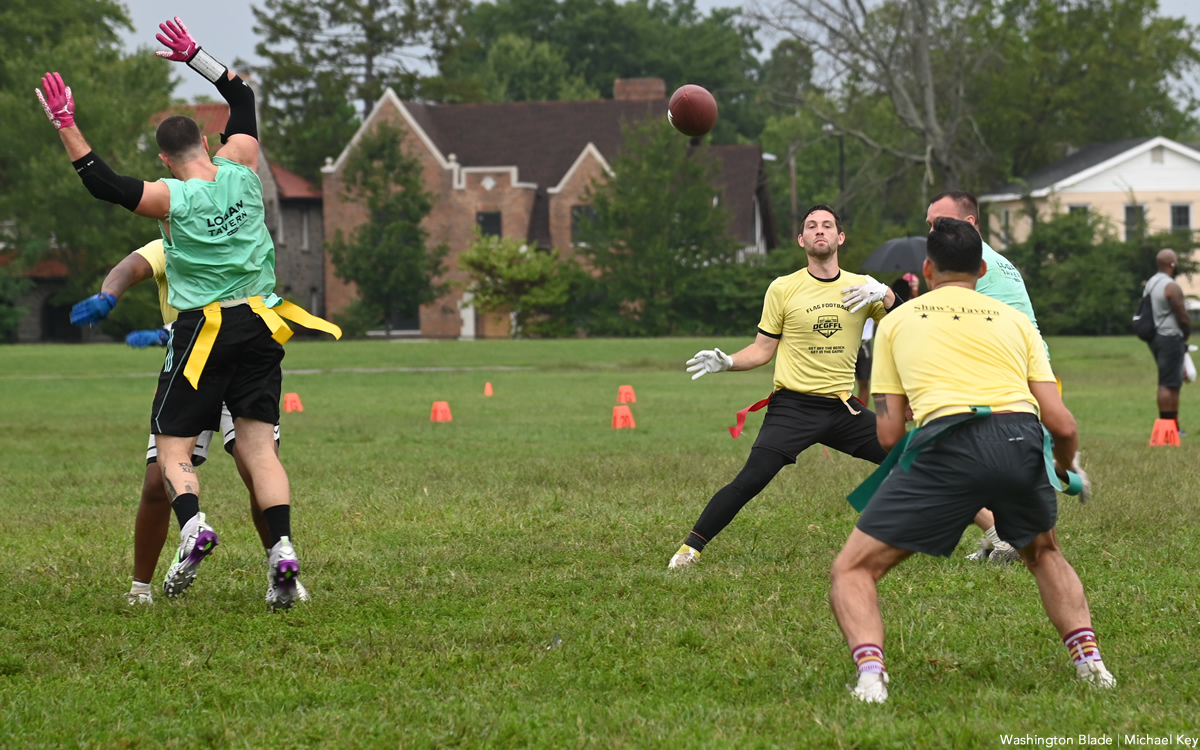 What started when gay football fans got together in the 1990s to play their favorite sport is now a D.C. institution with 270 players in 20 teams spread over three fields, playing in both fall and spring.
"Get off the bench," shouts the slogan on the league's website. "Get in the game!"
The D.C. Gay Flag Football League turns 25 years old this month and is considered not only the premier league of its kind in the District, but is recognized across the country for its players, organization, and spirit.
"The way we run our league and the way we compete make us stand out relative to the rest," DCGFFL Commissioner Logan Dawson told the Washington Blade.
For those who don't know flag football from any other kind, the difference is easy to spot: There's no contact allowed. As the rules say, "That includes tackling, diving, blocking, and screening. Instead, players wear flags that hang along their sides by a belt. To 'tackle' the person in possession of the ball, the opposing team needs to pull one or both of their flags off." There are a lot more rules, but that's the one that really sets it apart from tackle football.
The sport itself dates back to World War II and its origins have been traced to Fort Meade, Md.
What's the secret to the league's longevity? "I think we attract and hold on to great athletes who are highly competitive, not only on the field, but also, in our professional and personal lives," he said. Dawson, 32, plays flag football as well as manages the league. He's currently single, but says his first love is the weather.
"I knew in second grade that I wanted to be a meteorologist," said Dawson, who moved to the District to be a meteorologist with the National Weather Service.
A prolific swimmer since high school, he came out as he started grad school at Purdue University in Indiana in 2012. In an op-ed appearing in Outsports in 2014, Dawson wrote about competing in his first Gay Games in Cleveland along with a group of other gay swimmers from Colorado, and left that experience determined to join a gay sports league. 
He found it in the fall of 2018 in the DCGFFL, the same year the league's Generals team won Gay Games XVIII. The league supports up to five travel teams, which take part in annual tournaments nationwide. It also hosts a summer tournament each year in Rehoboth Beach, Del.
"There's a good amount of participation by people who played in the league from the very early days," Dawson said. "I think we're just in the sweet spot, where we have a lot of the original participants, a lot of new players, and we're just kind of grooving right now."
The first group gathered at Francis Field near Dupont Circle in 1994. Three years later, another group formed to play just steps from the Washington Monument Mall. They came together in 1998 to form what is now the DCGFFL.
"For the majority of those seasons, we mainly had one division that played that was co-ed," said Dawson. "This is our second season that we've had a Womens+ Division made up of [cisgender] women, trans and nonbinary individuals." The Womens+ teams are called the Senators.
Jayme Fuglesten is director of the Womens+ Division and has played in the league in most seasons since 2011.
"The DCGFFL has been a major part of my adult life," she says. "I came out while playing in the league in no small part because of the love and support of this community."
Why does she think the league has been such a success to have lasted 25 years?
"I think the league has been so successful because of its focus on inclusion and community," she says. "I remember being so surprised in my early years when JJ and so many others would just come right up to me, hug me, and welcome me. And that really hasn't changed in the 20+ seasons I've been around. It also continues to grow and respond to the needs and desires of our players. One example of that is the new Womens+ division, which gives an additional space for people who identify as womens+ to play and cultivate stronger relationships."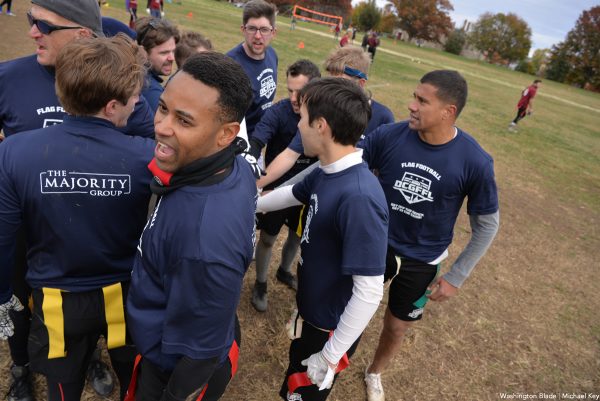 Next month, the DCGFF will send both Generals and Senators to Gay Bowl XXIII in Seattle. "That's going to be the first time we're going to have two Womens+ teams at the Gay Bowl," Dawson told the Blade. "It's reflective of the new generation of the league."
Earlier generations had trouble attracting new players. As the Blade reported in 2019, what had been a steady number of 20 to 22 teams dropped dramatically to 14, its lowest roster since 2011. The league's leadership turned it around with new recruiting events, new sponsors, changes in their social event locations, changes to their player draft and a change of venue for league play beyond Carter Barron fields in Rock Creek Park in Northwest Washington.
Brentwood Hamilton Park in Northeast Washington is now home to the recreation division and Randall Field south of the Capitol is the league's third venue.
Just like every facet of society, from coast to coast, what happened next hit the league hard. "COVID happened in spring of 2020," recalled Dawson. "Everything shut down, and we did not play for what amounted to three full seasons for a year and a half."
But once the world emerged from quarantine and lockdowns, flag football players started flocking to the DCGFFL. "We've had probably over 150 new players join our league in the last two years," he said.
One thing is certain, said Dawson: Despite the name, not everyone who plays in the gay flag football league is LGBTQ+.
"It's a really great community. There's a straight couple that's married and will be soon having a child in the next month or so," Dawson said. "They met playing in the league, just like we've had gay couples who meet in the league and eventually get married and have children."
Prominent among the league's many sponsors is the NFL hometown team, the Washington Commanders. "They are highly supportive of us, not just financially, but also publicly supporting what we are, and our mission," Dawson said.
This current NFL season is the first since 2021 without an out gay player on the gridiron. That's when Carl Nassib became the first active pro football player to come out as gay.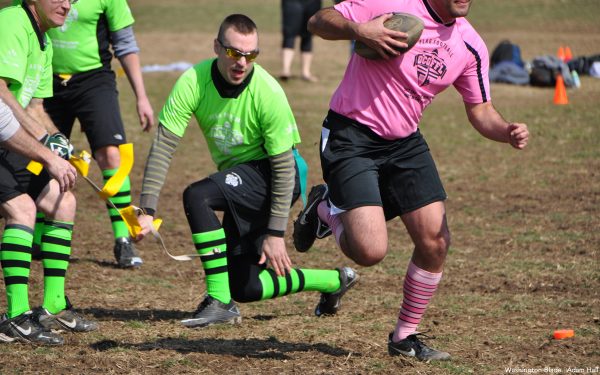 While Dawson said, "I'm sure there are more out there" who have not yet come out, Nassib's retirement makes this anniversary of the DCGFFL even more significant.
"It's unfortunate people still feel they cannot be out while they're playing and doing what they love, but that's the reason why something like the D.C. Gay Flag Football League is so important," he said. "To show that there are gay and trans athletes who exist and love playing sports."
The league plans to celebrate its 25th anniversary with a dance party and silent auction at Penn Social on Saturday, Sept. 23 starting at 8 p.m. Check the website for ticket information.
2023 Best of LGBTQ DC Readers' Choice Award Finalist Voting
Vote for your favorite finalists through October 2nd!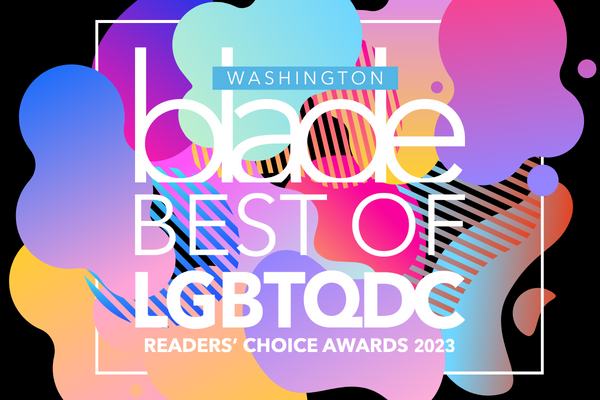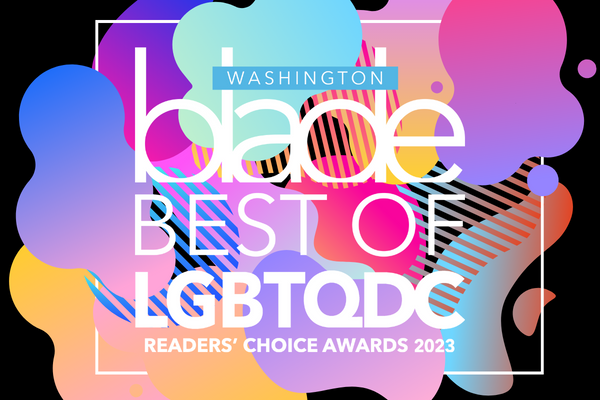 John Waters gets Hollywood Walk of Fame star
Baltimore native proclaimed 'here I am … closer to the gutter than ever'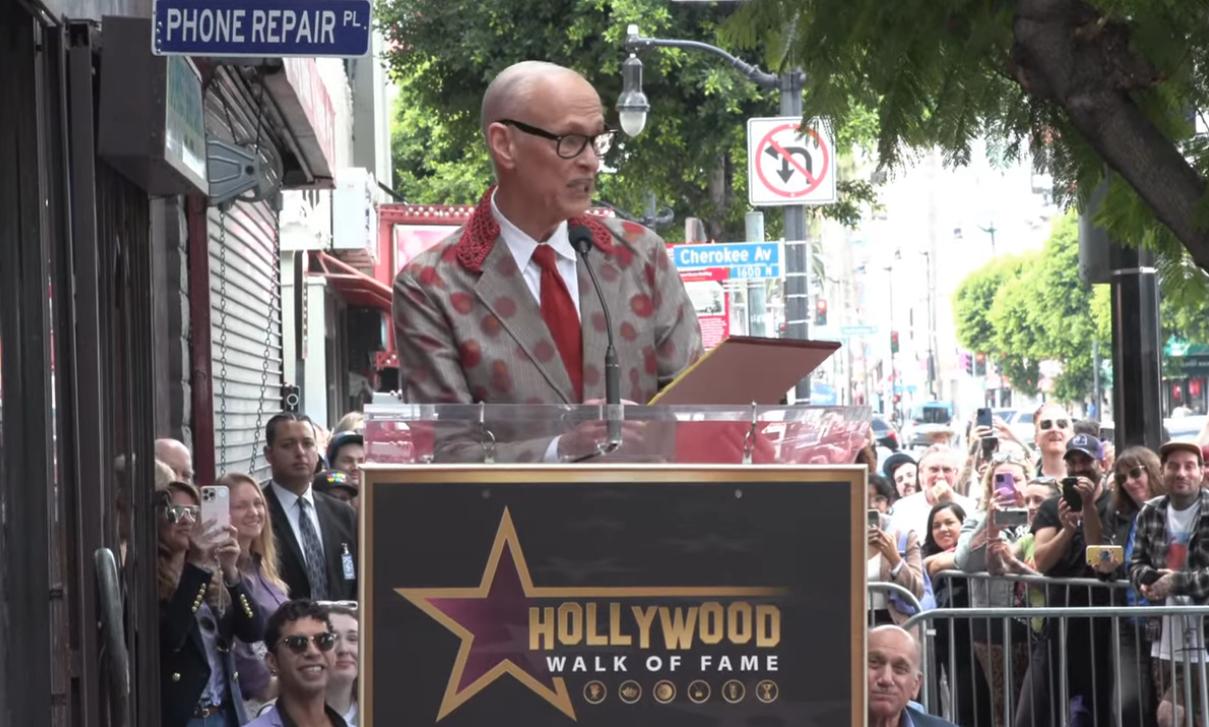 Today, the famed Hollywood Walk of Fame became a little more rainbow than it had been before. With gilded star etchings depicting icons on every corner, the powers that be dedicated September 18 to a man who arguably helped thrust LGBTQ visibility into a culture that was probably not ready at the time to receive it. The modern-day fascists amongst us might even call him a "groomer."
We call him John Waters.
Waters first arrived in Hollywood in 1970. He parked at Hollywood and Vine and received his first bit of Los Angeles recognition.
He got a jaywalking ticket.
Outspoken and brash, Waters introduced outsider culture and heralded gay and transgender visibility into American cinema when the Stonewall uprising was still a very recent memory. His 1972 film "Pink Flamingos" was brazenly trans affirming. It powerfully and glamorously flew in the faces of audiences while trans people only faced marginalization and were stigmatized in the Nixon Vietnam and Watergate era.
His film Hairspray was first a cult favorite and in later iterations, a hit Broadway musical, and a second mainstream hit movie. It featured LGBTQ characters and a leading character in drag. Waters has also written several LGBTQ themed books including "Shock Value" and "Role Models."
Part of the charm of John Waters is his knack for not taking himself, or any of us, too seriously. His first words as he ascended the podium for the Walk of Fame honor: "Here I am…closer to the gutter than ever!"
"I hope the most desperate showbiz rejects walk over me here and feel some sort of respect and strength," he said later paying tribute to his greatest inspirations: The underdogs.
Waters dedicated his star to his parents. Pat and John Waters, who had been horrified by his earliest films, but encouraged him to pursue Hollywood nonetheless. "What else could I do?" he mused.
All in all, Waters was "astonished" over the tribute. He thanked Outfest for sponsoring the event and for thinking he was "gay enough to receive it."
Ever the director, and thinking ahead, he took a moment to make a recommendation for whom he thinks should be Hollywood Boulevard's next star recipient:
Divine.
Film critic and historian Leonard Maltin summed up John Waters this way: "John Waters is a national treasure, a unique and original voice in American cinema. His films are subversive, hilarious, and thought-provoking, and they have helped to change the way we think about outsider culture and LGBTQ+ representation."
Now Waters has his day, and his star, immortalized forever on the famous Hollywood path. We can only hope his effect on American culture, where the "outsider" can stand tall, proves to be as solid.