March 6, 2020 at 11:01 pm EST | by Patrick Folliard
Semi-obscure Shakespeare play 'Timon' re-gendered in winning STC production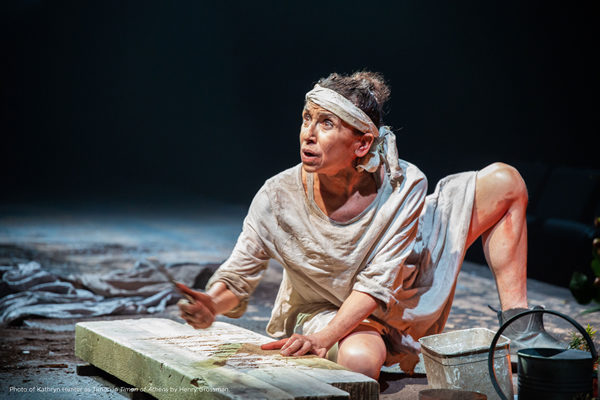 'Timon of Athens'
Through March 22
Michael R. Klein Theatre
450 Seventh St., N.W.
$35-120
202-547-1122
Before it was commonplace, Kathryn Hunter was into gender swapping. In 1997, she played Shakespeare's King Lear — the first British woman to do so professionally. She's also played Richard III, as well as innumerable female roles including Cleopatra, and even assayed the part of a monkey. Diminutive with long sinewy limbs and an extraordinarily expressive countenance and raspy voice, she's been described admiringly as a "shape shifter."
For her current gig at the Shakespeare Theatre Company, Hunter gives a riveting star turn as the title character in "Timon of Athens," excitingly staged by new artistic director Simon Godwin. Ordinarily a male character, this time Timon, the seemingly beloved Athenian lord, is re-gendered as a lady. Unlike Lear, there doesn't seem to be a specific gender demand with Timon, so by changing a few pronouns it works. It also provides a different perspective.
Not simply a distinctive physical presence, Hunter is equally adept at clowning and tragedy. She gives a riveting performance that is lucid and emotive, splendidly imbuing each line with clarity and meaning.
Attributed to Shakespeare and Thomas Middleton, the rarely seen "Timon of Athens" doesn't rank high in the Bard's canon. The plot is simple — a generous-to-a-fault rich person loses their money and in turn loses all their friends. It's mostly predictable, but what's most interesting about the work is its cynical assessment of our relationship to gold, a thread that runs throughout the play and production.
Decked out in golden robes, her lacquered locks up and secured with hair sticks, Timon entertains grandly in her gilded dining room, surrounded by fawning sycophants on hand for the free eats and swag. During a typical dinner, Timon gifts friends with jewels, refuses debts owed her, lavishes money on mediocre artists and merchants pushing dubious goods and gladly gives a substantial sum to the father of her servant's betrothed. It's crazy.
And when Timon volubly claims that she's rich in friends — these friends — you know, she's in trouble.
Trouble comes, indeed. Her loyal steward Flavius (John Rothman) reluctantly reports to Timon that she is deeply in debt and her creditors are demanding payment pronto. And not incidentally, she is without funds. When Timon seeks assistance from her pals, she's in for a rude awakening. On the verge of losing everything, Timon hosts one last grand soiree with startling results.
Godwin's reboot of this semi-obscure work, first produced at the Royal Shakespeare Company, makes for a daring directorial debut at STC. Happily, his take is exhilarating and relevant and gorgeously designed by Soutra Gilmore (set and costumes) and Donald Holder (lighting). And it's immersive — Timon's servants pass tasty Greek hors d'oeuvres to the audience.
After intermission, Timon, now stony broke, has set up camp in a wood outside of Athens, where she sports a torn sackcloth and survives on various root vegetables. No longer interested in society and the allure of city life, the once-glamorous hostess prefers to be far from people. There, the newly avowed misanthrope is forced to engage with a series of unexpected visitors including party friends like strapping Alcibiades (Elia Monte-Brown) who's leading an uprising of Athens' dispossessed, and Patti Smith T-shirt-wearing philosopher Apemantus (Arnie Burton) who sidles in with his usual cynicism and worn messenger bag slung over his shoulder. Also, after hearing rumors that Timon has gold again, the Painter (Zachary Fine) and Poet (Yonatan Gebeyehu) pay a visit to their patroness turned unwashed hermit, to see if there's anything there for them. Timon toys with them.
It's during this estrangement from her former life, as Timon changes from Lady Bountiful to something entirely different, that Hunter is at her best — delightfully witty, sly, playful, sad and heartbreakingly poignant.
Ultimately, "Timon of Athens" is about self-discovery. Having been both a have and have not, Timon learns what gold can and cannot buy. What she wants and doesn't want out of life. It's as timely now as when Shakespeare and Middleton put it to paper.