March 5, 2020 at 7:34 am EST | by Scott Stiffler
'The Inheritance' actors reflect on two-part AIDS drama as Broadway production winds down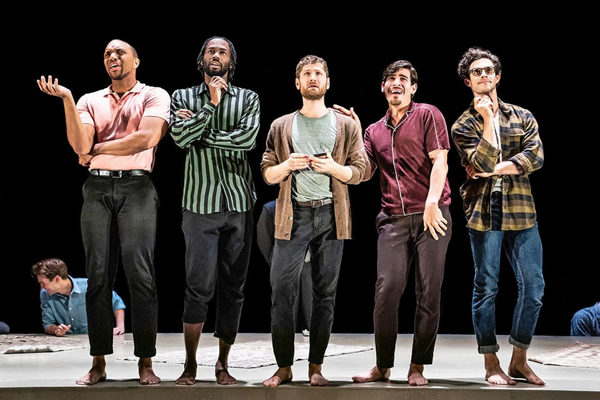 'The Inheritance'

Wednesdays/Saturdays/Sundays at 1 p.m.

Thursdays/Fridays at 7 p.m.

'Part 2'

Wednesdays/Saturdays/Sundays at 7 p.m.

Through March 15

Ethel Barrymore Theatre

243 W. 47th St.

New York
A group of four young actors in the cast of "The Inheritance" on Broadway have more in common than a numeric designation noting their membership in the writer's workshop/internal dialogue that yielded Matthew Lopez's two-part, nearly seven-hour play.
Set to close on March 15 after 138 post-preview performances (86 of "The Inheritance" and 52 of "The Inheritance Part 2"), this adaptation of E. M. Forster's "Howards End" sees thematic motifs, plot points and personal fortunes from the 1910 novel play out in a world where PrEP-savvy, politically astute contemporary gay Manhattanites bond, sometimes spar, with counterparts who came of age in Gotham during the HIV/AIDS epidemic's plague years.
It debuted in London in early 2018 and opened on Broadway last September to largely favorable reviews but a recurring critique has been that unlike its obvious predecessor "Angels in America," its dramatic heft doesn't always justify its luxurious length. A New York Times review drew such polarized reader response that the paper had playwright Lopez write a highly unusual piece last month on what inspired the work and why he thought response had been so mixed.
Although there are straight actors playing gay roles in the cast, actors Jordan Barbour, Jonathan Burke, Carson McCalley and Arturo Soria, all identify as either queer or gay and deliver performances that set off ping after ping on the LGBTQ authenticity radar.
As for the four young men on deck at the Ethel Barrymore Theatre, "They're sort of the blurred line between the characters we're playing and ourselves," says Jordan Barbour (Young Man 6), recalling a rehearsal note from playwright Lopez, who explained each of them represents, "a different facet of (lead character) Eric Glass's brain. They're the manifestations of the ideas he has while writing the story, which will become the play the audience is watching."
People can change, the play constantly reminds us, and the sum total of their actions determine whether they've faced the final curtain having left a legacy, or squandered their inheritance. To that end, each Young Man maintains a presence throughout the play, occasionally popping up to provide juicy narrative tidbits, or exercise author's prerogative to revise, setting certain characters down different paths.
Jason and Stephen are two notable beneficiaries of the play's fondness for sudden pivots. Both mutual friends of Eric, Jason is a first grade teacher in a relationship with Stephen, whose career changes when Young Man 8 declares him to be "a high school science teacher," cutting off Young Man 2 in mid-sentence, to reboot a timeline that once saw him working as "a human rights —."
But Young Man 2 does have his say, when a rapid-fire volley with Young Man 8 sees Stephen's relationship with Jason go from boyfriend, to partner, to husband. What's more, Stephen's name is now the same as his husband, giving the couple their own coveted shorthand moniker ("The Jasons").
Just prior to those alterations, we learn Eric and Tristan met shortly after college. Three dates yielded no romance, but their chemistry proved the perfect formula for a best friend dynamic that remains intact, a seed that takes root when tensions arise down the road.
Barbour, who identifies as gay, says he's proud to play the role of Tristan, although he does not share his character's status as a person living with HIV.
That said, notes Barbour, "I wanted that aspect of Tristan to be just that, another part of him, not a defining characteristic. But I do feel like I have a great deal of responsibility on my shoulders, because that is sorely represented in theater, and pop culture in general — not just HIV-positive men, but black gay men."
As one of many friends who circle their wagons when Eric's rebound love interest shows the classic signs of a toxic mismatch, straight-shooting Tristan excels at lobbing the kind of quality zingers one expects at a social event where alcohol mixes with the largely gay guest list. But when he engages in debate with the new guy, a billionaire whose support of Trump is unabashedly rooted in the quest for better profit margins, Tristan's return volley reveals a firm grasp of history and lands, for the most part, on the right side of civility.
The writing does much of the heavy lifting here, but it's given additional dimension by the actor and director Steven Daltry's commitment to create a Tristan who reflects the fact that Barbour is the first African American to be cast in the role.
"So as far as that scene goes," says Barbour, of the sparring session with wealthy conservative Henry Wilcox, "this is a gay black man who is in a room with a Trump voter, whose entire platform has been built on hate, so the challenge was to find how this character is able to unleash his frustration, but also maintain a certain level-headedness. … I often find myself in circles where I can't lose my cool, because if you unleash your anger, you get labeled as 'the angry black man.' And Tristan, he really should have anger at Henry, but he manages to share it in a manner that is not destructive."
Arturo Luis Soria, who identifies as queer, was also asked to bring his background to the forefront.
"In previous productions," he says, "I don't think Jason (2)was Latino." But Matthew (the playwright) came up to me and said, 'I want you to put some Spanish in the show.'"
During the rehearsal process, recalls Soria, "I was encouraged to ad lib. Matthew and the director were like, 'Play, play play!' All of a sudden, there was a salsa number in the show. I get to dance. I mention flan! It was great to bring my culture, and the language of my family, to the stage."
And with Jason, adds Soria, "I also get to step into this unapologetically queer force of joy and energy and camp, and I love playing that. When I approached this play, I didn't want to cut that, or the cultural side, out of me. This was an opportunity to say, 'Yes, we're here. Our stories need to be told.'"
Soria says the Broadway production's commitment to tell those stories has not gone unnoticed.
"A lot of people, a lot of Latinos I've spoken to after the show, they're really happy to see that."
Count Supreme Court Justice Sonia Maria Sotomayor among those who've issued favorable rulings.
"She said some beautiful things to me, about my portrayal of Jason," Soria says. "That was a huge honor, to hear it from her."
Others in the cast have similar stories.
Jonathan Burke, who plays Young Man 5, a voice of reason/talent agent, and Charles Wilcox (son of Henry Wilcox) recalls a post-performance conversation with an older person who lived through the plague years.
"There's a point where we mention names of people who died during the epidemic," says Burke, "and two of them, back to back, were the names of him and his partner, who died. He said, "I felt his presence with me, like I was with him.' What more can we ask for, if he feels that love and energy again? And a lot of young people are very moved by it, because they've not seen the story of the epidemic played out so honestly and vividly. It's made them aware of what people before us went through.
Burke, who describes his Young Man 5 as "a baseline of who I am, as a black, gay young man living in the 21st century," found in Charles (son of Henry) Wilcox "a character so far from myself, who has a completely different perspective from a lot of other characters in the play. He's not a villain. He just wants what's best for his family, to make sure their legacy stays strong. I wanted to find the humanity in a character who may seem villainous to some."
Queer-identified Carson McCalley plays Young Man 3 and, in his portrayal of young Henry Wilcox, brings shades of gray to the character's highly polarizing contemporary incarnation.
"I was never scared of showing him as flawed," McCalley says. "The play has an incredible range of queer people, and I don't think showing someone who (does what he does because he) is scared, is dangerous to the community. In fact, I think it's an opportunity."
He relates.
"For a long time, I've been really scared. It's hard being an actor in general, and harder being a queer actor. You're always thinking about how you're being viewed. There's this subconscious bias that the industry has, boxing people in. … But I have never, in my life, been able to connect to anything in a deeper way. So although it's scary to be a queer actor, the payoff is unimaginable, when you have an opportunity to tell a story that you can own 100 percent, that's in your blood."