April 2, 2020 at 12:42 pm EDT | by Philip Van Slooten
D.C. mayor urges patience as tipped workers struggle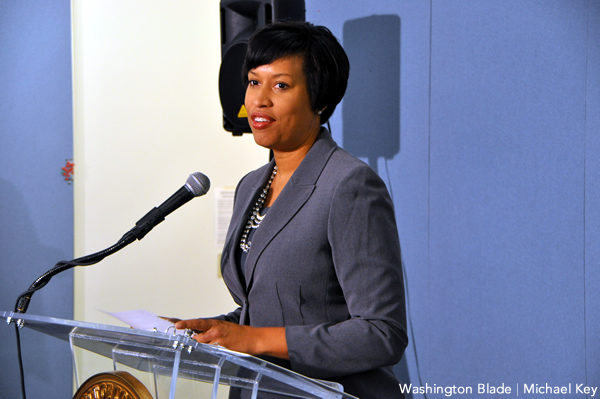 D.C. Mayor Muriel Bowser urged tipped workers and other unemployed residents to be patient with delayed benefits during Wednesday's coronavirus virtual town hall.
"Our hearts really break for workers in the restaurant industry who were among the first to feel the economic devastation of COVID-19," the mayor told a former tipped worker who had not received her benefits and could not pay her rent.
Bowser also noted hospitality workers were "some of the first distribution of people who signed up early" for unemployment benefits through the D.C. Department of Employment Services. She stated those payment distributions had already begun, but acknowledged longer wait times as more people sign up.
"The number of our employees to take calls is no match for what the demand is," she said. "But we're working to build things up."
D.C. Department of Health Director Dr. LaQuandra Nesbitt and Homeland Security and Emergency Management Agency Director Christopher Rodriguez were also on hand to answer questions about the local and federal government's response to the crisis.
The panel reported 586 confirmed cases of coronavirus across the District with 11 related deaths.
Dr. Nesbitt stated that of the confirmed cases 53% were male and 50% were between ages 19-40. The average age of those hospitalized from the illness was 59.
"There is a more severe form of the illness requiring hospitalization for people who are older," Nesbitt said.
Dr. Rodriguez told the virtual attendees, "We made a request to FEMA and to the White House for a major disaster declaration, which was approved within 24 hours."
He explained this declaration enables the district to apply for federal reimbursement of COVID-19 recovery expenses.
Bowser also mentioned distance learning, food distribution to needy families and seniors as well as a bilingual medical advice line in both Spanish and English as efforts underway to mitigate further disruption to social services impacted by the crisis.
"The way to get back to normal life is to flatten the curve and stay safe," she explained in her opening remarks. "More information about unemployment benefits is arriving soon."
The mayor and her medical directors also stated that more information and resources can be found on coronavirus.dc.gov.