April 25, 2020 at 1:47 pm EDT | by Patrick Folliard
D.C.-area theater outfits embrace streaming performances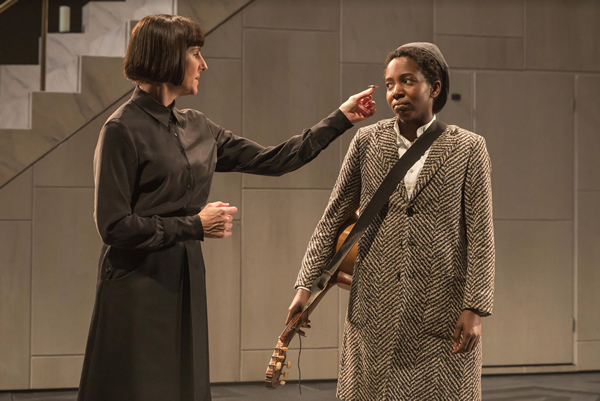 With theaters shuttered, companies are moving full steam ahead with innovative digital programming, offering captive audiences a wide variety of online performing arts options during these stressful and often lonely times of COVID-19 quarantine.
The Kennedy Center is offering "Couch Concerts," a free, live digital performance initiative. In the tradition of its popular Millenium Stage, the Kennedy Center now streams concerts directly from artists' homes on its website at 4 p.m. ET every Monday, Wednesday and Friday.
In addition, the Center offers "National Spotlight Mondays," a digital concert series featuring two artists selected from organizations across the country to tell the story of their cities. "Community Spotlight Wednesdays" are concerts highlighting artists across disciplines including hip hop, comedy and theater. And "Artistic Partners Spotlight Fridays" is a program featuring Kennedy Center artistic partners and affiliated artists. For more information, go to "Couch Concerts" at kennedy-center.org.
Shakespeare Theatre Company has introduced "Shakespeare Everywhere," a new platform for engaging with audiences through digital offerings and innovative new content. "Shakespeare Everywhere" includes STC's terrific #ShakespeareChallenge. Initiated by STC's Artistic Director Simon Godwin, the daring challenge features posted videos from myriad fans and performers including out Broadway actor Michael Urie.
STC also offfers the "The Shakespeare Hour," an online conversation series hosted by Godwin and dramaturg Drew Lichtenberg, live on Wednesday nights through May 13 at shakespearetheatre.org.
Last Thursday (the Bard's 455th birthday), Godwin held an online streaming party where he introduced and discussed his National Theatre production of Shakespeare's "Twelfth Night" (which can be seen on the National Theatre's You Tube Channel through April 30).
Godwin's well-received production puts an interesting spin on things: Typically, Viola must dress as "Cesario" creating a queer love triangle with Duke Orsino and the lady Olivia, but in Godwin's production, Tamsin Greig plays a re-gendered Malvolia who also falls in love with Olivia. By most accounts, Tamsin is a fantastic physical comedian, but she also brings a real delicacy to her performance as the strict and self-denying Malvolia who begins to realize she's in love with a woman.
The Strathmore is now streaming "Live From the Living Room," a series featuring current and former artists in residence. The Wednesday evening 20-minute concert is streamed via Strathmore's Facebook page live from the artist's home. Also, it's popular Saturday morning "Family Jam Session" now livestreams weekly via Strathmore's Facebook page.
Arena Stage is expanding its virtual programming with Molly's Salon, a weekly conversation hosted by Artistic Director Molly Smith. Upcoming Salons are slated to feature out luminaries including brilliant playwright Craig Lucas and talented actor Nicholas Rodriguez. Molly's Salon take place on Thursdays from 7-7:30 p.m. For more information go to arenastage.org.
Round House Theatre has rather ingeniously corralled D.C.-area playwrights, actors and designers for "Homebound," "a 10-episode webseries that explores life under stay-at-home orders in the nation's capital."
The series stars resident artists Craig Wallace and Maboud Ebrahimzadeh along with local artists who lost work due the cancellation of the company's spring shows. The cast is poised to be paired with 10 of D.C.'s leading playwrights including Karen Zacarías ("The Book Club Play"), Audrey Cefaly ("The Gulf"), Lady Dane Figueroa Edidi ("For Black Trans Girls Who Gotta Cuss A Motherfucker Out When Snatching An Edge Ain't Enough") — each of whom will pick up on the prompts offered in the previous writer's episode, writing a story that the actors can film themselves at home.
"Homebound" premieres on April 27 on the Round House YouTube page.
And on Sunday at 8 p.m., broadway.com is live streaming "Take Me to the World: A Sondheim 90th Birthday Celebration." Hosted by Broadway's Raúl Esparza and featuring a spectacular list of headliners including Meryl Streep, Patti LuPone, Bernadette Peters, Donna Murphy and Mandy Patinkin, this virtual salute is also a fundraiser for ASTEP (Artists Striving To End Poverty).