May 1, 2020 at 8:45 pm EDT | by Patrick Folliard
Thwarted theater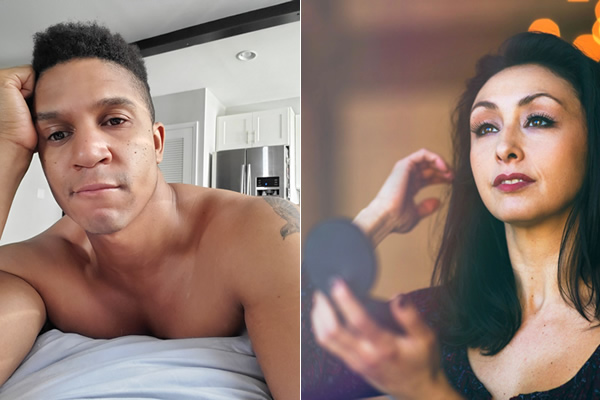 Earlier this year, local out actor Jaysen Wright was looking at a full season. Poised to play in five upcoming productions, he anticipated "a lot of work — a good problem to have." Then COVID-19 closed theaters and everything changed.
When quarantining began, Wright was preparing for "The Till Trilogy" at Mosaic Theater. With no clear idea of how things might shake out, the production switched to virtual rehearsals.
"We did online read throughs, script analysis and character work," he says. "It was good. Then the show was postponed."
Now, like so many actors, he's playing the waiting game. In the best of times it's difficult working out the puzzle pieces of when you rehearse and perform. Imagining an unconfirmed intricate schedule is even harder, he says.
Wright's eclectic resume includes "Choir Boy" and "Wig Out!" at Studio Theatre, Folger Theatre's "Macbeth," and "Anatole, Mouse Magnifique" at Imagination Stage.
"For someone who's identity is in his job, it's not an easy time," Wright says. "I'm unemployed without a lot to do. And like a lot of gay people, I'm my most comfortable self in safe spaces and for me those places are gay bars, my queer-friendly gym VIDA, and, of course, theater. It's hard now that they are no longer accessible."
But on the upside, Wright counts his blessings. His situation is good. He doesn't want for food, shelter or companionship (his husband is working from home).
"And luckily, I'm an introvert," he says, "so I'm not going crazy."
To stave off anxiety and boredom, Wright goes on long hikes with his dog. While indoors, he's been watching a lot of "BoJack Horseman," the animated series about a washed-up actor (here a humanoid horse) struggling to make a comeback. He's also fashioned weights from milk jugs filled with sand to incorporate into his work outs, an important part of his self-care regime.
Throughout quarantine, Wright has maintained a thoughtful and encouraging social media presence. He's posted a video in support of theatreWashington's Taking Care COVID-19 Emergency Relief Fund (theatrewashington.org). And while he knows a stipend won't solve the ongoing problems faced by out of work actors, he's eager to help any way he can.
Helen Hayes Award-winning actor Natascia Diaz is optimistic. Right now, she was supposed to be playing in Eugene O'Neill's "Ah, Wilderness!" at Hartford Stage in Connecticut. It has been postponed to fall. And in August, she is scheduled to play Gloria Fajardo, the fierce and talented mother of pop icon Gloria Estefan in the jukebox musical "On Your Feet!" at the prestigious open-air St. Louis MUNY.
For any actor, upcoming gigs in the days of COVID-19 is a wondrous thing.
In the meantime, Diaz is keeping busy at her home in Northern Virginia. Her days include making videos for casting agents, staying in shape with appropriately socially distanced outdoor bootcamp and an online hip-hop class, deep cleaning, organizing, watching makeup tutorials and worrying about her mother who is alone in New York City.
"If you're out of harm's way, this can be a time for reflection and self-work," she says. "For me, there has been a sense of release. Performers always feel pressure to get somewhere you're not or try something you haven't. Now that no one is doing anything, I can take a breath."
Originally from Manhattan, Diaz has been a D.C. favorite since wowing audiences as the title character in Signature Theatre's "Kiss of the Spider Woman." Since then, in addition to regional and Broadway performances, she has chalked up unforgettable turns at Signature in "West Side Story," "Jesus Christ Superstar," "Passion" and most recently "Grand Hotel."
It's her love for Signature and the regional theater scene that's prompted Diaz to post videos on social media, most significantly a jazzy Kander and Ebb meets Vegas-inspired number supporting theatreWashington's Taking Care COVID-19 Emergency Relief Fund produced and performed in her living room.
Last year was an unusual time, Diaz says. What began as a very slow season gained momentum with new opportunities and then stalled in March on the precipice of great things.
"Now," she says, "rather than facing a lot of cancellations, I'm looking forward to possibilities. I feel incredibly lucky."