May 7, 2020 at 3:54 pm EDT | by Ed Gunts
Rehoboth's Pamala Stanley raises $2,725 for Beebe Healthcare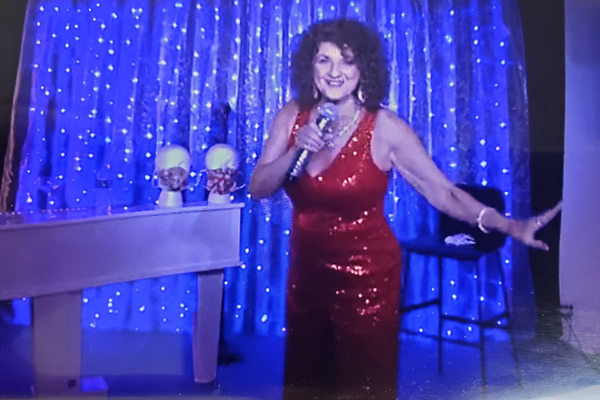 A one-time concert to raise money for Delaware's Beebe Healthcare has turned into a weekly show for singer Pamala Stanley.
Owners of The Pines Rehoboth Beach restaurant and nightspot announced the singer's first concert on April 26 was so successful that she'll perform a virtual tea dance to benefit Beebe every Saturday until The Pines can open again.
"We raised a lot of money for a very fantastic cause," said Pines co-owner David Gonce, during a break in the show. "We'll be doing this every Saturday until this terrible pandemic is over and our beautiful town reopens."
"The beauty of a local community is what we're doing here tonight," added Tom Protack, president of the Beebe Medical Foundation, the fundraising arm for Beebe Healthcare. "Local singer, local restaurant, local supporters making it happen…What better way to spend a Saturday night?"
Pines representatives said the concert raised $2,725 for the medical foundation — $2,150 in cash and $575 from the sale of $25 gift cards to be given to first responders. They said future benefits will be held on Saturdays from 7-9 p.m. on Facebook and may have guest performers joining Stanley.
Located in Lewes, Del., Beebe Healthcare serves Sussex County, which includes Rehoboth Beach, Bethany Beach and other communities in lower Delaware.
Saturday's benefit, which drew hundreds of viewers, was Stanley's first virtual tea dance after years of live performances in Rehoboth Beach and elsewhere. Dressed in a sparkling red jumpsuit, she sang from The Top of the Pines, the second-floor piano lounge above the restaurant at 56 Baltimore Ave.
The Pines isn't open for table service during the COVID-19 pandemic but was offering prix fixe dinners and drinks to go, with a portion of the proceeds going to first responders. It also had gift cards that viewers could buy and donate to first responders, as well as gifts that viewers could bid on, including designer face masks and a "COVID relief package." Sponsors included Jack Lingo Realtor, Visit Rehoboth and Jungle Jim's water park.
Stanley, who has a large gay following, walked out on stage wearing a face mask but took it off once she started singing. She sang nearly two dozen songs during her two-hour performance, told stories between songs and even showed off her fan-dancing skills.
Stanley dedicated one of her biggest hits, "Coming Out of Hiding," to all her fans who are getting restless after weeks in quarantine: "This is for everybody," she said, "because we have been in hiding for way too long, don't you agree?" She said she'll be taking requests in future virtual shows and expressed hope that The Pines will be able to be open for more than curbside service by Memorial Day.
At one point, Stanley demonstrated a new option for when the bars are open again: a "COVID drinking mask" that enables the wearer to have a drink in a bar or on a plane without potentially endangering the lives of others.
"Just because we have to wear masks does not mean we shouldn't enjoy a drink," she reasoned. "Am I right?"
The drinking mask comes from Totes of the Town, an online accessories shop (totesofthetown1.com) that's based in Rehoboth Beach and features "seasonal and coastal" wine totes, pillows and other items, including face masks. Owner and resident mask designer Joseph Scott joined Stanley online, QVC-style, to demonstrate the mask and explain how it works.
Scott showed that the drinking mask has a small grommet strategically located where the mouth is, so wearers can stick in a straw and sip their Rose Kennedys or Cosmos without fear of spraying respiratory "droplets" in the air, one of the ways COVID-19 can spread.
"Everybody has been wondering how they're going to drink in COVID," Scott told Stanley. "So here we have it."
Although Totes of the Town offers a variety of face masks for sale online, Scott said the drinking masks aren't on the market yet. But he hinted they may be soon.
"These are not COVID-compliant," he warned. "They're not for sale. They're not yet. Let's be COVID compliant for a while. These will be coming, shortly."