May 8, 2020 at 5:09 am EDT | by Brian T. Carney
Several new gay-themed streaming titles deserve attention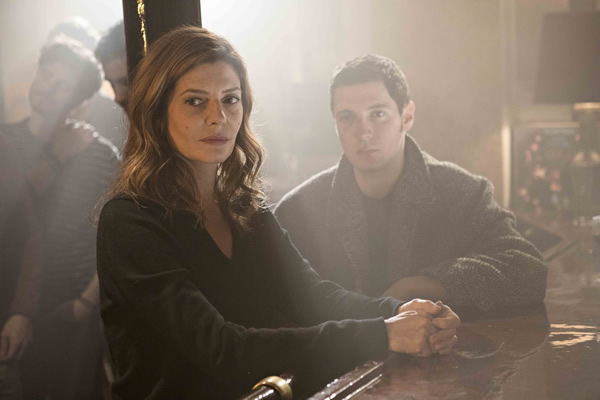 Movie theaters remain closed but virtual cinemas and streaming services still continue to produce exciting new content to keep LGBT viewers entertained at a socially responsible distance.
"The Half Of It" is a thoroughly charming coming-of-age story written and directed by out filmmaker Alice Wu. Wu, who was recently awarded the Founders Award for Best Narrative Feature at the Tribeca Film Festival, draws inspiration from a wide variety of sources, including her own coming out story, Aristophanes' allegory about the search for love in Plato's "Symposium" (which may also be familiar to LGBT viewers from "The Origins of Love" number in "Hedwig and the Angry Inch"), and the legendary tale of the swashbuckling Cyrano de Bergerac.
In the original story, Cyrano helps his tongue-tied friend Christian woo the beautiful Roxanne, even though he is also secretly in love with her. Wu updates the story and gives it a delightful queer twist.
Cyrano become Ellie Chu (Leah Lewis), a shy, straight-A student who helps her widowed father pay the bills by ghost-writing papers for her classmates. One of her clients is football player Paul Munsky who asks Ellie to help him with a different project: writing love letters to Aster Flores (Alexxis Lemire), daughter of a local pastor and girlfriend of the captain of the football team (a delightfully goofy Wolfgang Novogratz). Ellie reluctantly agrees, even though she is also secretly in love with Aster. 
The acting is superb. The three leads are engaging and believable, offering robust, richly layered performances. There are great supporting performances by Collin Chou ("The Matrix" movies) as Ellie's father and the wonderful Becky Ann Baker as Ellie's madcap English teacher.
The script is strong and Wu's direction is sensitive and well-paced. The camera work is rich and exciting; Wu and cinematographer Greta Zozula show how the harsh but beautiful environs of southeast Washington state have shaped the characters.
"The Half of It" is now streaming on Netflix.
Sometimes what makes a movie queer is not its content, but its context. That's definitely the case with the classic movie "Mephisto." (1981) which is now available in a magnificently restored version.
"Mephisto is based on the 1936 novel by Klaus Mann. One of the six children of renowned author Thomas Mann, Klaus was openly gay, Jewish and a vocal opponent of the Nazi regime. In 1924, he got engaged to Pamela Wedekind and his sister Erika, a lesbian, got engaged to actor Gustaf Gründgens, who was also openly gay. Mann was forced to flee Germany in 1933. 
He urged his friend to remain in exile with him, but Gründgens returned to Germany and fervently embraced the Nazi regime. He became an influential film and theater director as well as a famous actor, best known for playing the devil Mephistopheles in Goethe's "Faust."
Feeling betrayed by his friend, Mann wrote a novel that was a thinly disguised version of Gründgens' life. In the novel, the actor Hendrik Hőfgen sells his (metaphorical) soul to the Nazis for fame and fortune, just as Faust sold his soul to the devil in the famous play.
Mann did not mention his brother-in-law's homosexuality in the novel but mentions other unorthodox sexual practices instead.
The 1981 film adaptation, directed and co-written by Hungarian filmmaker István Szabó, won the Academy Award for Best Foreign Language Film. The movie was hailed for its sumptuous cinematography, breathtaking design, sharp writing and Brandauer's complex and passionate performance in the lead role.
In the movie, as in the novel, Hőfgen is straight, but knowing the queer backstory makes watching the film a richer experience.
"Mephisto" is available through Kino Marquee, a new program by Kino Lorber that allows viewers to stream current and classic art-house movies at home, with a portion of the proceeds going to support local independent cinemas. Compete details, and a list of D.C.-area theaters participating in the program, are available at kinolorber.com.
"On A Magical Night," the latest film from queer French auteur Christophe Honoré, is a whimsical adult fairy tale about love, sex and marriage. After a fight with her husband of 20 years, Maria (an award-winning performance by the amazing Chiara Mastroianni) takes refuge in the hotel across the street from their apartment. Over the course of an enchanted evening, they are visited by lovers past and present, including an ex-girlfriend who has become a lesbian.
Honoré navigates the complex emotional and chronological terrain with a feather-light touch, supported by a clever soundtrack which smoothly blends classical and pop music. 
"On A Magical Night," in French with English subtitles, is now available on a variety of streaming services. It's a fantastic celebration of love in all its maddening possibilities.