June 11, 2020 at 6:11 am EDT | by Brian T. Carney
AFI Docs goes virtual, runs June 17-21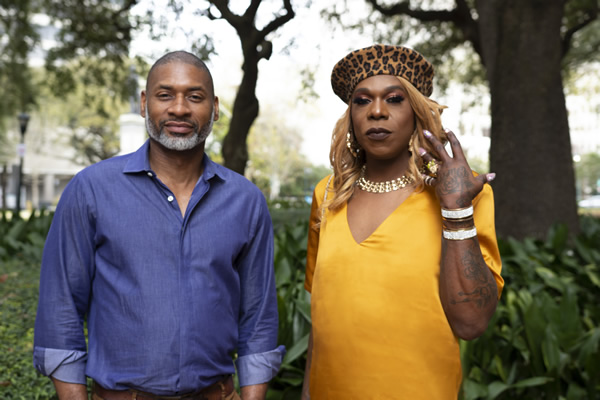 As always, the numbers behind AFI DOCS, the annual celebration of documentary filmmaking hosted by the American Film Institute, are impressive. Running June 17-21, the festival will feature 59 films from 11 countries with 12 world premieres. Sixty-one percent of the films were directed by women. Twenty-five percent of the films were helmed by people of color and 14 percent had LGBT directors.
But this year, AFI DOCS will look quite different. All of the screenings and special events will take place online and can be viewed through a secure virtual channel.
As always, the festival features outstanding work by queer filmmakers and LGBT themes. "Freedia Got a Gun" profiles bounce superstar Big Freedia and her courageous battle against gun violence in New Orleans. "Transhood" is a powerful five-year exploration of the challenges faced by four trans kids in Kansas City.
"Bully. Coward. Victim. The Story of Roy Cohn" is directed by Ivy Meeropol, the granddaughter of Julius and Ethel Rosenberg, two victims of Cohn's anti-Communist witch-hunt. Meeropol's film is both a searing indictment of Cohn and a poignant family history.
"Dilemma of Desire" is about a courageous band of queer and straight women, including scientists, sex workers, artists and sex toy designers, dedicated to helping women reclaim their sexuality and promoting the importance of "cliteracy."
One of the highlights of AFI DOCS is the Charles Guggenheim Symposium which "honors masters of the non-fiction art form who inspire audiences by documenting and examining the human condition." The 2020 Symposium celebrates the amazing work of Lee Grant, the award-winning actress and filmmaker. Grant is a veteran LGBT and HIV/AIDS ally and an outspoken supporter for the freedom of expression.
Grant made her film debut in William Wyler's 1951 film adaptation of "Detective Story"; her performance earned her the Best Actress Award at the Cannes Film Festival and an Academy Award nomination for Best Supporting Actress. However, her promising career was derailed later that year when she spoke out against the powerful House Un-American Activities Committee during the "Red Scare." She was blacklisted by Sen. Joseph McCarthy and Roy Cohn and was unable to work in Hollywood for the next 12 years.
Once her name was cleared, Grant worked tirelessly for the next several decades on stage and in movies and television. From 1965-1966 she appeared in 71 episodes of the hit primetime drama "Peyton Place" and won an Emmy award for her performance as Stella Chernak. She also won an Emmy Award for her appearance in "The Neon Ceiling" (1971) and was nominated for an Emmy Award for her appearance as a guest murderer in the detective series "Columbo" starring her friend Peter Falk.
Ironically, she was also nominated for an Emmy Award in 1992 for playing Roy Cohn's mother Dora in the television movie "Citizen Cohn."
Grant appeared as the manipulative Miriam in the camp classic "Valley of the Dolls" (1967) and won an Academy Award for her performance as one of Warren Beatty's conquests in the provocative 1975 satire "Shampoo."
In 1963, Grant won an Obie Award for her searing performance in queer playwright Jean Genet's "The Maids." Later that year she appeared in the film adaptation of Genet's "The Balcony" and shared a steamy onscreen kiss with co-star Shelley Winters.
Grant also appeared in two powerful movies about HIV/AIDS: the television drama "Something to Live For: The Alison Gertz Story" (1992) and Randal Kleiser's "It's My Party" (1996).
Grant helmed her first movie ("The Shape of Things") in 1973 and has since been acclaimed for her work directing both narrative and documentary films. In 1986, she became the first female director to win the prestigious Directors Guild of America for her work on "Nobody's Child," a narrative film starring Marlo Thomas. In 1986 she also won the Academy Award for Best Documentary Feature for "Down and Out in America," a hard-hitting exploration of poverty in the United States.
Grant also directed the ground-breaking 1985 HBO documentary "What Sex Am I?" a sympathetic and sensitive examination of the challenges faced by members of the trans community.
The Guggenheim Symposium will be held on Friday, June 19 and will feature an interview with Grant and a screening of "Down and Out in America." Virtual attendees may also get to learn about Grant's appearance on "Empty Nest," the popular sitcom starring her daughter Dinah Manoff.
AFI DOCS kicks off on Wednesday, June 17 with "Boys State" and closes Sunday, June 21 with "Jimmy Carter Rock and Roll President" about the country music stars who helped Carter build his presidential campaign. The Centerpiece Screening on Friday, July 19 is dedicated to "The Fight" which details how the ACLU is fighting against the Trump Administration's attempts to rollback civil rights, including the ability of trans troops to serve openly in the military.
Since 2020 is an election year, the festival slate also includes several fascinating documentaries about American politics past and present:
"And She Could Be Next" about women of color (including Stacey Abrams and Rashida Tlaib) who ran for office in 2018; "Sisters of '77" about the National Women's Conference (as depicted in the FX on Hulu series "Mrs. America"); "Unladylike2020" which profiles of unsung women who have shaped American history; "The Vote" which marks the 100th anniversary of the 19th Amendment and the struggle for female enfranchisement; "White Noise" about the rise of the alt-right; and "Women in Blue" about the challenges faced by female police officers.
The complete AFI DOCS schedule and information on festival passes and individual tickets can be found at docs.afi.com.