May 14, 2020 at 8:13 am EDT | by Mark Lee
Jack Evans for Ward 2 D.C. Council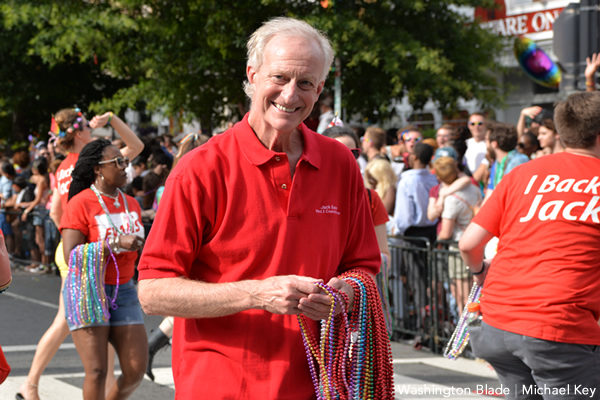 Some Ward 2 residents consider the former D.C. Council member who long represented the cross-town swath of six center-city neighborhoods a scoundrel.
Yet after squandering what will total more than a million bucks in campaign cash to keep him from winning back the seat for the next full term in the determinative Democratic primary election concluding on June 2, seven novice competitors have failed to impress voters or gain traction in the race.
Seasoned observers are betting a demure electorate will surprise pundits. Let's hope they're right.
Jack Evans is the best choice.
His constituent services set the standard for responsiveness. Recognition as an advocate for LGBTQ equality from his first day in office before gay rights were popular and often weren't approved have earned Evans a legacy of accolades for being the lead sponsor or co-sponsor of virtually every LGBTQ-supportive legislation in Council history.
Equally important, Evans is the experienced hand and knowledgeable guide needed as the District confronts major economic challenges and massive financial deficits in coming years.
Evans helped lead the city out of busted-broke bankruptcy and a federally imposed Financial Control Board that took over government operations, navigate steady fiscal management during the recession, repair a basement-level bond rating, encourage revitalization of the downtown core, and foster major developments fueling the District's economic recovery and providing public amenities.
These achievements are what have and will continue to comprise and contribute the required financial foundation necessary to generate the revenues and resources that enable the District to sustain programs, strengthen social services, and create opportunities for building economic equity across the city. An empty civic wallet won't finance any of that, but smart fiscal policies and a positive entrepreneurial environment is what will.
The current pandemic's already devastating and surely lasting impact on small businesses, the destruction of household finances, and the dangerous reality that numerous jobs offering stability and a path to sustainable futures may be lost requires savvy approaches to rebuilding the local economy. Evans can, and will again, provide that leadership during a fiscal crisis likely to be the worst ever.
This is not a time for try-to-keep-up learning. Residents don't have the luxury of waiting around while an inexperienced newbie with inadequate qualifications fumbles with jamming fresh batteries in their calculator. Tough times are ahead and sparse skills from the B-squad aren't going to get the job done.
Evans understands city budgets in excess of the collective knowledge of the entire ballot of opposing contenders. With only a small sliver of monies available for discretionary spending for popular programs and policy initiatives, lingering economic contraction will affect shared objectives a commonsense progressive like Evans knows how to actually achieve.
In early March, before the virus shutdown order changed everything, all eight Democratic contenders addressed an unusually large crowd of nearly 500 voters.
"I made some big mistakes. I am here tonight to ask you for your forgiveness, and I'm here tonight to ask you for a second chance to represent you as I have, as your Council member," Evans said.
Evans resigned in January before a final vote by colleagues to expel him for ethics violations associated with additional employment as a consultant, allowed by Council rules but without always providing adequate disclosure or advisable recusal on specific matters. He was sanctioned by financial penalties but not charged with a crime.
The catcalls and booing primarily emanating from the numerous candidate campaign coteries when Evans offered his heartfelt apology would lead local news stories. Overlooked was that Evans, in his first public appearance since resigning, was the candidate most came to hear. Their respectful ear proved predictive of the near-majority still undecided in only two polls released among multiple surveys conducted.
Ward 2 voters have a decision to make that will affect the future of the city. Let's make our choice Jack Evans.
Mark Lee is a long-time entrepreneur and community business advocate. Follow on Twitter: @MarkLeeDC. Reach him at OurBusinessMatters@gmail.com.