May 28, 2020 at 12:02 pm EDT | by Patrick Folliard
theatreWashington prez Austin moved quickly to cushion COVID-19 hardships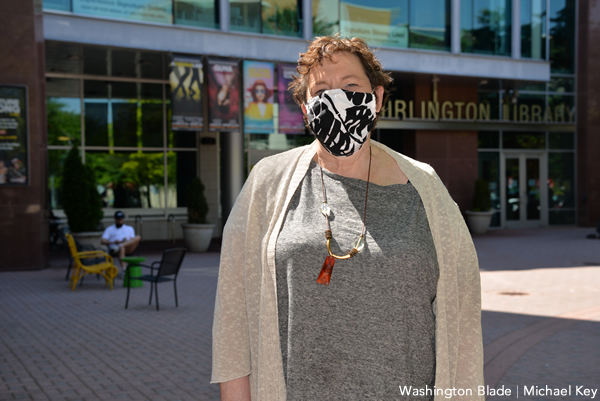 When the pandemic prompted the shutdown of D.C.-area theaters, Amy Austin had to think fast. As president and CEO of theatreWashington, an organization dedicated solely to promoting, representing and supporting all segments of the Washington area professional theater community, she felt compelled to do all she could for a community and industry she loves.
So, in response to unprecedented closures and loss of work, theatreWashington quickly established the Taking Care COVID-19 Emergency Relief Fund, a successful fundraiser that allocates money to help theater professionals in need during these unusually tough times.
"We had to serve the artistic community directly and quickly," says Austin in a recent phone interview. "We got it up and done, but it could have never happened without the community itself as the driving force." 
Prior to theatreWashington in 2015, Austin was the longtime publisher of Washington City Paper and a familiar face on the local arts scene. Not surprisingly, taking on the task of supporting over 90 professional theater companies by celebrating excellence (the annual Helen Hayes Awards are presented by theatreWashington) and fostering ways to work together to make the community stronger, has proved a good fit. 
At home in Mount Pleasant things have changed, too. Austin is riding out the pandemic with her wife, Deirdre Joy, who is working from home, and their three children — two college students who are finishing off their sophomore years from home and a high schooler. 
"I go to the Dupont office alone — literally alone," says Austin, 62. "I've only seen the guard at the door and some repair people. Last week I saw a mouse, which was almost a welcome surprise. I take walks around the neighborhood to get some air." 
Austin is warm with an unfailing sense of humor, yet a friendly manner doesn't belie her concern about current circumstances.
WASHINGTON BLADE: Amy, how are you? 
AMY AUSTIN:  I'm pretty good given there's an existential crisis affecting the industry I support. It's an interesting and very difficult time.
BLADE: Was there a moment when you knew the theater community was in big trouble?
AUSTIN: Right around the first and second week of March when you could see that gathering was becoming dangerous. There were people attending funerals, church choir practices or ski trips in Italy who were getting sick. It quickly became the need to gather versus gathering is unsafe. Early on, I cancelled the Helen Hayes Awards, which were scheduled for May. Soon after everything closed pretty quickly. 
BLADE: What's the last live performance you saw?
AUSTIN: James Baldwin's "The Amen Corner" at Shakespeare Theatre Company which was glorious, a beautiful production with lots of talented local actors including E. Faye Butler. It's a memory that you can carry with you.
BLADE: Did the role of theatreWashington change quickly too?
AUSTIN: Yes, mainly the creation of the COVID-19 emergency relief fund, a subcategory of our Taking Care Fund that has been assisting theater people with medical expenses since 2012. The COVID-19 fund gives $500 grants to individuals who need money — actors, box office people, people who hang lights, people who design lights — anyone who works in the industry. 
BLADE: Earlier this month, Joseph Haj, artistic director of the prestigious Guthrie Theater in Minneapolis, made an announcement that they would remain closed through March 2021. Thoughts? 
AUSTIN: I think his announcement demonstrates that people are following their artistic vision and their heart, so you're going to get different responses from different institutions. To me, the root of his statement was that they won't be making theater if people can't gather together. Not everyone will be coming from that place; there will be variance. For instance, Woolly Mammoth is doing Play at Home, a new collection of plays that you can download and do in your living (or Zoom) room. It's a great way to get new work out and they're employing artists to write them. And they collaborate with different theaters like them — propensity for new work. And Signature Theatre, the go-to theater, best-in-show, for using video before the pandemic, is doing interesting things. They made a quick switch by having virtual masterclasses, interesting deep dives into how theater works and who makes work; they showcase local talent up close and in ways we haven't seen them before. There will be different responses. Some theaters are optimistically planning to have people gather in the fall. The question is can we provide a safe environment and will audiences feel safe to go back? Personally, I think people will wait. 
BLADE: What is the status of the Helen Hayes Awards?
AUSTIN: The May event had been rescheduled to August at Anthem but that seems way optimistic at this point. So, we've decided to take it virtually. We haven't set a date yet but I'm really interested in getting the awards up and out to people. 
BLADE: Are you tortured by this kind of decision-making?
AUSTIN: I'm not tortured by decision making. What's difficult is translating the event to a different medium and make it meaningful. Just like theater, what makes the Helen Hayes Awards extraordinary is having everyone together, that kind of energy.
BLADE: Do you miss the support of Victor Shargai? (Long-time theatreWashington board chair, theater lover and philanthropist, Shargai, who was gay, died on Dec. 24, 2019.)
AUSTIN: I miss Victor deeply. He had strength and optimism and high regard for the arts and how it can change people and society. He remains a guidepost for me.
BLADE: So where do things stand at this point? 
AUSTIN: For theater, there are reasons to worry across the entire spectrum. But I think if you had to choose, I'd worry most about the artists. The people who go from show to show — actors, designers, music directors — all of that group. It's hard to comprehend the place they're in. And that's what we — community, institutions, supporters — should be concerned about most. We want to keep them safe and here until it's time to get back on the stages.