May 26, 2020 at 3:08 pm EDT | by Joey DiGuglielmo
QUEERY: Manny Cosme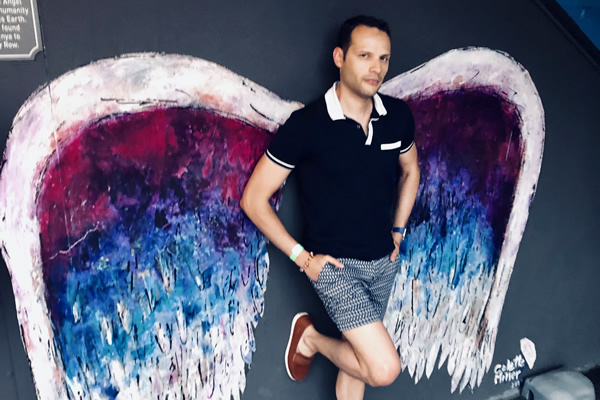 Washington-based accountant Manny Cosme and his husband, Christopher Reyes, have been separated since the COVID-19 pandemic kicked into high gear. Reyes, an Army reservist in the medical unit, has been deployed to New York to work as a nurse on the front lines. He even took their dog, Mila, a trained therapy dog.
"It's never easy and never something you get used to," Cosme says. "My entire family has been gone."
But he's been keeping busy. He started CFO Services Group, an accounting firm, in 2012 to help clients answer business challenges not ordinarily covered by traditional firms such as smart salary sizes, setting prices, taking out loans, etc. There are six full-time employees and five part-time contractors.
Cosme is also a board member of the Equality Chamber of Commerce and the Greater Washington Hispanic Chamber of Commerce. He also founded a D.C. chapter of NeXco National, a business referral network. He's working now to help those organizations bolster the growth of small, local businesses through free assistance, strategic financial planning, free bookkeeping and more. Find out more at cfoservicesgroup.com.
"I believe that small businesses and non-profits are the key to our community, the Vacaville, Calif., says. "If they do well, then our entire community benefits."
Cosme had planned a cruise to celebrate his 40th birthday this weekend but it's obviously been postponed. He plans a "delayed" party later in the summer in Rehoboth.
Cosme came to Washington in 2009 for work. He lives in Columbia Heights and enjoys hiking, video games, yoga, non-fiction and watching streamed drama series.
How long have you been out and who was the hardest person to tell?
I came out when I was 20. I told my mother first, who was also the hardest since we are so close. Second hardest was my grandmother because she was a devout Catholic. But both were 100 percent supportive and loving.
Who's your LGBTQ hero?
Ellen DeGeneres. She was able to completely turn her career around after being shunned for coming out, which is amazing. And she seems like such a genuine person.
What LGBTQ stereotype most annoys you?
That all gay men are sexually promiscuous.
What's your proudest professional achievement?
Earning my CPA license. It was incredibly difficult.
What terrifies you?
Heights
What's something trashy or vapid you love?
Reality shows. I LOVE watching "Cheaters," "Hoarders," "My 600-lb Life," etc.
What's your greatest domestic skill?
I can wash dishes like no one's business. But that's about all.
What's your favorite LGBTQ movie or show?
"Queer as Folk"
What's your social media pet peeve?
People who post too many selfies. We know what you look like!
What would the end of the LGBTQ movement look like to you?
When mankind collectively reaches a stage of enlightenment and oneness. Until then, there will always be rights that we will have to fight for.
What's the most overrated social custom?
Saying, "bless you" when someone sneezes. I've never understood that.
What was your religion, if any, as a child and what is it today?
Raised Catholic, but now I am a member of Unity and the Centers for Spiritual Living (non-denominational/spiritual center).
What's D.C.'s best hidden gem?
The pathway on the northwest side of Meridian Hill park. Walking through there feels like you're suddenly transported to a forest.
What's been the most memorable pop culture moment of your lifetime?
Death of Michael Jackson
What celebrity death hit you hardest?
Same — Michael Jackson
If you could redo one moment from your past, what would it be?
Nothing. As painful as some moments were, they truly did bring me to where I am today. Except maybe eating that fish taco from the other day — that caused a pain I could have done without.
What are your obsessions?
Work. I do work a lot, but I love it.
Finish this sentence — It's about damn time:
… for people to wake up and realize that they have the power to shape their own lives and destinies (and not anyone else).
What do you wish you'd known at 18?
How to dress better. I look back at pictures and I'm like, damn!
Why Washington?
I love this city! Geographically and architecturally it's a beautiful city, full of trees and rivers and historic buildings. I have a group of amazing friends who have become my family. There's never a dull moment — always something entertaining to do, a new restaurant to explore, a museum to check out. It's located close to so many other great destinations like NYC, Rehoboth, Shenandoah. And most of all, I love the energy of this city. That's why my husband and I came right back to D.C.