May 22, 2020 at 6:04 pm EDT | by Joey DiGuglielmo
QUEERY: Jim Kelly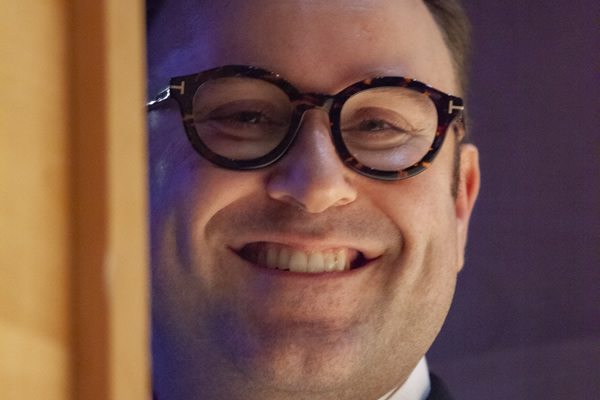 National Philharmonic President Jim Kelly calls the orchestra's new video tribute to frontline medical workers battling the coronavirus "truly a labor of love."
The video features several National Philharmonic musicians playing multiple parts of Aaron Copland's "Fanfare for the Common Man" over photos of D.C., Maryland and Virginia hospital staff working in COVID-19 wards.
The music was performed by National Philharmonic musicians Michael Hall (horn), Chris Gekker (trumpet), David Sciannella (trombone), Willie Clark (tuba) and Tom Maloy (percussion, timpani) at their respective homes and required the technical feat of recording multiple parts per person. Each part was recorded live with the musician's own equipment and mostly filmed on their personal cell phones. The sound was mixed by Director of Artistic Operations, Kyle Schick and the video was produced by Patron Services Manager, Quinton Braswell.
Several of the photographs that accompany the music throughout the video were taken by photographer Sinna Nasseri. The project took about five weeks to produce.
"We aimed to produce a piece that would not only show gratitude to those braving this incredible feat, but also to give hope by nodding to our history," Kelly says. "Humanity has witnessed horrible crises before. Together we can survive. And music can help bring us together. On a personal note, I just lost my aunt to COVID-19 and Alzheimer's and the care she received was selfless. I hope our presentation of 'Fanfare for the Common Man' speaks to those who cared for her and others like them directly."
The video is on YouTube.
The Philharmonic has 14 full- and part-time employees and 102 musicians. Another 160 are in a voluntary chorale. About a third of the staff are LGBT; about 12 percent in the orchestra, Kelly says.
The coronavirus has, of course, rattled the orchestra like everything else but Kelly says they're forging ahead with various innovations.
"Now more than ever, our community needs the arts to nurture our souls," the 43-year-old Southington, Conn., native says.
Kelly, a violist, came to Washington in 2001 while working for Gucci. He soon met Mark Todd Baird and they've been together since 2001, married since 2010. They have five dogs and live in Rockville.
He enjoys music, his violin company, travel and Sunday time with "husband and pups."
How long have you been out and who was the hardest person to tell?
I never really was in the closet but if there was a person that had to be told, it was my father and that was a work in progress over many years and although sometimes difficult, he was always by my side.
Who's your LGBTQ hero?
Ellen DeGeneres for her frontline support for our community and my husband Mark and our close friend Eileen who stuck by Steve, Mark's first husband, through his battle with AIDS.
What LGBTQ stereotype most annoys you?
That all gay men are feminine and all lesbians are more masculine than us. There are so many types of people and that is such a great thing. I will admit I try not to waste my energy giving power to stereotypes or waste my time feeling annoyed.
What's your proudest professional achievement?
Saving the National Philharmonic from bankruptcy closure last year has been my biggest achievement. Also, growing a small business, Potter Violins, with my business partner Dalton Potter by 300 percent over the past 15 years.
What terrifies you?
Killer bees and spiders.
What's something trashy or vapid you love?
"Sordid Lives," the first movie.
What's your greatest domestic skill?
Throwing a great dinner party. Other than that, I'm not allowed in the kitchen except to load the dishwasher.
What's your favorite LGBTQ movie or show?
TV: "Will & Grace"; movies: "Call Me By Your Name" and "A Single Man."
What's your social media pet peeve?
Advertisements generated by what you Google or talk about. 2. Abusing freedom of speech: Everyone has a right to post what they want so long as it doesn't cause hurt or damage to anyone or anything. There are ways to communicate your message and freedom of speech without using it to damage someone. Using the social media platform for bullying and discrimination is a zero-tolerance situation.
What would the end of the LGBTQ movement look like to you?
We can dream right? Living in a world where everyone is accepted for who they are and learned discrimination is a thing of the past. All people living together without judgement.
What's the most overrated social custom?
Giant, overpriced weddings and wedding dresses.
What was your religion, if any, as a child and what is it today?
I was raised in a Catholic community where being LGBT was not acceptable and instead of feeling ashamed about it, I chose to find a place where I accept their right to an opinion or belief system so long as it is not thrown in my face. At the same time, nobody has the right to discriminate based on religious beliefs just like I don't have a right to discriminate against their religious beliefs. I choose to love them as they are.
What's D.C.'s best hidden gem?
Le Diplomat and Annie's for restaurants! And for music I will say The National Philharmonic, The American Pops Orchestra and Maryland Lyric Opera.
What's been the most memorable pop culture moment of your lifetime?
The release of Madonna's "Ray of Light" album was a key to my entry into my adult LGBT life. Call it coming out, I prefer to call it a coming-of-age event.
What celebrity death hit you hardest?
That has not happened yet — it will be Betty White. I have made a promise that if and when she passes, (yes I said IF, as she may outlive me) I will dedicate myself to watching "The Golden Girls" (in order) as a marathon in her honor with all of my friends, the week of her death.
If you could redo one moment from your past, what would it be?
Be more compassionate toward my father instead of judging him.
What are your obsessions?
Music, of course, but dogs, cars, shoes and viola bows.
Finish this sentence — It's about damn time …
… for my Blade interview….(just kidding)
What do you wish you'd known at 18?
How quickly life goes by and to value every single moment.
Why Washington?
Didn't pick D.C., Gucci moved me here. I stayed because I met Mark and he is the love of my life so wherever he is, that is where home is.