Gay identity elusive for Little Richard and Roy of Siegfried & Roy
Rock pioneer later said he was 'ex-gay'; Vegas tiger king evaded topic almost entirely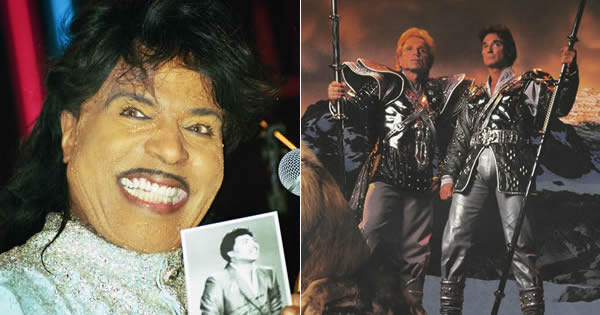 It was perhaps ironic that Little Richard and Roy Horn (of Siegfried & Roy) died within hours of each other this month. Though they were from totally separate pop culture factions, seeing their obits side by side in some outlets, such as the May 10 New York Times, was a sobering reminder of how an older generation of gay men — Horn, who died at 75 was on the outer cusp of the Boomers; Richard was 12 years older — dealt with (or didn't deal with) their sexuality in a pre-Stonewall era when practically nobody was officially out but demeanor, style, stage persona and more "read" gay to middle America the same way sexual innuendo was implied in early jazz and movies long before it was discussed or depicted openly.
Little Richard (Richard Wayne Penniman was his legal name) was known for a string of '50s hits like "Tutti Frutti" and "Long Tall Sally" whose impact went far beyond their initial chart peaks. Richard has been widely lauded as a rock and roll innovator and the first pop star to integrate black and white audiences in a time of rigid segregation in music and society. He died May 9 from bone cancer at his home in Tullahoma, Tenn., after a two-month illness. He was 87.
Horn came to fame with his nearly life-long professional (and for a time personal) partner Siegfried Fischbacher, who were known for their flashy Las Vegas act in which they made lions and tigers (and each other) vanish and reappear. They came to Vegas in 1967 and had a sellout run at the Mirage Resort and Casino from 1990-2003 that found them performing 500 shows yearly. By 1999, the show had grossed half a billion dollars and they were Vegas's highest-paid entertainers.
Sadly, their careers ended abruptly on Oct. 3, 2003 (Horn's birthday) when one of the tigers attacked Horn resulting in serious injury. Suffering a stroke and partial paralysis on his left side, Horn was eventually able to walk with assistance but never performed again. The duo made one final public appearance in 2009 with a tiger at a benefit for the Lou Ruvo Center for Brain Health in Las Vegas, the Times reported, before retiring officially in 2010. Horn died of COVID-19.
The duo (both German immigrants) only officially came out in 2007 in a National Enquirer article that announced "We're gay" on the cover. They gave few interviews (even in their heyday) and could be testy about it when pressed.
Behind the glitz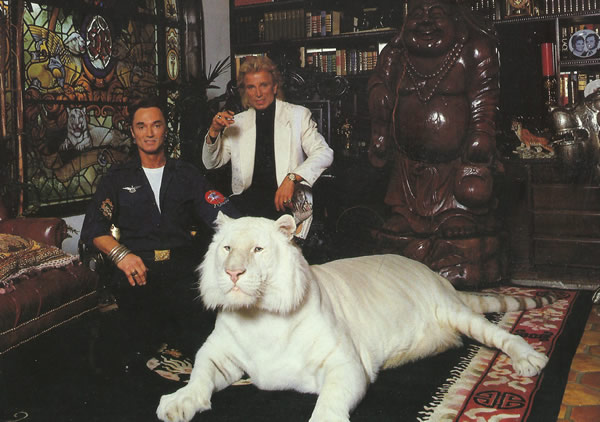 But with their over-the-top costumes (including Roy's trademark codpiece), ostentatious Vegas home and inseparable public image (and never a hint that either might be involved romantically with anyone else), they didn't have to state it explicitly. They donned capes and silver space suits, battled a sorceress and a fire-breathing dragon amidst smoke machines, lasers and, of course, lions and tigers, many of which were white, which are uber rare. Their act had a Liberace-esque flair to it, even if neither were ever quite that fey. Siegfried was the magician; Roy the animal trainer. They presented a yin/yang-type persona and lived together at Jungle Palace, an eight-acre Vegas estate (a much larger ranch was just outside the city proper) with, as of 1999, 55 tigers and 16 lions. Horn was the "Tiger King" decades before anybody heard of Joe Exotic (also gay) of the hit Netflix series.
"So you go deeper and say what is going on in my bedroom and in Roy's bedroom," Fischbacher said in a 1999 Vanity Fair profile. "I don't care, I don't know. I tell you this because this is me and I wouldn't ask what you do with your dick either."
Both said they were "very honored" to be considered gay icons but spoke of gay as "other."
"I have a lot of friends who are gay and I made a lot of friends in show business and I found out that they are always interesting, intelligent and good people and fun to be with," Fischbacher told Vanity Fair.
"I am flattered to think that people think that I am versatile," Horn said. "You don't have to define everything and I don't want to disillusion people because I'm not a guy who kisses and tells."
Pal Shirley MacLaine told the magazine they "used to be lovers a long time ago, yeah? In this day and age, who cares?"
Mainstream media only coyly touched on Horn's sexuality. The Times said Fischbacher and Horn "were domestic as well as professional partners" but left it at that. Journalist Steve Friess, who in The Advocate called them "the world's most openly closeted celebrities," said a Mirage spokesperson told him the night of Horn's attack that "it's well known that they were lovers at one time."
They were said to have little presence in Vegas gay life, according to Friess and others, and outside of buying an ad in a program book for an AIDS fundraiser, were not known to have used any of their vast wealth to support LGBTQ rights.
For some, that's not a problem.
Milt Larsen, founder of The Magic Castle, a private club for magicians and enthusiasts in Hollywood, is 89, straight and knew Siegfried and Roy for many years, initially through his late sister-in-law, Irene Larsen. She and her husband Bill Larsen (Milt's brother) loved magic and animals and discovered Siegfried & Roy in their early years in Vegas. Larsen later met the duo through his brother and sister-in-law and says Horn was "a dear, great friend."
"Before Siegfried & Roy, magicians were very seldom anything other than an opening act," Larsen says. "They came along and went from being an opening act to the headliner with their own huge show because it was so popular. … They were the best."
Larsen's friend Dale Hindman also know Siegfried & Roy and says he was at their house several times. He says Roy "fought like crazy" to recover and "they had the best medical people" working with him. He did daily physical therapy, swam and would zip around the grounds on a scooter. He recalls one Vegas convention in which Horn made a rare, post-accident appearance and walked to the podium.
"There wasn't a dry eye in the house," Hindman says. "I saw him a number of times at different places. He was in the scooter, he would talk, he loved people, he had great quality of life and they had the resources to have the best medical care. It's such a shame that something like this virus came along and killed him."
Larsen and Hindman say Horn's sexuality was understood but "never really discussed."
"I've been in show business a long time and sometimes it feels like just about everybody I've ever known was gay," Larsen says with a laugh. "It was a different world then. I just don't recall anybody ever talking much about it."
Hindman says it was generational and gradual when more celebrities started coming out officially. Larsen says Fischbacher, especially (whom he calls a "great" businessman), just "never made a big point of it."
"They were a couple in the sense that they were absolute partners in what they did and that their lives were their business," he says. "People are people and in the world we live in today, it's just not questioned as much."
Larsen remembers "many, many times" being backstage in their Vegas dressing room post-show.
"The Champagne would be flowing and there were lots of wonderful friends," Larsen says. "[Roy] was very, very gregarious and he and Irene really got to know each other and became wonderful friends."
"There would be drinks and hors d'oeuvres and plenty of people," Hindman says. "After awhile, Roy would go play with the animals. Siegfried would say, "I'm tired but you all stay as long as you want.'"
Out magician/actor Michael Carbonaro, 44, of reality show "The Carbonaro Effect," said in a written comment to the Blade it didn't matter if Siegfried & Roy were coy about their sexuality.
"I actually don't know what Siegfried & Roy ever did or didn't put into words," he said. "I grew up seeing two gorgeous men living their magic dreams in bedazzled outfits, so they were always an iconic form of queer inspiration."
It's complicated
Others, however, aren't willing to let them off the gay hook so easily. It's unfair and unrealistic to expect everyone to have been a Frank Kameny or Barbara Gittings, but as time went on, many argue prominent gays should have done more for the cause.
Matthew Rettenmund, a gay blogger and pop culture historian/author, says Horn's approach to being "out" reminds him of singer Barry Manilow who finally came out in 2017 at age 73 after decades of evading the question.
"They're men who have convinced themselves that being gay in private is the same thing as being out," he said in an e-mail. "Which is simply not true. I do hope that as the Rip Taylors and Richard Simmonses of the world leave us, as sad as it is to lose their talent, that they won't be replaced by more of the same. Hiding in plain sight is still hiding and it still sends such a warped message of self-acceptance."
Long-time gay Vegas resident/historian Dennis McBride says he can see where both sides of the issue were coming from.
"Siegfried and Roy were never involved in the Las Vegas queer community in any public way I'm aware of," McBride wrote in an e-mail to the Blade. "They were much like Liberace in that respect — they were Las Vegas icons, counted Las Vegas as their personal and professional home, but deeply closeted because they came of age and established their careers during a time when they could have been jailed for being gay and lost those very lucrative careers. I remember there was some resentment in the community because we needed role models — particularly in the 1980s and early 1990s during the worst of the AIDS pandemic — and both Liberace and Sigfried & Roy might have been a great help in our struggle, brought credibility and support to our fight. I don't think any of us entirely blamed them, though, because we were all in danger then ourselves as queer people."
And while Richard stated he was gay explicitly on multiple occasions, he was never at peace with it and at multiple times in his career recorded gospel music and even for a time sold Bibles in a repudiation of the rock and roll and gay "devil's" music and "lifestyle." For him, being gay was a vexation and something to be overcome, which is, to some, even more troubling than Horn's avoiding the issue.
"The problem is his religiosity and self doubt forced him back in the closet just as many times, "Rettenmund wrote. "And though he camped it up to earn a living in his final decades, it was homophobia that won. He died an 'ex-gay,' a sad loss."
Richard was married to a woman from 1957-1964. They had one adopted son. As recently as 2017, he was condemning gay sex. "God, Jesus, he made men, men, he made women, women, you know? And you've got to live the way God wants you to live," Richard told the Three Angels Broadcasting Network, a religious channel, reported by The Advocate.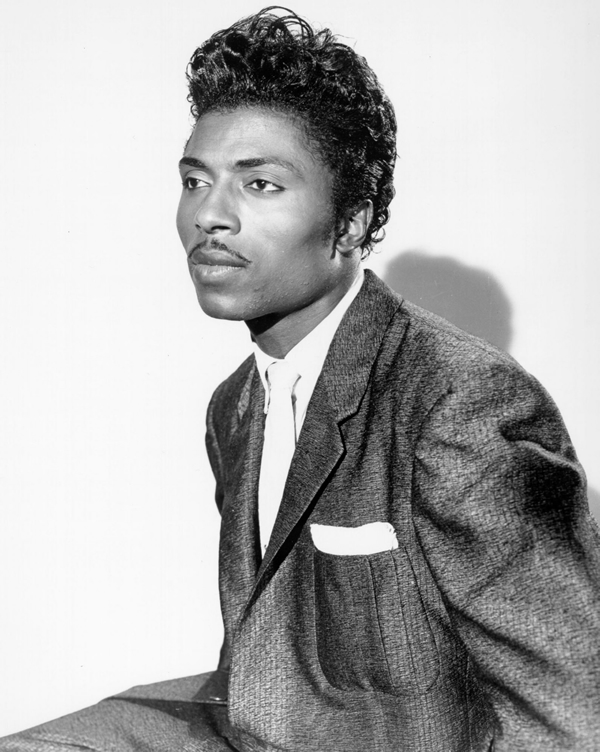 Gay author/actor Michael Kearns (who's been on "Cheers," "Murder, She Wrote," "The Waltons," "Knots Landing" et. al. and has said in interviews and books he had sex with Rock Hudson and Barry Manilow) says Richard deserves a more compassionate assessment.
"I don't know how much gay sex he was having, but for me it was all about him having such a gay persona," Kearns says. "I think what young men like me found so stirring and exciting is that it gave us something to grasp onto. Here was this sissy, this exciting, flamboyant, theatrical, wild persona and yeah, he later had the doubts and went back into the closet as a religious fanatic, well, of course he did. He was a black man from the South dealing with all that church stuff. I mean that's a big struggle and I think people just don't give him enough human credit for battling that publicly."
McBride says after their performing years, Sigfried & Roy were occasioally seen in Vegas's gay spots. They separated romantically in 1996, he says, when Fischbacher got his own house in Spanish Trails. In more recent years, after Horn's accident, speaking out for gay causes wouldn't have carried as much weight, he says.
"No one really cared by then," McBride says. "The moment when their honesty mght have made a positive difference to the Las Vegas queer community had long passed and so had the careers they might have lost if they'd come out earlier."
He says they were "largely circumspect" but "we still saw them discreetly out and about."
"Even before (they broke up), when we saw them in the community, it was usually separately," he says. "The two of them would visit the Le Cafe nightclub in the 1970s which then stood on the northwest corner of Tropicana Avenue and Paradise Road. The club's lesbian owner, Marge Jacques, counted them as friends. In the 1980s, separately or together, they'd come to Gipsy, which then was an upscale dance club on Paradise Road and Naples Drive."
They were also spotted occasionally at seedier gay spots, McBride says.
"Roy seemed to enjoy the Talk of the Town adult bookstore when it was in the Crestwood Shopping Center on East Charleston Boulevard and one or the other was occasionally seen at the Camp David bath house on Industrial Road," he says. "But mostly, they and their circle of gay friends — which included Liberace and Hans Klok, who came out about the same time Sigfried & Roy did in 2007, and their protege, Darren Romeo, who just came out during his run in Pigeon Forge, Tenn., — kept themselves pretty much sequestered at Little Bavaria back in the day. I think the idea of a queer community was alien to them, outside their experience, maybe even distracting and a bit threatening."
Religious hangups
Gospel music producer/historian Anthony Heilbut has written at length about how black Christian denominations have shamed or welcomed queer musicians to varying degrees in the '50s, '60s and prior. He knew Little Richard — not well, but they'd met on several occasions — and says one must consider the era when deciding how much blame to assign him. He wanders into another room of his New York apartment during a phone interview last week and puts on a recording of gospel singer Marion Williams (1927-1994), who for a time was in The Famous Ward Singers, helmed by Clara Ward (one of Aretha Franklin's major influences) and who also had a significant solo career. He holds the phone up to a recording of her whooping and hollering and it's easy to see where Little Richard got some of his inspiration. Richard appeared at the Kennedy Center Honors when Williams was inducted.
"His phrasings and his timbre and even his ballad singing, and he was a great ballad singer although we typically think of him as this sort of rock and roll clown, all that came from Marion Williams," Heilbut, who's gay, says. "You can't copyright phrasings. That's what singers could take from each other."
Heilbut also says Richard, whom he first met in 1961 and says he's "one of the very few people who ever saw him sing on a gospel program," says Richard's gospel singing career was never terribly convincing or memorable partially because he came from a staid denomination (Seventh Day Adventist, not nearly as musically rowdy as black Baptists and those in the Sanctified Church) and the fact that it was performed more dutifully than his rock and roll material.
"He was singing, 'I quit show business and I wanna go straight/I wanna serve the Lord before it's too late,'" Heilbut says. "His singing was very bland. There was more of the real gospel drama in his R&B and rock music."
Heilbut also says Richard admired Williams in the traditional way gay men have worshiped show-stopping divas. He remembers seeing Richard at a Nashville studio when Heilbut was producing one of Williams' later recordings. He mimics Richard's speech patterns, recalling the conversation: "'Is she still fabulous? Do she still make notes? I makes notes. I heard she preaching. I preaching too. … She always war my heart, she know, she know. I've been singing like her down through the years. Mahalia good, but Marion always were my singer.'"
Heilbut also says Richard's various stints in gospel music robbed his career of momentum in rock. As respected as he was among rock pioneers, he's almost wholly associated with his '50s heyday. Attempts at secular music comebacks in the '60s and '70s could not come close to matching his peak period.
"He made some very lovely records later and he could be a wonderful singer, but by then the audience had changed," Heilbut says. "The train had passed."
Later in life, Heilbut says, Richard was seen socializing in gay bars. He never personally saw him but says friends reported him being "the belle of the ball" at St. Louis gay bars on various occasions.
Richard, whom Heilbut says "always struck me as very goofy," was ultimately "just incredibly confused."
Roy, Richard 'lacked courage'
Gay activist/entrepreneur Mitchell Gold, who like Siegfried & Roy, knows something about being linked for life to a former partner — he and business partner/former domestic partner Bob Williams formed their eponymous furniture company Mitchell Gold+Bob Williams in 1989, which they continue to run jointly. He says celebrities holding onto or returning to the closet are a reminder of "how horrible these religious teachings are, how toxic."
"I don't even know what it's like to live like that," Gold says. "I was tortured about it until I was 24, 25 but then that was the end of it. These guys who live their whole lives having to be careful about that they said, it's just horrible. I don't know as much about Siegfried & Roy except that after awhile it just gets to be ridiculous, like the Barry Manilow thing was for so many years."
Gold understands Richard not being out in the '50s or Siegfried & Roy at the advent of their careers but later in life, once they were financially secure, he says they "lacked courage."
"I never cared if we lost money for being out," Gold says. "I don't have to be a gazillionnaire. If I make less, I make less and it's the same for Siegfried & Roy. At some point they had plenty of money and so why wouldn't they speak out for people who aren't being sheltered the way they are and are forced to live a closeted, unhealthy life. The only thing I can say is I don't think these folks even know what a healthy life looks like."
Gay journalist/author Michael Musto agrees.
"It's partly generational, though many of their generation ended up being belatedly but wonderfully out and proud — Richard Chamberlain, Joel Grey, etc.," he wrote in an e-mail. "It's more of a sort of self-loathing-tinged caution based on a lifelong fear of an image adjustment or career damage. Roy played to Middle American high rollers, but obviously didn't want to gamble on his own career. One of his magic tricks was being cagey about his sexuality."
Musto says the music business has been especially troubling for non-straight black entertainers.
"Little Richard renounced his queerness when he should have just been at peace with it and allowed himself to celebrate and be celebrated by our community," Musto says. "Luther Vandross, Whitney Houston and many others were unwilling to step out of the shadows because the people around them (and sometimes their own inner voices) told them not to. Little Richard was so queer that it seems like a 'duh' that he should have just gone there. But with Adam Lambert, Sam Smith and many others (and Elton John, Melissa Etheridge and k.d. lang having led the way), things have inalterably changed."
Although Fischbacher and Horn never spoke of their religious influences — their decor reflected influences of Eastern religion and Horn would sound a large gong in his bedroom to let the tigers know he was awake — for Richard, Kearns says, it was tragic.
"I'm not saying there aren't some fabulously evolved people who are religious but we've seen time and time again how religion gets its hold on gay people at a very early age and just does not let go and the result can be horrific," Kearns says. "Richard is a fascinating creature to me. In a way, it's amazing he lived as long as he did with this struggle. He deserves a lot of credit. He didn't have an easy time of it."
CAMP Rehoboth's president talks pandemic, planning, and the future
Wesley Combs marks six months in new role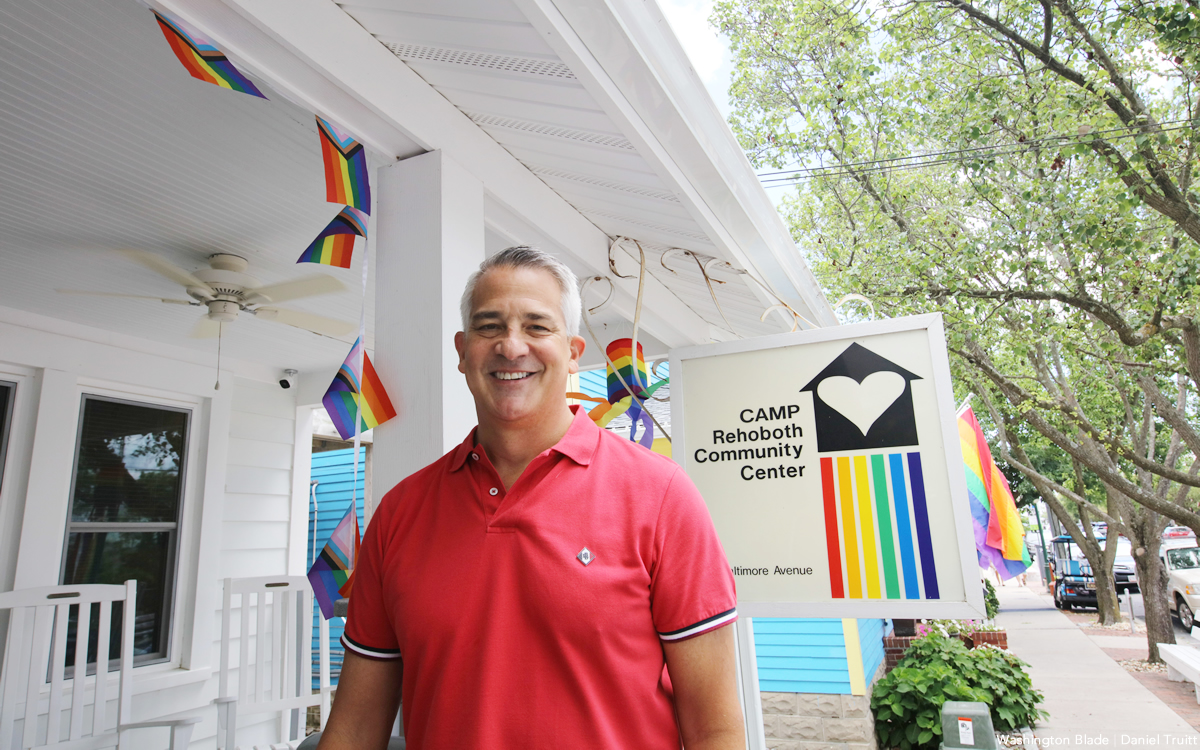 June marks half a year since Wesley Combs stepped into his role as president of CAMP Rehoboth. In a conversation with the Blade, Combs recounted his first six months in the position — a time he said was characterized by transition and learning.
Since 1991, CAMP Rehoboth has worked to develop programming "inclusive of all sexual orientations and gender identities" in the Rehoboth Beach, Del. area, according to the nonprofit's website. As president, Combs oversees the organization's board of directors and executive director, helping determine areas of focus and ensure programming meets community needs.
For Combs, his more than three decades of involvement with CAMP Rehoboth have shaped the course of his life. In the summer of 1989 — just before the organization's creation — he met his now-husband, who was then living in a beach house with Steve Elkins and Murray Archibald, CAMP Rehoboth's founders.
Since then, he has served as a financial supporter of the organization, noting that it has been crucial to fostering understanding that works against an "undercurrent of anti-LGBTQ sentiment" in Rehoboth Beach's history that has, at times, propagated violence against LGBTQ community members.
In 2019, after Elkins passed away, Combs was called upon by CAMP Rehoboth's Board of Directors to serve on a search committee for the organization's next executive director. Later that year, he was invited to become a board member and, this past November, was elected president.
Combs noted that CAMP Rehoboth is also still recovering from the pandemic, and is working to restart programming paused in the switch to remote operations. In his first six months, he has sought to ensure that people feel "comfortable" visiting and engaging with CAMP Rehoboth again, and wants to ensure all community members can access its programming, including those from rural parts of Delaware and those without a means of getting downtown.
Still, Combs's first six months were not without unexpected turns: On May 31, David Mariner stepped down from his role as CAMP Rehoboth executive director, necessitating a search for his replacement. Combs noted that he would help facilitate the search for an interim director to serve for the remainder of the year and ensure that there is "a stable transition of power." CAMP Rehoboth last week announced it has named Lisa Evans to the interim director role.
Chris Beagle, whose term as president of CAMP Rehoboth preceded Combs's own, noted that the experience of participating in a search committee with the organization will "better enable him to lead the process this time."
Before completing his term, Beagle helped prepare Combs for the new role, noting that the "combination of his professional background, his executive leadership (and) his passion for the organization" make Combs a strong president. Regarding the results of the election, "I was extremely confident, and I remain extremely confident," Beagle said.
Bob Witeck, a pioneer in LGBTQ marketing and communications, has known Combs for nearly four decades. The two founded a public relations firm together in 1993 and went on to work together for 20 years, with clients ranging from major businesses like Ford Motor Company to celebrities including Chaz Bono and Christopher Reeve. According to Witeck, Combs's work in the firm is a testament to his commitment to LGBTQ advocacy.
"Our firm was the first founded primarily to work on issues specific to LGBTQ identities, because we wanted to counsel corporations about their marketing and media strategies and working in the LGBTQ market," he explained. By helping develop communications strategies inclusive of those with LGBTQ identities, Combs established a background of LGBTQ advocacy that truly "made a mark," Witeck said.
Witeck emphasized that, in his new position, Combs brings both business experience and a renewed focus on historically underrepresented in LGBTQ advocacy — including people with disabilities, trans people and people of color.
Looking to the rest of the year, CAMP Rehoboth hopes to host a larger-scale event during Labor Day weekend. In addition, the organization will revisit its strategic plan — first developed in 2019 but delayed due to the pandemic — and ensure it still meets the needs of the local community, Combs said. He added that he intends to reexamine the plan and other programming to ensure inclusivity for trans community members.
"CAMP Rehoboth continues to be a vital resource in the community," he said. "The focus for the next two years is to make sure we're doing and delivering services that meet the needs of everyone in our community."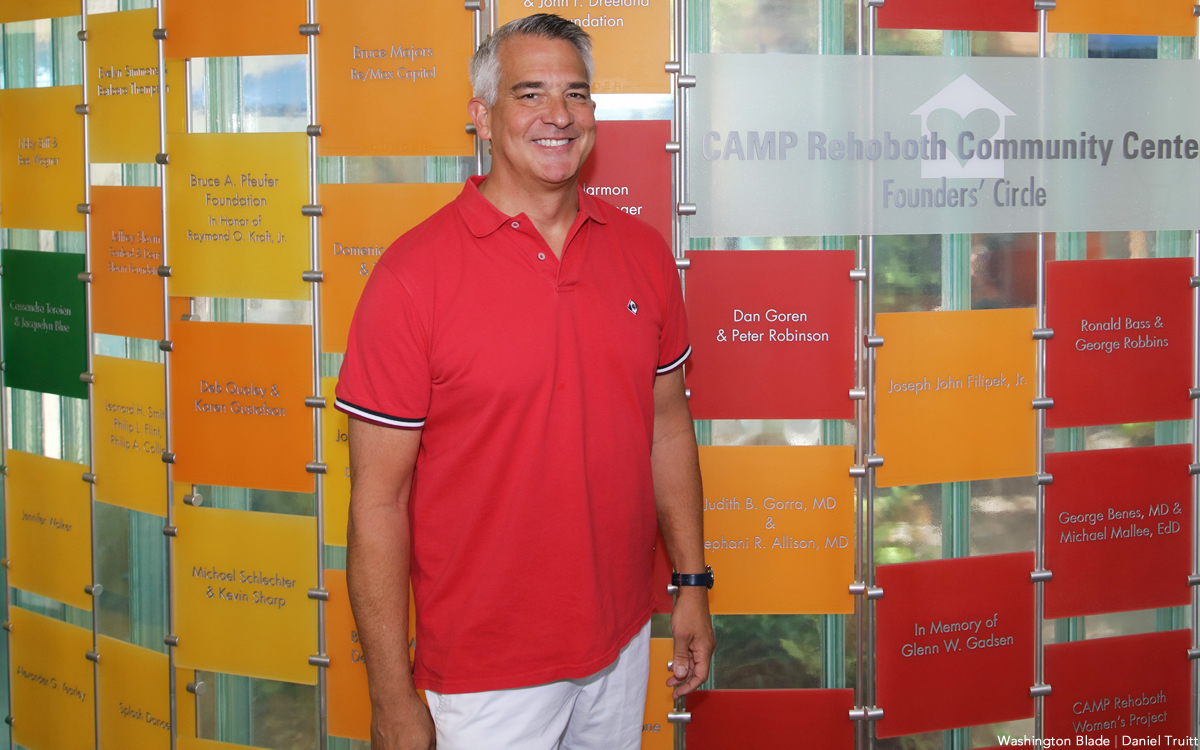 Melissa Etheridge shares Q&A in advance of April 26 Tysons tour stop
Rock pioneer finds inspiration in the past — from revisiting old demos to reconnecting with celeb pals like Ellen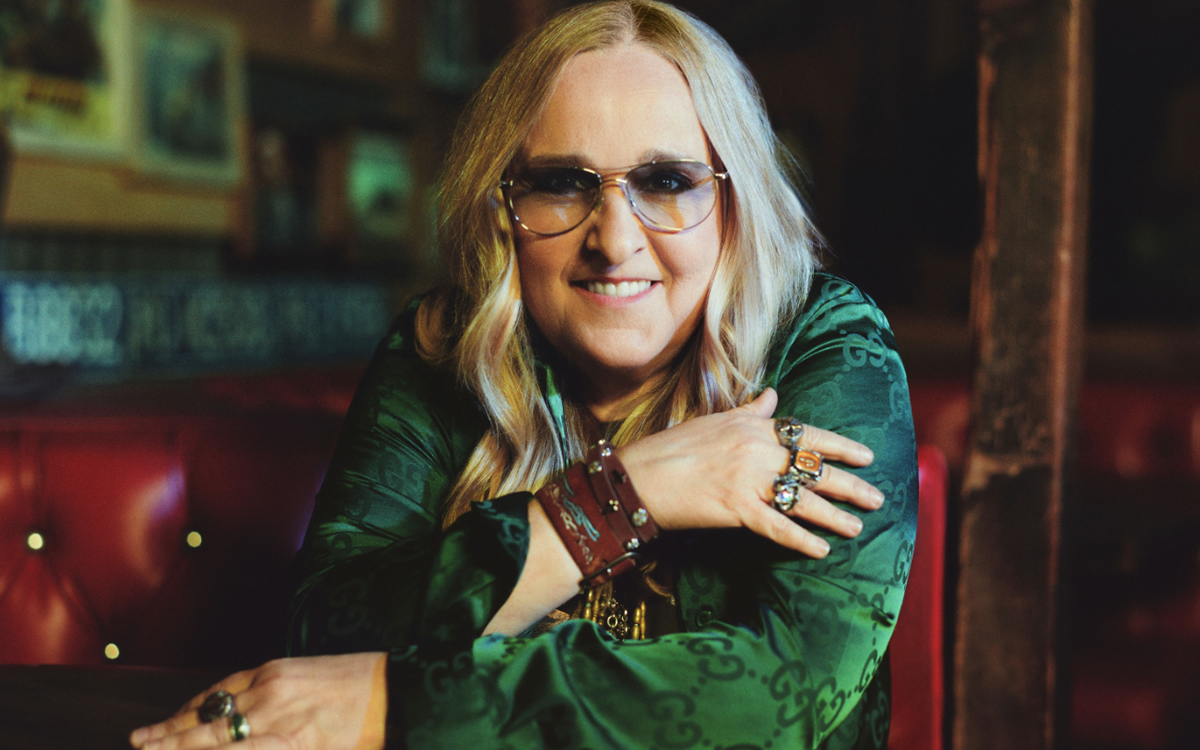 Melissa Etheridge
'One Way Out Tour'
Tuesday, April 26
Capital One Hall
7750 Capital One Tower Rd.
Tysons, VA
7:30 p.m.
Tickets: $55
ticketmaster.com
capitalonehall.com
melissaetheridge.com
We caught up with rock legend Melissa Etheridge on April 8 by phone from Snoqualmie, Wash. — it's about 26 miles east of Seattle —where she was playing the Snoqualmie Casino on her "One Way Out Tour," which plays our region on Tuesday, April 26.
It's named after her latest album, released last fall, which found Etheridge, who's been out since '93, revisiting demos from early in her career.
Her comments have been slightly edited for length.
WASHINGTON BLADE: "One Way Out" sounds like such a cool project. Was it all re-recorded stuff of old songs or were some of those vintage takes on the record as well?
MELISSA ETHERIDGE: The last two songs, the live songs, were from where? From 2002? OK, but the other songs were newly recorded.
BLADE: And how many of them did you remember?
ETHERIDGE: You know, when I found them again, they all came back very clearly. And I was like, "Oh, this is — why did I throw that away? That's weird." And I really enjoyed, you know, hearing them, they were just old demos. I'd never done full-blown recordings. So I thought, "This is great, I want to do these songs."
BLADE: We have a relatively new venue you're going to be playing, Capital One Hall. I've only been there once. You excited?
ETHERIDGE: Yeah, it's always fun. I love the D.C.-area crowd. It's just really, really nice.
BLADE: And how do you decide where you'll be? Or do you have any say in it?
ETHERIDGE: Well, it's not necessarily me. I do have a say in it, in what I want the whole tour to look like. But it is really up to William Morris, my agent, to find the right venue that understands what we need and the kind of atmosphere we're looking for that and the amount of people and, you know, that sort of thing.
BLADE: Tell me about Etheridge TV. I just wonder, when we were in that acute phase of the pandemic, wasn't it even remotely tempting to you to just take a break?
ETHERIDGE: No, because since I was 12 years old, I sang all the time for people, like five days a week and it's just been what I do. And so when it was like, I was looking at a massive, cavernous amount of time that I was going to be home, I still needed a way to pay the bills, so we put our heads together — I've got one of the greatest television minds with me, you know, my wife (TV producer Linda Wallem), so I had the space and I had the equipment, and I was like, "Let's do it." And it was really fun to learn new things. It was fun to learn about computers and sound and streaming and lights and cameras and all these things that I didn't know. … I feel a little smarter.
BLADE: When did you start back on the road?
ETHERIDGE: We went out last fall. We went out September, October, right around there. And you know, it was a little different, Now things are things are loosening up … but some places still require masks. But people are starting to get back out and it feels good. It's not the overwhelming thing that it was a few months ago.
BLADE: And what was it like being on 'Ellen' again for her final season?
ETHERIDGE: Oh, I love her. She's such an old friend. You know, I say that about myself, too. (chuckles) But, you know, she's just a relationship in my life that I have treasured. We've watched each other grow and the changes we've made and the successes and what we've gone through and I love that she had me on and just it was just a really — she's a dear friend. And she showed an old photo there, and we both said, "Oh, that was before we were so busy."
BLADE: Do you talk to her often?
ETHERIDGE: I would say we see each other socially once or twice a year. It just seemed like once we started having children, all my friends from my 20s and 30s when we were not as busy — it just gets harder to stay in touch and life got crazy.
BLADE: So when you were hanging out back in the day with Ellen and Rosie and everybody, how was it that Brad Pitt was in that group too?
ETHERIDGE: Well, my girlfriend (Julie Cypher) had been married to Lou Diamond Phillips and we were all very good friends with Dermot Mulroney and Catherine Keener and Catherine Keener did a movie with Brad, like a movie nobody saw, like Johnny Dangerously or something (1991's "Johnny Suede"), some really weird movie. So I met Brad before he was terribly famous. He was a part of that group. There was a whole group of all of us that just hung out, and we were all totally different. We were just like young, hungry Hollywood and we'd talk about, "Oh, I had this audition," or "I went and did this," and we were just all trying to make it in that town. So we'd get together and have fun.
BLADE: I was so terribly sorry to hear about Beckett (Etheridge's son, who died in 2020 at age 21 after struggling with opioid addiction). How are you and the rest of the family, especially (Beckett's twin) Bailey, dealing with it now?
ETHERIDGE: There are many, many families like us that deal with a loss like that. It just blows a family sideways. But we have a deep love and connection, all of us. We all knew he had a problem and it's a problem that starts way before he actually passes, so it was not a surprise. So now we're just living with the missing aspect. You try not to think about what could have been and you try to think about him in a happier place and that he's out of pain, so that helps us.
BLADE: Had he and Bailey been as close in recent years?
ETHERIDGE: They were very close, but in the last couple of years as he made worse and worse choices, we couldn't support that, so they were less close, but of course in her heart, it was her brother, he was very dear to her.
BLADE: Did you watch the Grammys? Was there anybody you were particularly rooting for?
ETHERIDGE: I watched bits and pieces of it. I had a show that night, so I didn't get to see the main thing, but I have seen pieces and I just love the crazy diversity and you know, the TikTok people winning stuff, it's like, "Wow, this is so not the Grammys I remember from the '80s," but that was what, 30 years ago? So it's all good.
BLADE: You were such a perennial favorite back in the day in the best rock female category. Were you pissed when they eliminated it?
ETHERIDGE: It's sad because I felt like the criteria they were using to judge what is female rock, they just really dropped the ball. I still think there are some amazing musicians that could be considered, you know, rock, but it feels like we're having a hard time even defining what rock and roll is now anyway. There's a whole bunch of strong women out there playing, rocking, you know, playing guitar, being excellent musicians and songwriters. If you can't call it best rock female, OK, call it something else.
BLADE: I remember so vividly when you were on the Grammys in 2005, in the midst of chemo, when you sang "Piece of My Heart." I remember you saying you were wondering how people would react to seeing you bald. Having been through that, any thoughts on the Will/Jada Oscars situation since her baldness, too, was due to a medical condition?
ETHERIDGE: You know, it's funny, I did feel a little remembrance of (thinking), "I just hope people don't make fun of me." That was kind of the first thing because to go out there bald, that was so different for me as an artist whose hair had kind of defined her. I was thinking, "How am I gonna rock without my hair?" I thought people might make fun of me, but I got over that. I just thought, "Well, if somebody makes fun of me, that just makes them look bad." So I just walked through it. And you know, it's hard to draw the line between what's funny and what's painful and how to look at something. I feel for all parties involved.
BLADE: When you go on these cruises, do fans give you some space or do they swarm around the minute you walk out? Is it even enjoyable for you?
ETHERIDGE: Yeah, it is. You know, we did our last one, now we're doing Etheridge Island, we now have a destination in Mexico, outside of Cancun, it's just this island that we're going to that is really fantastic. But I do I make myself available, I don't run away. When I have to be somewhere, I have a great company we work with called Sixthman that knows how to get me from point A to point B without being bogged down. But I do my make myself available. Everyone gets a picture with me. It's my work, but I love it. I try to make myself available but also have some time just for myself too.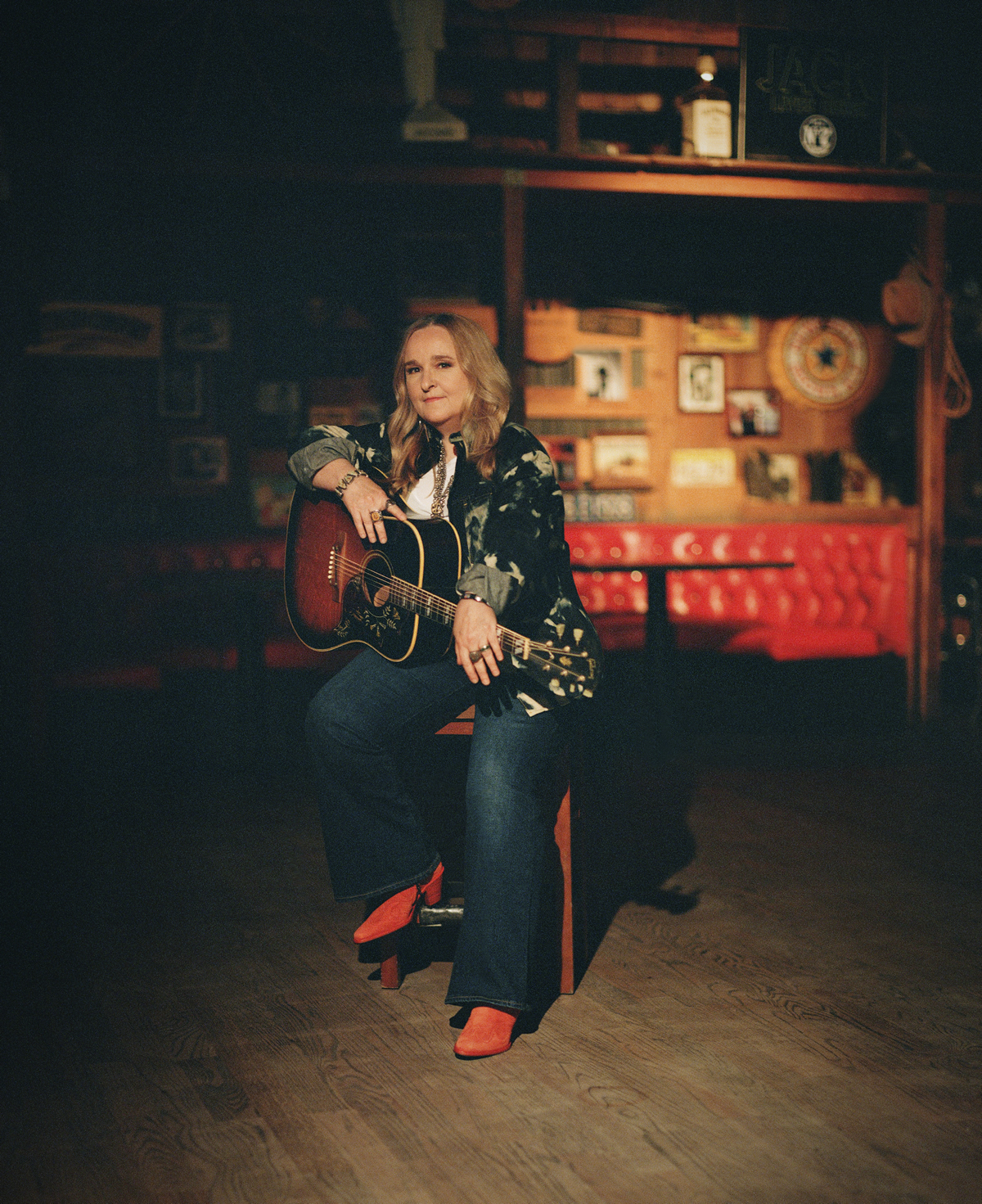 BLADE: You Tweeted a few nights ago about having a tight curfew of just 90 minutes at a casino but then it worked out and you got to do a full set. Why are the curfews so tight at casinos?
ETHERIDGE: Why do you think? They want people at the tables. Like for tonight, we we settled on 100 minutes. They're giving me 10 extra minutes. I don't like it, but in some areas, the only really good venue is a casino, so if you want to reach your folks there, you kind of have to meet them half way.
BLADE: Yeah, but it seems like in concert halls, the curfews can sometimes be really tight too. Even Madonna got her lights shut off a couple years ago. Of course, she's notoriously late, but why are they so strict with these things nowadays?
ETHERIDGE: There are all different situations — concert halls often have union crews that will absolutely shut you down if you go one second over. There are also sound curfews, noise curfews, mostly with outdoor venues, but sometimes indoor as well. They have an agreement with the neighborhood. So you have people in the neighborhood standing by with their phones ready to pounce the minute it goes over one minute, they're gonna call the police. As a performer, you just realize, "OK, it's not just about me." When I don't have a curfew, I usually land at about two hours and some change. That seems comfortable to everyone. Any longer and I think I'm wearing my audience out. When I'm at a place with a shorter show, I just do my best.
BLADE: I know you're a big Chiefs fan. Did you watch that game back in January all the way to the end?
ETHERIDGE: Well, at the end of it, I was on the floor. My wife was like, "Honey, honey, there's still 13 seconds," and I was moaning and sort of getting my feet on the floor and, you know, laying down and throwing a fit. And she's like, "No, there's still 13 seconds." I dragged myself back to the television. And I couldn't believe it. I was like, "Wait a minute. Did we just win?" You know, just really crazy, really crazy stuff. … When you're a fan like that, it's a ride you can't fully explain.
BLADE: Are you in a cordial or good place with your exes? Does it get easier when the kids are starting to grow up?
ETHERIDGE: Oh, yeah. Oh, yeah. And you realize that it's best for the kids if you can really get along and that any sort of conflict that can't get resolved, that gets emotional, does no good for anyone. And absolutely, I have, I've gotten better at that as the years have gone by.
BLADE: Do you have the slightest inkling yet what the next studio album might be like?
ETHERIDGE: Well, I've got some interesting projects that I'm not ready to talk about just yet. But they have to do with my life story. There's a lot of digging up of my past and really telling the story. So I imagine the next series of music you'll get from me is going to be very focused on my journey.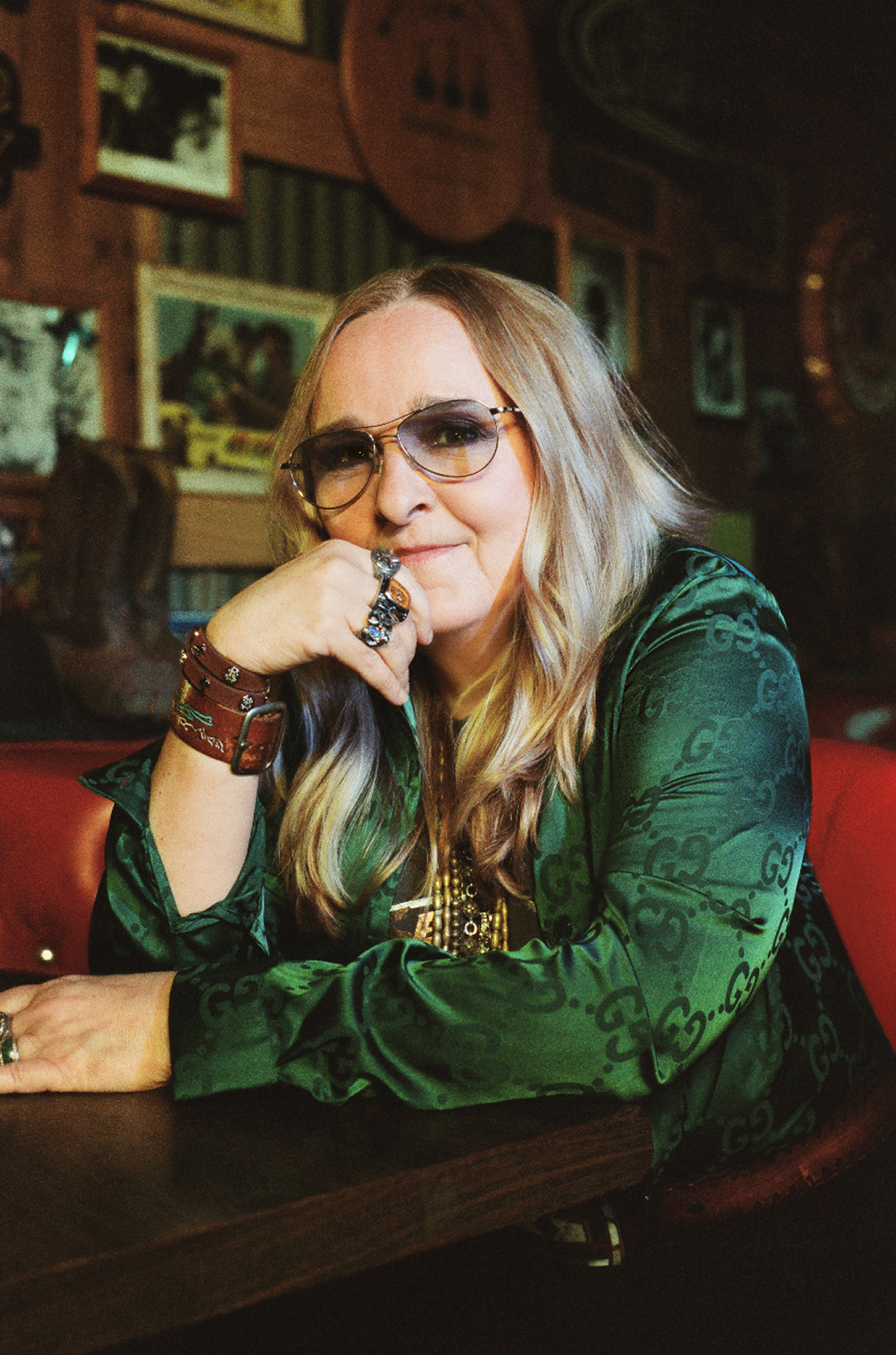 New Cranes sommelier brings spirit to wine and sake program
Stewart-Woodruff curates eclectic list for Michelin-starred restaurant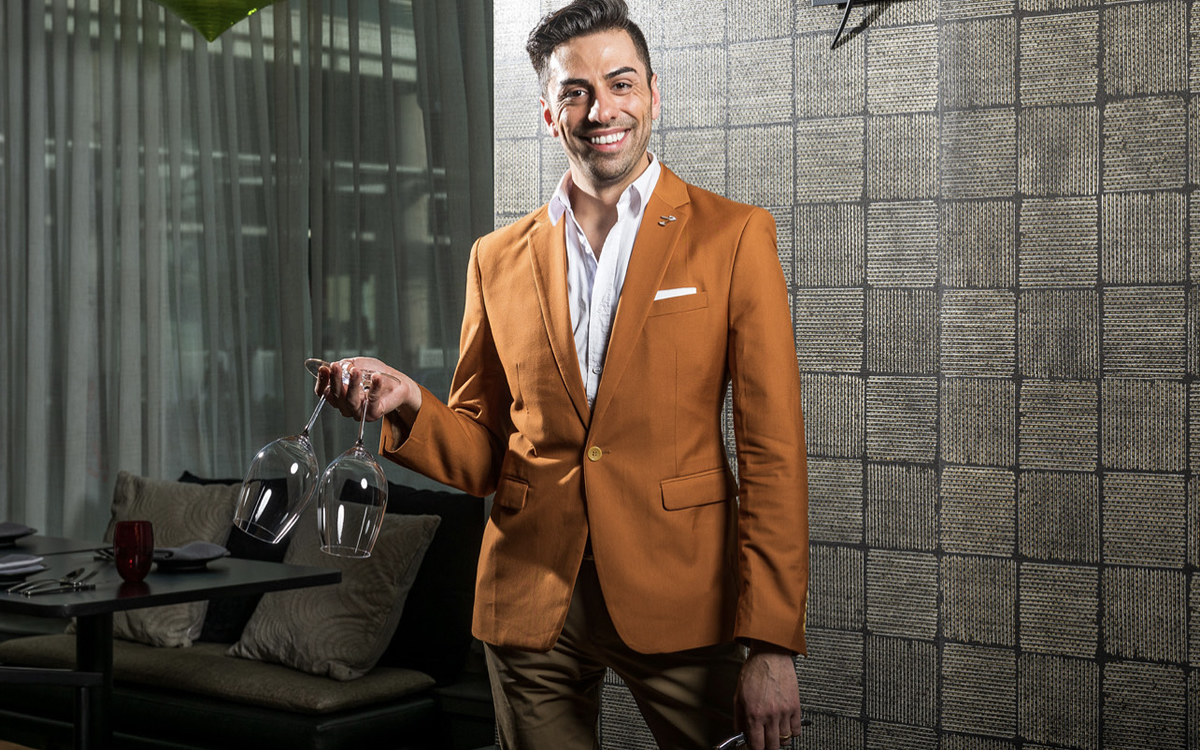 Outfitted in a blue damask dinner jacket with satin lapels and an energetic smile, Eric Stewart-Woodruff carves an impressive figure when chatting about his favorite vintages. Stewart-Woodruff, who's gay, is the new sommelier at Michelin-starred Cranes in Penn Quarter.
Stewart-Woodruff curates an eclectic wine – and sake – program focusing on pairings with celebrated Chef Pepe Moncayo's innovative, global flavors. Cranes, which explores intersections of Spanish and Japanese cuisine, opened just before the pandemic, and received a coveted Michelin star in 2021.
Stewart-Woodruff did not start off in the wine industry. In fact, he does not have any formal training in wine. Instead, after a career as a professional photographer, he pivoted to the restaurant industry, where he developed his love of wine. While working for a distributor, he connected with D.C.'s own District Winery. This opportunity allowed him to express his truest self, as a lead tour guide, wine ambassador and sommelier. He credits his identity and personality as his reason for thriving.
"I bring my whole self to work," he says, "offering a level of humanity and approachability."
After the pandemic temporarily shuttered District Winery, Stewart-Woodruff found himself interviewing at Cranes, enamored with Moncayo's "creative vision," he says – and was sold. He began in late summer of 2021.
Through his work in hospitality, Stewart-Woodruff notes that the industry can be hetero-male dominated. He has been able to break through by not holding back on his identity.
"I tend to play with expectations of what a sommelier may look or act like," he says. "I move away from what one may stereotypically look like, but still present like one."
For him, that means talking about wine and wine education "as if it were gossip," he says. "I like to view wine like we are at brunch. Wine has personality, it's performative, and it has stereotypes." He is seeking to break molds of specific likes and dislikes, exploring the depth that wine has to offer, in the context of the Spanish-Japanese Cranes menu. In fact, he says, Moncayo is supportive of his innovative, certification-less angle. "I become more relatable," he says.
He also presents original events. He paired with local guest sommelier Andrew Stover (also a gay man) on Tuesday, March 29 for a springtime showcase of specialty rosé wines paired with Moncayo's dishes. The duo poured tastes of specialty, small-batch wines from Brazil, Italy, Spain, Uruguay, and Maryland.
Leaning into the innovative spirit, the wine-by-glass list is not split by color. Instead, it is divided into evocative categories. For example, both a chardonnay and a pinot noir fall into the "Elegant, round, and mellow" category.
As a Spanish-Japanese restaurant, Cranes not only possesses an extensive wine cellar, but has consistently expanded its sake program. Sakes by the glass are split into the same exact categories. The very same "Elegant, round, and mellow" list includes Ginjo Nama Genshu and junmai daiginjo.
Stewart-Woodruff explains that wine and sake should be attended to similarly. "Sake is something you can think about like a beer in terms of production but treat like a wine," he says. Sake is a fermented polished-rice beverage, dating back more than two millennia in Japan.
"Sake has aromatics, texture, body, and finish." He takes pride in discussing customers' palate preferences, and turning them onto a specific sake, for their qualities of earthiness, acidity, or others.
"Many people don't experience sake outside of college or bars. Now, I can be a sommelier for sake, and for the marriage of Eastern and Western cuisine and beverage." He expresses excitement at being innovative in his sake beverage pairings, occupying a niche space. When discussing both wine and sake, he aims to bring an artistic flair and tour-guide enthusiasm to the table.
Woodruff credits his identity and background for his success. He aims to bring a level of humanity and approachability to what has been a formal, stuffy area. He has high ambitions to portray sake as sophisticated as wine in the customer's mind, "but it pairs well with Moncayo's conceptually ambitious menu," he says.
"Wine and sake are as eclectic as humanity. I want people to accept experiencing wine like the world has accepted me."