June 3, 2020 at 9:39 am EDT | by Peter Rosenstein
America, we're at a tipping point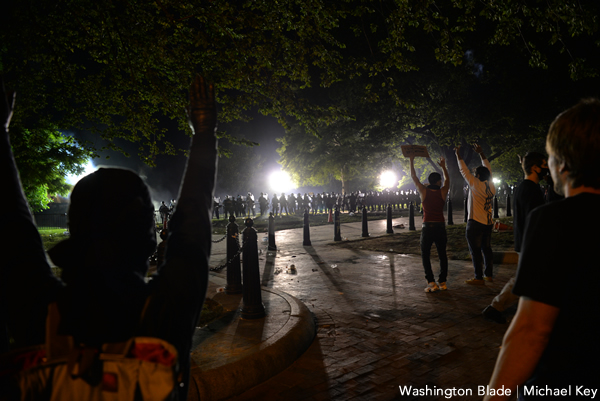 I join with those calling for the arrest and charging of the three additional officers who clearly stood by and let Officer Derek Chauvin murder George Floyd. Police officers must be subject to the law and held accountable. We must demand from the overwhelming number of good officers, those who risk their lives every day to protect us, that they speak up when those in their ranks commit a crime.
We must do more. We must end the structural racism that has existed in our country from the day it was founded. We must make it easier for federal authorities to charge officers like Chauvin with a crime. As Democrats we must tell the African-American community what we will do to change and make their lives better when we get rid of Trump.
Always exacerbating the situation is the pig in the White House masquerading as a president. Instead of calling for calm, showing understanding, empathy and promising change, he threatens to use 'vicious dogs' and 'ominous weapons' against protesters. His small, warped mind cannot separate legitimate protesters, whose anger is real and totally understandable, from the few who would use the protests to riot. He cannot comprehend and refuses to acknowledge both racism and the structural racism that is prevalent in our society.
The words of this president have shocked many decent people, including D.C. Mayor Muriel Bowser, who said she was "shaken" by Trump's threat about unleashing "vicious dogs" on people protesting the death of George Floyd, saying it called up associations of segregationist violence.
Trump's tweets and retweets including ones such as "A good Democrat is a dead Democrat" and "When the looting starts, the shooting starts" only made the situation worse. The president claimed he had no idea where the phrase "the shooting starts" he tweeted came from and I believe him. He doesn't read and doesn't know history and is himself a racist. The phrase chilled the many who knew where it came from. It has its history in the civil rights struggles of the 1960s, when "In late 1967, as armed robberies and unrest gripped black neighborhoods in Miami, the city's white police chief — a tough-talking former U.S. Army Cavalry officer who parted his hair straight down the middle — held a news conference 'declaring war' on criminals." Then Chief Walter Headley warned he "would use shotguns and dogs at his command" and went on to say, "I've let the word filter down that when the looting starts, the shooting starts."
We are at a tipping point in this great nation of ours. The question we must answer is will we begin to recognize some truths about the problems our nation faces and start to solve them, or will we continue down the road Trump is taking us on? A road leading to the sure destruction of our democracy forever. We cannot succeed as a nation if black men and boys cannot feel safe in our society. If every black parent has to think like the mayor of Atlanta, Keisha Lance Bottoms, who said, "When I saw the murder of George Floyd, I hurt like a mother would hurt. And yesterday, when I heard there were rumors about violent protests in Atlanta, I did what a mother would do, I called my son and I said 'Where are you?' I said, 'I cannot protect you and black boys shouldn't be out today.'"
My African-American friends with sons have told me they speak to them every day about how to act when they are outside knowing they face issues I can never even perceive of. If we are ever to reach a time when the words and promise of the preamble to our Constitution refers to all of us, not just those of us with white privilege, we must act and make changes now.
"We the People of the United States, in Order to form a more perfect Union, establish Justice, insure domestic Tranquility, provide for the common defense, promote the general Welfare, and secure the Blessings of Liberty to ourselves and our Posterity, do ordain and establish this Constitution for the United States of America."
Peter Rosenstein is a longtime LGBTQ rights and Democratic Party activist. He writes regularly for the Blade.