August 3, 2020 at 6:00 am EDT | by Sarah Kate Ellis
Mike Pence stands in stark contrast to Biden's VP shortlist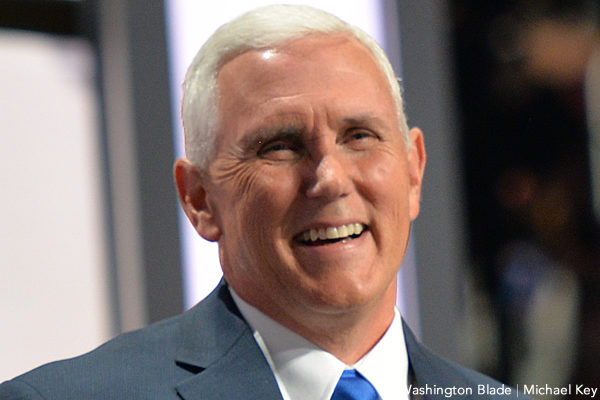 With just 92 days to go until one of the most consequential elections of our lifetime, all eyes are on Joe Biden. This week, he is expected to reveal his Vice Presidential pick. As LGBTQ Americans, we are paying particularly close attention. Despite what some pundits would have us believe, the Vice President matters. When Joe Biden was Vice President, he pushed the Administration to move forward on marriage equality. As Vice President, Mike Pence has led the charge for Donald Trump and put LGBTQ people and our equality in unprecedented peril.
GLAAD has tracked more than 165 attacks in policy and rhetoric from President Trump, Vice President Pence, and the Administration's appointees since they took office in January 2017. It started on day one with the removal of all mentions of LGBTQ people and policy from the official White House web site and has continued nonstop. With Pence at his side in May 2017, Trump signed the first of several so-called "religious liberty" executive orders, paving the way for newly-sanctioned discrimination in public life. Later that year in a closed-door and unannounced event, Trump and Pence posed proudly for a photograph in the Oval Office with notorious anti-LGBTQ activists. Meanwhile, following Trump's egregious attempt to ban transgender service members, Pence argued behind closed doors for the elimination of their health care benefits. In a moment of unvarnished observation, The President reportedly joked of Pence when asked about LGBTQ rights: "Don't ask that guy—he wants to hang them all!"
Sadly, we knew the danger of a Pence Vice Presidency from the moment Donald Trump put him on the ticket, so none of this came as a surprise to us. As governor of Indiana, Pence earned national notoriety for signing a so-called "religious freedom" bill that anti-LGBTQ activists in his state championed for the purposes of allowing business owners the right to refuse service to LGBTQ customers. After outcry and boycotts, Pence was forced to sign an amended version that made it clear the law cannot be used to discrimination on basis of sexual orientation or gender identity. And in his first run for Congress, vowed to oppose marriage equality and give employers a license to discriminate against LGBTQ people in the workplace. Meanwhile, he called on federal HIV prevention and treatment dollars to instead be directed to debunked so-called conversion therapy practices.
The Pence record stands in stark contrast to that of the reported leading contenders to join the Biden ticket. When she was District Attorney, Senator Kamala Harris established an LGBTQ hate crimes unit and as California Attorney General, she refused to defend the state's Proposition 8, which disallowed same-sex marriage. As a Senator, she introduced legislation and has been a champion for ensuring LGBTQ Americans are counted in the census.
Senator Elizabeth Warren has been an outspoken advocate for transgender Americans, using her platforms to shine a light on the violence experienced by trans women of color in particular. She has fought in the Senate to get justice for same-sex couples who couldn't jointly file taxes prior to the Supreme Court ruling on marriage. In 2012, she was a leading voice in urging President Obama to support same-sex marriage.
As President Obama's National Security Advisor, Susan Rice made international LGBTQ rights a priority, and spoke out forcefully when other nations' leaders put us in harms way. Sen. Tammy Baldwin, the first openly gay person elected to the U.S. Senate, has made LGBTQ equality a cornerstone of her service. Sen. Tammy Duckworth, a military hero herself, has been a fierce opponent of the Trump transgender military ban. Rep. Karen Bass has been an outspoken advocate for HIV and AIDS prevention and treatment. Congresswoman Val Demmings has been an ardent supporter of the Equality Act and a champion for ensuring that the tragedy at Pulse nightclub in her home state of Florida is not forgotten. Atlanta Mayor Keisha Lance Bottoms inaugurated the city's first report on LGBTQ affairs and appointed the city's first full-time LGBTQ Affairs Coordinator. Running for Georgia governor, Stacey Abrams became the first major party candidate for that office to march in the Atlanta Pride parade, building on a lifelong record of LGBTQ advocacy dating back to her days at Spelman College.
As LGBTQ people, we cannot take anything for granted, and we cannot stay home. We must use our voices to educate one another and our allies about what's at stake and who stands with us. And we must use our votes to protect the progress we have made and lay the path for full equality.
The stage is nearly set. The rest is up to us.
To join GLAAD's 2020 Election campaign to educate, engage, and activate LGBTQ and ally voters, visit GLAAD.org/vote.
Sarah Kate Ellis is president and CEO of GLAAD.