August 8, 2020 at 7:00 am EDT | by Patrick Folliard
Vidal vs. Buckley play reinvented as film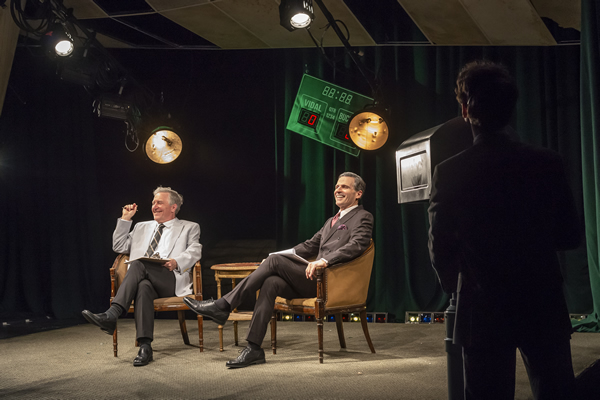 "Inherit the Windbag," a new play by Alexandra Petri, was on the verge of opening at Mosaic Theater Company in March when COVID-19 abruptly shut it down. Now the thwarted world premiere project is about to be reinvented as a film to stream at home. Filming begins next week.
During the summer of 1968, then-lagging network ABC took a gamble on how to cover the Republican and Democratic conventions. They hired American ideological opposites – arch conservative William F. Buckley and Gore Vidal, iconoclastic leftist, novelist and brilliant essayist – to increase ratings with provocative nightly debate. Despite the patrician veneers and volley of five dollar words, this wasn't polite conversation.
Things got particularly hot when Vidal called Buckley a "crypto Nazi," and a snarling Buckley replied "Now listen, you queer, stop calling me a crypto-Nazi or I'll sock you in your goddam face, and you'll stay plastered." (Gore identified as bisexual though he lived with a man and had sex only with men.)
In Petri's satirical battle of wits, Vidal and Buckley are reunited in a hellscape, the Richard Nixon Presidential Library in Yorba Linda, Calif., where they debate again. Added to the mix are a supporting cast of conjured "demons" including mid-20th writers and chat show regulars James Baldwin, Truman Capote, and Ayn Rand.
Best known for her smart and funny Washington Post opinion pieces, Petri, 32, was drawn to the fabled contretemps after seeing "Best of Enemies," Robert Gordon and Morgan Neville's 2015 documentary that entertainingly lays out the televised feud: "I was fascinated and repulsed by my own fascination," she recalls. "They have a visceral mutual loathing that comes through the camera and that's very watchable to me.
"Vidal was a fascinating and contradictory figure. If you were creating someone out of thin air you couldn't make him up. And the pair together, with their use of polysyllabic words, classical allusions, and idiosyncratic accents, were well matched. Yet, though deeply and superficially the same, their world views were vastly different."
After having been away from the script for some time, Petri is excited to do some rewriting for the digital debut. "It's something that's easy to go back to – despite the obfuscating verbiage, the characters are working through the same things we are today. Everything around them has the same urgency as we're seeing now."
Admired Washington-based actor Paul Morella plays Vidal. Watching Vidal on YouTube helped in creating his characterization. There's lots of available video of the man who famously said "Never turn down a chance to have sex or be on television." Here's Morella's takeaway: "Vidal consistently used a certain mid-Atlantic patrician accent. There's almost a musicality and rhythm to the way he speaks. My goal has been to lock into that way of speaking which uses words intellectually and as weapons. They're his arsenal – both the intellect behind them and the manner of delivering them.
"Physically, Vidal has an elegance that compared to Buckley's restlessness illuminates the debate segments in a way that people familiar with it will recognize."
Morella, who is straight, has assayed gay characters before, including execrable lawyer Roy Cohn in both parts of "Angels in America" at Signature Theatre; and while in graduate school at Catholic University he played one of the guys in Mart Crowley's seminal "Boys in the Band." "When I got the part, I hadn't been in theater very long and some of the humor eluded me but it worked for my character," he remembers.
Mosaic Theater's decision to film promises ample opportunity to play with screens and TV cameras, the technology behind the debates: "The plan is to use a combination of video and filming, done at home with green screen setup and shot remotely with actors positioned so it looks like the we're together."
"It won't be just a Hollywood Squares Zoom type of thing," Morella assures.
As part of Mosaic Theater's ongoing virtual public programming, Petri will discuss her play and other topics with "Creative Conversation: Alexandra Petri – Playwright of "Inherit the Windbag." Friday, August 14, 4:00 PM – 6:00 PM. Watch live on the Mosaic Theater Company Facebook page.