August 1, 2020 at 7:00 am EDT | by Patrick Folliard
Creative ways to keep dancing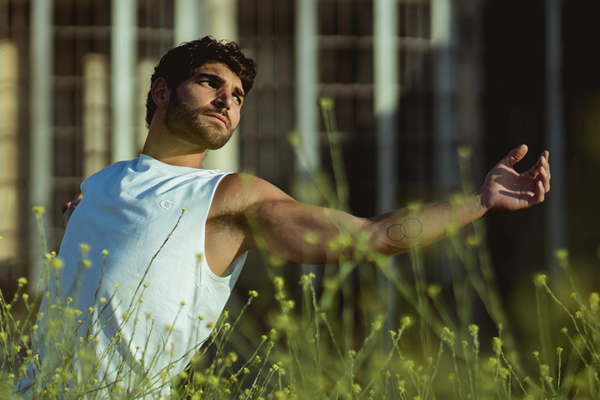 In what's become a hotly anticipated annual event, Washington's Chamber Dance Project's (CDP) summer dance concert brings together a far-flung lineup of accomplished artists to perform an exciting program of new works and repertory favorites. Using both dance and live music, the contemporary ballet company connects different worlds and reinvents how we view dance and listen to music.
Of course, the pandemic has made live performance impossible. But rather than scrap it all, CDP's dynamic artistic director Diane Coburn Bruning requested dancers stay home and work with remote choreographers and local videographers to produce dance filmed outdoors and in public spaces.
The result is a trio of repertoire films: "Berceuse" (Milwaukee), "In The Silence" (Columbus), and "Sarabande" (Los Angeles), a solo dance performed by Christian Denice, 32.
Calling via phone from Greece where Denice is spending three weeks with his Greek boyfriend, the amiable and determined Los Angeles-based dancer/choreographer takes time from sunning and swimming to talk about his career and introduction to CDP. He's particularly smitten with the company's innovative infusion of both dance and live music seen on stage.
The screening will be presented nationally on Friday July 31st at 7 PM EST with free tickets available at chamberdance.org/beyond
WASHINGTON BLADE: You're in Greece!
CHRISTIAN DENICE: I am. And I feel a little guilty because I'm here and none of my American friends can travel. I have dual citizenship. My mother was born in the Netherlands.
BLADE: If it were normal times, you'd be in Washington dancing "Sarabande." Can you describe the ballet?
DENICE: It's about an old man at the end of his life. He's looking back on the past and coming to grips with her current fragility. There's a lot of nostalgia to the piece but Diane [Coburn Bruning], the choreographer, wanted me to find my own way around it. It's a minimal movement solo, very internal.
BLADE: And the filming?
DENICE: It was up to me to find a location. While driving in L.A. I saw the Sepulveda Dam in Van Nuys – it's a great big industrial structure used a lot for filming. I liked the idea of an increasingly fragile man juxtaposed with this permanent, intimidating structure that's weathered so much. I absorbed the energy and the vastness, and felt alone and at peace being alone. It was the best way to honor the piece.
It was me and a videographer. I'd never have thought to dance in the dirt and grass without COVID-19. It pulled something out of us. Unfortunately, I missed out on CDP's use of live music – another time.
BLADE: How did you initially connect with CDP?
DENICE: As a freelancer, I'm always looking for new opportunities, and CDP popped up on my radar. I love how its centered around project-based summer gigs for dancers at the peak of their careers. And I love that it's a platform where dance and music collide together.
BLADE: What drew you to dance?
DENICE: It's the classic story – I watched through the window of my younger sister's class and fell in love with dance. I was 10 years old – very energetic but not skilled at sports – and my parents signed me up. Almost immediately, dance wrapped its arms around me and I was hooked.
BLADE: What kind of dancer are you?
DENICE: I'm athletic. I can blast a lot of energy really fast. I spent most of my professional life at Les Ballets Jazz de Montréal. The aesthetic was balletic and that challenged me a lot. I learned a lot of subtle interpretive movement, and discovered that I can be both a physical and nuanced artist.
Leaving the company after four and a half years was a big decision. Scary but necessary. I love dancing on stage but working on a new piece in the studio is where I'm happiest. I knew I needed choreography in my future.
BLADE: And will there be more CDP in your future?
DENICE: Yes, I'm slated to choreograph some new work for them. If all goes well it will be performed in 2021. Knock on wood.