August 20, 2020 at 4:12 pm EDT | by Patrick Folliard
Hammerly isn't ready to give up on theater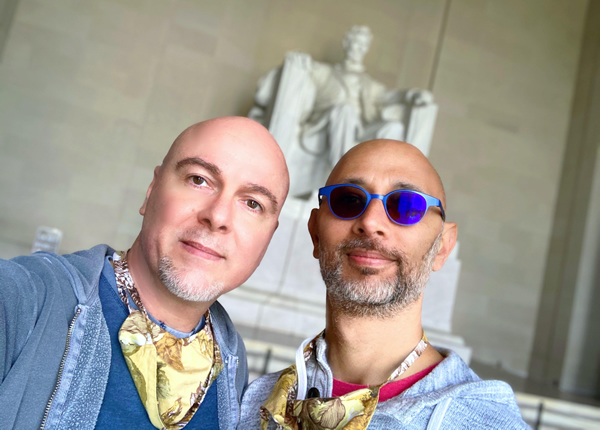 Rick Hammerly recently posted a quote from the movie "Groundhog Day": "What would you do if you were stuck in one place and every day was exactly the same, and nothing that you did mattered?" — a question wholly unrelated to the pre-pandemic life led by the Helen Hayes Award-winning actor/director who was poised to tackle a busy year of exciting projects when COVID-19 hit town in March.
As jobs fell away, Hammerly's first concern was finances. ("Holy shit! What do I do about money? Most of us theater folks aren't swimming in cash.") followed by a feeling of rudderlessness. But as he budgeted a grant and unemployment checks, he began to look at things differently. Here was a rare opportunity to step away from round-the-clock work and spend more time with his husband Dar Gazder. If there were to be any sort of silver lining to dreadful circumstances, this was it.
In addition to three decades spent acting and directing, Hammerly is also producing artistic director of Factory 449, a small, critically acclaimed company in residence at Anacostia Arts Center that he hopes to bring back at some point, but he's also entertaining different prospects.
Via phone from their home in D.C.'s Brookland neighborhood, the couple (who married in January 2019) shared thoughts on what's changed, and what a new normal might mean for them.
WASHINGTON BLADE: Rick, please don't tell me you've given up on theater.
RICK HAMMERLY: No, I haven't given up. I'm just realistic and keenly aware that, given the current theatrical landscape and lack of adequate compensation once a gig is finally secured, one simply cannot sustain themselves financially. After 30 years, this reality, brought starkly to light by the pandemic, has given me real pause to think.
BLADE: Are some DMV artists rethinking careers?
HAMMERLY: Absolutely. And that includes me.
BLADE: I frequently ran into you and Dar at plays, back when there was theater. Do you miss going?
DAR GAZDER: I really do. I've always loved theater. It was so wonderful and somewhat of an education to see as many shows as we did.
BLADE: So, what are you doing instead?
HAMMERLY: We walk a lot. Dar has always been a big walker. Not me, but after putting on some quarantine weight, I've joined him. Early on, we took an 11-mile walk around the then-deserted Mall. Since then we've explored places like the Anacostia River Trail, and Brookside Gardens in Maryland, and looked at architecture in out of the way parts of Georgetown. Things I've never done before, and I'm from here.
GAZDER: That's the good part. But quarantine has been frustrating too. Looking for work has been difficult, and my parents live on the other side of the world in Bombay, India, and while I'm glad they're someplace where lockdown has been taken seriously, that's also difficult. I'm not sure when we'll see each other again.
HAMMERLY: We were hoping to visit them in India soon. Sadly, that's been put on hold.
BLADE: Rick, what are your thoughts on virtual theater?
HAMMERLY: Theater involves having an audience there with you. Virtual things are a no man's land – not theater or film. So, reconciling two very different mediums is a struggle. Fully engaging can be problematic.
But I have some ideas on how to make it better. [He'd like to direct a one-character play featuring his great friend, talented local actor Felicia Curry, in which he'll manipulate the form to make it more engaging.]
BLADE: Any thoughts on when audiences will gather again?
HAMMERLY: It hinges on when people are ready to go back. If theaters opened next month, I wouldn't go. I think it will take a vaccine or some kind of proven treatment to fully restore confidence.
BLADE: Will theater be different when it does finally reopen?
HAMMERLY: I think so. Twenty-person casts will be replaced with two-handers. Rather than doing seven shows in a season, there will do three or four, and they'll be extended to make more money because distanced audiences will be a third of their usual size. So, the pool of work will diminish considerably. And we don't know for how long.
BLADE: That's not entirely encouraging.
HAMMERLY: Look, if I were in my twenties, I'd be more willing to stick it out. But I'll be 56 this month – I need to be practical about it.
BLADE: Thanks guys. And happy birthday, Rick.