September 12, 2020 at 10:15 am EDT | by Patrick Folliard
7 Black actors take on 'March and The Breath Project'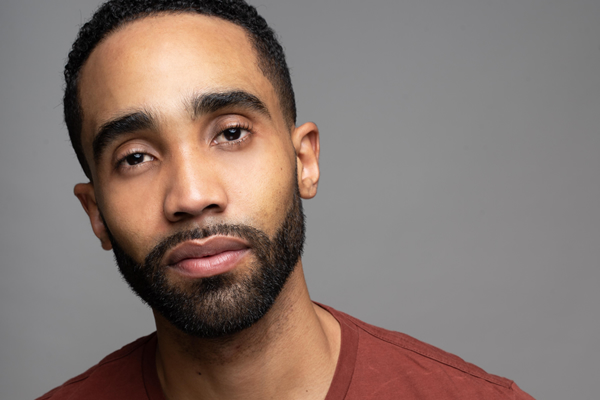 In August, Studio Theatre commissioned seven black actors who attended the 57th anniversary March on Washington to create artistic responses that bore witness to their experience at the event and captured their feelings as black men living through ongoing violence and protests for racial justice. It's called the March and The Breath Project.
The actors — Jelani Alladin, Ro Boddie, Jason Bowen, Jonathan Burke, Sean Carvajal, Biko Eisen-Martin, and Michael Rishawn — were asked to share their reactions via video format using documentary-style footage, music, poetry, spoken word, monologue, and whatever else they chose.
Out actor Jonathan Burke, was thrilled to be among the cohort of chroniclers. A Baltimore native who now lives in Harlem, Burke was cast in a supporting part in Studio's production of Tarell Alvin McCraney "Choir Boy" in 2015. He went on to be part of the Broadway premiere and eventually took over the lead role.
When COVID-19 shut down Broadway, Burke was winding up a run in Matthew Lopez's "The Inheritance." Since then he's mostly been holed up in his studio apartment where he's been keeping busy learning Spanish, working out, performing in online fundraising efforts, and taping auditions. He hopes to soon land some TV and film roles now that those industries are reopening.
Burke was eager to attend the March, but careful: "I've been very cautious about being in public spaces but have made some exceptions. I've attended some Black Lives Matter demonstrations because I felt it would be worth the potential risk of being exposed to the virus. Our lives are stake and I needed to be there."
Organizers checked marchers' temperatures and everyone was required to wear a mask throughout the entire day, says Burke. "I felt as good as I could feel about that. If we're going to take a risk to go to CVS, I can take a risk for black lives."
The event was meaning. "It felt great to be in fellowship with like-minded folks working for change. It felt powerful to be standing in a space where forefathers stood fighting for civil rights. I felt like I was carrying the torch. At the same time, it was a little sad that we're still fighting this fight that they were fighting so long ago. It's imperative that everyone votes in November."
And as a black gay man, Burke was pleased the conversation included LGBTQ+ members of the black community. In 1963, Bayard Rustin, a giant of the civil rights movement, was leading the troops but not able to be open about his sexuality. "To be able to stand in my truth as a gay Black man and for others to support that is powerful. If you say that Black lives matter, you have to also say that Black queer lives matter too. It's not some Black lives. It's all Black lives."
Burke describes his filmed reaction to the March as a sort of documentary musical video. "I took footage from the weekend – video and photos and dialogue from the march, including a lot about George Floyd. It's a story told of my journey over the weekend highlighted with music."
March and The Breath Project was helmed by Studio's associate artistic director Reginald "Reg" Douglas who joined the company in late January. He says it's been a strange time to start a new job, and he's gotten to know his coworkers mostly on Zoom.
The project seemed a reasonable extension of Studio's personal and activist mission, says Douglas. His only instruction to the participating actors was that their reactions be urgent and personal, and to follow inspiration wherever it took them. Ultimately, he was blown away by the results.
"It was freeing for actors who aren't always the lead artist on a project," he says. "We had seven African-American actors – a diverse group in terms of age, background, skin tone, and sexual orientation – going from the stage to the street in support of a cause that's on people's minds."
Logistically, the project has unfolded without a hitch, which Douglas says is a testament to the Studio staff. And somehow things have come together almost serendipitously which made it both meaningful and a pleasure, he adds. Studio Theatre will be soon be sharing the actors' videos on Facebook and YouTube.