September 17, 2020 at 11:15 am EDT | by Patrick Folliard
D.C. theater scene adapts with films, concerts, and more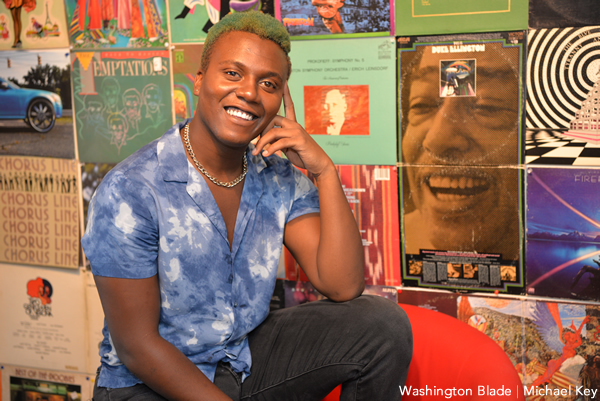 Taking cues from Anthony Fauci's recent suggestion to hunker down and stay at home this fall, most theaters have cancelled live performances and will continue to engage audiences in virtual, innovative ways. Still, a handful of venues and companies plan to reopen sooner.
Here's a smattering of what's in store.
Arena Stage has already kicked off its fall season with the release of its third world premiere film, "The 51st State."
"The hyper local 60-minute film created by Washington, D.C. artists through the voices of 11 residents was inspired by protests and the re-ignition of a movement after the murder of George Floyd and the quest for creating the 51st state and sovereignty in Washington, D.C. From a first-time protester to a fourth-generation Washingtonian political scientist, to artists, an attorney, people of faith, and a retired couple who moved to take part in the movement despite the COVID-19 risks, these diverse perspectives and real-life stories are vividly told and transformed into affecting narratives by 10 local playwrights."
Featured playwrights in the docudrama include, among others, Helen Hayes Award winner Dane Figueroa Edidi, Farah Lawal Harris, Teshonne Nicole Powell, and Karen Zacarías.
Filmed in different locations around D.C., the story of each citizen is portrayed by 11 terrific familiar faces, including Sherri L. Edelen, talented out actor Justin Weaks, and Jacob Yeh.
Directing duties are split among Arena's formidable out artistic director Molly Smith, deputy artistic director Seema Sueko, and senior artistic adviser Anita Maynard-Losh, along with local directors Paige Hernandez and director Psalmayene 24.
"The 51st State" can be streamed on WTOP.com and arenastage.org/The51stState.
This week, Folger Theatre is premiering its virtual project "Encores," an initiative to help provide more online content for the community while most arts institutions remain closed during the pandemic.
"Encores" is a weekly online series highlighting past performances from the historic Folger stage, recalling the rich history of public programming at the Folger. Excerpts from Folger Theatre, the Folger Consort early music ensemble, O.B. Hardison Poetry Series and more will be featured.
The series will go out via email each Friday through this calendar year and can also be found on the Folger website.
On Sept. 25, theatreWashington presents the Helen Hayes Awards with a virtual celebration for theater professionals and their fans. In past weeks, recipients from various categories were presented awards during a series of intimate and technically seamless Zoom sessions. The culminating event – to be co-hosted by local favorites Felicia Curry and Naomi Jacobson – will include the presentation of more awards and varied tributes.
Through Oct. 4, Olney Theatre Center (OTC) is streaming a timely take on gay playwright Stephen Karam's Tony Award-winning play "The Humans," a one act about a stressed out family unraveling on Thanksgiving Day. With a stellar six-person cast featuring local favorites Kimberly Gilbert, Mitchell Hébert, Sherri L. Edelen, Dani Stoller, Catie Flye, and New York-based actor Jonathan Raviv, the production was filmed from six separate locations during quarantine.
Also, throughout October, OTC is celebrating BIPOC (Black, Indigenous, People of Color) artists and the tradition of social protest with four streaming installments of "Just Arts". Each installment highlights a different pillar of social justice: "Accessibility," "Rights," "Equity," and "Participation."
The project is co-curated by Chil Kong, artistic director of Adventure Theatre MTC; Kevin McAllister, actor and artistic director Artistic Director of the Baltimore-based theater company ArtsCentric, Inc; Nicole A. Watson, associate artistic director at Round House Theatre; and Elena Velasco, artistic director of Convergence Theatre.
The quartet were invited by Olney Theatre's out artistic director Jason Loewith to create a program around the theme of performance and social justice, responding to the social upheaval of the past summer and highlighting BIPOC artists during the period leading up to this fall's general election.
In OTC's press release, Loewith says "The twin pandemics of coronavirus and racism we're facing give predominantly white cultural institutions like ours an opportunity to revolutionize the way they work."
"For OTC, that means decentering my privileged role as curator and inviting others with a different point of view and background to share in building our theater's future. We want OTC to matter to everyone in our community, and this is our first public step in making the table bigger."
A finalized schedule and streaming details will be released in late September.
OTC isn't sure what comes beyond that. Thinking optimistically, they'd like to be able to produce Paul Morella's solo "A Christmas Carol" in December with an audience of 100-150 socially distanced in their 428-seat mainstage. But Montgomery County has not approved guidelines that would allow that although the state of Maryland has.
Round House Theatre's virtual season begins with "American Dreams" (Oct. 5-11), created by writer Leila Buck ("Love Letter to Lebanon") and director Tamilla Woodard ("Hadestown" on Broadway). It's "a participatory performance that imagines a world where the only way to gain U.S. citizenship is by competing in a televised game show. The playful, interactive production uses voting, polling, Q&As, and more to allow audience members each night to directly affect the outcome of the show."
Esteemed physical company Synectic Theater is celebrating its 20th anniversary season with "Joy" (Oct. 12-Nov. 1) a live, designed-for-digital theatrical production conceived by Chris Rushing and starring Maria Simpkins (directed by Katherine DuBois) and Vato Tsikurishvili (directed by his father Founding Artistic Director Paata Tsikurishvili) in separate, but parallel versions, presented via Zoom. "In this intimate and personal experience, audiences capped at 25 people will receive a surprise package in the mail inviting them to enjoy interactive solo performances that stimulate the senses and examine the impact of joy in our own lives."
Woolly Mammoth Theatre Company is entering fall with a virtual audio production. Together, Woolly and Telephonic Literary Union "repurpose the customer service hotline for stranger, more tender use in 'Human Resources,' an intimate audio anthology for remote times." Though the pieces do not have LGBTQ+ specific material, they're purported to have broad appeal.
Telephone lines will be open Oct. 1-25. To file a claim or plan your escape, dial 1-800-804-1573.
For fall, Strathmore in North Bethesda, MD, is presenting "Monuments: Creative Forces" (Oct. 2–25). It's "an innovative outdoor projection installation by Craig Walsh, in partnership with Strathmore, pays homage to six individual artists who are forces of nature: individuals whose work and artistic endeavors are changing the shape of our community in fundamental ways."
On October 17, the Gay Men's Chorus of Washington kicks off its 40th anniversary season with "Losing My Mind: A Celebration of Sondheim," a virtual cabaret featuring over 20 GMCW soloists celebrating the 90th birthday of one of Broadway's greatest composers, Stephen Sondheim. Songs include "The Ladies Who Lunch," "(Not) Getting Married Today," "Somewhere," and "Children Will Listen."
Employing reduced-capacity, social-distanced seating, hand sanitizer, and masks (for patrons, staff, and volunteers), GALA Hispanic Theatre is reopening with Lope de Vega's "El perro del hortelano (Dog in the Manger)" (Oct. 29-Nov. 22), a classic comedy from Spain's Golden Age.
In early November, Signature Theatre presents its filmed Fall Concert of vinyl hits directed by Signature's out associate artistic director Matthew Gardiner and featuring a talented group of singers including, among others, Awa Sal Secka, Natascia Diaz, Nova Y. Payton, Maria Rizzo and out actors Jade Jones and Solomon Parker III. "I'll be filming on Signature's roof," explains Parker who'll be singing Earth, Wind & Fire's classic "September" accompanied by Mark G. Meadows.
Parker, a 26-year-old tenor who lives in Wheaton, Md., studied theater at Montgomery College before going on to be cast in Signature's productions of"Jesus Christ Superstar," "Ain't Misbehavin'" and more recently "Grand Hotel." During quarantine, he's developed a drag persona, Echinacea Monroe, who performs each Wednesday evening on Instagram Live. "It's been fun, and a great way to stay creative," he adds.
Ford's Theatre is canceling in-person performances of "A Christmas Carol," which, like past years, was scheduled for November and December. Instead, Ford's will release a radio version of the play in December with Craig Wallace returning as Scrooge.
Citing audiences' health and safety as a top priority, The Kennedy Center is moving most planned programming to spring of 2021 and beyond.
And Rehoboth Beach's Clear Space Theatre debuts the Tennessee Williams classic "A Streetcar Named Desire" on Sept. 18. It runs through Oct. 4. Clear Space held a preview for its 2021 season last weekend but attendees were sworn to secrecy until all rights to next year's productions are secured. Suffice to say it will be a fabulous season of proven hit productions at the beach.