September 23, 2020 at 12:22 pm EDT | by Michael K. Lavers
Rea Carey to step down as National LGBTQ Task Force executive director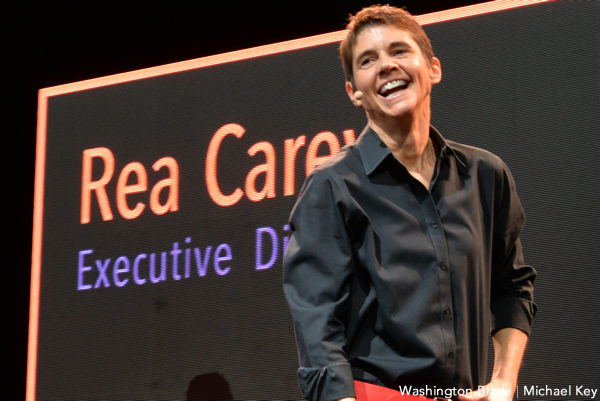 The National LGBTQ Task Force on Wednesday announced long-time executive director Rea Carey will step down in early 2021.
"From overturning discriminatory policies and passing LGBTQ inclusive laws to celebrating marriage at the Supreme Court, to being arrested alongside immigration activists, to the energy of our Creating Change conferences, it has been a remarkable ride," said Carey in a press release. "Just to be alive during a time of such progress over the last many years has been astounding, and to serve the LGBTQ community in my 17 years at the National LGBTQ Task Force has been the joy and honor of a lifetime."
"We have faced down many obstacles together and made tangible progress for LGBTQ people and our families," she added. "I have worked to ensure that we can be all of who we are in our multiple identities as immigrants, as people of color, as parents, as people experiencing homelessness, as voters, as people of faith, as trans and bi, as workers. Together, we have fought to love who we want to love, for sexual freedom, to be free of violence and oppression in all its forms, to be seen, valued, and celebrated as fully human."
Carey has been with the Task Force since 2003.
The press release notes the organization's board of directors has unanimously chosen Deputy Executive Director Kierra Johnson to succeed Carey. Johnson will be the Task Force's first Black executive director.
"I am thrilled to join the long, proud legacy of the many powerful activists that have led this amazing organization," said Johnson in the press release.
News of Carey's decision to step down comes against the backdrop of the coronavirus pandemic and associated recession that has left many LGBTQ advocacy groups struggling.
The Task Force in March faced questions over its decision to hold its annual Winter Party in Miami Beach, Fla., even though local officials at the time had yet to recommend the cancellation of large events to curb the pandemic's spread. Media reports indicate three Winter Party attendees died from the coronavirus and more than three dozen others became infected.
A protest at the 2016 Creating Change conference in Chicago forced the cancellation of a reception with two LGBTQ activists from Israel. Carey faced calls to resign over the Task Force's handling of the incident.
Johnson is expected to officially succeed Carey on Feb. 1.