October 9, 2020 at 3:04 pm EDT | by Parker Purifoy
Bars brace for COVID winter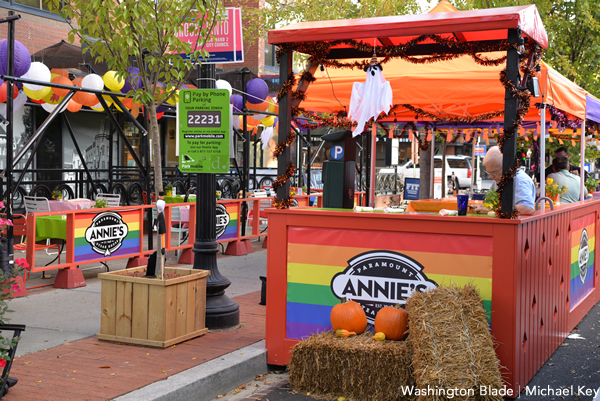 For Ed Bailey, co-owner of Number Nine and Trade, one emotion has persisted through the summer months and into the fall: anxiety.
Number Nine and Trade, both queer bars near Logan Circle, were forced to close starting in March when the coronavirus pandemic first hit the city. They reopened several weeks later for takeout and then several weeks after that for limited seating, Bailey said.
"We are operating at such a diminished capacity that we're toeing the line between being able to support our existence and not," he said in an interview. "We are just right there."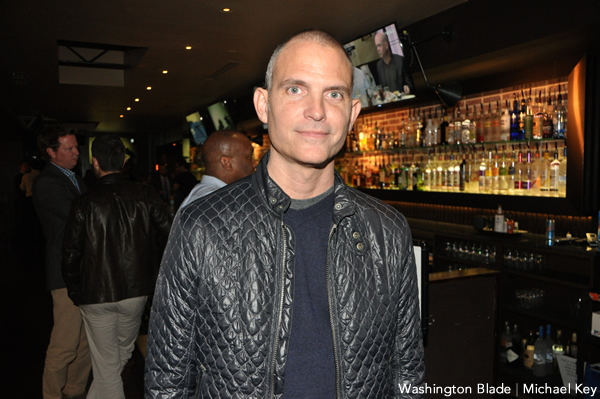 For other LGBTQ bars across D.C., the story looks remarkably similar. Outdoor dining has proved to be a lifeline for those restaurants but with winter looming, Bailey and other bar owners are scrambling to find creative solutions to combat the cold.
Bailey said he's already spent hundreds of dollars on heat lamps to place at each outdoor table at Trade and additional television screens and projectors for their outdoor spaces.
Howard Hicks, general manager of the Green Lantern, said they are looking into buying tents and heating lamps for their improvised patio area. The outdoor seating has been helpful in drawing customers who still aren't comfortable dining indoors, he said.
But even if they have the heaters and tents, Hicks said he's concerned that people just won't come out at all during colder months.
"I'm worried that they'll be very concerned about being in a place with heat and I'm worried that the number of cases will start going up again once everyone's not able to go outside," he said. "We're concerned about the things that we're not able to really control, but yet at the same time we are striving to make the space we have as comfortable as we can make it."
Managers at Green Lantern have already applied for the Streatery Winter Ready Grant program, announced by Mayor Muriel Bowser on Sept. 21. Each grant recipient will receive $6,000 to winterize their patios and outdoor dining areas.
The city has devoted $4 million to the fund and applications will be approved on a rolling basis until the money runs out, according to a statement from the mayor's office.
"The number one priority for restaurateurs has been the combined safety of their employees and customers," Kathy Hollinger, president of the Restaurant Association of Metropolitan Washington, said in the statement. "They know that everyone's comfort level is slightly different when it comes to supporting their local restaurants, and this additional relief will help businesses offset costs and extend outdoor service as we work our way through colder months."
Bailey said he is appreciative of the efforts made by the city to assist small businesses but still accepts that the coming months will not be easy.
"We have every intention of making it through all of this and we're smart enough to be able to make some intelligent decisions to kind of bolster the spaces for the colder weather," he said. "I'm trying to honestly be as optimistic as I can but I also feel like I'm being very pragmatic to understand that these are very difficult situations that we're facing. And it looks like we're going to be facing them through the whole next year."
Doug Schantz, owner of Nellie's Sports Bar on U Street, said they have some seating on the roof deck but have been able to keep most of their clientele inside because of their huge windows, which open to allow ventilation.
Once the weather turns cold, Schantz said the strategy will be to turn the heat up inside as much as they can while still keeping the windows open. He has also applied for the city grant to winterize Nellie's.
Schantz said he ranks his concern for his business at a five out of 10.
"I know that we're going to get out of this, I just think it's gonna be a very rough winter," he said. "We just have to figure out what our finances are and continue to keep everybody safe. There's always the looming threat, no matter what you do every day, no matter what all the challenges are. This is also a pandemic that's very serious and you've got to keep your employees and your customers safe."
For Dave Perruzza, owner of Pitchers in Adams Morgan, the $6,000 grant from the city isn't nearly enough to cover his expenses.
"Six thousand dollars is like nothing right now. Compared to the bills we have that have been racking up, $6,000 won't put a dent in anything," he said. "But I'll take whatever assistance I can get. Honestly we're hurting so I have no shame in asking for the money."
For winter, Perruzza said they're going to have to rely on takeout orders and using the bit of indoor space that they can.
"I'm very concerned," he said of his bar. "We just don't make enough money to sustain a business right now."
He has been attempting to convince the city government to allow drag shows once again because he said it could be their lifeline through the winter.
"Gay bars are not gay bars without drag shows. It's part of our culture," Perruzza said. "I feel like if we can get that to happen in the bars, we can survive with our inside seating and a little bit even with our outside seating."
Perruzza said he's been extremely frustrated that queer bars aren't allowed to host live events in D.C. because restaurants in surrounding states are.
"In my opinion, it doesn't make it a level playing field for businesses in D.C.," he said. "I get why the mayor is doing it, but she's got to give way on certain things that other cities are doing, because D.C. people are just going to Virginia and Maryland to do this stuff."
Bowser released a pilot plan on Sept. 25 to reintroduce live entertainment at only six specific venues, which can have no more than 50 people at each event. According to a statement from the mayor, the program is an opportunity to restart live entertainment in a controlled environment where they can learn what protocols work best and then apply it to future guidance.
At Freddie's Beach Bar in Arlington, drag queens have been taking to the stage for the past three weeks. Owner Freddie Lutz said the drag events have filled up the bar and breathed life back into the space.
"We're taking all the precautions we can so I'm not too worried about [the safety of the shows]," he said. "And they've all been very popular which is really encouraging."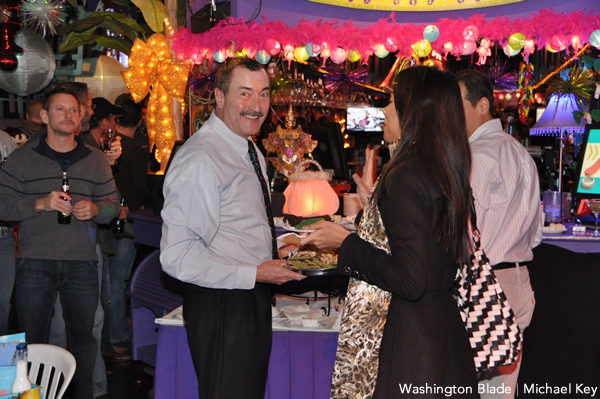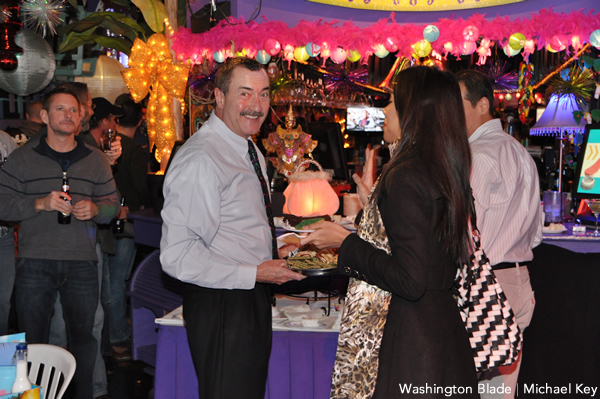 For bar owners like Bailey, Schantz and Perruzza, there's a pervading sense of uncertainty and unpredictability. It's almost impossible to plan around a public health crisis that changes by the day, said Bailey.
"There kind of is no future that you can plan on so you have to just live in the moment and work to get your day together, maybe your week. But beyond that, everything's changing," he said.
For the LGBTQ community, Bailey said their bars and clubs serve an entirely different purpose than other restaurants.
"For some people, going to a bar is just going to a bar. But for many LGBTQ people, you're not able to be who you are at work, or at school, or even at home and so often, LGBTQ businesses are the refuge for people," he said.
For some bars, like gay club Ziegfeld's-Secrets, the toll of the virus has closed them for good. As winter approaches with no quick end of the pandemic in sight, Bailey said he has started to worry about the wellbeing of the LGBTQ community in the city.
"The community will always find a way but the bars have always been kind of at the center," he said. "It's where we congregate and discuss and celebrate and commiserate. We don't have a whole lot of other spaces to do that."