A non-binary Cuban artist is born again in Spain
Nonardo Perea suffered persecution in his homeland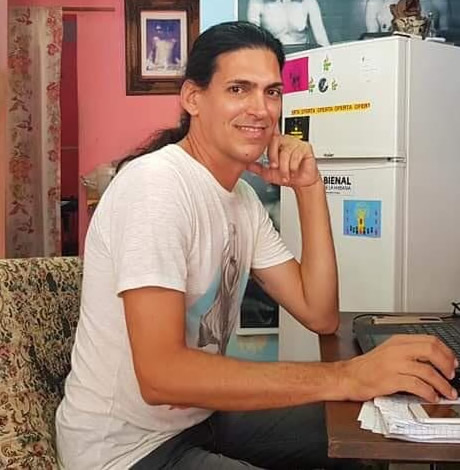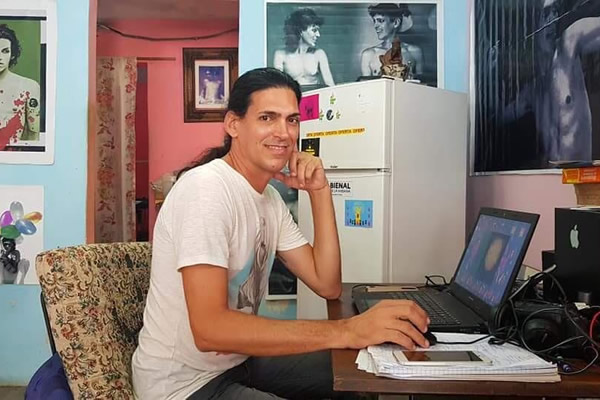 Nonardo Perea lives in Michel's body. He uses it at will to be vulgar, angelic or diabolical, male or female. Nonardo can be whatever he wants. Michel, shy and withdrawn, hides behinds that alter ego that lends him his face and hands to show the world his claims as an artist.
Nonardo is an invention that comes to life in photographs, video art, performances, stories, installations, journalistic articles, ceramics, and whatever other format is possible, since Nonardo long ago lost any limits. His mind lost that ability as he reinvented himself as an empirical artist, as no one ever gave him the opportunity to attend art school.
He has been greatly misunderstood, mainly because his pieces overflowed with eroticism and Cuba is still too prudish to appreciate his queer art and his other works the regime has labeled as "politically incorrect." Michel and Nonardo were discriminated against by society and the dictatorship that governs the country and represses anyone who does not agree with its dogmas.
Nonardo nevertheless overcame those barriers and began creating, without anyone's guidance. He was first a writer and received some tools once he graduated from the Onelio Jorge Cardoso Literary Training Center in Havana. He won several competitions, such as the 2017 Franz Kafka Prize for his work "Los amores ejemplares" and the 2012 Félix Pita Rodríguez Prize for the novel "Donde el diablo puso la mano."
In the visual arts, where he is usually very restless, he won the third prize for photography at the GendErotica Festival for "La casa por la ventana 2014" with his Vulgarmente Clásica project. He participated in the Bienal 00, organized by independent artists, with his "En la cama con Nonardo" project and presented Vulgarmente Clásica at Madrid's La Neomudéjar Museum in 2019.
Nonardo belongs to the San Isidro Movement, a group of independent artists and intellectuals who fight for a democratic Cuba. That battle has also been fought through his art and in pursuit of LGBTQ rights, such as marriage and adoption rights for same-sex couples, and an end to gender violence that remains a problem on the island.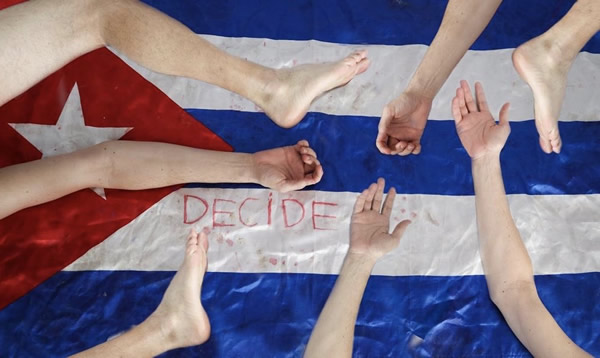 Due to his work and political activism for a truly democratic Cuba, Nonardo suffered police harassment and Cuban state security agents threatened him with jail. Fearing for his life, he took refuge in Spain, a country where he feels he has been reform and from which he speaks with the Washington Blade.
WASHINGTON BLADE: Those who follow your art on social networks and off of them know you as Nonardo, but few know that your real name is Michel. How and why was Nonardo Perea born?
NONARDO PEREA: I remember starting my writing career and I needed another name that was not so common. I did a big search and I didn't like any of them. I wanted a unique name if possible. One afternoon I was sitting in the living room of my house with my father and I told him about the need for a name. It was he who proposed Nonardo. At first it sounded a bit ugly to me, but then with Perea it seemed a little better. It had strength. I liked it because it began with "no", denial, and was followed by "nardo", flower, that is, Nonardo had a lot to do with me. Since then I started using it for all of my work, both literary and audiovisual.
BLADE: How does your artistic training take into account that you are an empirical creator?
PEREA: My artistic creation from the beginning was always very complicated, taking into account that I had to abandon my studies at an early age for inclusion reasons, so I have no academic training; then add to that that I am a very obvious gay. At one point in my teens I was seen as a person who was too feminine. The fact of looking like a woman was a problem when trying to fit in a macho and homophobic society. Where I first tried to break through was in writing. I started by attending literary workshops, where I won several contests quite quickly. I was never exempt from criticism and rejection of the themes that my narrations addressed, which almost always focused on LGBTQ issues and dirty realism. Many times I felt that being the way I am made many uncomfortable. But despite the rejections and bad times that I lived in various periods of my life, I continued doing narrative, and I also began to write articles about social issues for the Havana Times digital newspaper. Then, over time, I had the opportunity to apply to a video journalism workshop in Prague organized by the People in Need organization, and thanks to a woman I love very much, Clara González, who saw some potential in me, I was accepted to participate in the course, in which I learned some video editing, and received help with equipment that helped me to start doing audiovisual work with better quality. All my creative works have been done empirically, and above all I am an artist who works based on improvisation.
BLADE: You have ventured into artistic genres as different as writing, journalism and acting. How do you define yourself as an artist and why?
PEREA: I am a person who cannot be inactive. I spend every day of my life thinking about doing something new. Sometimes I have so many things on my mind, and the fact that I can't do everything I want to do makes me feel a bit frustrated. I have no words to define myself, I can only say that in some way my creative processes have helped me to cope with the life that I had to live, everything I have done and do has served as a way of escape from reality and everyday life, I could no longer live without creating.
BLADE: In a recent interview you precisely declared that your art was a process of liberating yourself. What exactly do you free yourself from when you create?
PEREA: I free myself from the day-to-day, the everyday, my fears and censorship.
BLADE: In most of your visual works you work with your own image. Why?
PEREA: I use myself as an artistic object because in Cuba I lived in solitude for a long time. I somehow isolated myself and created a space of comfort in my home, a place where I felt more free. The confinement somehow helped me to stay away from society that did not tire of making me feel bad about my obvious homosexual condition in much of my youth. My literary proposals and art in general, on the other hand, were not taken into account. I always perceived that most people underestimated me, and proposing someone to collaborate with me on erotic photographs without receiving anything in return was complicated, and still is. I have control over my body. If I want to undress in a photo or in a video, even if I feel sorry, I strip myself of complexes and do it. If I want to take a photograph that is too vulgar, I also do it. I do not have to request permission from anyone to do so. I don't put up barriers. I take a risk, then I think that they say what they want. I understand that I am doing a job where I express my personal and social problems, as a human being.
BLADE: You identify yourself as an androgynous person. How many difficulties has that brought you considering that you have lived most of your life and developed your work in Cuba, a country where macho and homophobic ideals still predominate?
PEREA: I consider myself a non-binary androgynous person, because I do not identify with any sex. I can feel at ease as a girl as well as a boy. I have no problem with male or female pronouns. I do not like to victimize myself, but I can tell you that the road has been very difficult, and it has been not only for me, but for many other gays and lesbians who have chosen not to hide their sexual identity in their lives and have had to fight against the world. Being who I am in Cuba has not helped me much in terms of being able to be recognized for my work, but being who I am has helped me to strengthen myself and to understand that I do not need the approval of any institution to continue creating. I am a Cuban artist and like it or not, a large part of my work was created in Cuba.
BLADE: Many Cuban artists prefer to separate their creations from politics and even refuse to give their true judgment on the situation on the island. However, your work has a high dose of activism against the dictatorship and in defense of LGBTQ rights. What consequences, professional and personal, has being an artist labeled by the Cuban regime as "counterrevolutionary" brought you?
PEREA: The main consequence is that I had to go into exile; leave the country where I was born, abandon my mother and family, my friends, my dogs and a lifetime. But I think it had to be that way. There was no other way than to say goodbye, because under no circumstances was I going to allow my creative processes to stop, and above all I was going to continue doing my activism. I know that perhaps I was not going to be able to withstand so much pressure from state security agents, who wanted me to collaborate with them to expose my colleagues from the San Isidro Movement. If I returned to Cuba right now, I don't know what my life would have been like from that moment on. If being a counterrevolutionary means saying what I think, and being in favor of oppressed minorities, and being against a dictatorship that has left Cuba and its people in a nameless misery for 61 years, then I am a counterrevolutionary and with great honor. I have nothing for which to thank that country, where I was always seen as a freak, and what little I got was thanks to my effort and dedication, because while in Cuba I received criticism and obstacles for everything, for this reason they are collecting what they sowed with me, they do not expect roses from me.
BLADE: In Cuba, to be accepted as part of the official LGBTQ movement you have to share the ideology of the dictatorship, the same one that put equal marriage to a popular vote and represses independent activists. In your opinion, what are the dangers of "politicizing" the struggle of the Cuban gay movement?
PEREA: The danger is in seeing how it becomes politicized. While in Cuba, I never stopped going to the marches staged by CENESEX (the National Center for Sexual Education) and I will not forget how Mariela Castro (CENESEX's director and the daughter of former Cuban President Raúl Castro) herself politicized those mini-carnival marches with slogans in favor of the five spies imprisoned in the Empire (a reference to the U.S.), and with cries of "socialism yes and homophobia no." I do not remember seeing any gay or lesbian carrying a sign demanding equal marriage, or demanding freedoms, or a law against gender violence. It is really pathetic considering that the system itself is the number one cause of the persistence of homophobia and constant abuse of people from the community, mainly transgender people, in Cuba, a country where your rights are constantly violated, either because of race or sexual orientation. Those marches were politicized by CENESEX itself in favor of a supposed socialism, which has never worked and will never work because that is a hybrid between communism and underdeveloped capitalism, and we all know that it is nothing other than a dictatorship, and of the crudest in history because it has managed to last for 61 years. If Mariela Castro and all her loyal followers politicize the march for their benefit, I don't see why the community cannot independently arm its own fight in favor of the most basic rights of the LGBTQ community in Cuba.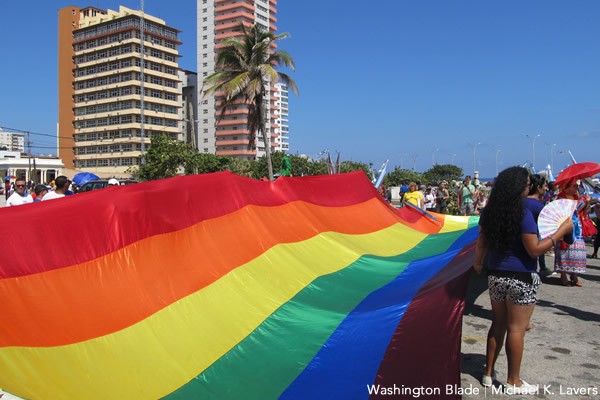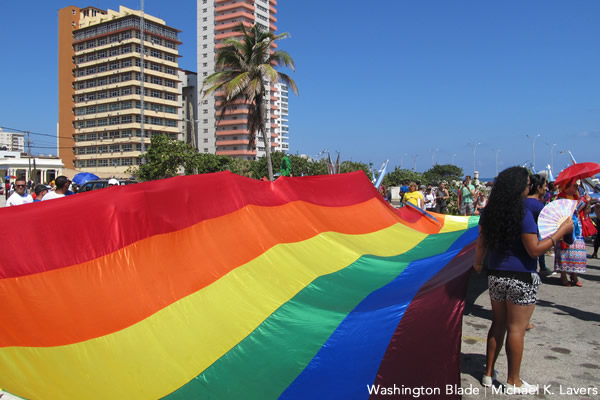 BLADE: In what way has the forced exile that you have faced in Spain changed your work?
PEREA: Right now I continue to do what I want to do, regardless of being in Spain. I still feel that I am in Cuba. My vision as an artist has not changed much. I've only been here a year and seven months, although I believe that wherever I am, in some way my work will be linked to that of the island because I have not yet cut that umbilical cord that links me to the place where I was born and took my first steps. It is true that one acquires other mechanisms of creation and invoicing in the work while abroad, but at the moment I do not think that the focus of my work has changed much because of being in another country. Of course, here in Europe there are other problems that I may be able to take advantage of, but be that as it may, they will be appreciated from the perspective of an exiled Latin American artist.
BLADE: On a personal level, what has it been like to be a gay immigrant in Europe?
PEREA: I am very grateful for Spain, mainly for Madrid, which is the place where I have lived since I arrived in 2019. At the moment, I have not felt discriminated against because of my sexual orientation or because I am a foreigner. I have received emotional and legal support from the NGO Rescate, which welcomed me and where I have received the care that I never had in my own country. With all the social and political problems that may exist, it is in this country where I have somehow been able to know what true freedom is.
BLADE: What can we expect from Nonardo Perea in the near future?
PEREA: I am in another difficult moment in my life right now, because I cannot find a job, and I do not receive any money for my artistic work, so what I do is for the love of art and because I cannot stop building my own world. The COVID situation has managed to make things more difficult, not only for me but for everyone, but taking into account that I am an exile and that I have been here for a short time, it is very complicated. Even so, I eventually continue to make video art for the Vulgarmente Clásica audiovisual project, which I have been doing for several years. And more recently I started with a new project, "Maricón Tropical: Living in Madrid", this one is a bit more comprehensive not to call it ambitious because I insert various artistic manifestations: Performance, audiovisual, literature, drawing and photography, and it is focused on my new life as an exile in Madrid, everything seen from a self-referential point of view, as are almost all my proposals.
BLADE: If you had to create a work that describes your life right now, what would it be like?
PEREA: I consider that my life, my true life, has started now, what it was before was not. For the purposes I was born on March 19, 2019, when I set foot in Spain. All the past is left behind. I want to imagine that the past was a bad dream. My "Maricón Tropical: Living in Madrid" project is a work that somehow reflects that past, which is unfortunately impossible to forget and it is also good that people know what that other life was like, but I focus more on the present, my current problems as a person who faces a new life as an adult who feels like a newborn. I can only tell you that my life's work is in progress.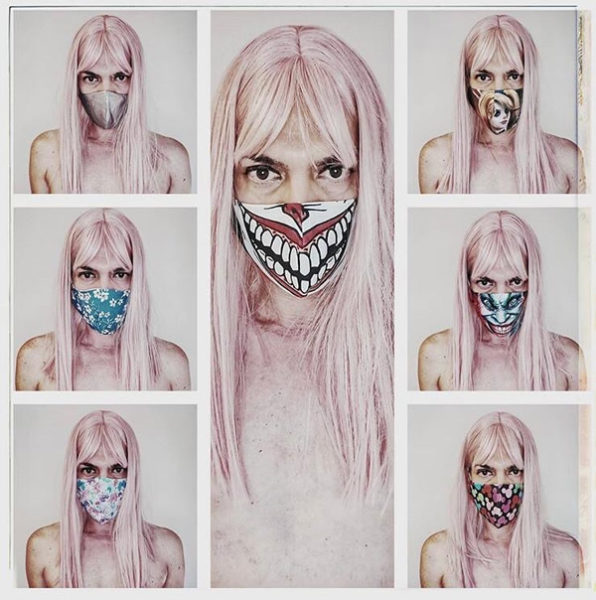 Sharon Gless on new memoir and connection to LGBTQ community
Beloved TV icon's book was seven years in the making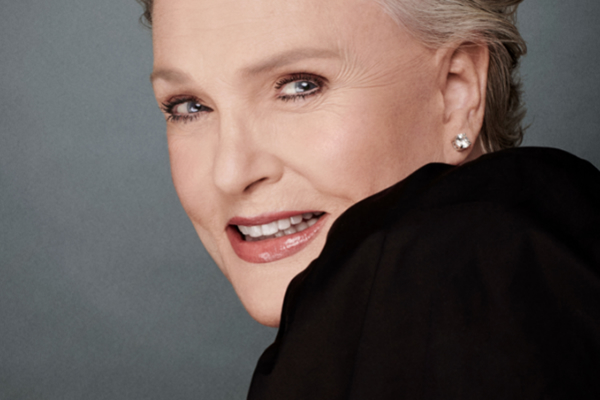 Have you ever read a memoir that is so intimate, so revealing, so honest, that as you were turning the pages it felt like the writer was sitting next to you, speaking directly to you?
Kudos to multiple Emmy Award-winning actress Sharon Gless for making that a part of the experience of reading her new memoir "Apparently There Were Complaints" (Simon & Schuster, 2021). The Los Angeles native with Hollywood in her veins (her maternal grandfather was a hotshot entertainment lawyer), Gless rose to prominence via her portrayal of New York police detective Christine Cagney in the popular and groundbreaking 1980s TV series "Cagney & Lacey"(alongside Tyne Daly). As if she hadn't already established an LGBTQ following through that show, she went on to play Debbie Novotny, the smart and sassy mother of Michael on Showtime's equally groundbreaking "Queer As Folk"in the early 2000s. Gless sat down for an interview in advance of the publication of her book.
BLADE: Your new memoir, "Apparently There Were Complaints" opens on a serious note with your 2015 pancreatitis diagnosis. So, I'd like to begin by saying that, from one Gemini to another, I hope you are in good health.
SHARON GLESS: Thank you, honey, I'm in very good health. Thank you, my fellow Gemini.
BLADE: Why was now the time to write your memoir?
GLESS: Well, it's taken seven years. It's not like it was yesterday. I never actually intended to write a memoir, Gregg. I was called in to a meeting by CBS for what I thought was a conversation to offer me a new series. We talked for an hour and, apparently, I was so entertaining that at the end of the hour meeting, the president of CBS said, "You know we own Simon & Schuster." I said, "I didn't know that." She said, "We do, and I think you've got a book in you." I said, "I don't usually write." She said, "That doesn't matter. You're a storyteller, Sharon." So I walked out with a book deal [laughs] with Simon & Schuster and not the series I was hoping for. Actually, I didn't meet (with) Simon & Schuster for another year. I sort of let it go. The next day there was a text from the president of Simon & Schuster. I sort of ignored it because I didn't want to do that. I wanted to act! A year went by, and I wasn't so busy, and I was in New York, and I said, "What the hell!" I went to meet him. I read one chapter to him, one chapter that I had written in case he asked for anything. He signed me that day [laughs].
BLADE: Were you a journal or diary keeper or did you rely on your memory for the details?
GLESS: Never. No. My very best friend Dawn (LaFreeda), who's been my best friend forever and … I'm a talker, a storyteller, and I would tell her stories about my life throughout our relationship. She kept them! She said, "You have a book in you." So, there's another person saying so. She kept the stories. When Simon & Schuster made me the offer, Dawn dragged out all my stories. A couple of times I had gatherings at my house where I had four people over, and I said, "Ask me some questions," and put a recorder down. I'd just start talking. Then as more of my life coming out on the page, which is hard to do, I started remembering more and more. It took a form that I had always intended. I came up with the title, "Apparently There Were Complaints," very early on. I made the book about all the complaints people had about me throughout my life. It helped that Dawn had kept records of all the stories I've told. Some of those I used in the book. It's funny, as you write, as you keep going, you start remembering more and more and more because one emotion leads to the next emotion or the next time someone hurts your feelings or the next complaint.
BLADE: I'm glad you mentioned the emotional part of it, because writing a memoir means revisiting the past, including your complicated relationship with your grandmother, whom you called Grimmy, as well as your parents. Did you find it to be painful, freeing or both?
GLESS: Sometimes because some of the memories were painful. There were times when I was reading some of it that I would go back to that place. I just finished recording [the audio book] a couple of weeks ago. What surprised me is when I'd get to certain places, especially about Grimmy, you can hear on the recording, my voice breaks. I left it in. They asked me if I wanted to rerecord it and I said, "No. Leave it in." She was really the best thing that ever happened to me. It's that she was tough.
BLADE: One of the things that stood out to me about "Apparently There Were Complaints"is the way that not only does it sound like you — I've interviewed you before so in reading the book, it sounded like you…
GLESS: Thank you! It's very important to me that you hear my voice in that.
BLADE: It totally comes through. The other thing that shines through is your sense of humor and comic timing.
GLESS: Thank you!
BLADE: How important was it for you to make that aspect of your personality a part of the book?
GLESS: Very important. I do have a sarcastic, not a mean sarcastic, a funny sarcastic side. Some of the complaints and some of my addictions and some of the things I talk about…you've got to take some of it lightly or who's going to want to read that? Clearly, I survived. It's not all bad news. When I came up with the title, [laughs] which was perfect because there were so many complaints about me in my life, sometimes you just have to laugh, even at the sadder stuff. I'm still standing, Gregg!
BLADE: Yes, you are! Memoirs, like TV shows such as "Finding Your Roots," are a way for both the subject and the audience to uncover fascinating details that might not otherwise have been public knowledge. The story about your boarding school classmate Gibbie, also known as the late Abigail Folger, in chapter seven feels like an example of that. Would you ever consider being on one of those genealogy tracing shows?
GLESS: I didn't know a show like that existed. I would never do something like "This Is Your Life"[laughs], remember that? I didn't know about a show that traces your genealogy. I'm always fascinated in my background. I'm certainly not opposed to anybody scraping up my genealogy.
BLADE: You write about your interactions with LGBTQ+ people in your life, personally and professionally, and Chapter 43, titled "I'll Be There," which is about your experience playing Debbie Novotny in Showtime's "Queer As Folk"made me weep, it was so beautiful. This is less a question than it is an expression of gratitude for, well, being there.
GLESS: Thank you! The pleasure, for lack of a better word, is all mine. You have all changed my life. I became so much more educated. I thought, "Oh, I know it all. All my best friends are gay." Right? But I learned so much on "Queer As Folk." Thestories that they wrote and the performances. I didn't realize the real plight, the behind-the-scenes pain that went on in the gay community. Because of "Queer As Folk" I became quite educated and impassioned. I meant it when I said, "I'll be there."
BLADE: The Peacock streaming service is doing a "Queer As Folk" reboot. What do you think about that?
GLESS: Yes, I'm aware they're doing a reboot of it. What I think about it is I'm so sorry they're not using the original cast. It's never going to be better. But good luck to them, and I hope they have even close to the hit we were. I think the biggest star of that show right now is going to be the city of New Orleans. We'll see how the stories go.
BLADE: Because the entertainment industry is a central component to your memoir, if "Apparently There Were Complaints"was to be made into a theatrical movie or TV miniseries, who would you want to play you?
GLESS: It would take several actresses because there's a lot of years. If there was somebody who could span it. I'm a big fan of Jennifer Lawrence. She has a husky voice, too. And there's also an irreverence and a sensitivity to her. If anybody ever wanted to do that, I think she'd be great.
BLADE: Finally, in addition to us both being Geminis, we also share South Florida as our home. What do you like best about living here?
GLESS: The happiness on my husband's (TV producer Barney Rosenzweig) face. When he retired he moved us here. I'm married to a man who if he's happy, everybody's happy [laughs]. He adores Florida. Los Angeles was always my home. I was born there, raised there. I'm an Angeleno, through and through. I've been to Los Angeles over the last year and I don't like what's happened to it. Now I'm grateful to be returning to an island as beautiful as the one I live on. Los Angeles needs a total reboot, rebuild, re-everything. It's fallen on hard times, L.A. I remember it when I lived there. It was a magical city.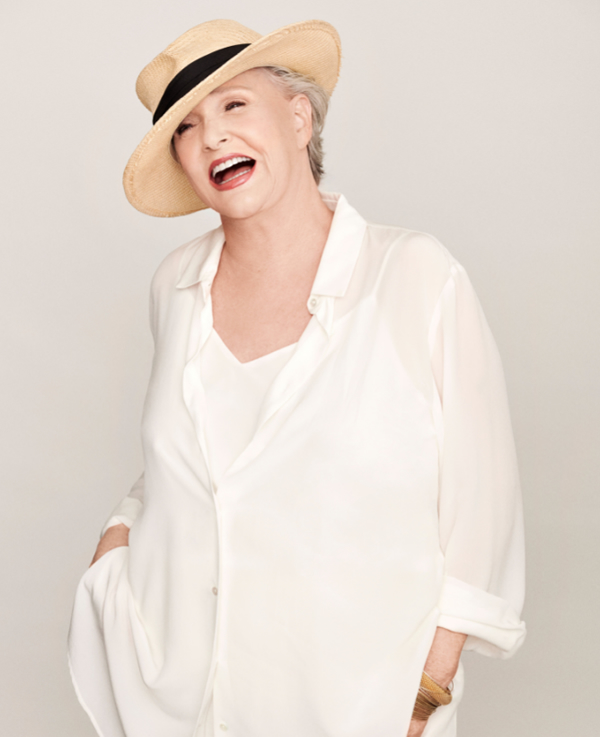 PHOTOS: High Heel Race
Spectators cheered along drag queen contestants for the 24th annual event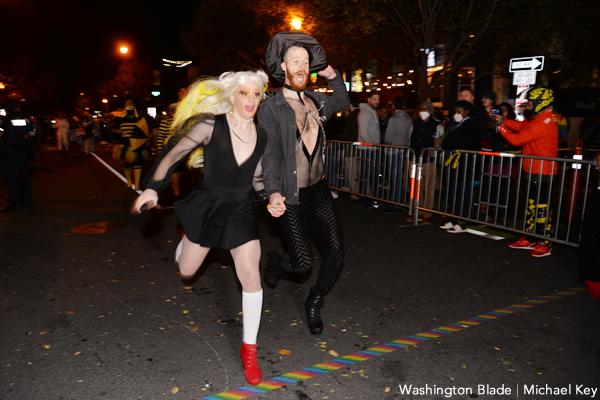 The 34th annual High Heel Race was held along 17th Street on Oct. 26. The winners this year were @dragqueenathena and "Dan." D.C. Mayor Muriel Bowser, D.C. Police Chief Robert Contee and members of the D.C. Council joined drag queen contestants and hundreds of spectators for the event.
(Washington Blade photos by Michael Key)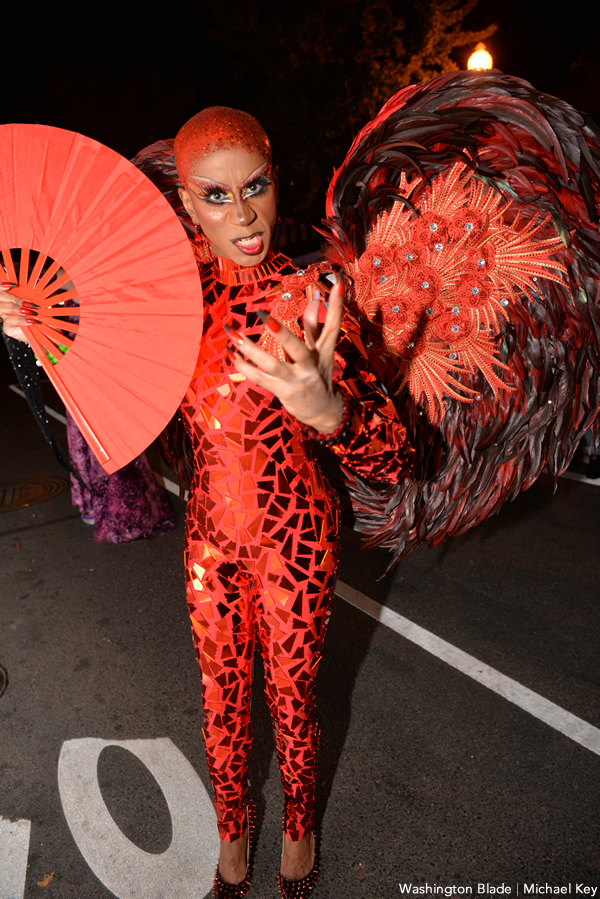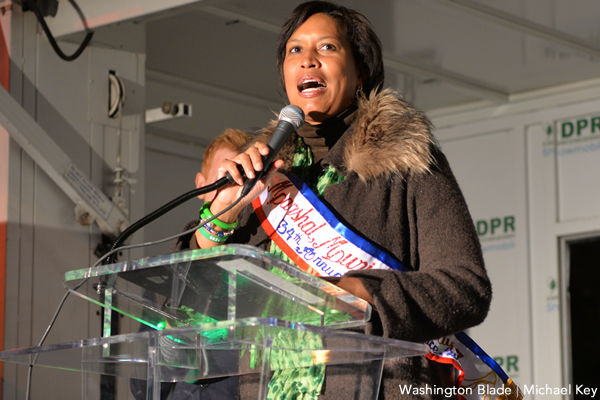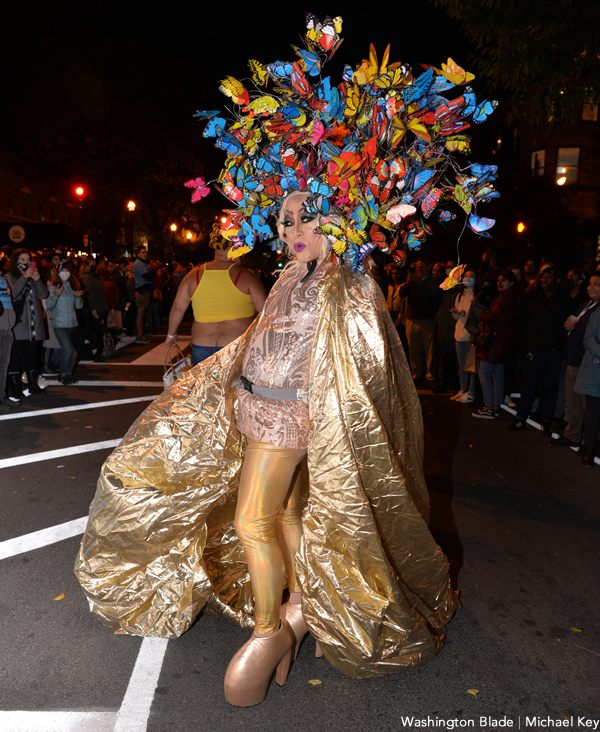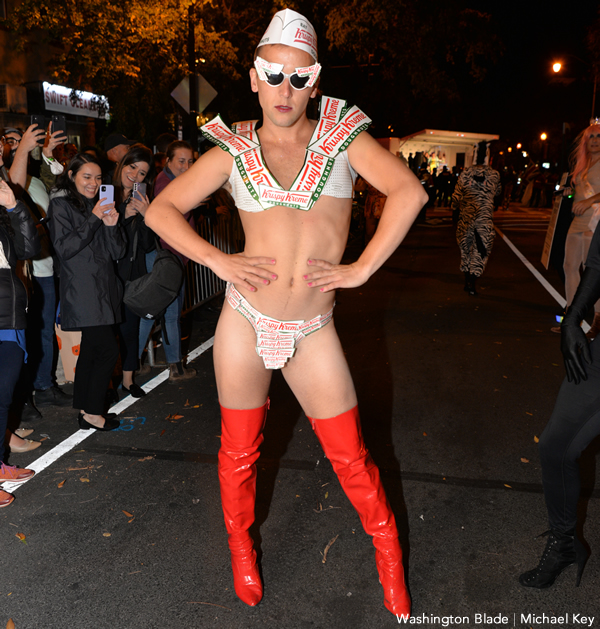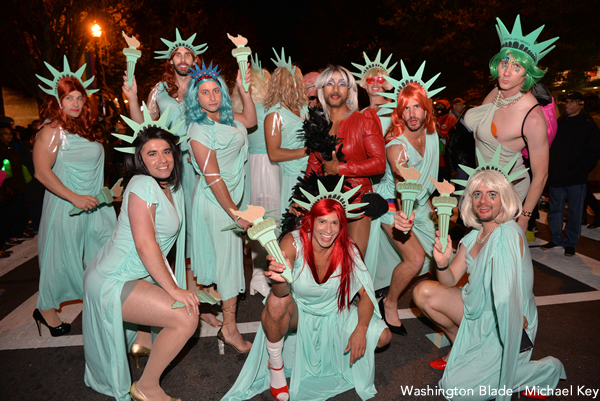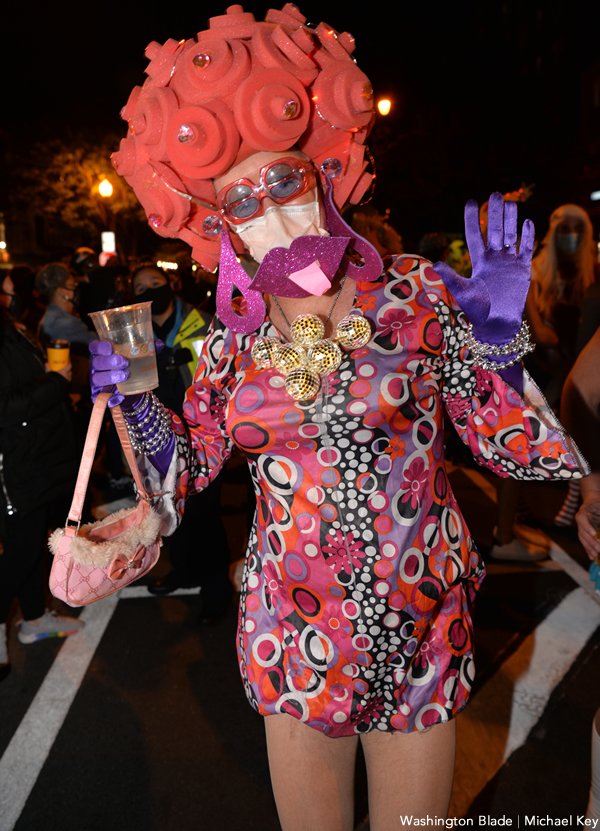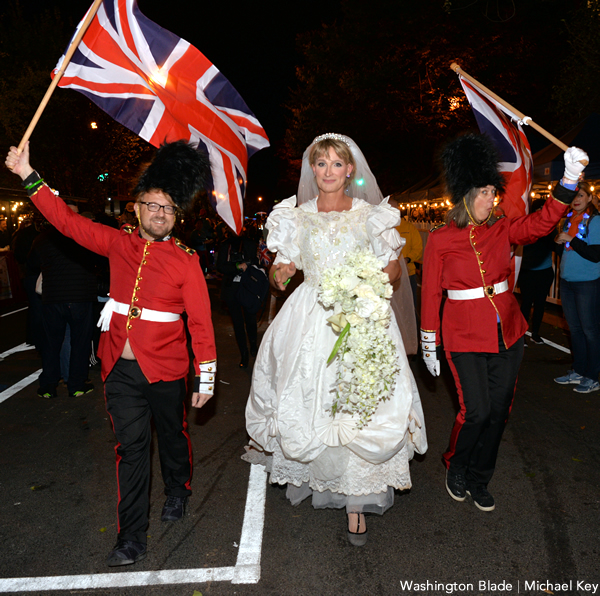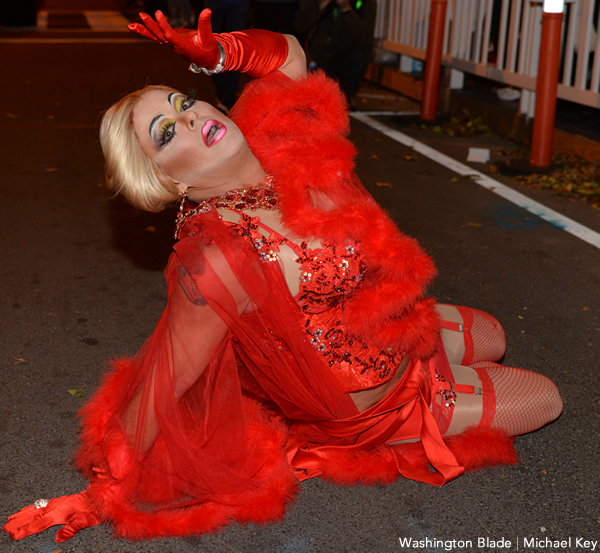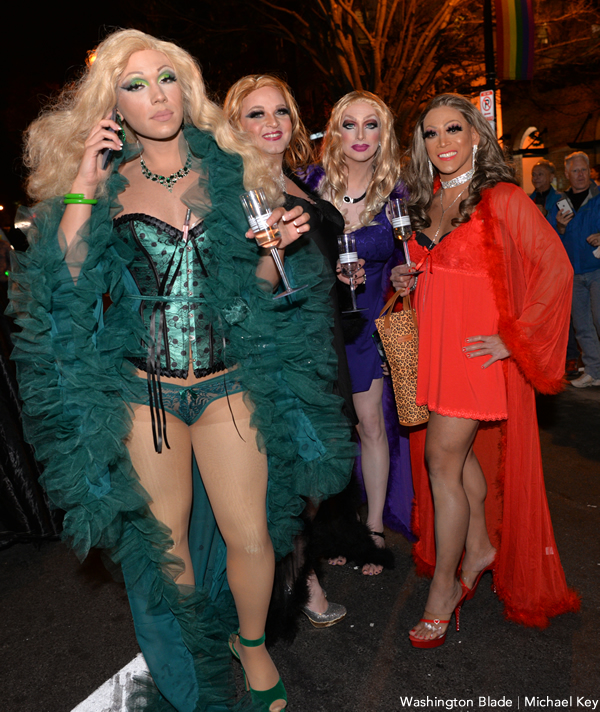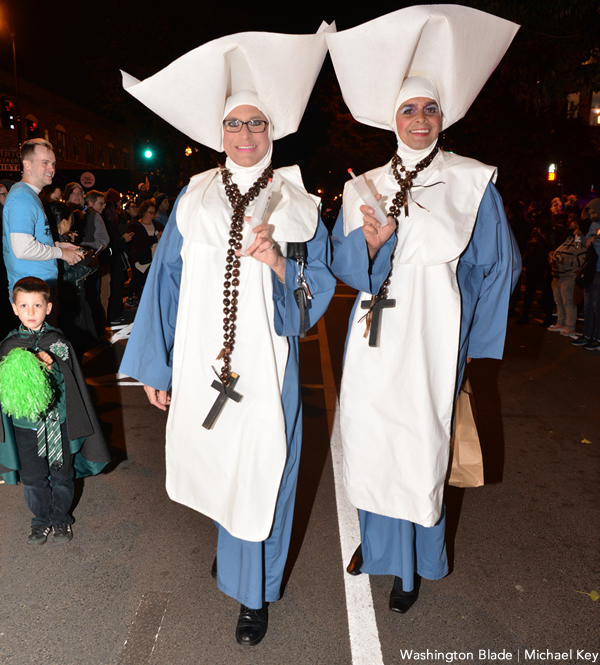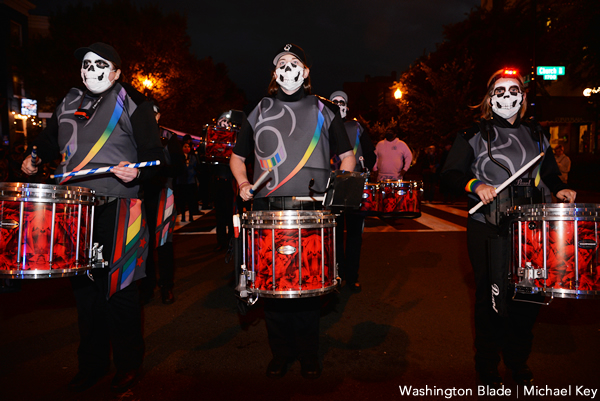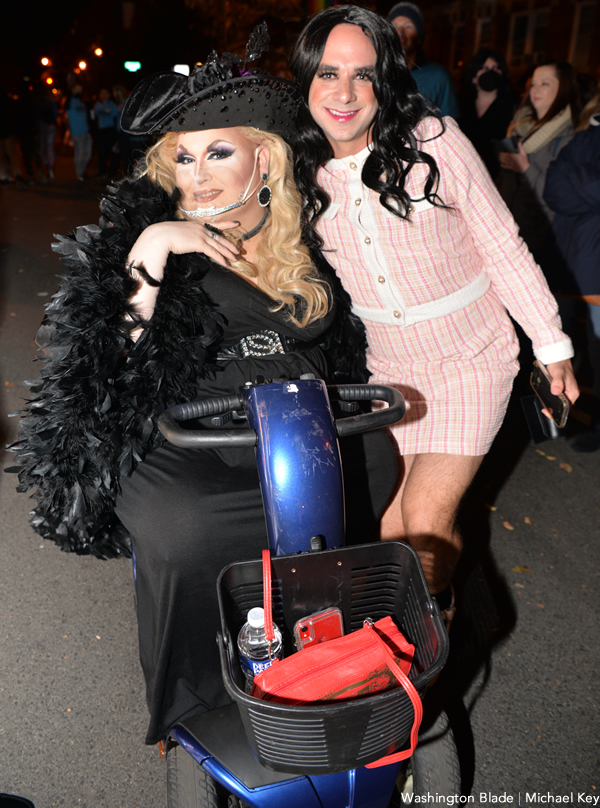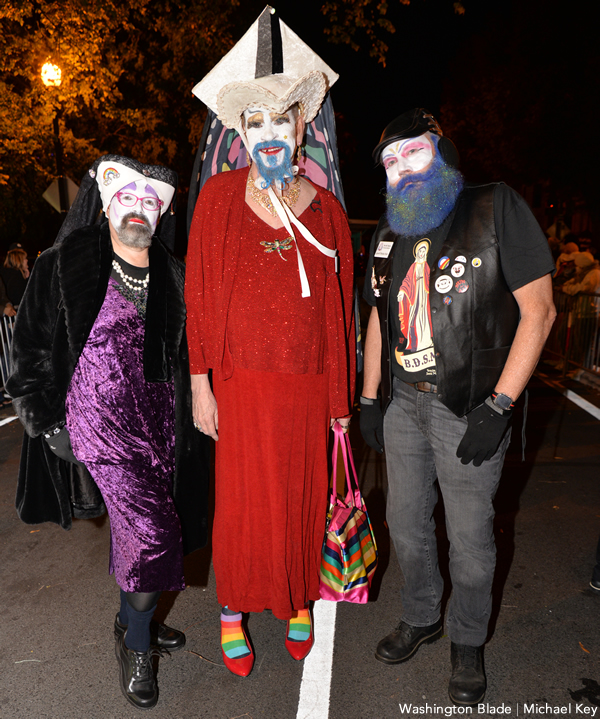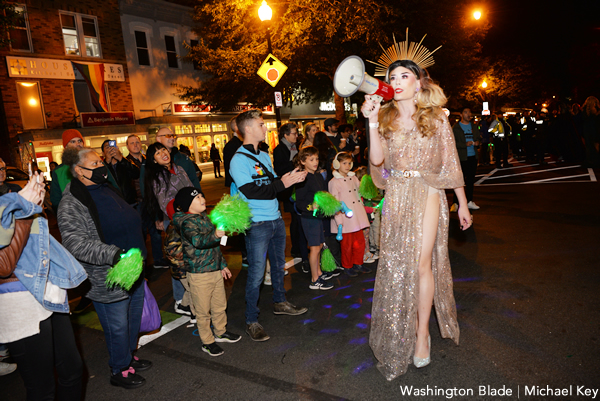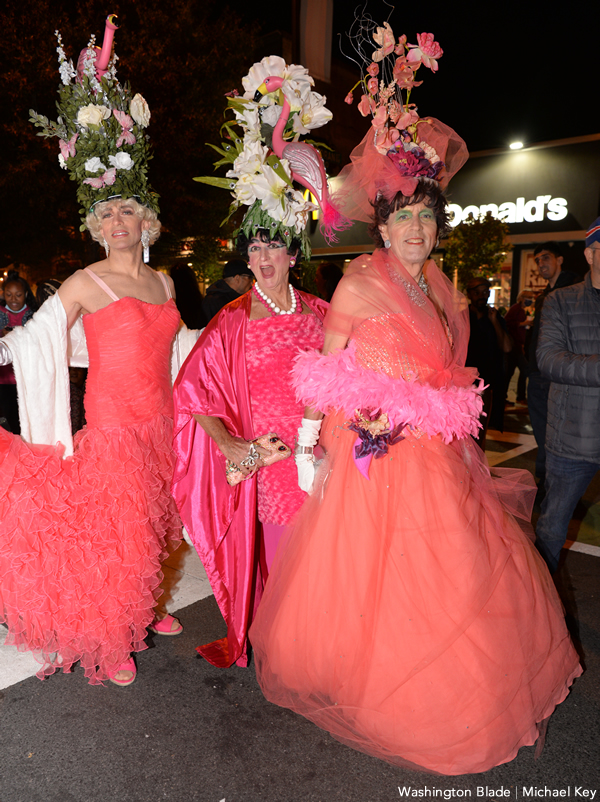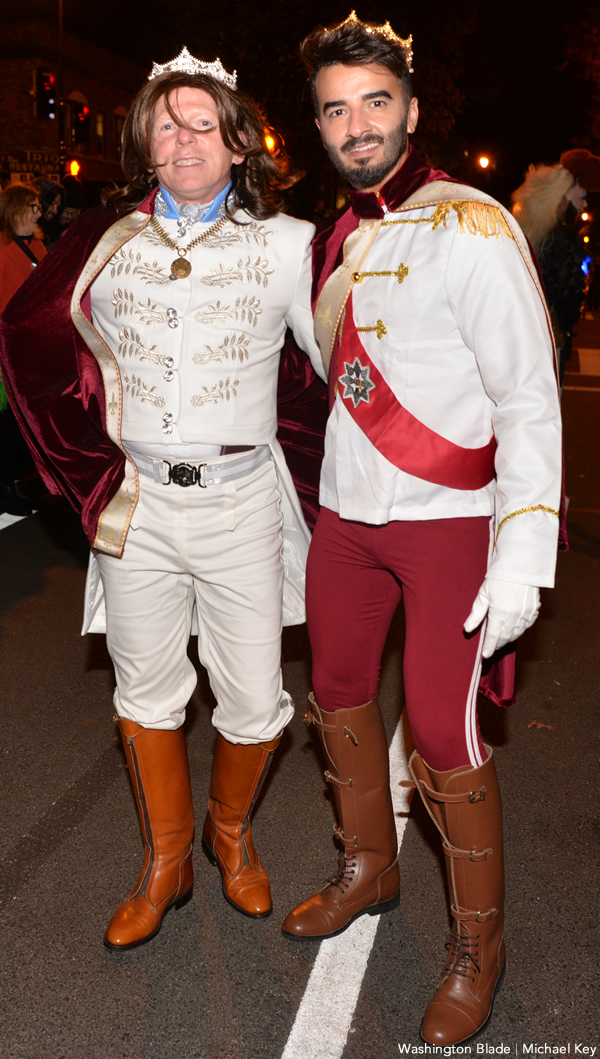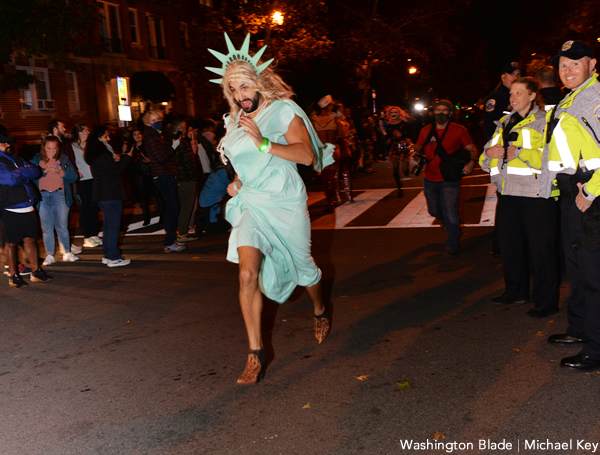 New music documentary is 'Velvet' perfection
A piece of pure cinema that exemplifies its genre while transcending it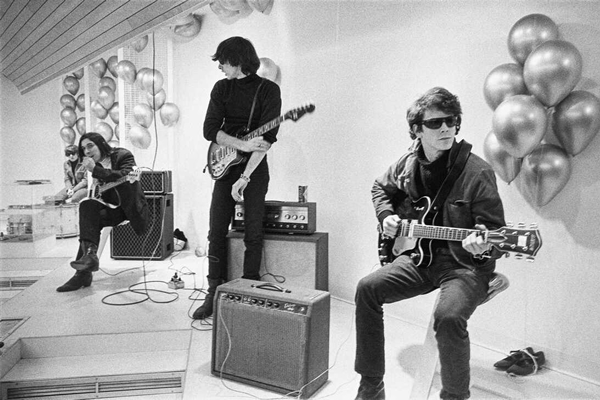 When it comes to great music documentaries – the ones that stick with you after you watch and make you want to come back to them again and again – there is one ingredient that stands out as a common thread: immediacy.
From D.A. Pennebaker's fly-on-the-wall chronicle of young Bob Dylan's 1965 tour of the UK in "Don't Look Back," to Martin Scorcese's joyful document of The Band's final concert performance in "The Last Waltz," to Jonathan Demme's thrilling cinematic rendering of the Talking Heads in performance at the peak of their creative genius in "Stop Making Sense," all of these now-revered films have endured – indeed, even grown – in popularity over the years because they captured the talent, the personality, and the power of their subjects on celluloid and preserved it for the ages, allowing generations of audiences, fans and soon-to-be-fans alike, to feel as if they were there.
But none, perhaps, have ever done it quite so viscerally as Todd Haynes' "The Velvet Underground." This is a remarkable feat when you consider that the films listed above, as well as most of the other highly regarded "rockumentaries" of the past, were all concert films, showing the performers at their center in the full bloom of their musical gifts, and Haynes' film is not that. It's something else, something singular, a piece of pure cinema that exemplifies its genre while transcending it entirely.
The basic outline of the band's story is well known, now. Coalesced in the early '60s New York art scene around a pair of charismatic geniuses (John Cale and Lou Reed), the Velvet Underground was swept into the orbit and under the wing of Andy Warhol, who turned them into the house band at his famous "Factory," added to their mix an exotic European chanteuse named Nico, and launched their record career by producing their first album – and designing an instantly iconic cover for it featuring a banana, to boot. They were, for a while, the darlings of the New York underground set, birthing a handful of additional albums across the latter years of the decade; but their sound, which was experimental, rough, and a far cry from the flower-power sound being embraced within the status quo of Middle American music fans, did not catch on. That, combined with the volatility of the relationships at its core, ensured an ignoble and unsung dissolution for the band; though its two front men went on to forge expansive solo careers on their own, the Velvets themselves remained a kind of blip, an ephemeral presence in the history of rock – and the history of New York – remembered by anyone who wasn't actually on the scene as nothing more than a buzzy band they never actually heard with a catchy name and a familiar album cover.
As one of the voice-over interviewees in Haynes' movie points out, however, the counterculture wasn't actually the counterculture – it was the culture. The rest of the world just didn't know it yet. Decades later the Velvet Underground is credited with, among other things, providing early inspiration for what would become the punk rock movement, to say nothing of influencing the aesthetic palate of (surely without exaggeration) thousands of musicians who would go on to make great music themselves – often sounding nothing like the Velvets, but somehow cut from the same raw, edgy, white-hot honest cloth, nonetheless. Yet in their moment, they were doomed before they had even begun to become a sideshow attraction, hurling performative realness in the face of a curious-but-disinterested glitterati crowd that was already embodying the superficial fakeness that would be so aptly monikered, both as an ethos and a watchword, as "Plastics" by Buck Henry and Mike Nichols in "The Graduate" barely a year after their first album was pressed.
Frankly, it's the kind of story that makes for a perfect rock 'n roll legend, and the kind of legend that deserves to be explored in a film that befits its almost mythic, archetypal underpinnings. There's nobody more qualified to deliver that film than Todd Haynes.
Haynes, of course, is a pioneer of the '90s "New Queer Cinema," whose body of work has maintained a consistent yet multi-faceted focus on key themes that include outsider-ism, dysfunctional socialization, and the fluid nature of sexuality and gender. Each and any of these interests would be enough to make him a perfect fit as the person to tell the story of the Velvet Underground, but what gives him the ability to make it a masterpiece is his ongoing fascination with music and nostalgia. Beginning with his controversial debut short "Superstar: The Karen Carpenter Story," the musical landscape of his formative years has been inseparable from his milieu, and films such as his glam-rock fantasia "Velvet Goldmine" or his post-modernist Dylan biopic "I'm Not There" have dotted his career like cornerstones. Likewise, his painstaking recreation of the past in period pieces like "Far From Heaven," "Carol," or "Wonderstruck" has proven his ability not just to capture the look and feel of a bygone era, but to transport audiences right back into it.
In "The Velvet Underground," it's more like he transports the era to the audience. His comprehensive chronicle is not just the story of the band or its members, but the story of the time and place that allowed them to exist, in which a generation waking up from the toxic artificiality of their parents' "American Dream" took creative control of the future through an unprecedented explosion of art and culture. Art was a by-any-means-necessary endeavor that now demanded a fluency across various forms of media, and a blending together of any and every thing that worked to get the message across. And yes, sometimes the media itself was the message, but even within that depressingly superficial reality was room for an infinite layering of style and substance that could take your breath away.
That description of the era in which the Velvet Underground thrived, in which Andy Warhol turned the shallow into the profound (whether he knew it or not), in which music and film and photography and poetry and painting and every other form of expression blended together in a heady and world-changing whirlwind, is also the perfect description of Haynes' film. Yes, there are famous veterans of the age sharing their memories and their insights, yes there is copious archival footage (including the godsend of Warhol's filmed portraits of the legendary faces in his orbit), yes we get to hear about Lou Reed's struggle with his sexual identity – and it's refreshing that Haynes makes no effort to categorize or finalize that aspect of the rock legend's persona, but merely lets it be a fact. But even though "The Velvet Underground" checks off all the boxes to be a documentary, it's something much more. Thanks to Haynes' seamless blend of visuals, words, history, and – always and above all – music, it's a total sensory experience, which deserves to be seen in a theater whether you subscribe to Apple TV or not. It puts you right in the middle of a world that still casts a huge shadow on our culture today.
And it's unforgettable.