A non-binary Cuban artist is born again in Spain
Nonardo Perea suffered persecution in his homeland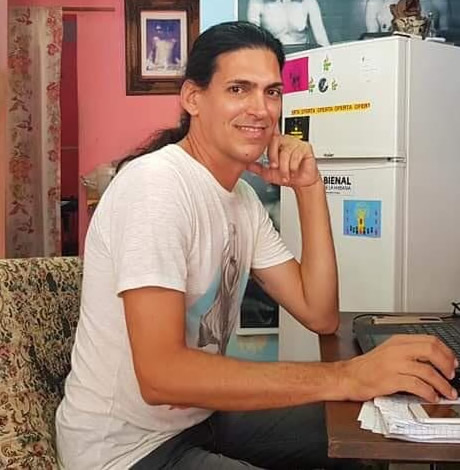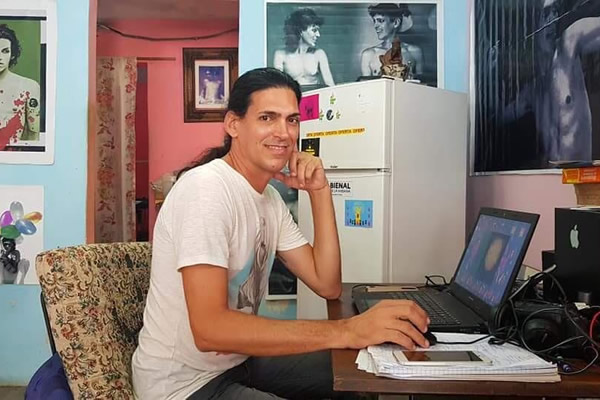 Nonardo Perea lives in Michel's body. He uses it at will to be vulgar, angelic or diabolical, male or female. Nonardo can be whatever he wants. Michel, shy and withdrawn, hides behinds that alter ego that lends him his face and hands to show the world his claims as an artist.
Nonardo is an invention that comes to life in photographs, video art, performances, stories, installations, journalistic articles, ceramics, and whatever other format is possible, since Nonardo long ago lost any limits. His mind lost that ability as he reinvented himself as an empirical artist, as no one ever gave him the opportunity to attend art school.
He has been greatly misunderstood, mainly because his pieces overflowed with eroticism and Cuba is still too prudish to appreciate his queer art and his other works the regime has labeled as "politically incorrect." Michel and Nonardo were discriminated against by society and the dictatorship that governs the country and represses anyone who does not agree with its dogmas.
Nonardo nevertheless overcame those barriers and began creating, without anyone's guidance. He was first a writer and received some tools once he graduated from the Onelio Jorge Cardoso Literary Training Center in Havana. He won several competitions, such as the 2017 Franz Kafka Prize for his work "Los amores ejemplares" and the 2012 Félix Pita Rodríguez Prize for the novel "Donde el diablo puso la mano."
In the visual arts, where he is usually very restless, he won the third prize for photography at the GendErotica Festival for "La casa por la ventana 2014" with his Vulgarmente Clásica project. He participated in the Bienal 00, organized by independent artists, with his "En la cama con Nonardo" project and presented Vulgarmente Clásica at Madrid's La Neomudéjar Museum in 2019.
Nonardo belongs to the San Isidro Movement, a group of independent artists and intellectuals who fight for a democratic Cuba. That battle has also been fought through his art and in pursuit of LGBTQ rights, such as marriage and adoption rights for same-sex couples, and an end to gender violence that remains a problem on the island.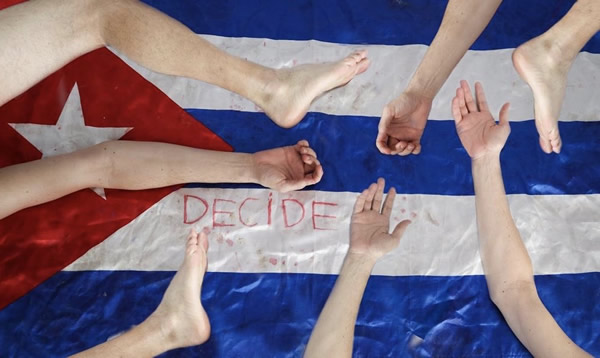 Due to his work and political activism for a truly democratic Cuba, Nonardo suffered police harassment and Cuban state security agents threatened him with jail. Fearing for his life, he took refuge in Spain, a country where he feels he has been reform and from which he speaks with the Washington Blade.
WASHINGTON BLADE: Those who follow your art on social networks and off of them know you as Nonardo, but few know that your real name is Michel. How and why was Nonardo Perea born?
NONARDO PEREA: I remember starting my writing career and I needed another name that was not so common. I did a big search and I didn't like any of them. I wanted a unique name if possible. One afternoon I was sitting in the living room of my house with my father and I told him about the need for a name. It was he who proposed Nonardo. At first it sounded a bit ugly to me, but then with Perea it seemed a little better. It had strength. I liked it because it began with "no", denial, and was followed by "nardo", flower, that is, Nonardo had a lot to do with me. Since then I started using it for all of my work, both literary and audiovisual.
BLADE: How does your artistic training take into account that you are an empirical creator?
PEREA: My artistic creation from the beginning was always very complicated, taking into account that I had to abandon my studies at an early age for inclusion reasons, so I have no academic training; then add to that that I am a very obvious gay. At one point in my teens I was seen as a person who was too feminine. The fact of looking like a woman was a problem when trying to fit in a macho and homophobic society. Where I first tried to break through was in writing. I started by attending literary workshops, where I won several contests quite quickly. I was never exempt from criticism and rejection of the themes that my narrations addressed, which almost always focused on LGBTQ issues and dirty realism. Many times I felt that being the way I am made many uncomfortable. But despite the rejections and bad times that I lived in various periods of my life, I continued doing narrative, and I also began to write articles about social issues for the Havana Times digital newspaper. Then, over time, I had the opportunity to apply to a video journalism workshop in Prague organized by the People in Need organization, and thanks to a woman I love very much, Clara González, who saw some potential in me, I was accepted to participate in the course, in which I learned some video editing, and received help with equipment that helped me to start doing audiovisual work with better quality. All my creative works have been done empirically, and above all I am an artist who works based on improvisation.
BLADE: You have ventured into artistic genres as different as writing, journalism and acting. How do you define yourself as an artist and why?
PEREA: I am a person who cannot be inactive. I spend every day of my life thinking about doing something new. Sometimes I have so many things on my mind, and the fact that I can't do everything I want to do makes me feel a bit frustrated. I have no words to define myself, I can only say that in some way my creative processes have helped me to cope with the life that I had to live, everything I have done and do has served as a way of escape from reality and everyday life, I could no longer live without creating.
BLADE: In a recent interview you precisely declared that your art was a process of liberating yourself. What exactly do you free yourself from when you create?
PEREA: I free myself from the day-to-day, the everyday, my fears and censorship.
BLADE: In most of your visual works you work with your own image. Why?
PEREA: I use myself as an artistic object because in Cuba I lived in solitude for a long time. I somehow isolated myself and created a space of comfort in my home, a place where I felt more free. The confinement somehow helped me to stay away from society that did not tire of making me feel bad about my obvious homosexual condition in much of my youth. My literary proposals and art in general, on the other hand, were not taken into account. I always perceived that most people underestimated me, and proposing someone to collaborate with me on erotic photographs without receiving anything in return was complicated, and still is. I have control over my body. If I want to undress in a photo or in a video, even if I feel sorry, I strip myself of complexes and do it. If I want to take a photograph that is too vulgar, I also do it. I do not have to request permission from anyone to do so. I don't put up barriers. I take a risk, then I think that they say what they want. I understand that I am doing a job where I express my personal and social problems, as a human being.
BLADE: You identify yourself as an androgynous person. How many difficulties has that brought you considering that you have lived most of your life and developed your work in Cuba, a country where macho and homophobic ideals still predominate?
PEREA: I consider myself a non-binary androgynous person, because I do not identify with any sex. I can feel at ease as a girl as well as a boy. I have no problem with male or female pronouns. I do not like to victimize myself, but I can tell you that the road has been very difficult, and it has been not only for me, but for many other gays and lesbians who have chosen not to hide their sexual identity in their lives and have had to fight against the world. Being who I am in Cuba has not helped me much in terms of being able to be recognized for my work, but being who I am has helped me to strengthen myself and to understand that I do not need the approval of any institution to continue creating. I am a Cuban artist and like it or not, a large part of my work was created in Cuba.
BLADE: Many Cuban artists prefer to separate their creations from politics and even refuse to give their true judgment on the situation on the island. However, your work has a high dose of activism against the dictatorship and in defense of LGBTQ rights. What consequences, professional and personal, has being an artist labeled by the Cuban regime as "counterrevolutionary" brought you?
PEREA: The main consequence is that I had to go into exile; leave the country where I was born, abandon my mother and family, my friends, my dogs and a lifetime. But I think it had to be that way. There was no other way than to say goodbye, because under no circumstances was I going to allow my creative processes to stop, and above all I was going to continue doing my activism. I know that perhaps I was not going to be able to withstand so much pressure from state security agents, who wanted me to collaborate with them to expose my colleagues from the San Isidro Movement. If I returned to Cuba right now, I don't know what my life would have been like from that moment on. If being a counterrevolutionary means saying what I think, and being in favor of oppressed minorities, and being against a dictatorship that has left Cuba and its people in a nameless misery for 61 years, then I am a counterrevolutionary and with great honor. I have nothing for which to thank that country, where I was always seen as a freak, and what little I got was thanks to my effort and dedication, because while in Cuba I received criticism and obstacles for everything, for this reason they are collecting what they sowed with me, they do not expect roses from me.
BLADE: In Cuba, to be accepted as part of the official LGBTQ movement you have to share the ideology of the dictatorship, the same one that put equal marriage to a popular vote and represses independent activists. In your opinion, what are the dangers of "politicizing" the struggle of the Cuban gay movement?
PEREA: The danger is in seeing how it becomes politicized. While in Cuba, I never stopped going to the marches staged by CENESEX (the National Center for Sexual Education) and I will not forget how Mariela Castro (CENESEX's director and the daughter of former Cuban President Raúl Castro) herself politicized those mini-carnival marches with slogans in favor of the five spies imprisoned in the Empire (a reference to the U.S.), and with cries of "socialism yes and homophobia no." I do not remember seeing any gay or lesbian carrying a sign demanding equal marriage, or demanding freedoms, or a law against gender violence. It is really pathetic considering that the system itself is the number one cause of the persistence of homophobia and constant abuse of people from the community, mainly transgender people, in Cuba, a country where your rights are constantly violated, either because of race or sexual orientation. Those marches were politicized by CENESEX itself in favor of a supposed socialism, which has never worked and will never work because that is a hybrid between communism and underdeveloped capitalism, and we all know that it is nothing other than a dictatorship, and of the crudest in history because it has managed to last for 61 years. If Mariela Castro and all her loyal followers politicize the march for their benefit, I don't see why the community cannot independently arm its own fight in favor of the most basic rights of the LGBTQ community in Cuba.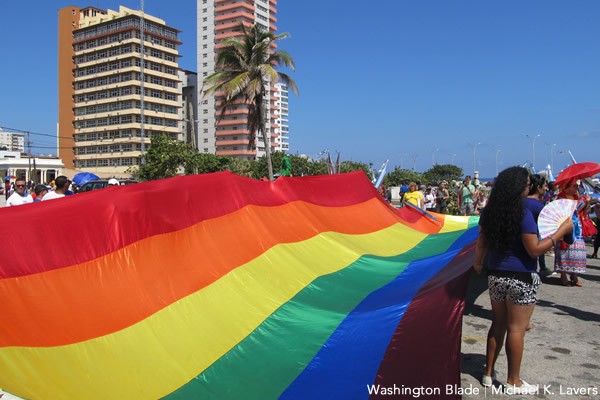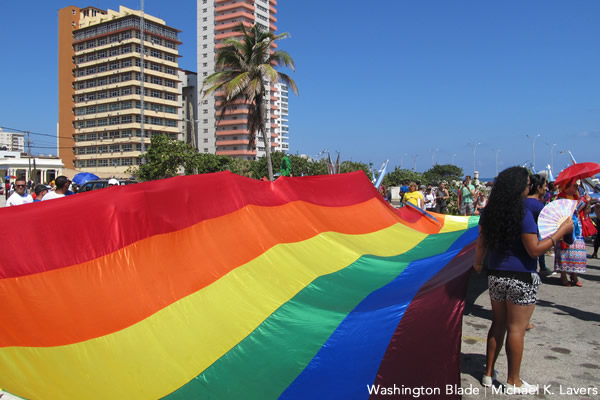 BLADE: In what way has the forced exile that you have faced in Spain changed your work?
PEREA: Right now I continue to do what I want to do, regardless of being in Spain. I still feel that I am in Cuba. My vision as an artist has not changed much. I've only been here a year and seven months, although I believe that wherever I am, in some way my work will be linked to that of the island because I have not yet cut that umbilical cord that links me to the place where I was born and took my first steps. It is true that one acquires other mechanisms of creation and invoicing in the work while abroad, but at the moment I do not think that the focus of my work has changed much because of being in another country. Of course, here in Europe there are other problems that I may be able to take advantage of, but be that as it may, they will be appreciated from the perspective of an exiled Latin American artist.
BLADE: On a personal level, what has it been like to be a gay immigrant in Europe?
PEREA: I am very grateful for Spain, mainly for Madrid, which is the place where I have lived since I arrived in 2019. At the moment, I have not felt discriminated against because of my sexual orientation or because I am a foreigner. I have received emotional and legal support from the NGO Rescate, which welcomed me and where I have received the care that I never had in my own country. With all the social and political problems that may exist, it is in this country where I have somehow been able to know what true freedom is.
BLADE: What can we expect from Nonardo Perea in the near future?
PEREA: I am in another difficult moment in my life right now, because I cannot find a job, and I do not receive any money for my artistic work, so what I do is for the love of art and because I cannot stop building my own world. The COVID situation has managed to make things more difficult, not only for me but for everyone, but taking into account that I am an exile and that I have been here for a short time, it is very complicated. Even so, I eventually continue to make video art for the Vulgarmente Clásica audiovisual project, which I have been doing for several years. And more recently I started with a new project, "Maricón Tropical: Living in Madrid", this one is a bit more comprehensive not to call it ambitious because I insert various artistic manifestations: Performance, audiovisual, literature, drawing and photography, and it is focused on my new life as an exile in Madrid, everything seen from a self-referential point of view, as are almost all my proposals.
BLADE: If you had to create a work that describes your life right now, what would it be like?
PEREA: I consider that my life, my true life, has started now, what it was before was not. For the purposes I was born on March 19, 2019, when I set foot in Spain. All the past is left behind. I want to imagine that the past was a bad dream. My "Maricón Tropical: Living in Madrid" project is a work that somehow reflects that past, which is unfortunately impossible to forget and it is also good that people know what that other life was like, but I focus more on the present, my current problems as a person who faces a new life as an adult who feels like a newborn. I can only tell you that my life's work is in progress.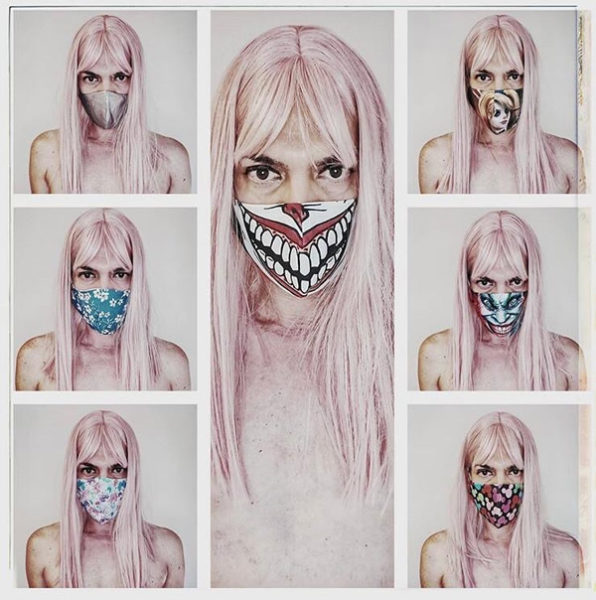 New dance single pays tribute to Town Danceboutique
Local musicians pen 'Town' in honor of shuttered club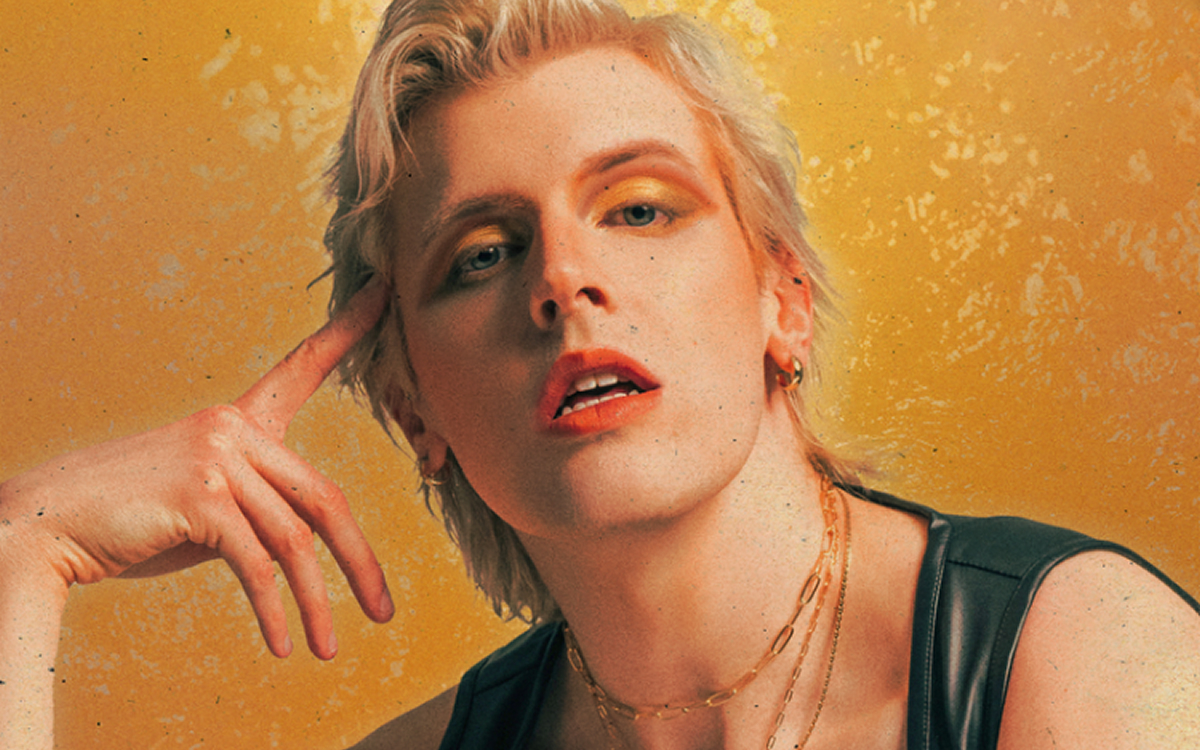 The closing of the LGBTQ nightclub Town Danceboutique in the summer of 2017 was heartbreaking to local musician Bryce Bowyn. He and his Los Angeles-based singer/songwriter friend Lexie Martin decided to honor its legacy in their new single, "Town."
For Bowyn, who moved to the District about a decade ago to attend school at American University, the memories he has from Town Danceboutique are endless. And when it closed, it was a massive loss to Bowyn and many others.
"It was such a cool space," Bowyn said. "It was just disappointing to see a place that brought so many people together become part of the landscape again." The building Town Danceboutique used to be housed in is now home to upscale apartments and a CVS.
Town Danceboutique was a formative place for Bowyn and Martin, and it was Bowyn's first experience in an open and accepting LGBTQ environment. His favorite memories at the club were always on Halloween, he said. Patrons, including Bowyn, would go all out with their costumes to look their very best.
Bowyn and Martin met while they were both in the musical theater program at American University. Despite their years-long friendship, "Town" is the first song they have written together. They sat down over FaceTime and got to work. It was Martin's idea to pay homage to Town Danceboutique, and the song follows the story of pre-gaming, going out, and hitting the dance floor.
But the single also serves as a hype song for going out in any city, at any place.
"It was important to me for the song to remain relatable and accessible," Bowyn said. "So the whole foundation of the chorus, 'Let's go to town,' can either mean Town Danceboutique, or painting the town red and having the night of your life."
Bowyn started writing and producing his own music in 2018. He released an EP titled "A Rosy Retrospect" in 2022, and most recently released a single "A Bridge Burned Down" in June. His music is inspired by late 2000s pop and '80s synthpop, influenced by stars like Madonna and Charli XCX. Lexie Martin released her self-titled EP in 2019 and most recently came out with her single "SUPERPOWER" in 2021.
Bowyn has been a lifelong pop music enthusiast. He distinctly remembers watching Britney Spears perform "Oops!…I Did It Again" at the MTV Video Music Awards when he was a kid and thinking "That was what I wanted and what I was set to do in life."
"My heart was always with pop music," Bowyn said.
"Town" is available now for streaming on Spotify, Apple Music, and Soundcloud.
Bernal shines as real-life gay wrestler in 'Cassandro'
A polished, engaging film about a real-life figure that carries message of hope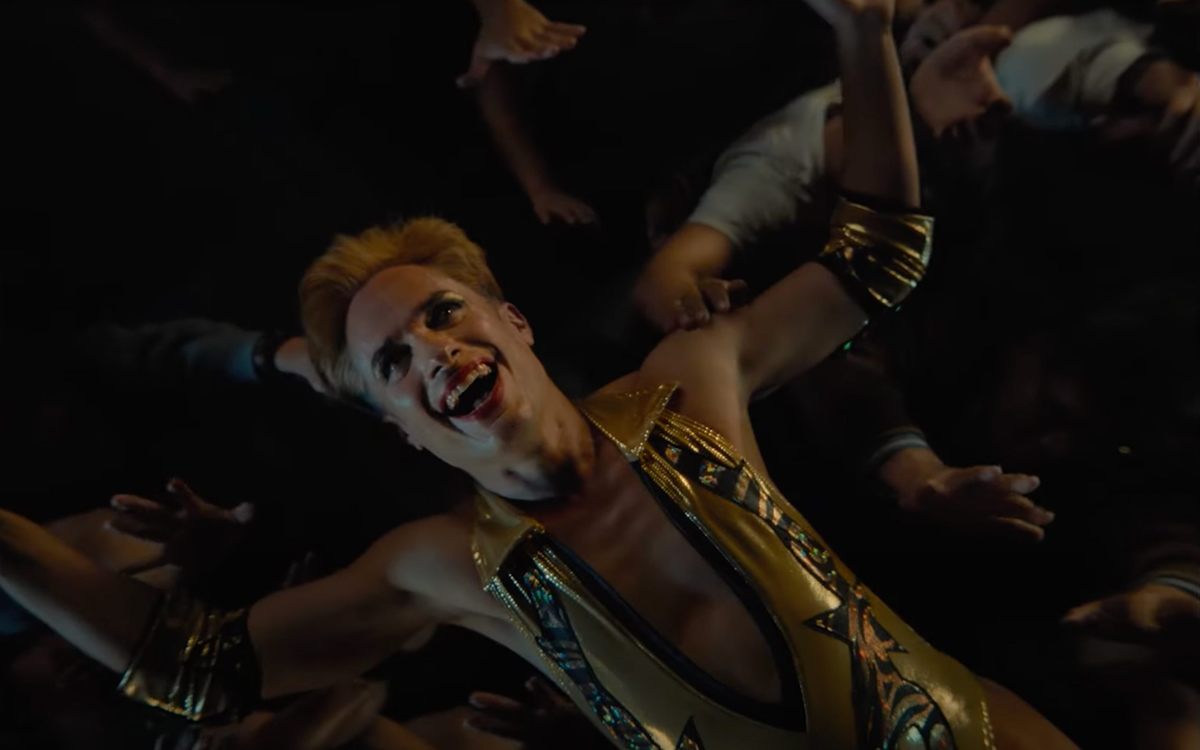 For most Americans, any knowledge of the Mexican wrestling style known as lucha libre is probably limited to what they gleaned from the 2006 Jack Black comedy "Nacho Libre," which (it should go without saying) is not a movie that anyone should consider "factual."
Now another movie about the subject has arrived, and this time it's not an anything-for-a-laugh fantasy but a biopic about a real luchador who rose to international fame in the 1980s and remains one of the most celebrated and popular figures in Mexican professional wrestling to this day.
The luchador in question is Saúl Armendáriz – better known to his fans as "Cassandro" – and the eponymously titled movie about his ascendency begins streaming on Amazon Prime Video Sept. 22 after a limited theatrical release on Sept. 15.
Directed by Roger Ross Williams (who may not be a household name but has the distinction of being the first Black director to win an Oscar, thanks to the 2009 win of his "Music by Prudence" for Best Documentary Short), "Cassandro" stars Gael García Bernal – a longtime ally who became a queer fan-favorite thanks to his work in films like "Y tu mamá también" and "Bad Education" – as the openly gay Armendáriz and tells the story of his rise to fame in direct defiance of the culturally reinforced homophobia that permeated the professional environment of his field. Set in the 1980s, it follows the future superstar from the early days of his career, tracing his steps as he forges a path to success as an exótico – a wrestler who assumes a flamboyant persona based in queer (and largely homophobic) stereotypes – while simultaneously rising above the stigma of his sexuality and his impoverished upbringing to become a pioneering force in LGBTQ+ acceptance within the deeply traditional Latino culture to which he belonged.
Like most biopics, it also focuses on the personal: much of the film's first half is dominated by the relationship between Armendáriz and his mother, Yocasta (Perla De La Rosa), a professional "good-time girl" whose acceptance of his queer identity is absolute yet tempered by her fear for his well-being. There is also a long-running thread about his desire for approval from his father – a married man with a "legitimate" family in which he is decidedly not included – and the pattern in his personal life of repeating that same dynamic in romantic relationships with lovers like closeted big-name luchador "El Comandante" (Raúl Castillo) and an apparently fluid but firmly "on the DL" associate named Felipe (Benito Antonio Martínez Ocasio, aka Puerto Rican rapper Bad Bunny for those unfamiliar with his "real" name) who clearly meets more than just his need for a reliable supplier of cocaine – it is the '80s, after all – while maintaining a strict-if-not-quite-convincing "no homo" stance.
Ultimately, though, as presented by first-time narrative feature director Williams (who co-wrote the screenplay with David Teague after previously covering Armendáriz' story in the 2016 documentary short "The Man Without a Mask"), "Cassandro" is driven by a narrative about overcoming and reclaiming the pejorative cultural tropes around queer sexuality and turning them on their ear as a means toward fully inhabiting queer identity. Blessed with a relatively supportive mother – a plainly-implied career sex worker who is depicted as much as a kindred spirit as she is a maternal figure – and comfortable enough in his own skin to flaunt his "deviance" in the public eye, the film's version of Armendáriz moves through a clearly defined arc toward self-acceptance on his own terms.
Much of this is mirrored, of course, in the tale of his accelerated rise to stardom, in which he wins the hearts of lucha libre fans enough to subvert the accepted formula that the exótico is always the loser, and reinforced by the ways in which he responds to the various long-term relationships in his life – some nurturing, some toxic – as his career trajectory helps him to recognize his own worth. In this way, "Cassandro" becomes a true-life tale of queer affirmation, the saga of a person who overcomes hardline traditional expectations and deep-rooted social prejudice to use his own queer identity as an avenue to personal empowerment.
That, of course, is exactly what it sets out to be: it's an unabashedly pro-queer narrative that brings the highest level of professional artistry into the mix, using it to convey that subtle blend of aloof observation and emotional engagement that can sometimes win viewers' hearts and minds.
In recognition of that artistry, the foremost acknowledgement must go to Bernal, who turns in a career-highlight performance as both Armendáriz and his over-the-top titular alter-ego, which requires an impressive display of physicality in addition to keen emotional intelligence. The actor is more than capable on both fronts, and while it would frankly be nice to see one of our queer heroes portrayed in a mainstream film by an actual queer actor, it's hard to complain when the actor is someone like Bernal, who finds within his own lived experience the authenticity to make it all ring true. Kudos are also deserved for both De La Rosa, who establishes an emotional core to the story that endures even after she leaves it, and openly-queer actor Roberta Colindrez as the trainer (and friend) that helps "Cassandro" conquer the world of professional lucha libre wrestling by literally flipping the script.
Still, though there is clearly a heartfelt desire to inspire behind the movie's portrayal of its hero's unlikely rise to glory, "Cassandro" doesn't quite deliver the kind of unequivocal "feel-good" validation for which it aims. There's something rote about the story as it's told to us; Armendáriz' success seems a foregone conclusion, and his personal struggles – though impeccably acted and depicted with sincerity – feel somehow manufactured for the sake of a desired emotional response. There's a sense of "Hollywood" about the film's approach, a deliberate framing of the material which makes this real-life success story seem much too easy, its subject's struggles too much like tropes to deliver the kind of authentic satisfaction the movie clearly aims for. Built on familiar formula, it all feels a little too predictable to ring true – especially for a saga centered in such a messy, wild-and-wooly environment as professional lucha libre. Yes, it inspires, but much of that is accomplished by playing to sentiment, by what seems a deliberate effort toward building and reaffirming a legend rather than revealing the real human experience behind it, and many details of Armendariz' real story are left out – a suicide attempt, a struggle with substance abuse, even the origin of his iconic stage name as a tribute to a brothel-keeper of whom he was fond – that might have made for a less-sanitized and much more interesting story.
Such quibbles, however, are probably a moot point for most viewers; while "Cassandro" might feel a little too hollow to satisfy completely, it's a polished, entertaining, and engaging film about a real-life figure that should – and does – carry a message of hope and transcendence for queer audiences.
Why would we ever complain about that?
Celebrating sports history: DC Gay Flag Football's 25th season
Head of District's premier league says it's 'groovin' to its silver anniversary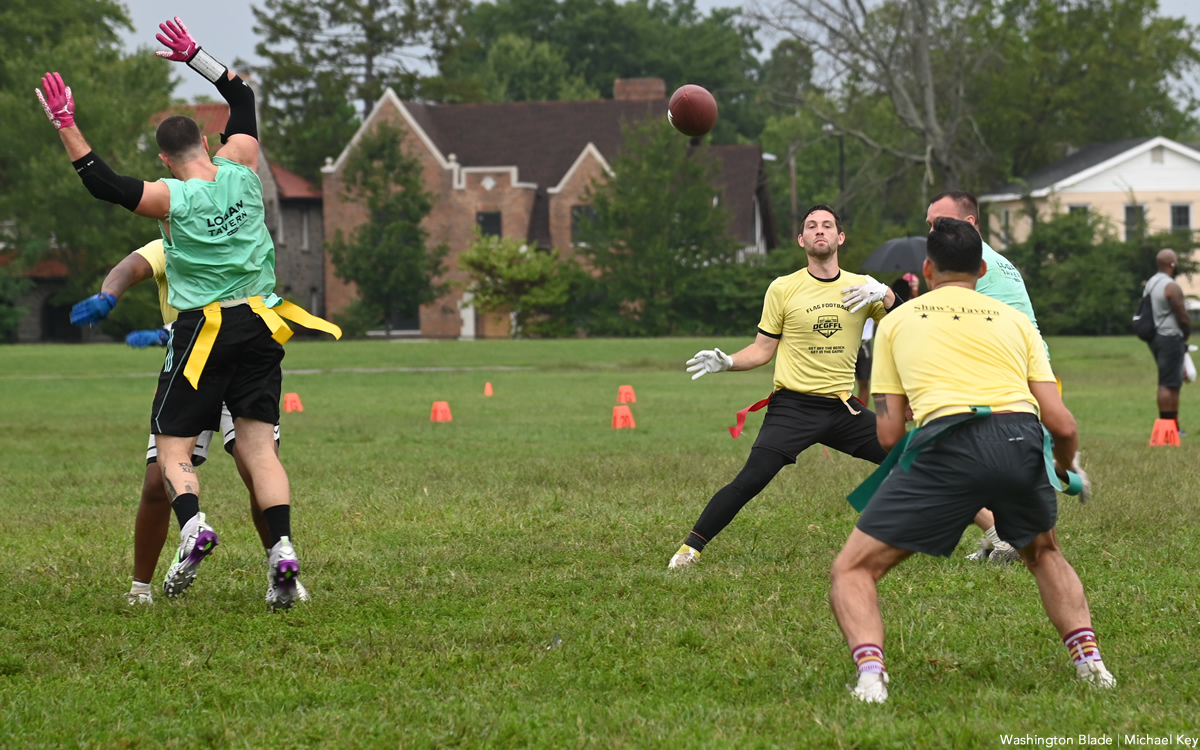 What started when gay football fans got together in the 1990s to play their favorite sport is now a D.C. institution with 270 players in 20 teams spread over three fields, playing in both fall and spring.
"Get off the bench," shouts the slogan on the league's website. "Get in the game!"
The D.C. Gay Flag Football League turns 25 years old this month and is considered not only the premier league of its kind in the District, but is recognized across the country for its players, organization, and spirit.
"The way we run our league and the way we compete make us stand out relative to the rest," DCGFFL Commissioner Logan Dawson told the Washington Blade.
For those who don't know flag football from any other kind, the difference is easy to spot: There's no contact allowed. As the rules say, "That includes tackling, diving, blocking, and screening. Instead, players wear flags that hang along their sides by a belt. To 'tackle' the person in possession of the ball, the opposing team needs to pull one or both of their flags off." There are a lot more rules, but that's the one that really sets it apart from tackle football.
The sport itself dates back to World War II and its origins have been traced to Fort Meade, Md.
What's the secret to the league's longevity? "I think we attract and hold on to great athletes who are highly competitive, not only on the field, but also, in our professional and personal lives," he said. Dawson, 32, plays flag football as well as manages the league. He's currently single, but says his first love is the weather.
"I knew in second grade that I wanted to be a meteorologist," said Dawson, who moved to the District to be a meteorologist with the National Weather Service.
A prolific swimmer since high school, he came out as he started grad school at Purdue University in Indiana in 2012. In an op-ed appearing in Outsports in 2014, Dawson wrote about competing in his first Gay Games in Cleveland along with a group of other gay swimmers from Colorado, and left that experience determined to join a gay sports league. 
He found it in the fall of 2018 in the DCGFFL, the same year the league's Generals team won Gay Games XVIII. The league supports up to five travel teams, which take part in annual tournaments nationwide. It also hosts a summer tournament each year in Rehoboth Beach, Del.
"There's a good amount of participation by people who played in the league from the very early days," Dawson said. "I think we're just in the sweet spot, where we have a lot of the original participants, a lot of new players, and we're just kind of grooving right now."
The first group gathered at Francis Field near Dupont Circle in 1994. Three years later, another group formed to play just steps from the Washington Monument Mall. They came together in 1998 to form what is now the DCGFFL.
"For the majority of those seasons, we mainly had one division that played that was co-ed," said Dawson. "This is our second season that we've had a Womens+ Division made up of [cisgender] women, trans and nonbinary individuals." The Womens+ teams are called the Senators.
Jayme Fuglesten is director of the Womens+ Division and has played in the league in most seasons since 2011.
"The DCGFFL has been a major part of my adult life," she says. "I came out while playing in the league in no small part because of the love and support of this community."
Why does she think the league has been such a success to have lasted 25 years?
"I think the league has been so successful because of its focus on inclusion and community," she says. "I remember being so surprised in my early years when JJ and so many others would just come right up to me, hug me, and welcome me. And that really hasn't changed in the 20+ seasons I've been around. It also continues to grow and respond to the needs and desires of our players. One example of that is the new Womens+ division, which gives an additional space for people who identify as womens+ to play and cultivate stronger relationships."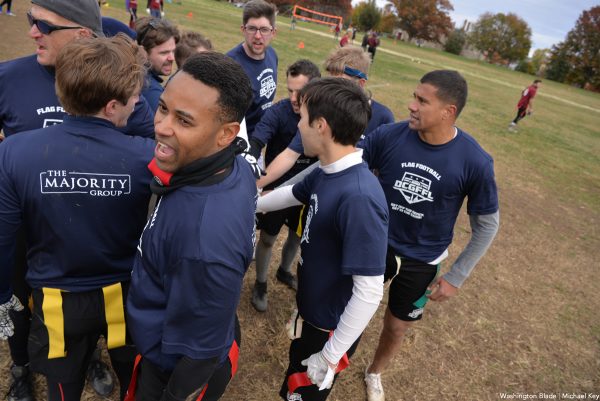 Next month, the DCGFF will send both Generals and Senators to Gay Bowl XXIII in Seattle. "That's going to be the first time we're going to have two Womens+ teams at the Gay Bowl," Dawson told the Blade. "It's reflective of the new generation of the league."
Earlier generations had trouble attracting new players. As the Blade reported in 2019, what had been a steady number of 20 to 22 teams dropped dramatically to 14, its lowest roster since 2011. The league's leadership turned it around with new recruiting events, new sponsors, changes in their social event locations, changes to their player draft and a change of venue for league play beyond Carter Barron fields in Rock Creek Park in Northwest Washington.
Brentwood Hamilton Park in Northeast Washington is now home to the recreation division and Randall Field south of the Capitol is the league's third venue.
Just like every facet of society, from coast to coast, what happened next hit the league hard. "COVID happened in spring of 2020," recalled Dawson. "Everything shut down, and we did not play for what amounted to three full seasons for a year and a half."
But once the world emerged from quarantine and lockdowns, flag football players started flocking to the DCGFFL. "We've had probably over 150 new players join our league in the last two years," he said.
One thing is certain, said Dawson: Despite the name, not everyone who plays in the gay flag football league is LGBTQ+.
"It's a really great community. There's a straight couple that's married and will be soon having a child in the next month or so," Dawson said. "They met playing in the league, just like we've had gay couples who meet in the league and eventually get married and have children."
Prominent among the league's many sponsors is the NFL hometown team, the Washington Commanders. "They are highly supportive of us, not just financially, but also publicly supporting what we are, and our mission," Dawson said.
This current NFL season is the first since 2021 without an out gay player on the gridiron. That's when Carl Nassib became the first active pro football player to come out as gay.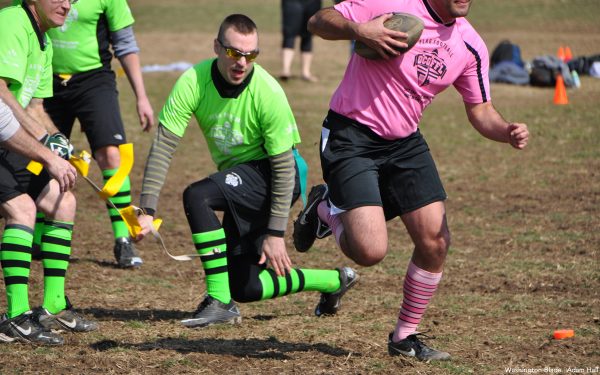 While Dawson said, "I'm sure there are more out there" who have not yet come out, Nassib's retirement makes this anniversary of the DCGFFL even more significant.
"It's unfortunate people still feel they cannot be out while they're playing and doing what they love, but that's the reason why something like the D.C. Gay Flag Football League is so important," he said. "To show that there are gay and trans athletes who exist and love playing sports."
The league plans to celebrate its 25th anniversary with a dance party and silent auction at Penn Social on Saturday, Sept. 23 starting at 8 p.m. Check the website for ticket information.