'I was born to create and entertain'
DJ Nina Flowers was 'RuPaul's Drag Race' premiere season runner-up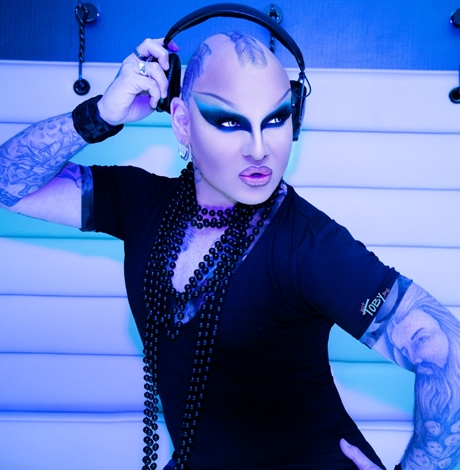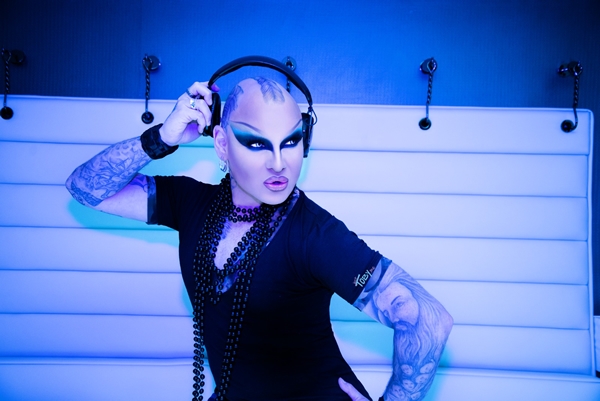 Bombastic flowers of extravagant colors and shapes hang from the nightclub's roof. The half-lit dance floor at times simulates a jungle with exotic plants and butterflies. Some flowers that are placed on the stage symbolize the birth of music, which Nina Flowers generates from her turntables.
Flowers knows exactly what sounds to combine so that the audience goes into ecstasy, a sensation that bounces back instantly and makes you raise your arms to the metallic beat that is more intense with every second. When the music reaches its climax, the lights explode like lightning and Flowers emerges with one hand on her headphones and the other directing the electrifying atmosphere at will at The Manor, one of the most popular nightclubs in Wilton Manors, a gay Mecca in South Florida.
Flowers — a DJ, music producer, former drag queen and makeup artist — is the guest star on this Saturday. Many in the audience pull out their cell phones to film her while they continue to dance, and more than a few of them come to ask for a picture or autograph.
Flowers is widely recognized among the LGBTQ community, especially for her appearances on "RuPaul's Drag Race." Flowers finished second in the show's season premiere in 2009.
A lot has happened in Flowers' professional and personal life since then. She agreed to an exclusive interview with the Washington Blade via email.
WASHINGTON BLADE: Many have followed your career since you became a celebrity, but how did it all start? What prompted you to pursue a career as a DJ in the first place?
NINA FLOWERS: When I was very young, still a child, I used to accompany my father who helped a friend who was DJing at private parties. From the first time I went to one of these events, it was like love at first sight.
BLADE: What was your training as a DJ?
FLOWERS: I started playing neighborhood parties; family parties; at school, until I built a reputation and then continued to hold private parties and corporate events. At the age of 16 (in 1989) I auditioned for the first time for a position of resident DJ of a new club in San Juan, Puerto Rico, where I am from, and it was there where I obtained my first residency in a club. From there I continued working in many clubs on the island, until I had to move to the United States. And my career exploded.
BLADE: Is it true that back then you performed with a masculine appearance in the beginning?
FLOWERS: Correct and under the name of Jorge Flores, which is my birth name, then under the nickname of DJ Flowers that one of my previous bosses baptized.
BLADE: Precisely from where where does your stage name come?
FLOWERS: Nina is in tribute to my favorite artist, Nina Hagen, better known as the mother of punk rock. Flowers comes from my last name, Flores, in English. As I was already known as DJ Flowers, I decided to keep the relationship between both characters and the brand.
BLADE: How is the process to produce your music?
FLOWERS: It is an extremely fun and creative process. The first thing is that you have to be in those days where the "creative juices" are flowing. There are times that nothing works out, no matter how hard you try. Other days, pure wonders come out. The main thing is to have the knowledge of production and in turn of the program that is used to produce it. Basically (you need to) have a good set of tools, as well as a good team. The magic will be infinite once you have that and the desire to create.
BLADE: How would you define your sound?
FLOWERS: Progressive, sticky, tasty, tribal, different. Quite the opposite of what is commercial or what we hear everywhere.
BLADE: What do you feel behind the booth and surrounded by the public at that moment?
FLOWERS: Excitement, energy! I feel blessed to have the joy of being able to develop what I do with love and at the same time receive the support of those who follow me.
Flowers released her first single "Loca" in December 2009 in collaboration with DJ Ranny. The song reached its highest position (#15) on the Billboard Hot Dance Club Play chart the week of Jan. 30, 2010. She released her first mini-album entitled "Start Your Engines," a compilation of six original tracks that he made with producer and remixer William Umana, in July of that same year.
Flowers in January 2011 released her dance single "I'm Feelin Flowers" and in July 2012 she released her single "Rock the Beat."
BLADE: How was your transition from DJ to drag queen?
FLOWERS: Very soft and divine. When I started in the drag scene I was already working as a DJ in clubs, so I already had many friends and followers who supported me at all times. I started in the drag scene in 1993.
BLADE: If you had to define your style of drag, what would it be?
FLOWERS: Authentic, imposing, different, intense, colorful, energetic, androgynous and fun.
BLADE: How do you do it?
FLOWERS: A creation that combines my roots of who I am as a person, of what I like and attracts me, of my feelings and my artistic side.
BLADE: You competed on the first season of "RuPaul's Drag Race." How would you describe that experience?
FLOWERS: Incredible. Definitely an opportunity that I will never forget, and that surely opened the doors for me to be discovered throughout the world. It was a blessing for me.
BLADE: How did you feel when you finished in second place?
FLOWERS: No particular feeling. I was sad, of course, because obviously we all want to win. But if it didn't affect me, it was because it wasn't meant for me. I was very proud of my role in the show, and I know that I performed in the best possible way. At the same time BeBe Zahara Benet (the winner) and I became super good friends during the filming, and in the end I was very happy for her. She did an incredible job and worked as hard as I did, so to me she deserved it as much as I did.
BLADE: You did, however, win the Miss Congeniality award during the first season's reunion special, making you the first runner-up to win the title and the best Miss. Could we call it your revenge?
FLOWERS: I think so (laughs).
BLADE: You were on RuPaul's show in 2009, 2010 and 2012. What did you learn and how many opportunities has this television show brought to your career?
FLOWERS: Based on what I learned, the important thing is to be sure of yourself and to lose your fear of those things that we sometimes tell ourselves that we cannot do or achieve; to be positive at all times; and face any challenge that comes our way.
In terms of opportunities, it gave me global exposure, opening doors that I never dreamed would be there for me.
BLADE: I understand there is a Nina Flowers Day. Can you explain how it happened? What happens on your day?
FLOWERS: (Then-Denver Mayor) John Hickenlooper in 2009 gave me the honor of naming May 29 as Nina Flowers Day. This was in gratitude from the community and the city for the impact that I had brought to Denver after participating in the program and being one of its residents. They were all very proud of me. The reality is that I have never stopped touring the nation and internationally since the show happened, so I never had the opportunity to organize any event to commemorate the day.
BLADE: Why did you decide to abandon your career as a drag queen, even though you were so renowned in that world?
FLOWERS: Very simple. When I decided to stop it was simply because I needed new challenges in my life. I needed a change. I already knew it was time to conquer other territories. In my case the territory of music, which has always been my priority and my number one passion.
BLADE: You remain in drag, however, when you perform as a DJ. Why?
FLOWERS: It's part of the Nina Flowers brand. A brand that took many years of preparation, sacrifice and is recognized worldwide. Why am I leaving her behind?
BLADE: DJ, drag queen, makeup artist … Which of your facets fulfill you the most as an artist?
FLOWERS: The entertainment. I was born to create and entertain. In the three facets I have the opportunity to develop myself in what I love so much, but my passion is music.
BLADE: How has the current pandemic affected you, taking into account that the entertainment industry has been one of the most affected areas?
FLOWERS: It has unfortunately affected me a lot financially, because almost all events in 2020 were cancelled. There were some cities that managed to have events. I worked on some of them, which caused a lot of personal attacks by COVID Karens, who only dedicate themselves to personal attacks on social media. This affected me emotionally, but it didn't stop me either. All of us who have agreed to work during the pandemic have our reasons, our obligations, our needs. No one has the right to point out or judge anyone for their decisions, much less without knowing the reasons for being. For my part I continue and will continue forward. Nobody stops me. Nightlife will be the last to recover. Hopefully we will all recover from this global hit very soon.
In an effort to continue creating and not lose connection with her fans, Flowers has presented her most recent musical chapter "Resurgimiento" through the Twitch and Zoom platforms.
BLADE: What are you working on right now?
FLOWERS: On music. This is my life, my reason for being. It's all I do
BLADE: Tell us a bit about Nina Flowers offstage. What are you like at home?
FLOWERS: Completely different. A little introverted, quiet, reserved, homey. I love cooking. I really like sewing and photography. Happily married for almost 14 years. I love animals and I am very family oriented.
BLADE: Is your personal life as successful as your professional one?
FLOWERS: Yes, thank goodness!
BLADE: What are those goals or dreams that you still haven't achieved?
FLOWERS: I've already conquered the music circuit of the gay community. I would love and dream of a transition to the "straight community." Someday it will be! I am already recognized as a DJ, so my goal for the moment is to achieve the same level of recognition or more as a music producer. Today that is my focus.
PHOTOS: 2022 Baltimore Pride
Annual LGBTQ march held on Saturday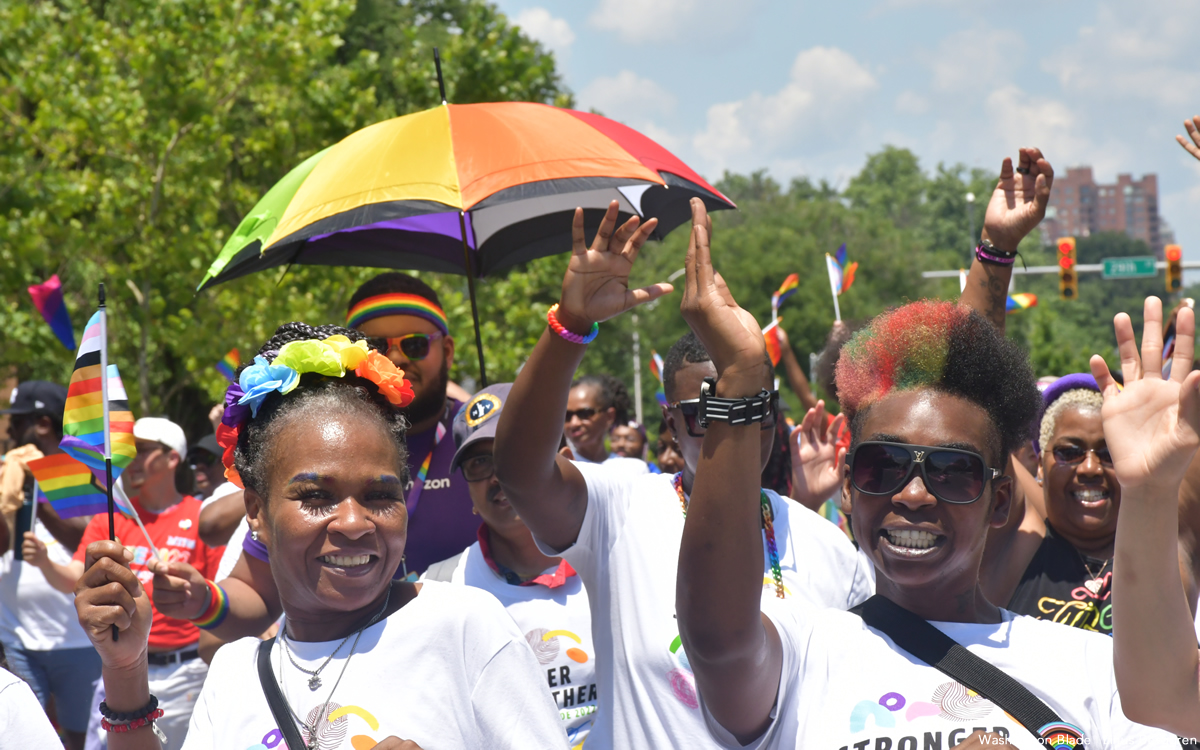 The 2022 Baltimore Pride Parade was held on Saturday, June 25. The march was followed by a block party and entertainment.
(Washington Blade photos by Linus Berggren)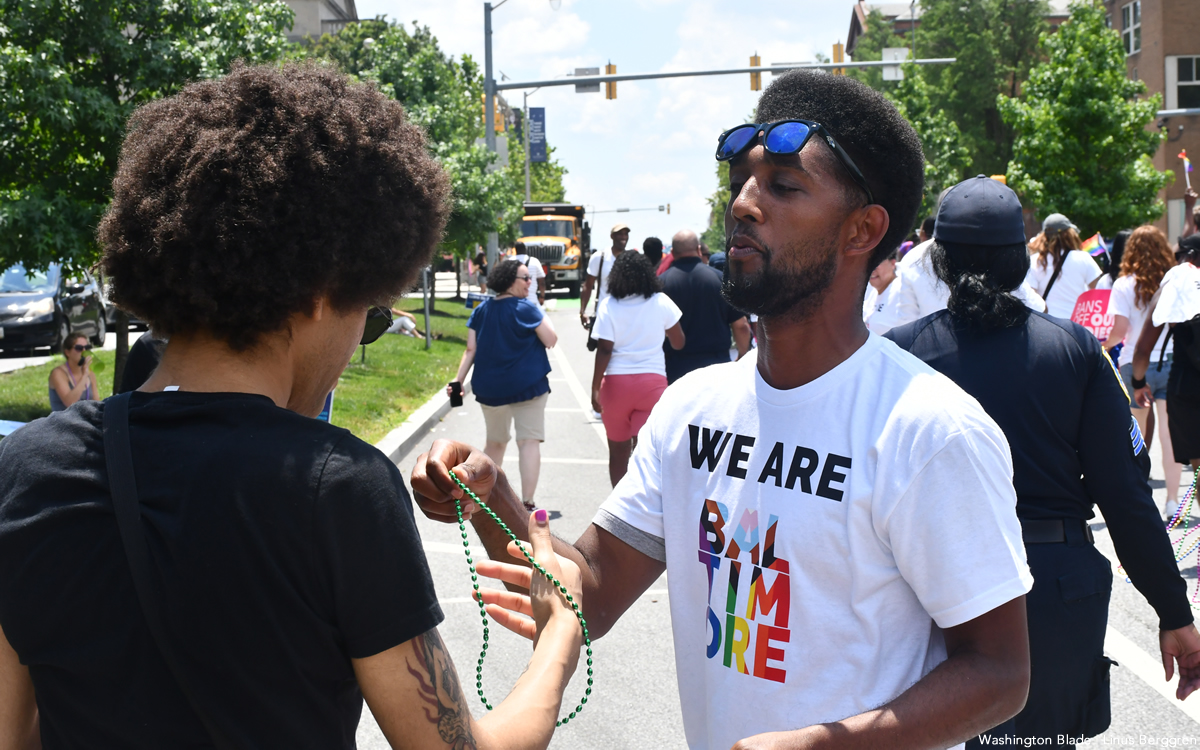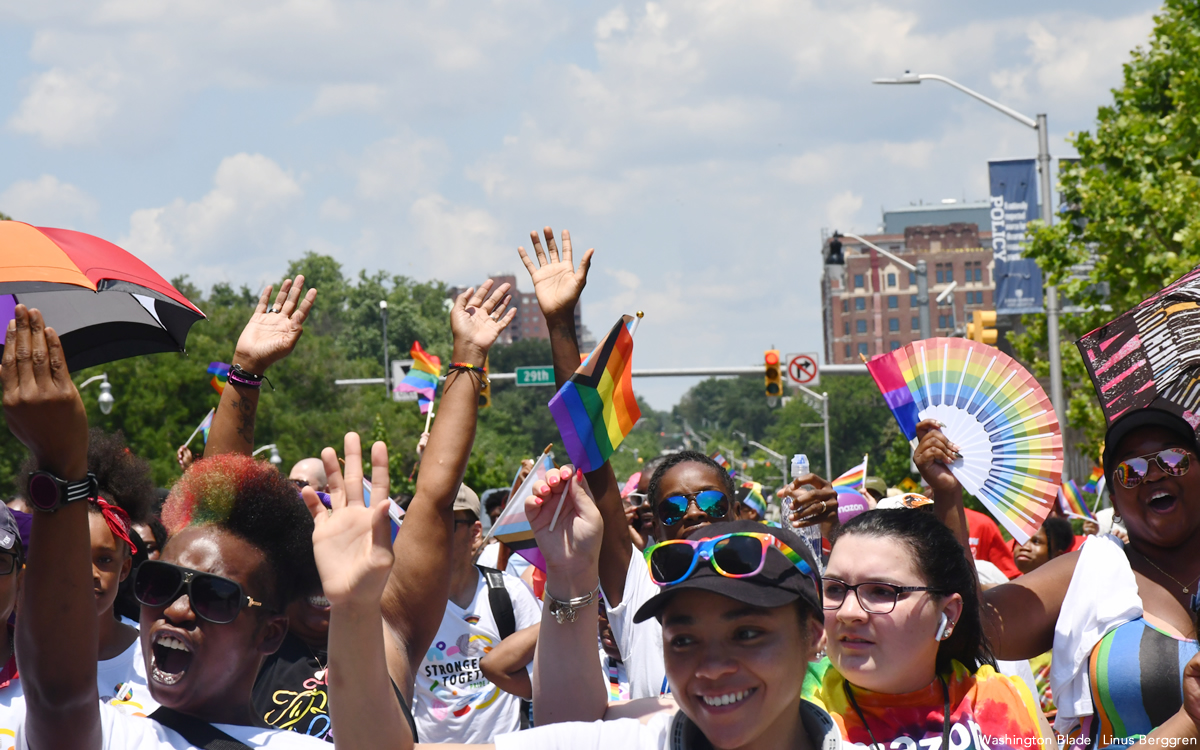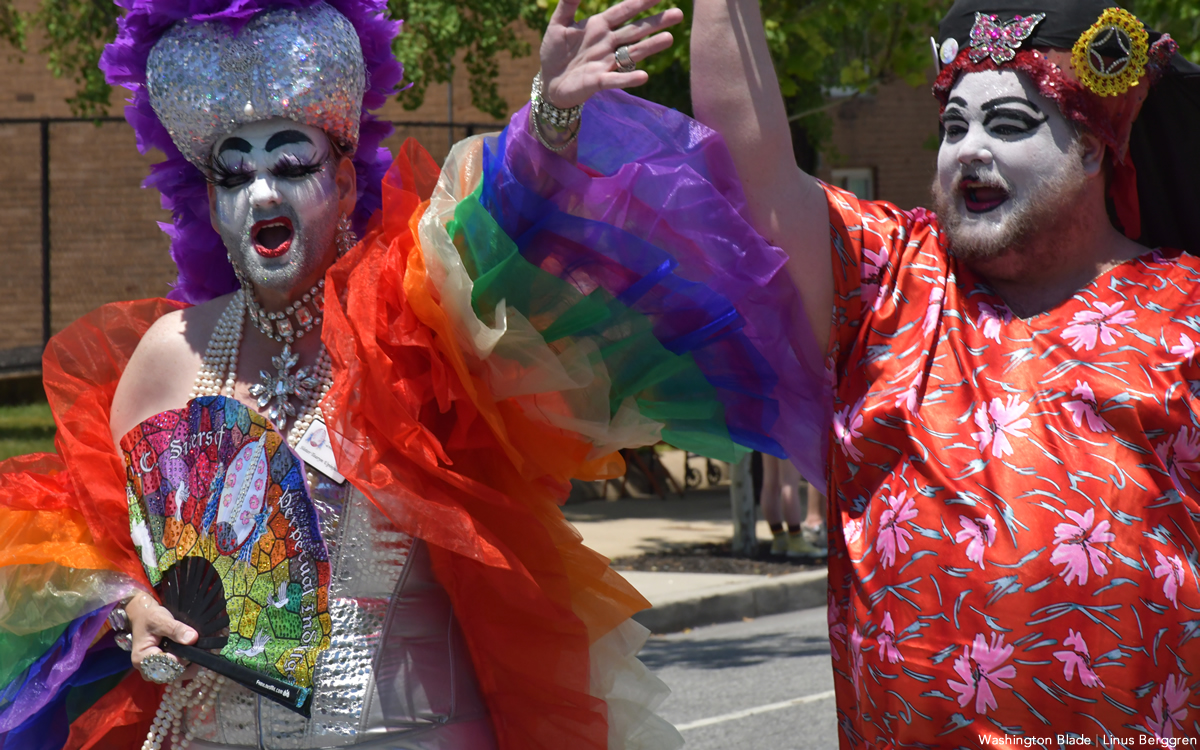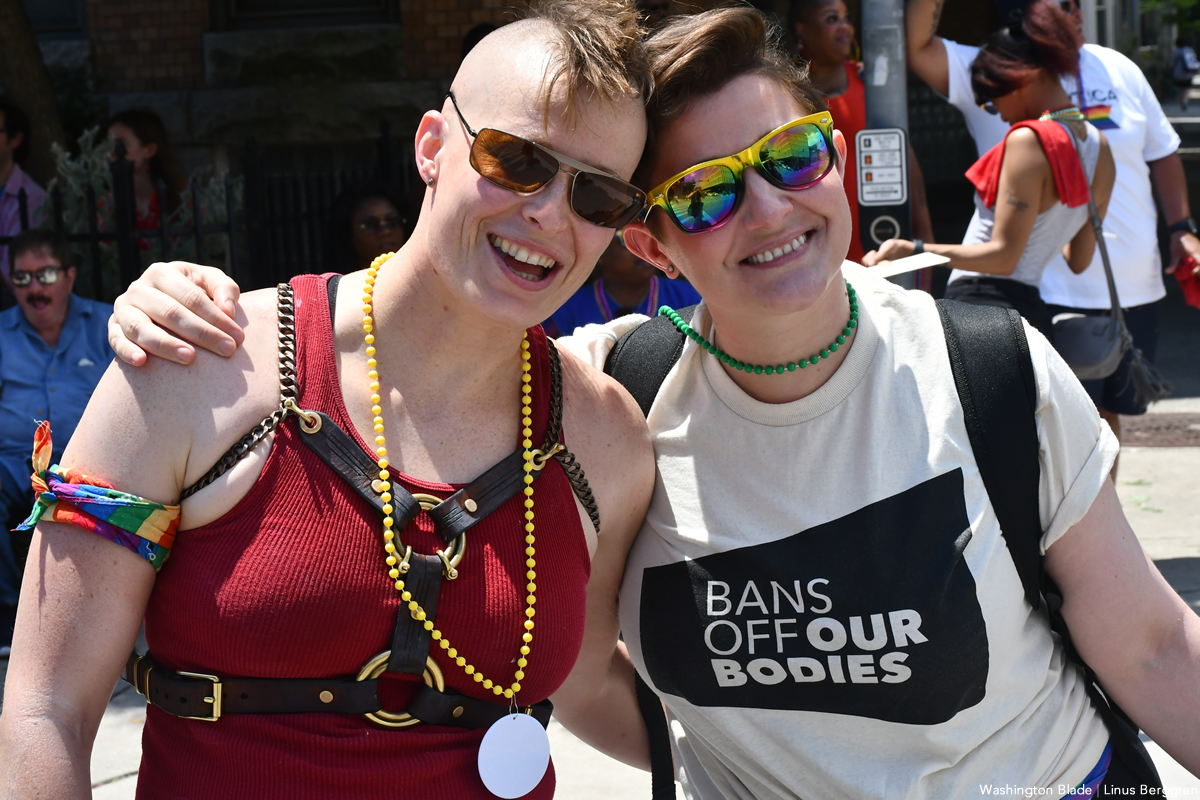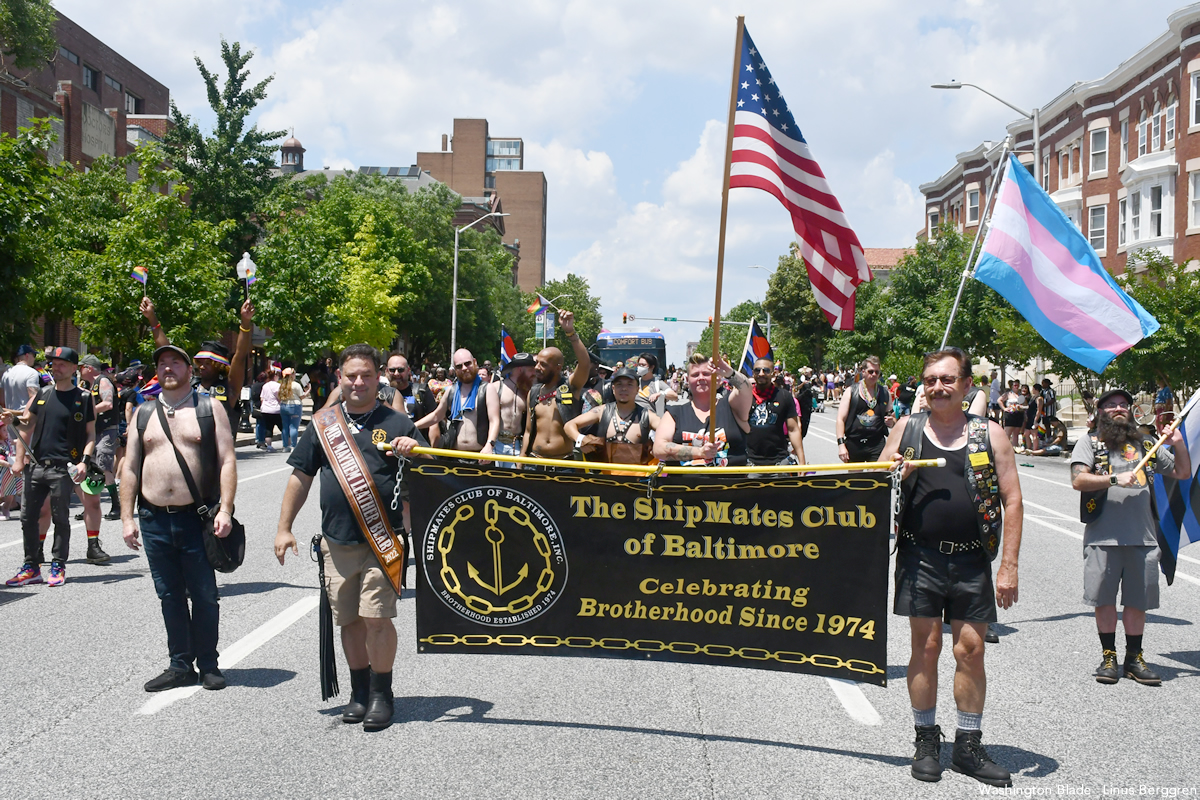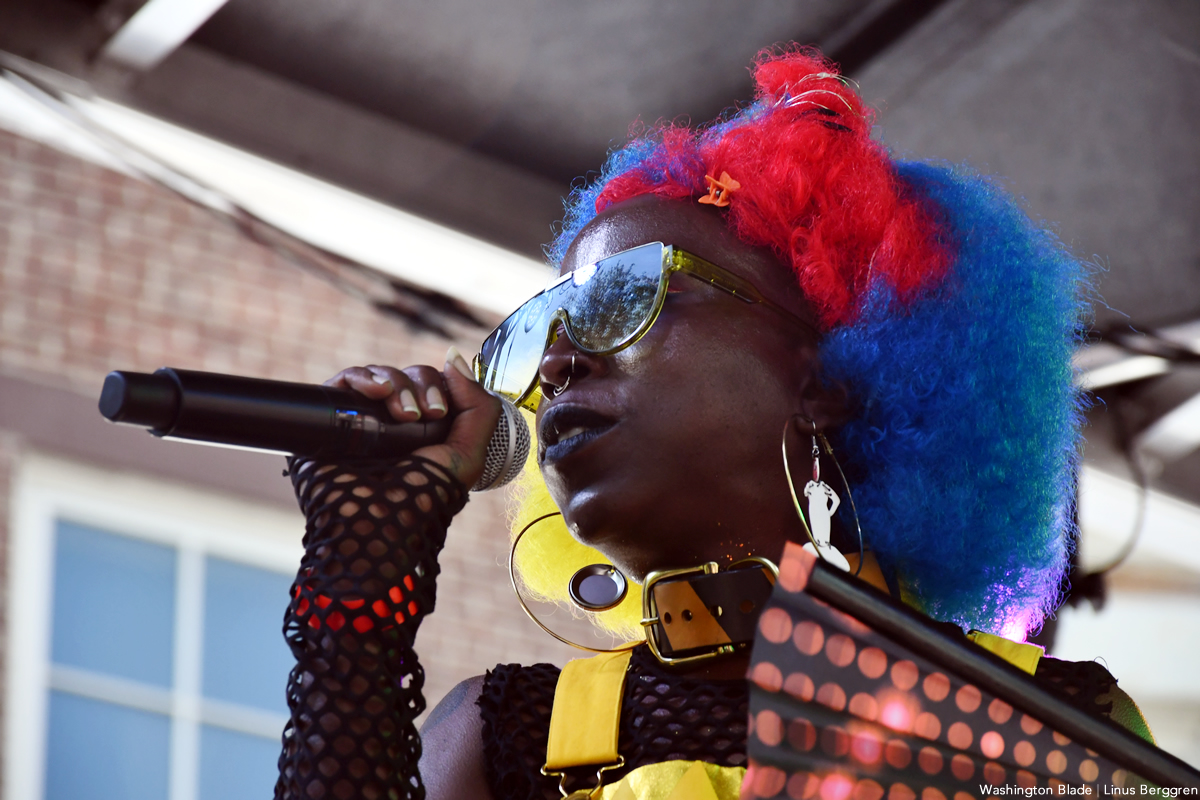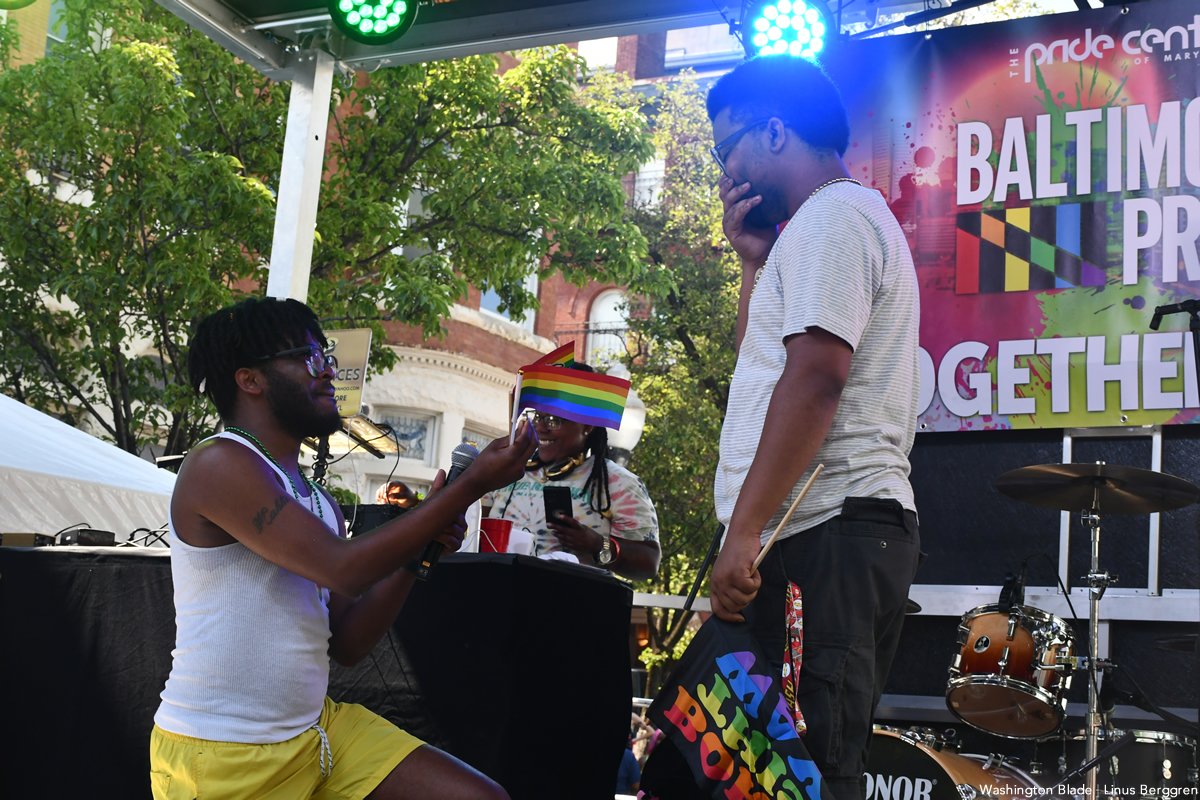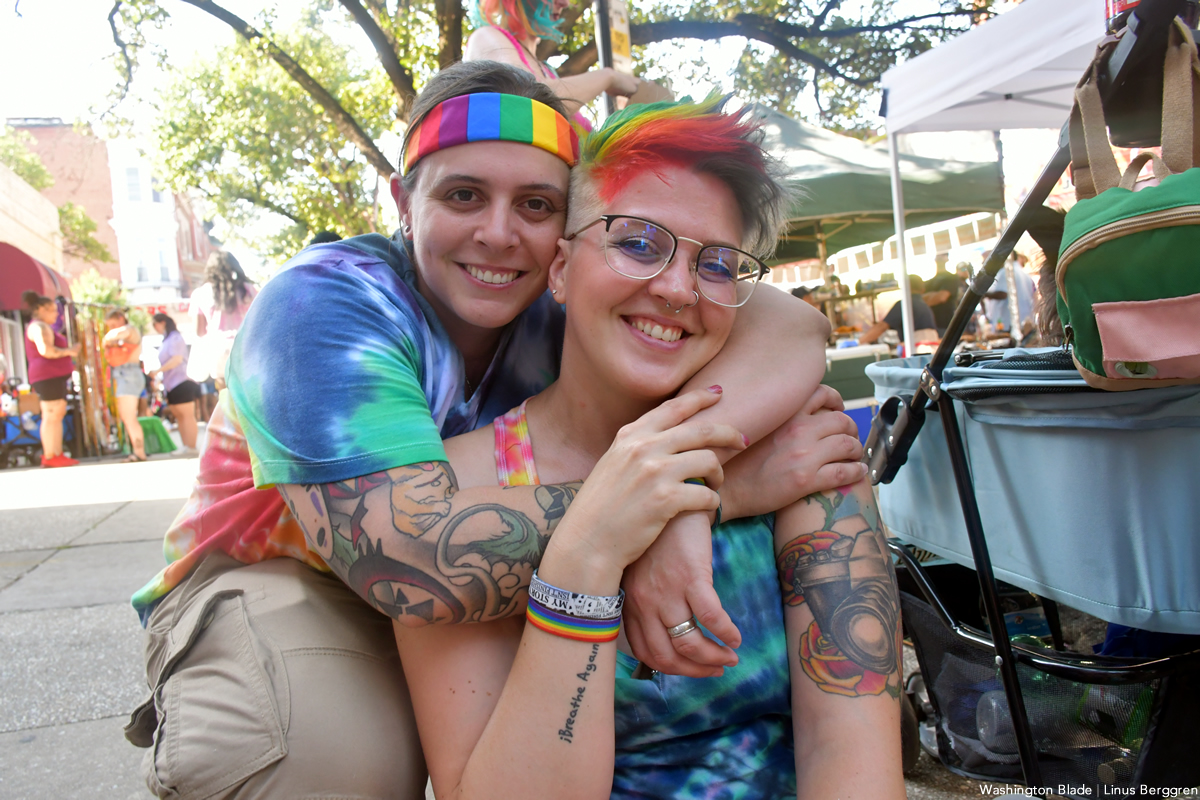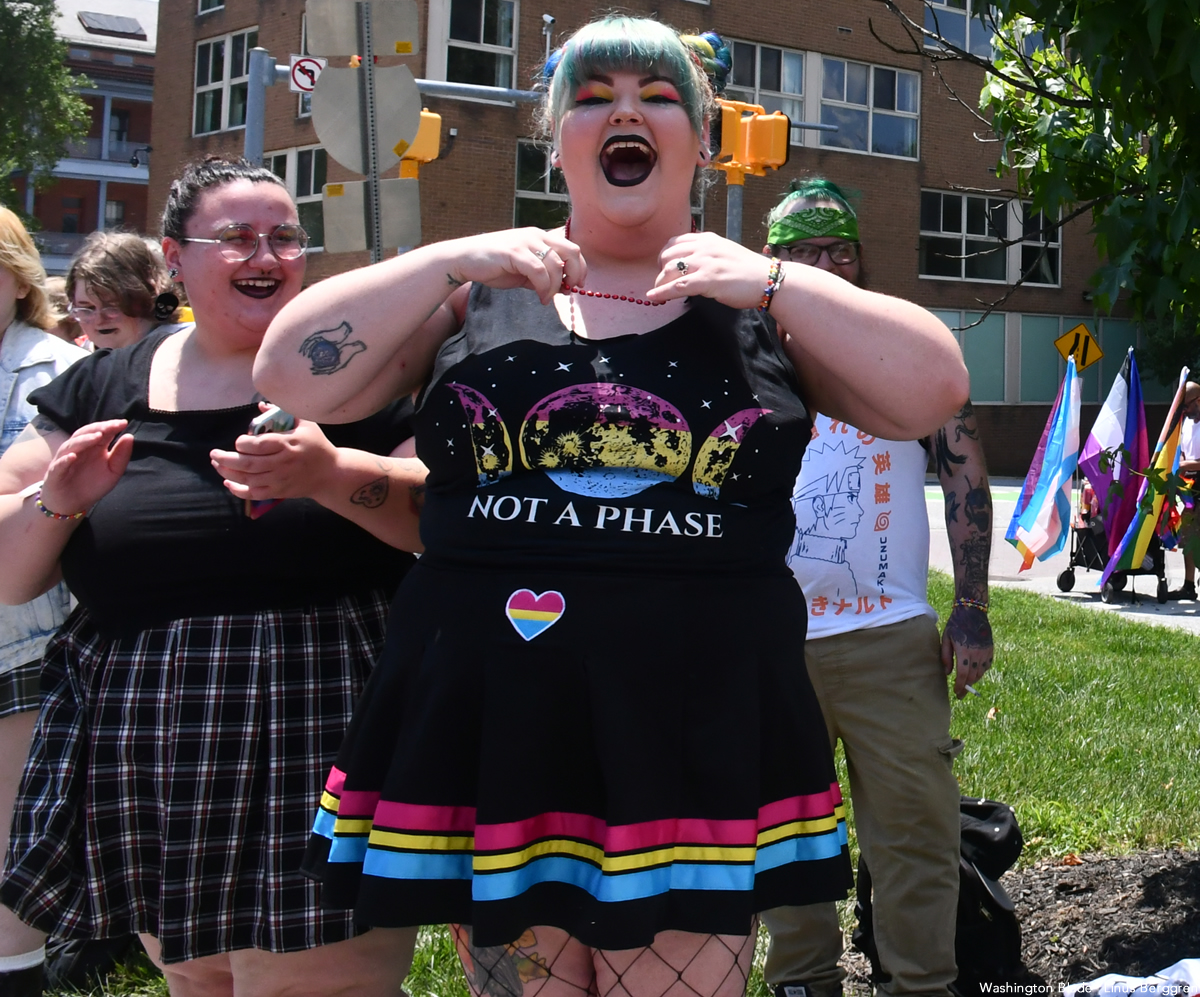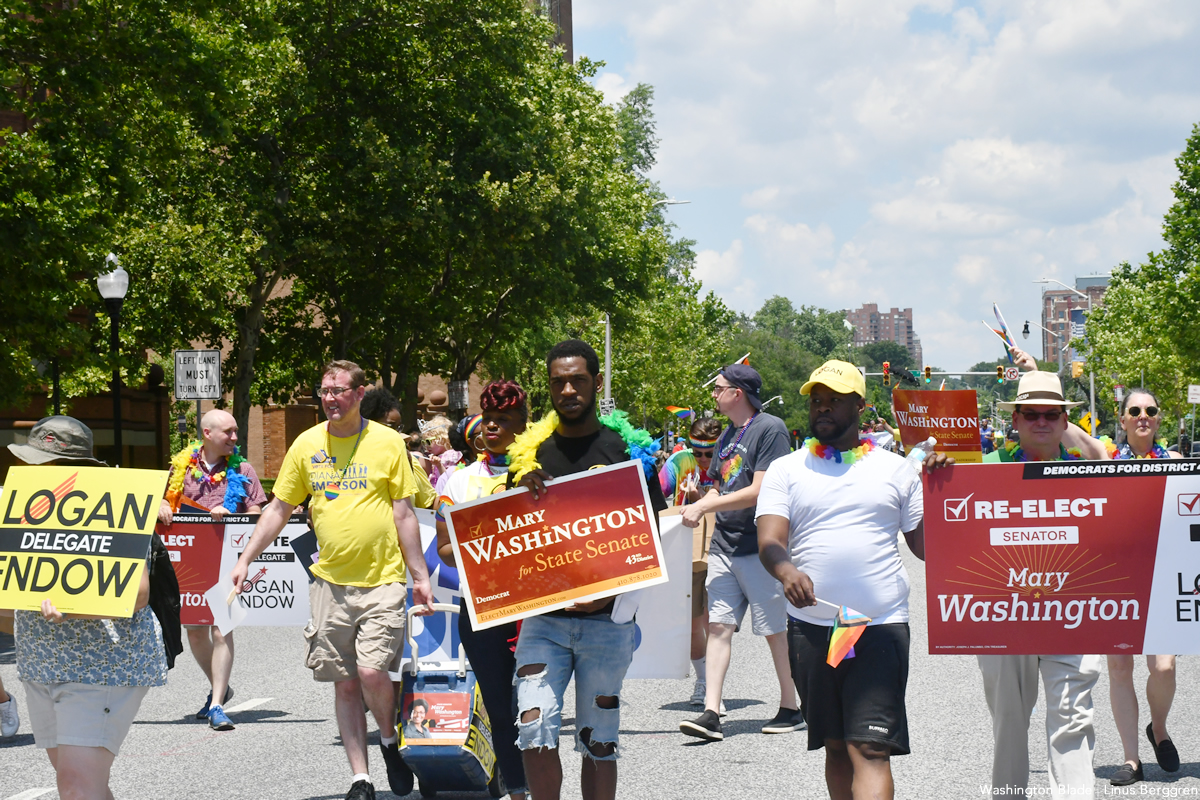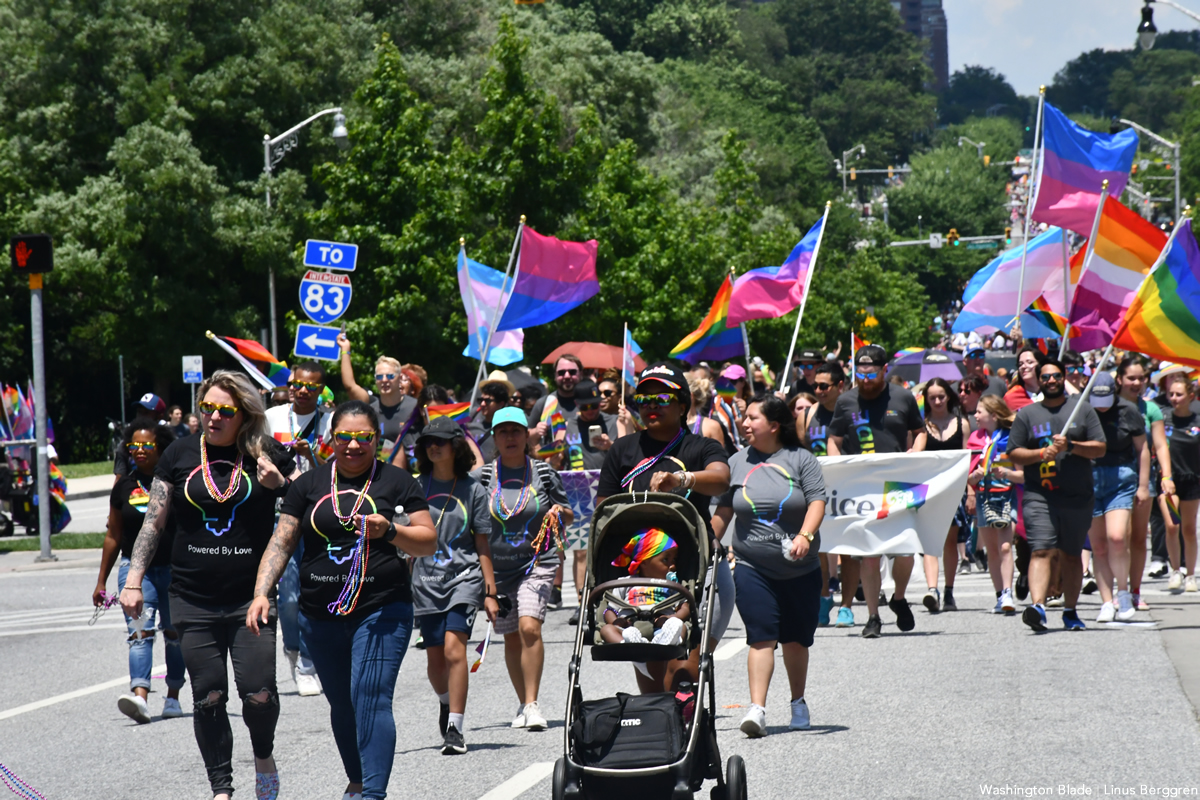 Queer actor on new role: 'Playing villains is a blast'
Jaye Ayres-Brown returns as a contemptible Londoner in 'Red Velvet'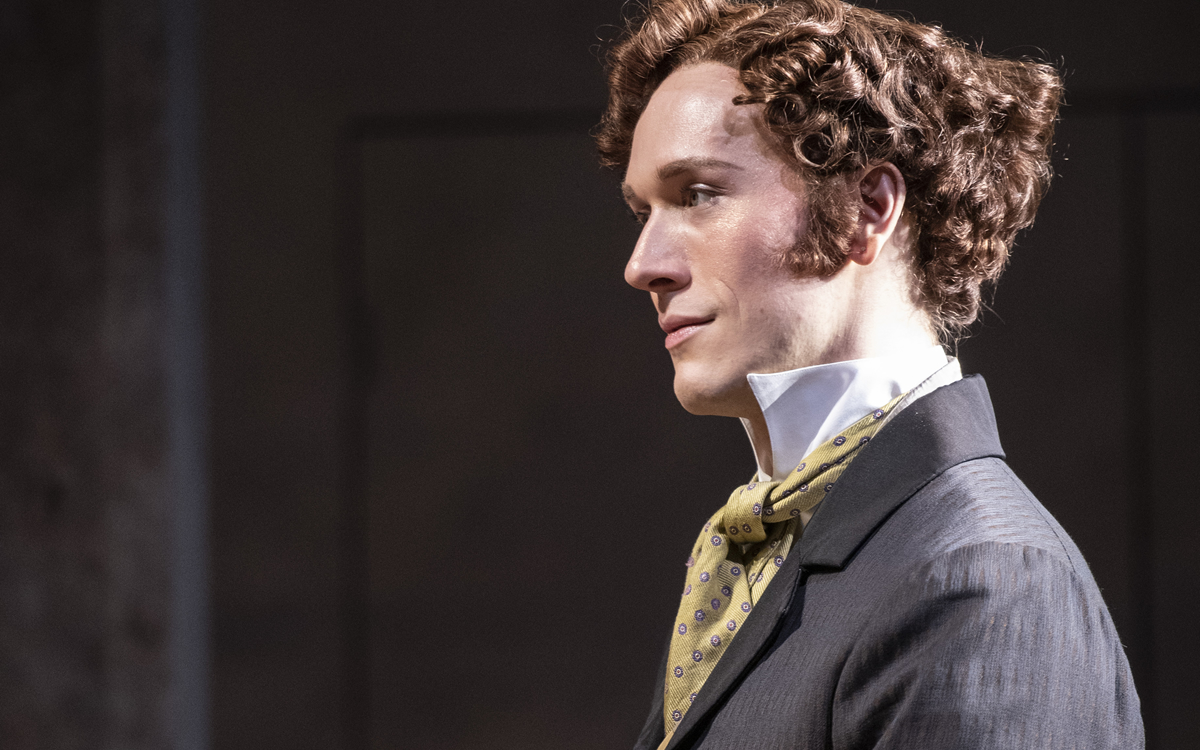 'Red Velvet'
Through July 17
Shakespeare Theatre Company 
Michael R. Klein Theatre at the Lansburgh, 450 7th St., N.W.
$35-$120
Shakespearetheatre.org
After a five-year absence from the stage, actor Jaye Ayres-Brown (queer, gender fluid, non-binary, and trans-femme) returns to the boards as a contemptible cisgender Londoner in playwright Lolita Chakrabarti's "Red Velvet" at Shakespeare Theatre Company's Klein Theatre.
Possessed of presence and genuine warmth, Ayres-Brown, 27, is playing Charles Kean, the smug and dubiously talented son of legendary English actor Edmund Kean. Charles is also the essential antagonist in Chakrabarti's exploration of the life and career of renowned early 19th century African-American Shakespearean actor, Ira Aldridge (Amari Cheatom).
When Aldridge is tapped to play Othello on the London stage, Charles, who's slated to act opposite the star as evil Iago, quits the show. It's 1833 and Charles is deeply opposed to a Black actor playing a Black lead character, and he's even less pleased that his real-life fiancée Ellen Tree (Emily DeForest) is assaying Othello's romantic obsession Desdemona in the production.
Offstage, Ayres-Brown is Aldridge's biggest fan: "He was way ahead of his time. A hundred years before Stanislavsky, Aldridge was introducing a proto naturalist approach to acting. In retrospect, it's hard to disentangle the public's reaction to him. He was something so different. But were white audiences reacting to his innovative acting style or were they showing their racial bias?"
"In the play, I'm that bias," says the New York-based actor.
WASHINGTON BLADE: Joan Crawford famously said, "I love playing bitches. There's a lot of bitch in every woman — a lot in every man."
JAYE AYRES-BROWN: Oh yeah, playing villains is a blast. Ira Aldridge was such a spectacularly heroic person, an amazingly gifted and resourceful artist, he deserves a good villain to push against, a meaningful villain who makes us admire the hero even more. And Amari [Cheatom], the actor who plays Aldridge, is a great artist who deserves a strong antagonist too.
BLADE: Are you enjoying your stay in London 1833?
AYRES-BROWN: No, I hate it! But my character loves it. Charles enjoys tremendous privilege – racial and professionally. He's a cisgender white supremacist committed to the patriarchal power structure of the time. But me, Jaye as a person, is less than charmed by it.
BLADE: But aesthetically, it's quite fine?
AYRES-BROWN: Yes, You-Shin Chen's sets are impeccable, and the period costumes are beautifully rendered by Rodrigo Muñoz. Sometimes, I do feel a little bit like a drag king in Charles' attire. It's a performance of masculinity.
I have an expansive experience of gender in which I include masculinity and I think I have something interesting to say and a unique perspective. Language about gender nonconforming identity didn't exist in 1833, but the people existed, getting by the best way they could. Everyone was either a man or a woman. Who knows today how any of these characters would identify?
My objective is to cram as much humanity in the character as I can. The play is deeply considered with questions about who gets to play what roles. And I try to bring as much of myself to each role regardless of their gender.
BLADE: Charles is very far from who you are?
AYRES-BROWN: For me, the work of playing a character like this is derived largely from the racist lessons all Americans learn. The stereotypes are things that I've been exposed to as someone who grew up white in America. There's the initial desire to distance and highlight contrasts, but ultimately you must mine your own experience even if it's uncomfortable.
BLADE: How is it to be working in live theater again?
AYRES-BROWN: Like Christmas morning! It's my first play in five years, and still my training kicks in. I re-balance on my bike and it's like I've never stopped riding. But mostly, I'm trying to have as much fun as I can.
BLADE: And how was working with young director Jade King Carroll?
AYRES-BROWN: Wonderful! The play deals with some difficult moments, harmful language and ideas. Jade created a space in our rehearsal room where people could be playful while engaging with that. Dealing with concepts of history requires the seriousness it demands, but there's also a need for humor and lightness, and Jade made that possible.
BLADE: Any thoughts on "Red Velvet" being stuck in time?
AYRES-BORWN: No, I think this play is a shockingly contemporary telling of a lost history that feels overwhelmingly resonant as it's related to identity politics and the push for representation. I hope the audience sees a period but appreciates the present-day dynamics, discussions, and language. It's also surprisingly human and very entertaining. To me it's a very funny show. Anyone interested in laughing at posh British folks being stupid might agree.
Olympic champion Tom Daley 'furious' about bans on trans athletes
"Anyone that's told that they can't compete or can't do something they love just because of who they are, it's not ok"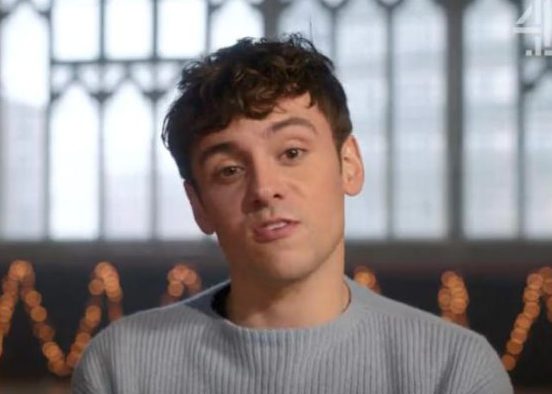 Olympic diving champion Tom Daley said he is "furious" about FINA, the world swimming body, banning some transgender athletes from women's swimming, diving, and other competitions. 
"Anyone that's told that they can't compete or can't do something they love just because of who they are, it's not OK," Daley said to iNews at a press conference. "It's something I feel really strongly about. Giving trans people the chance to share their side."
Earlier this month, FINA released the new policy on eligibility, banning athletes who have experienced male puberty from women's competitions.
FINA President Husain Al-Musallam said the new policy intended to protect athletes' right to compete but also ensure competition fairness.
FINA intends to create an open category for athletes whose birth sex is different from their gender identity.
"This has not been done before, so FINA will need to lead the way. I want all athletes to feel included in being able to develop ideas during this process." Al-Musallam said.
The new policy was condemned by the Human Rights Campaign, which said that requiring athletes to transition before age 12 was unrealistic and unlikely. States such as Alabama regulate young people's access to age-appropriate gender-affirming care.
"This sudden and discriminatory decision is a blatant attack on transgender athletes who have worked to comply with longstanding policies that have allowed them to participate for years without issue," said Joni Madison, HRC's Interim President, "This policy is an example of swimming organizations caving to the avalanche of ill-informed, prejudiced attacks targeted at one particular transgender swimmer."
The new policy will impact the career of trans swimmer Lia Thomas, the first trans woman to win a NCAA Division I Women's Swimming Championship, and may prevent her from participating and competing in the female category.