March 24, 2021 at 9:53 am EDT | by Patrick Folliard
Sharing poignant memories in 'A Boy and His Soul'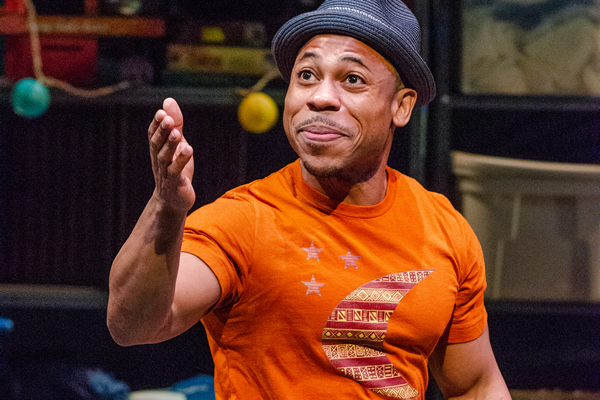 'A Boy and His Soul'
Round House Theatre
Streaming through April 18
Digital access is $32.50
Roundhousetheatre.org
In Colman Domingo's autobiographical one-man play "A Boy and His Soul," JJ's mother Edie urges her young son to go far away from the neighborhood but never forget where he comes from. It's a message the gay playwright has taken to heart.
Ably directed by Craig Wallace (best known as an accomplished, busy local actor), the Round House Theatre production is streaming through April 18 as part of the company's virtual spring season.
We meet JJ (Ro Boddie) as he returns to clear out the rowhouse where he grew up in West Philadelphia. His parents have moved south to Virginia, leaving behind the mostly Black once safe working-class neighborhood for a quieter life in retirement. For JJ, a young and struggling artist living in New York, the prospect of forever losing the family home, isn't easy.
In the house's unfinished basement, he looks over the remnants from decades of family life – an old gold easy chair; a tired white artificial Christmas tree; the huge console stereo with both turntable and eight-track player; and most importantly, crates of albums, the disco, R&B, and classic soul music that served as the soundtrack of his youth.
He explains how the tunes instantly take him back to cookouts, family reunions, corn rows and penny candy. All the things he associates with coming-of-age in the late 70s and early '80s in Philly. His was a house filled with music. It set the tone for his genteel mother and gruff stepfather's fortitude and long-lasting love affair, and his relationships with his two older siblings. Their house was immersed in music.
D.C.-based Boddie, a compact muscular actor with a sonorous voice, nimbly plays six roles – JJ and his family members including an enormous jovial aunt.
Clearly, young JJ is a little out of place in his house and hood. As a kid he plays classical violin, dabbles in ballet, and listens to the Carpenters. Like his TV role models — "Dynasty's" Crystal and Blake Carrington — he can't fathom doing the tootsie roll to a Millie Jackson record. But when his older sister Avery takes him to an Earth, Wind & Fire concert everything changes – the iconic group's showmanship and sound win him over.
His coming out story is short and rather sweet. After an unsuccessful lap dance at a seedy straight strip club, JJ blurts out to his bother Rick that he's gay. The news quickly makes it around the immediate family. His parents are mainly concerned that JJ might wear flamboyant scarves like his scandalous queer cousin, but otherwise they're not too bothered. The playwright credits the soothing sounds of soul with giving the family a balm of understanding.
At 80 minutes, it's a quick-paced, one-man show. And Boddie's morphing into various characters keeps things lively and far from mind-numbing. Skillfully filmed over two days at Round House in early March. The only audience present was the crew (due to COVID-19 regulations). It's the first of Round House's three one-person performances this spring: other upcoming productions include Lucy Alibar's "Throw Me on the Burnpile and Light Me Up," and Young Jean Lee's "We're Gonna Die."
In addition to penning plays, Domingo is an actor and producer. While his writing credits include the Tony Award-nominated Broadway musical "Summer: The Donna Summer Musical," he's acted in Barry Jenkins' "If Beale Street Could Talk," Steven Spielberg's "Lincoln," and Lee Daniels' "The Butler."
In "A Boy and His Soul," Domingo shares funny and poignant memories, vividly transporting his audience to nightclubs, Amtrak trains, and a crowded family house filled with loud music. His characters are rich and dimensional. For instance, JJ's stepfather reveals an understanding and poetic spirit beneath a rough exterior. It's a heartwarming piece, lovingly played by Boddie.
And while a familiarity with the memory-stirring sampled music enhances the experience, it's not mandatory to enjoy the show.