March 18, 2021 at 8:44 am EDT | by Patrick Folliard
'Simply Sondheim' packed with thrilling moments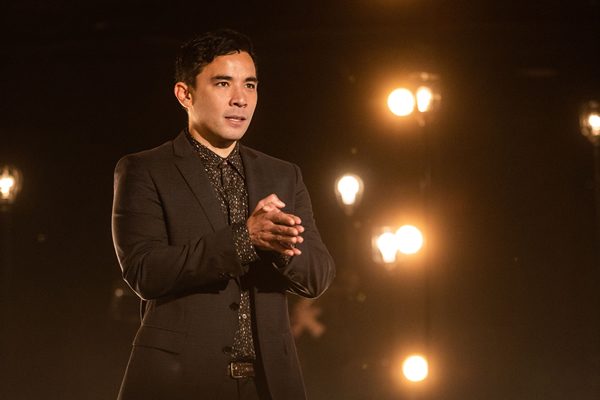 'Simply Sondheim'
Streaming on Marquee TV through March 26
Tickets for a 72-hour stream are $35
Sigtheatre.org
Standing alone on a bare stage, Conrad Ricamora feelingly sings "Finishing the Hat," Broadway composer and lyricist Stephen Sondheim's poignant paean to the obsessive artist from his stunning masterwork "Sunday in the Park with George." This is just one of many thrilling moments in Signature Theatre's "Simply Sondheim," now streaming through March 26.
As one of 12 sublime singers, Ricamora, the gay actor who until recently played Oliver Hampton, a gay HIV+ lawyer on TV's "How to Get Away with Murder" uses his Broadway musical bona fides ("The King and I") to delight musical theater fans with more than 30 tunes from the Sondheim canon.
Dedicated to the memory of Victor Shargai, a great Signature supporter who along with his husband never missed an opening night, the production was filmed in the company's MAX theatre over three days in November. Testing, distancing, and masks were strictly observed. As the show begins, you immediately notice accomplished musical director Jon Kalbfleisch masked, conducting a terrific 16-person orchestra – also masked, except those musicians playing brass and woodwinds.
The almost two hours of gorgeously filmed theatrical concert, superbly directed and choreographed by Signature's associate director Matthew Gardiner, spans through 50 years of work, brilliantly articulating emotions and exploring relationships from tortuous to stale. Some songs take on new meaning, seemingly tailored for the current world.
His scores are famously difficult to sing, but here it seems effortless. The singers – top notch all – include Broadway's Norm Lewis, Solea Pfeiffer, Emily Skinner, and the previously mentioned Ricamora along with Signature stalwarts Bobby Smith, Donna Migliaccio, Tracy Lynn Olivera, Christopher Mueller, Awa Sal Secka, Paul Scanlan, Nicholas McDonough, and Katie Mariko Murray
Olivera's considerable talent is showcased with songs ranging from the tender ballad "Goodbye for Now" from the film "Reds" to her likeable take on manic Amy singing the patter song "I'm Not Getting Married Today" from "Company."
Other songs from "Company" include "You Could Drive a Person Crazy" sung by Sal Secka, Mariko Murray, and, again, Olivera; Skinner's enjoyably boozy and embittered "The Ladies Who Lunch"; and later, Lewis' rich and powerful rendering of "Being Alive," the film's penultimate number.
McDonough is a standout singing "It's intolerable being tolerated" in young Henryk's song "Later" from "A Little Night Music," based on the Ingmar Bergman film "Smiles of a Summer Night."
Migliaccio and Smith, the always-entertaining bari-tenor who pretty much anchors the show, sing the parts of disaffected middle-aged mates bored by their relationship and perhaps life with "Country House" from "Follies," followed by Migliaccio's "Could I Leave You?" also from "Follies." It's a chance to enjoy some inimitable Sondheim lyrics: "Could I bury my rage with a boy half your age/ In the grass? / Bet your ass."
Migliaccio also memorably serves up some Mrs. Lovett with "The Worst Pies in London" from "Sweeney Todd," a role she's played in the past at Signature.
Signature's relationship with Sondheim runs deep. Over the last thirty years, the Tony Award-winning Arlington theater has produced more of Sondheim's work than any other theater in the country. And 90-year-old composer, who lives who lives with his husband in New York, gave Signature permission to film and release the show, a theatrical concert that was created especially for them.
Outstandingly conceived and executed, the work is entirely absorbing whether viewed on your laptop or an enormous flat screen (it can be streamed via computer or TV through the Marquee TV app).
Happily, there's still time to catch Signature splendid "Simply Sondheim." And while this recommendation is late in coming, its enthusiasm is undimmed.