March 26, 2021 at 9:32 am EDT | by Kathi Wolfe
A high-five for 'Singled Out'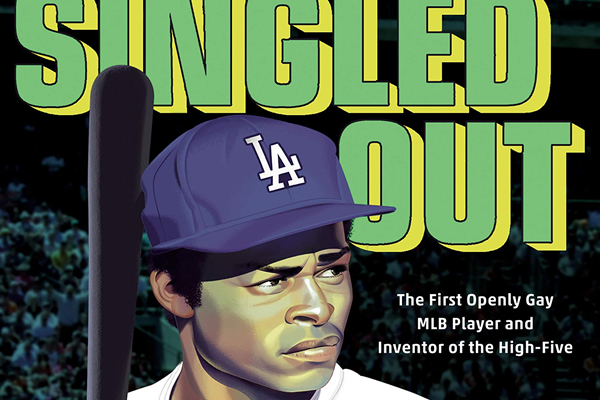 'Singled Out: The True Story of Glenn Burke'
By Andrew Maraniss
c.2021, Philomel Books $17.99/320 pages
"Singled Out: The True Story of Glenn Burke" by Andrew Maraniss is the perfect read for you if you've been jonesing during this pandemic winter for baseball.
The affection queer fans have for baseball is intermingled with sadness and anger. Because, historically, Major League Baseball has been homophobic.
"Singled Out," written for readers age 12 and up, sheds light not only on homophobia in MLB but on LGBTQ history. Maraniss tells the story of Glenn Burke, a Black, gay man who was in Major League Baseball from 1976 to 1979 (playing with the Los Angeles Dodgers, then with the Oakland Athletics).
Burke, who was born in 1952 and died in 1995 from complications of AIDS, was the first openly queer MLB player. Though he didn't come out until after he stopped playing with the MLB, his sexuality was an open secret. His family, friends and teammates know he was gay.
"Singled Out" is a page-turner for teens and adults. Maraniss, whose first book "Strong Inside" received the Lillian Smith Book Award for civil rights and the RFK Book Awards' Special Prize for social justice, makes Burke come alive.
In lesser hands, Burke's story could have been a dull history lesson. Thankfully, Maraniss, who lives with his wife and children in Nashville, transforms Burke's story from a historical footnote into a vibrantly lived life.
Burke, born in Oakland, Calif., loved being in the limelight even when he was a child. From early on, he was a terrific singer as well as a fab athlete. At age nine, he was among a group of Berkeley kids who sang in the chorus of a recording of a live album by the popular folk group the Limeliters. He's on the album cover wearing a gold sweater.
As a student at Berkeley High School, Burke was a star baseball and basketball player. LA Dodger coach Junior Gilliam, after watching Burke play, said Burke was the next Willie Mays. After playing for one season in the Dodgers farm system, he played with the basketball team at Nevada-Reno for a few games in the 1974-1975 season.
Burke was a highly touted prospect for the Dodgers. He was popular with his teammates, who loved the way he played his music and made them laugh. He started in center field in Game 1 of the 1977 World Series.
On top of that, Burke invented the high five. In the last game of the 1977 season, Dusty Baker hit his 30th home run. Burke greeted Baker with a raised hand as Baker crossed home plate. Baker slapped Burke's hand. This was the first high five. When Burke, too, hit a home run, Baker greeted him with the second high-five in history.
Though Burke was closeted, he lived as an openly gay man in San Francisco during the off-season. But he discovered that "fame came with a price," Maraniss writes.
"In the baseball world, he worried he'd be shunned because he was gay," Maraniss adds, "In the gay world, he resented that his fame was the only reason some men cared about him … otherwise he'd just be another gay Black man facing two layers of discrimination."
The Dodgers offered him $75,000 if he would get married. "To a woman?" Burke asked as he turned down this proposal.
After being let go by the Dodgers and leaving the A's because of homophobia, Burke struggles with homelessness and drug addiction. In fast-paced, short chapters, Maraniss writes of Burke's pain and of his legacy. He sets the homophobia that Burke encounters within the context of the 1970s – Anita Bryant, sodomy laws – the decade after Stonewall. This is particularly helpful for young readers who would have little or no knowledge of that time.
Burke was posthumously honored at the 2014 All-Star Game and inducted into San Francisco's Honor Walk in the Castro in 2017. Last year, the MLB paid tribute to Burke during Pride month. In December 2020, Oakland's LGBTQ Community Center's wellness clinic was named after Burke.
Without being preachy, Maraniss deftly tells Burke's story. A high-five for "Singled Out."