April 2, 2021 at 11:31 am EDT | by Kathi Wolfe
'The Storm' chronicles 15 painful years in the AIDS epidemic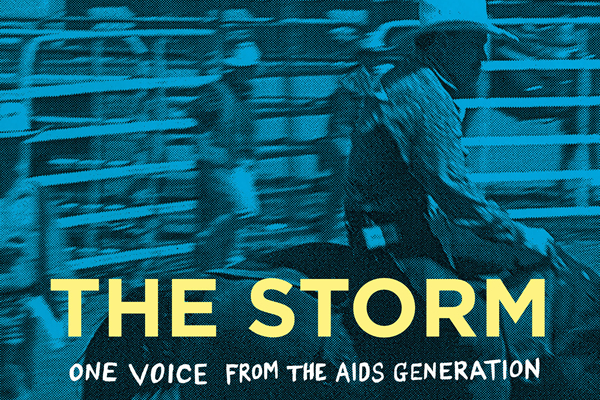 Christopher Zyda has been picked on by Joan Rivers, resigned and un-resigned a day after quitting from a high-level job with Disney and given a (widely viewed on You Tube) University of California, Los Angeles (UCLA) English Department commencement speech. Zyda, 58, who grew up in Porter Ranch in the San Fernando Valley, a conservative, upper-middle-class LA suburb, has played the piano since he was seven and enjoys CrossFit.
Growing up a Roman Catholic, Zyda drove his catechism teacher to distraction. A skeptical young man, he invented many lively sins to confess to the nun teaching them how to practice confession. On hearing his "sins," the sister quickly kicked him out of the confessional.
Zyda's parents wanted him to become a doctor. But from early on, Zyda's ambitions lay elsewhere. In his heart he knew: English majors rule. Growing up near Hollywood, he wanted to write screenplays.
When he was a freshman at UCLA, Zyda jokes, "I came out to my parents and said 'I want to be an English major.'"
Though Zyda knew he was gay when he was a teenager, he was closeted then. His first reveal was when he came out to his fraternity in 1984.
His (deceased) sister Joan, a journalist, was a lesbian. The Chicago Tribune fired her because she was gay.
At age 29, Zyda became a widower when Stephen, the first love of his life died from AIDS at age 41 in 1991. Stephen, who grew up in Washington, D.C., was an attorney and an economist. He attended Yale University, the Massachusetts Institute of Technology and Yale Law School.
Zyda met Stephen in 1984 at the Athletic Club Gym in West Hollywood. Stephen lived then in LA's upscale Windsor Square/Hancock Park/Fremont Place neighborhood. Stephen was 33, Zyda was 21. Late last year, Zyda's memoir "The Storm: One Voice from the AIDS Generation" was released. "The Storm" covers 15 years of Zyda's life — 1983 to 1998 — from his first year living as an out gay man to his life in the aftermath of Stephen's death. It offers "Searing and empowering reflections from a dark, defining era in LGBTQ+ history," according to Kirkus Reviews.
"My story is just one of many stories from the AIDS generation," Zyda writes in "The Storm."
Yet, though written from his unique perspective, "The Storm" speaks to those who lived through the height of the AIDS epidemic and to young people who want to understand that time.
In a telephone interview, Zyda, who lives in the Hollywood Hills in LA and is married to Michael Wieland, spoke about his life and what it was like to write "The Storm."
For decades after Stephen died, Zyda didn't want to emotionally relive that part of his life. "For 26 years, those painful memories were buried," Zyda said.
"I didn't want to write about it," Zyda said, "I didn't think it would be that exciting. But friends got on me. My friend Karen wouldn't give up."
Zyda began writing in 2017. A group of his friends critiqued every chapter as he wrote. "I told myself that I'd have to write it in six months," he said. "I wrote every Tuesday and Thursday night after dinner and for an entire day every weekend."
"I travel a lot to the East Coast," Zyda added. "If I was on an airplane for longer than two hours, I would write. If I didn't have to work on business, I'd write in my hotel room."
He wanted his memoir to come from his own experiences, so he didn't read other AIDS memoirs.
At first, facing his memories was difficult. "When I started writing, I got a horrible cold. It lasted a long while."
But his reading group kept after him to write more chapters. They couldn't wait to read the chapters as fast as he could write them.
After a while, "I realized how much it helped me to put it on the page," Zyda said. "It helped me to emotionally face my history." Zyda completed a first draft of "The Storm" in 177 days – just under six months. "My husband was so supportive," Zyda said, "even when I told him the memoir was about my first partner. And that I'd have to spend less time with him."
Writing "The Storm" brought him back full circle. "I'd wanted to be a writer," said Zyda, who graduated from UCLA with a bachelor's in English in 1984. Yet, he had to cast his dream aside to care for Stephen when he became ill from AIDS. In 1989, Zyda earned an M.B.A. from the UCLA Anderson School of Management.
In 1988, he began working as a summer intern with the Walt Disney Company. Zyda worked for Disney for 10 years, eventually becoming Disney's Chief Investment Officer.
After leaving Disney, Zyda worked with Amazon as its assistant treasurer, treasurer and vice president and international CFO. In 2001, he joined eBay as its vice president of finance. In 2003, he became San Francisco-based Luminent's senior vice president and CFO.
In 2007, Zyda launched Mozaic, LLC, a boutique Beverly Hills-based investment management firm. Today, he is Mosaic's CEO.
Disney was "incredibly supportive" when Stephen was ill with AIDS, Zyda said. But he wasn't covered under Zyda's health insurance. (Disney didn't offer benefits to same-sex couples then.)
At that time, LGBTQ people had few, if any, legal protections. People with AIDS, and their partners, were routinely shunned by their families, health care providers – sometimes, even friends.
Thousands and thousands – hundreds of thousands of people died from AIDS. "People disappeared," Zyda said, "it was the AIDS vortex of insanity."
Homophobia was still rampant in the 1980s and early 1990s. "My sister was crushed after she was fired by the Chicago Tribune because she was a lesbian," Zyda said, "she had no legal recourse and she wouldn't come out to my parents."
Zyda came out to his parents when Stephen became ill with AIDS. His parents believed then that being gay was sinful. Because of their homophobia, he was estranged from his parents for a time. Later, his folks accepted his sexuality and they and Zyda had a loving relationship.
Stephen's parents, Zyda said, fell completely into the "AIDS vortex of insanity."
Stephen's parents' feelings about Stephen having AIDS and toward him were "tied to their religious morality, anger, shock, and fear," Zyda said.
Not all of Zyda's memories are painful. He and Stephen traveled, studied philosophy and engaged in rousing political debates. Stephen was a Republican – fiscally and socially conservative; Zyda was fiscally conservative and liberal on social issues. Today, he identifies as an independent.
Early in their relationship, Zyda and Stephen went to a benefit where Joan Rivers raised money to help people with AIDS. The couple deliberately sat in the front row – hoping that Rivers would pick on them. "It was great! She skewered us!" Zyda said. "Then, she gave us all the plants on the stage because we were such good sports."
Zyda decries the homophobia of the Catholic Church. Yet, its core values of forgiveness and being a good person have remained with him.
"Writing this story helped me to come to terms with the hand of cards dealt me," Zyda said. "There's a 'It's a Wonderful Life' quality about my life.""Overall, I've been forgiving and made the right choices," he added.