New Partnership to Support LGBTQ COVID-19 Vaccine Clinics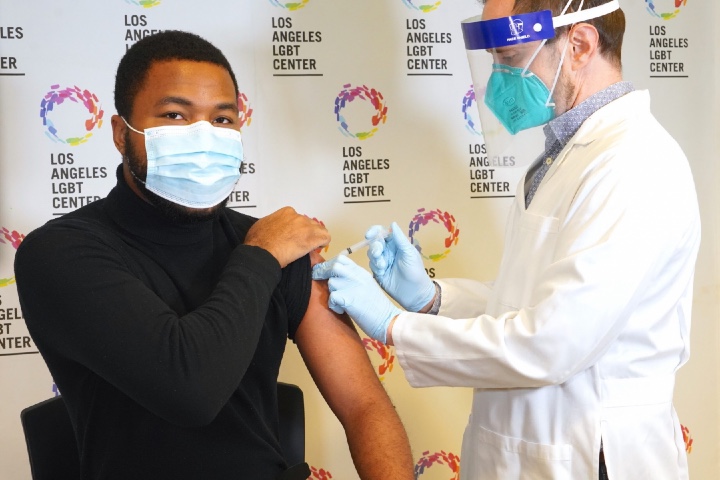 The Leonard-Litz Foundation has partnered with Bradbury-Sullivan LGBT Community Center, a nonprofit organization in Pennsylvania, to increase the capacity of LGBTQ community centers to host COVID-19 vaccination clinics.
Five LGBTQ community centers in the Northeast and Mid-Atlantic have been selected to receive a grant from the Leonard-Litz Foundation and technical assistance from Bradbury-Sullivan LGBT Community Center.
The five centers are:
The five participating centers are organizing leading-edge vaccine promotion strategies, even adding incentives such as drag performances and additional health services to the vaccine sites.
Bradbury-Sullivan LGBT Community Center has been offering LGBTQ COVID-19 vaccine clinics since mid-March and has arranged over 1,000 doses through clinics held on-site. This partnership seeks to ensure that LGBTQ community centers across the Northeast and Mid-Atlantic are prepared to offer COVID-19 vaccines for the LGBTQ community in their service areas.
"Vaccine hesitancy is the number one issue we need to address if we want to return to living our lives," said Elliot Leonard, founder of the Leonard-Litz Foundation. "The LGBTQ community has endured decades of discrimination from both public and private health organizations, and many are understandably concerned about revealing personal information as part of the vaccination process. This partnership seeks to address that head-on by implementing vaccine protocols through LGBTQ-supportive organizations."
"The COVID-19 vaccine is essential to protecting the lives of LGBTQ people—and all people," said Adrian Shanker, executive director of Bradbury-Sullivan LGBT Community Center. "But due to many barriers to care, LGBTQ people may not be able to access vaccines. That's why Bradbury-Sullivan LGBT Community Center is so pleased to partner with Leonard-Litz Foundation and five regional LGBTQ centers to increase capacity for COVID-19 vaccine clinics specifically for the LGBTQ community."
Bradbury-Sullivan LGBT Community Center provides arts, health, youth, and pride programs to strengthen and support the LGBTQ community across the Greater Lehigh Valley. They previously received a grant from Leonard-Litz Foundation to help support their LGBTQ-specific health advocacy in Pennsylvania.
In-person 2022 International AIDS Conference to take place in Montreal
Pandemic forced 2020 gathering to go virtual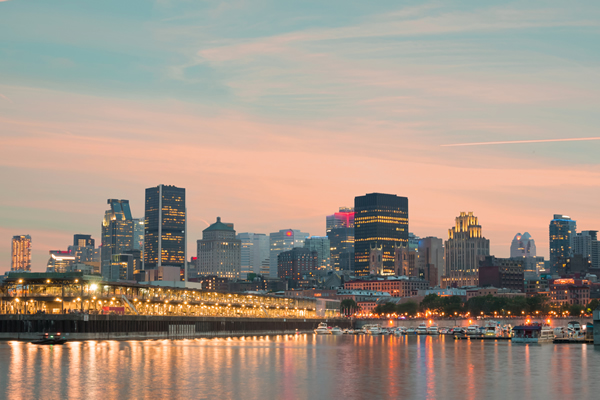 The International AIDS Society has announced the 2022 International AIDS Conference will take place in-person in Montreal.
The conference, which will also feature virtual events, is scheduled to take place from July 29-Aug. 2, 2022. Pre-conference meetings are slated to begin on July 27, 2022.
"AIDS 2022, the world's largest conference on HIV and AIDS, will convene leading scientists, policy makers and grassroots activists," reads the International AIDS Society's announcement.
Canadian Health Minister Patty Hadju is one of the conference's co-chairs.
"We know that there is still a long way to go in the fight against HIV and AIDS," said Hadju in an International AIDS Society press release. "In 2022, Canada will proudly host AIDS 2022 so that we can further our commitments to ending the HIV and AIDS global epidemic."
"We remain committed to our 95-95-95 targets, moving towards reconciliation with Indigenous peoples, and to reducing stigma and discrimination," added Hadju. "By bringing together domestic and international partners, we can redouble our collective efforts to improve the health of all our citizens and finish the fight against HIV and AIDS."
The 2020 International AIDS Conference was to have taken place in San Francisco and Oakland, Calif., but it took place virtually because of the coronavirus pandemic. The 2012 International AIDS Conference took place in D.C.
NAMI in conversation about managing mental health
Guided discussion and Q&A with a panel of experts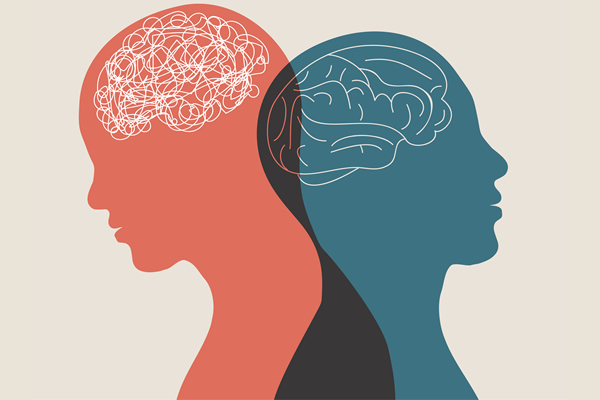 The National Alliance on Mental Illness hosts the fourth edition of "NAMI Ask the Expert Help Not Handcuffs," a webinar dedicated to addressing mental health crises with effective community responses. During this webinar, community experts provide an overview of the crisis model being developed and implemented in St. Tammany Parish, Louisiana, and offer background on how to get started locally on implementation of a new crisis system.
Following the presentations, NAMI's Chief Medical Officer Dr. Ken Duckworth will lead a guided discussion and Q&A with a panel of experts including Mary Burckell, Director of Safe Haven, Nick Richard, Executive Director of NAMI St. Tammany, Tom Rowan, Project Director and Peer Support Specialist Supervisor of NAMI St. Tammany, and Judge Alan Zaunbrecher, 22nd Judicial District Court of Louisiana. To register, visit NAMI's website.
D.C. mayor to lift all restrictions on bars, nightclubs on June 11
'We will definitely be celebrating Pride' next month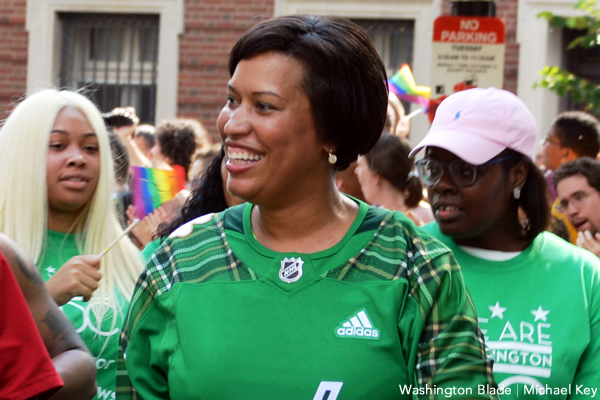 D.C. Mayor Muriel Bowser announced at a news conference on Monday that a continuing trend of significantly lower numbers of coronavirus cases and deaths in the city has enabled her to fully lift capacity and other restrictions on most businesses, including restaurants and places of worship, on May 21.
The mayor said bars and nightclubs will be allowed to increase indoor capacity from the current 25 percent to 50 percent on May 21, with all capacity restrictions for bars and nightclubs to be removed on June 11.
The mayor's announcement came after representatives of the city's nightlife businesses, including the city's gay bars and restaurants, expressed concern that D.C. had yet to lift its capacity restrictions beyond 25 percent while surrounding jurisdictions in Maryland and Virginia had already lifted most restrictions.
"On May 21, restrictions on public and commercial activity, including capacity limits, types of activities, and time restrictions, will be lifted," the mayor's directive says.
It says restrictions for bars and nightclubs would continue at a 50 percent capacity from May 21 through June 11. The directive says restrictions for large sports and entertainment venues would also continue from May 21 to June 11, which includes a requirement such events apply for a waiver of the restrictions on a case-by-case basis.
"On June 11, capacity limits and restrictions will be lifted on those venues that cannot fully reopen on May 21," the directive says.
In response to a question at the news conference, Bowser said the June 11 date would essentially end all restrictions on nightclubs and bars, including the current requirement that they close at midnight rather than the pre-epidemic closing times of 2 a.m. on weekdays and 3 a.m. on weekends.
In a development that could have a major impact on plans for D.C.'s LGBTQ Pride events, the mayor's revised health directive announced on Monday includes the lifting of all capacity restrictions on large outdoor and indoor sports and entertainment events beginning on June 11.
That change would remove restrictions that have, up until now, prevented D.C.'s Capital Pride Alliance from holding its annual Pride Parade and Festival in June during Pride Month.
Capital Pride Executive Director Ryan Bos told the Washington Blade shortly after the mayor's announcement that Capital Pride is assessing its options for expanding its current plans for in-person events in June.
"We will definitely be celebrating Pride in June," Bos said. "We just received this information as well. So, we will be getting further information," he said. "We have not been informed that they will be issuing any permits yet, so at this time we are moving forward with our original plans for doing things."
Bos was referring to a city requirement for obtaining permits for street closings and use of other public spaces for events such as a parade or street festival. He said existing plans, among other things, call for an informal parade of cars and other vehicles on June 12 that will drive throughout the city to view homes and businesses that will be decorated with Pride displays such as signs, photos, and other symbols of Pride.
Those familiar with the city's past Pride events don't think there will be enough time for Capital Pride to organize the traditional large parade and street festival in time for June. But Capital Pride officials have talked about holding a possible parade and festival in October, and the lifting of the capacity restrictions announced by Bowser on Monday would likely make that possible.
In addition to lifting all capacity restrictions on May 21 for restaurants, the mayor's May 21 timeframe for lifting restrictions includes these additional venues and events:
Weddings and special events
Business meetings and seated conventions
Places of worship
Non-essential retail
Personal services
Private at-home gatherings
Libraries, museums, galleries
Recreation Centers
Gyms and fitness centers
Pools
Office space
Schools
Childcare
"We're very pleased that over the last several days, we have seen our case spread, our community spread numbers, venture out of the red into the yellow and fast approaching the green," Bowser said in referring to a health department chart that shows the changes in coronavirus cases in the city.
"You might remember that our daily case rate peaked in January at 45.9. And today you can see it's down to 6.6," she said at her news conference on Monday.
"Throughout this process I have said how proud I am of D.C. residents and businesses who have responded, who have followed health guidance and have worked together to help protect our community throughout the pandemic. And we see it in these numbers today," she said.
"Containing the virus will continue to require all of us to be focused on maintaining a robust health system," the mayor said, adding that while over 200,000 D.C. residents have been fully vaccinated since December 2020, "many more thousands" still need to be vaccinated. "Vaccines are free and available on demand at walk-up sites across the District," she said.
The mayor also noted that the city will continue to require residents and visitors to use a mask in accordance with existing and updated guidance set by the U.S. Centers for Disease Control and Prevention.
Mark Lee, coordinator of the D.C. Nightlife Council, an association that represents restaurants, bars, nightclubs and other entertainment venues, said the mayor's directive on May 10 leaves some details to be addressed but will open the way to bring nightlife businesses back to life.
"What we do know is that on Friday, May 21, businesses begin returning to normal operations and, three weeks later, on June 11, all restrictions for all businesses in the District will end," Lee said. "It's a day we've long awaited and one that will save much of our community enterprise from financial ruin."