Lesbian, trans Defense nominees sail through confirmation hearings
Biden picks exemplify change after LGBTQ bans lifted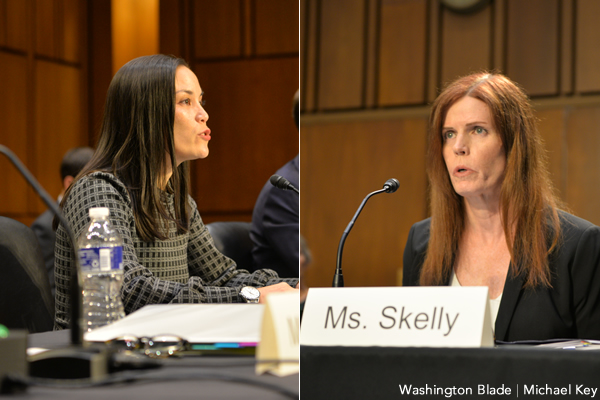 Two nominees, one lesbian and one transgender, sailed though a breezy confirmation hearing on Wednesday for high-ranking positions at the Defense Department.
Among the five nominees questioned before the Senate Armed Services Committee were Shawn Skelly, who's transgender and nominated to become assistant secretary of defense for readiness, and Gina Ortiz Jones, who's a lesbian and nominated to become under secretary of the Air Force.
The LGBTQ nominees for the high-ranking posts stand out in the wake of the Biden administration enacting to reverse the transgender military ban enacted under President Trump, as well as the coming anniversary of the lifting of "Don't Ask, Don't Tell."
Both Jones, a former Air Force pilot, and Skelly, a 20-year veteran of the U.S. Navy, served in the U.S. military at times when they would have been discharged due to their sexual orientation or gender identity.
Jones made a reference to serving under "Don't Ask, Don't Tell" as part of her opening statement for the confirmation hearing.
"My experience in the Air Force was hindered by the 'Don't Ask, Don't Tell' policy, yet I to remain undeterred because of my desire to serve our country," Jones said. "That experience cemented my resolve to ensure anyone ready and able to serve can do so to their full potential and accordingly our country's fullest potential."
Annise Parker, CEO of LGBTQ Victory Institute, said in a statement the nominations of the LGBTQ individuals to high-ranking Defense roles is significant.
 
"These two trailblazing nominees demonstrated their deep military expertise and qualifications before the committee and we know their experiences as LGBTQ people will shape their leadership in these critical positions," Parker said. "Their performance was a powerful testament to the progress our military and nation has made – just one decade after the repeal of 'Don't Ask, Don't Tell' – and is an important moment for LGBTQ service members who served or continue to serve in silence. Their confirmation will transform perceptions of LGBTQ people within the ranks of the U.S. military, but also among the leaders of militaries we work with around the world."
No member of the committee objected to — or even pointed out — the sexual orientation or gender identity of the nominees. In fact, Sen. James Inhofe (R-Okla.), who had openly called for codifying the transgender military ban into law as opposed to reversing it, notably recognized Skelly's gender identity by referring to her as "Ms. Skelly" when addressing her.
Questions, instead, comprised issues related to the U.S. military, including rooting out "extremism" in the military, competition with China, access to care at medical facilities and the U.S. military being the biggest single consumer of fossil fuels.
Skelly, in her opening statement, said she was "simultaneously humbled and inspired" over being nominated for the role as assistant secretary of defense for readiness, which includes being responsible for recruitment, career development, pay and benefits, and oversight of the state of military readiness.
"As a retired Naval flight officer, the importance of the department safety and professional military education programs, and the manner in which they support the readiness of the total force are deeply ingrained in me, and if confirmed, I will ensure they receive the priority and focus they deserve," Skelly said.
Jones and Skelly are two of three pending LGBTQ nominees for high-ranking Defense positions. The other is Brenda "Sue" Fulton, a lesbian who had advocated for "Don't Ask, Don't Tell" repeal and was nominated to become assistant secretary of defense for manpower and readiness.
It wasn't immediately clear why Fulton wasn't among the nominees questioned on Wednesday even though she was nominated at the same time. The Senate Armed Services Committee didn't respond Wednesday to the Washington Blade's request for comment.
2021 Best of LGBTQ DC Readers' Choice Award Finalist Voting
Vote for your favorite finalist in our 2021 Best of LGBTQ DC categories through October 3rd.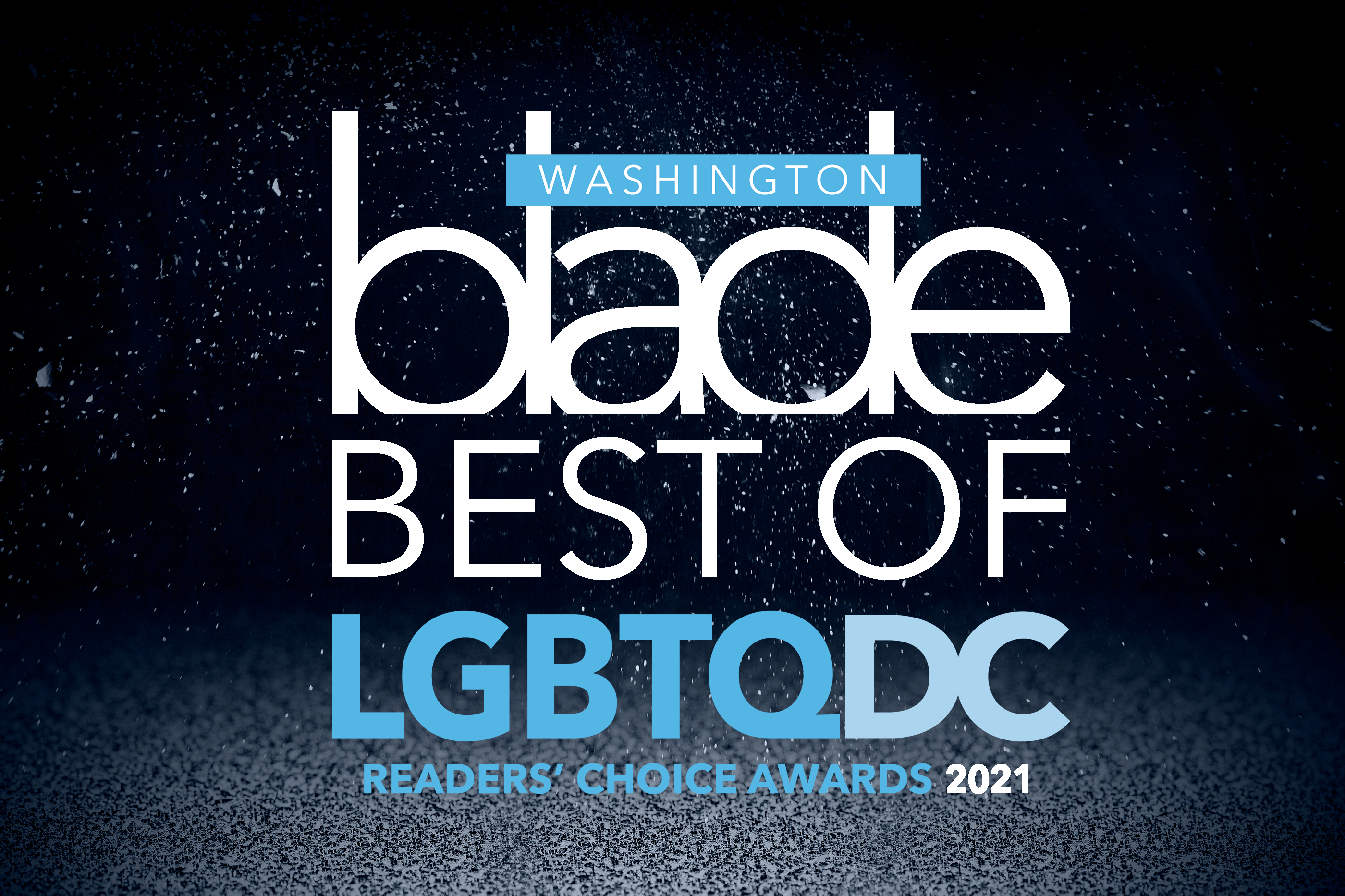 It is Decision 2021! You nominated and now we have our Top 5 finalists. Vote for your favorites in our 2021 Best of LGBTQ DC categories through October 3rd. Our 2021 Best of LGBTQ DC will be announced at the Best of LGBTQ DC Awards Party on October 21st and our special issue will come out on Friday, October 22nd.
Thank you to our sponsors: ABSOLUT, PEPCO, Washington Regional Transplant Community.
Vote below or by clicking HERE.
Biden highlights LGBTQ rights in UN General Assembly speech
President noted crackdowns in Chechnya, Cameroon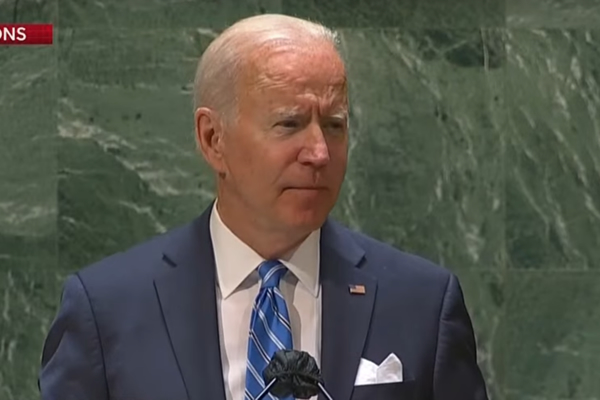 President Biden on Tuesday in his speech to the U.N. General Assembly spoke in support of LGBTQ rights around the world.
"We all must defend the rights of LGBTQI individuals so they can live and love openly without fear," he said.
Biden in his speech specifically cited anti-LGBTQ crackdowns in Chechnya and Cameroon. He spoke after Brazilian President Jair Bolsonaro, who is a vocal opponent of LGBTQ rights, addressed the General Assembly.
"As we pursue diplomacy across the board, the United States will champion the democratic values that go to the very heart of who we are as a nation and a people: freedom, equality, opportunity and a belief in the universal rights of all people," said Biden.
The White House earlier this year released a memorandum that committed the U.S. to promoting LGBTQ rights abroad.
The decriminalization of consensual same-sex sexual relations and protecting LGBTQ migrants and asylum seekers are two of the administration's five priorities in its efforts to promote LGBTQ rights abroad. Secretary of State Antony Blinken last week expressed concern over the fate of LGBTQ Afghans who remain in their country after the Taliban regained control of it, but it remains unclear how many of them the U.S. has been able to evacuate.
Veteran restauranteurs to open Drift in Rehoboth
Second Block Hospitality eyes 2022 debut for new raw bar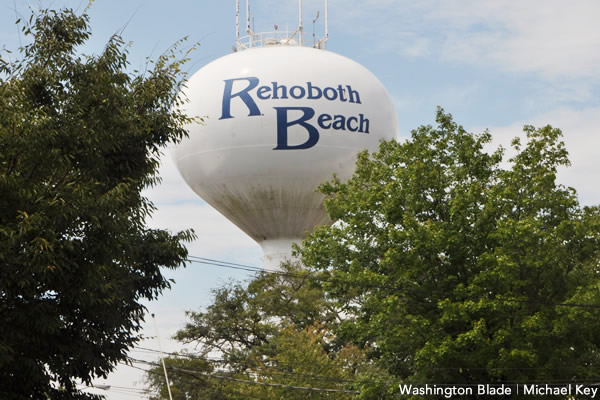 Despite the generally anti-business positions of the current Rehoboth Beach Mayor and some members of the Rehoboth Beach Commission, there are still some entrepreneurs who have faith in Rehoboth Beach.
One such group is the newly announced Second Block Hospitality Group, which brings together local industry leaders Lion Gardner, Tyler Townsend, Bob Suppies, and David Gonce.
According to the partners, "The mission of Second Block Hospitality is simple…to deliver exceptional hospitality. Second Block projects will be designed to become places that matter; that bring the community together. They aim to create unique spaces that foster positivity, a creative atmosphere, and memorable experiences. Driven by this philosophy we are thoughtful in everything we do, down to the smallest detail. In all our endeavors we are committed to crafting unique guest experiences through innovative design, authentic flavors, and warm hospitality."
Their first new venture, Drift, will be a raw bar and dining room on Baltimore Avenue. The new project, already underway, is a massive restoration designed to transform the existing building, originally built in 1890 and used as a camp meeting house, into a modern structure with historic charm. Drift restaurant will feature a refined design, open airy spaces and lots of glass for open vantage points with an indoor/outdoor bar area and intimate back patio that will add to the allure of Baltimore Avenue.
"We could not be more excited to be breaking ground on another passion project," said Suppies. "Coming through the last year brought many new challenges to our industry, but we were able to get very creative and grow as a company, so this new venture is very exciting for us."
Another of the partners, Gardner, brings his skill set as a longtime chef to the new venture.
"One of my roles in the company will be to oversee the menu and kitchen at Drift and all of our projects moving forward," Gardner said. "The great thing about our ownership group is that even though each partner has his own area of expertise, there is collaboration across the board; we are all involved in all aspects of the business. I am excited to learn and contribute in other areas as well, and luckily for me I'm working with a group of really talented, experienced and passionate guys."
Drift is slated to open sometime in early 2022, and things are in full swing for the new restaurant owners, including menu planning. Townsend said, "Drift will be a true raw bar focusing on the art of raw seafood and not just oysters, along with traditionally prepared dishes influenced by the sea. From a beverage standpoint we will feature craft cocktails and eccentric wine and beer offerings. Think small and intimate, rustic and classic, yet casual with a focus on culinary inventiveness and creative spaces." and good times. For more information visit driftrb.com.