'Pray Away' exposes horrors of 'conversion therapy'
The fraud is still out there, actively claiming victims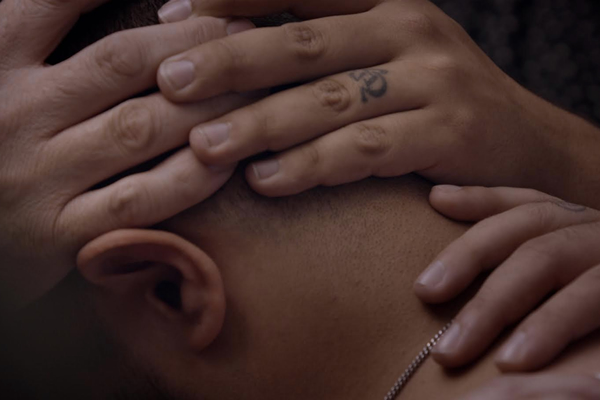 It's fitting that Blumhouse Productions should be among the array of associated companies behind the new documentary "Pray Away," which debuted on Netflix Aug. 3.
Now a major Hollywood player, Blumhouse Productions spent a decade building its success on creepy horror movies like "Paranormal Activity," "Insidious," and "The Purge." The horrors revealed in "Pray Away" are every bit as disturbing as anything in those movies; the difference is that these are horrors that take place in real life, and that makes them even more chilling.
As its title suggests, the Kristine Stolakis-directed documentary dives into the world of "conversion therapy," specifically in the form of the Christian "Ex-Gay" movement, and unspools its history from its beginnings in the 1970s. That was when five men, struggling with being gay in their Evangelical church, started a Bible study to help each other leave the "homosexual lifestyle." They quickly received more than 25,000 letters from people asking for help and formalized as Exodus International, the largest and most controversial conversion therapy organization in the world. After decades of spreading anti-LGBTQ propaganda and touting methods based on discredited and pseudoscientific practices, the company was rocked when a multitude of former "success stories" began to come forward and renounce their claims of having become heterosexual. Faced with public outcry and an inescapable recognition of the untold harm they had perpetrated, Exodus officially ended its operations in 2013.
"Pray Away" is not really about Exodus, though, nor is it about scandal – at least not the salacious kind. It's about the real human pain underneath all of that, and it follows the stories of several men and women who were once connected with Exodus. Once among the leaders and high-profile representatives of the organization, these are individuals who spent years as "Christian superstars" in the religious right before coming out as LGBTQ and disavowing the very movement they helped to start. Through the stories they tell of their personal journeys, and the resolve with which they dedicate themselves to debunking the notion that being queer is something that should or even can be "cured," they underscore the depth of the influence that conversion therapy – and its proponents – exerts not just on its participants but on LGBTQ society as a whole.
There's Mike Bussee, one of the co-founders of Exodus, who ultimately became one of the first high-profile members to denounce the group and come out as gay; John Paulk, another former Exodus leader, who along with his "ex-lesbian" wife was the face of the movement through appearances on television and magazine covers until being caught in a gay bar and exposed in the press; and Yvette Cantu, who became a highly visible spokesperson for conversion therapy and even served as a "policy analyst" for the Family Research Council – a virulently anti-LGBTQ organization that has been designated as a hate group by the Southern Poverty Law Center – before crippling anxiety forced her to confront her feelings of guilt over the harm she was helping to inflict.
These narratives, interwoven throughout to form a bigger picture, bear witness to the personal damage caused by conversion therapy, but many of them also cast light on the even more ominous nature of the movement's machinations behind the scenes, as it aligns itself with politicians to gain the power necessary for turning its anti-LGBTQ stance into legislative and judicial policy. Randy Thomas, the former Exodus vice president who disassociated from the group shortly before it disbanded, relates how the movement allied itself with conservative politicians eager to stir up their constituents with a "moral" issue and facilitated the passing of Proposition 8, the California referendum that effectively banned same-sex marriage before being struck down by the Supreme Court in 2015. The implication – that a well-organized minority can gain enough political traction to impose its extreme views on a whole society – is something of which most viewers will already be keenly aware, given the shape of the last few years, but it serves as an chilling reminder of the very real and widespread harm that has been perpetrated by fundamentalist bigots acting in the name of religion.
Of course, "Pray Away" is also a story of triumph; the subjects who share their stories are shown clearly to have moved beyond the lies of conversion therapy to live much happier, fulfilled lives; one, Julie Rodgers, who was once groomed as the poster child for an Exodus-affiliated "ex-gay" ministry, is even in the process of planning a wedding with her girlfriend – perhaps the most appropriate "happy ending" of all, considering the circumstances.
Still, though, the disquieting realities exposed by Stolakis' documentary are never quite erased by these positive outcomes. Outdated notions that are perennially used to sex-shame queer people and frame their identity as a dysfunction – the parents are to blame, masturbation is bad, gay people are child molesters, girls become lesbians through fear of men, and other such infuriating tropes – keep turning up in the discourse throughout; a procession of pious, white male faces (some belonging to disgraced former "moral leaders" like Jerry Falwell) decry homosexuality as sinful in archival media clips; and in perhaps the most unsettling sequence, we see footage of a notorious "reparative therapy" psychologist – the late Joseph Nicolosi – manipulating a patient (or rather, a victim) through psychological torture.
Most horrifying of all, perhaps, is another narrative that is woven among the others. The film begins with Jeffrey McCall, a Christian activist who was once a transgender woman but claims to have renounced his trans identity for Jesus. We watch as he works to organize a misleadingly named "Freedom March" for "ex-trans" awareness, guides a mother over the phone toward rejecting her child's trans identity, and participates in a ritualistic "warrior" chant with a group of other former trans people – all without a trace of joy in his face, his voice, or his manner.
It's that last sequence in which "Pray Away" becomes most reminiscent of one of Blumhouse's horror films; in the feverish, histrionic abandonment to which they give themselves in their chant, these struggling people evoke the unnatural fervor of a possessed congregation at a cult. Watching the spectacle, it's easy to see them as deluded and dehumanized. Even so, one can't help but sense that the tears in their eyes are real; they draw our compassion, and they remind us that the fraud of conversion therapy is still out there, actively claiming victims.
The evil of Exodus may have been vanquished in "Pray Away," but like any good horror film, it makes sure we know there's still plenty of room for a sequel.
LaBruce delivers shocking story of brotherly love in 'Saint-Narcisse'
Skilled director's incest tale challenges our boundaries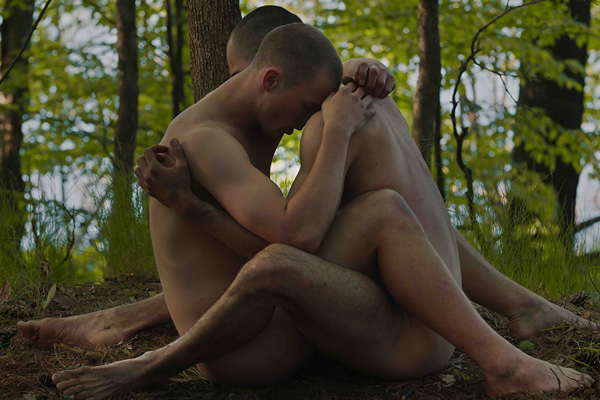 It's gratifying to live in a time when queer stories and characters have become more commonplace on film and television than ever before, but for those of us who are old enough to remember a very different world, it's hard not to feel a twinge of regret over what we may have lost in the transition. After all, in the days when mainstream entertainment culture was still pretending that queer people didn't exist, queer cinema was an underground experience infused with a certain rebellious spirit – a sense of righteous non-conformity, if you will – that is somehow absent from much of the content made possible by the "rainbow explosion" taking place on our screens today. And while nobody is complaining about the increased acceptance achieved by our LGBTQ+ community, it's nevertheless a welcome pleasure when a movie comes along to remind us that queer cinema can still be transgressive.
For such a film, one can always count on Bruce LaBruce.
The Canadian iconoclast, who rose in the '90s from the world of queercore zines to gain a cult following as a filmmaker, is notorious for assaulting cultural norms. Combining the tropes and formulas of conventional Hollywood cinema with the raw sexuality of hardcore gay porn, some of his films, like "Hustler White" and "L.A. Zombie," have stirred shock and controversy even among the most hardened queer cinephiles, and while his style may have mellowed somewhat since his earlier career, his latest effort – the dark comedy "Saint-Narcisse," which hinges on "twincest" between two brothers separated at birth – proves that he still takes delight in shattering even the strictest taboos.
The film, which opens in limited theaters and through VOD platforms on Sept. 17, unfolds a sort of contemporary adult fairy tale centered on a young man named Dominic (Félix-Antoine Duval), who fuels an unrequitable fetish for himself by taking Polaroid selfies. The death of the beloved grandmother who raised him leads to his discovery of a deep family secret: his birth mother (Tania Kontoyanni) didn't die in childbirth as he was told, but is alive and living in exile with a female companion (Alexandra Petrachuk) at a remote cabin in the woods. When he reunites with her there, he quickly learns of the existence of a twin brother (Duval again), taken away at birth and raised in a nearby monastery, where a priest (Andreas Apergis) has kept him all these years against his will. Determined to reunite his family and drawn by a desire to be with his beautiful, identical brother, Dominic soon embarks on a path that will embroil him with all the others in a blasphemous web of sex, revenge, and redemption.
Like most of LaBruce's work, this latest piece draws on a wide array of cultural influences. Set in 1972 (in the "afterglow of sexual liberation," as the publicity material puts it), it revels in the aesthetic of the '70s genre pictures that have always inspired the filmmaker, evoking and emulating the lurid psychosexual thrillers of the era while reinventing them through a countercultural queer lens. At the same time, it's a sly satire of our modern, self-obsessed culture, in which the myth of Narcissus is reframed around a selfie-snapping hero who yearns to be his own lover. Above all, it's an unabashedly campy affair, a wild and wooly Freudian melodrama that resembles a fable from the Brothers Grimm as interpreted by Jean Genet.
Yet for all that, LaBruce keeps it grounded throughout. He guides his actors to play their roles in earnest – something they achieve with somewhat surprising excellence, with the handsome Duval earning particular kudos for rising to the challenge of his difficult dual role. Moreover, he underpins the screenplay (co-written with Martin Girard) with a healthy dose of social observation, clearly conveyed yet handled with just enough restraint to avoid weighing down the delicious B-movie goofiness. LaBruce has a reputation for performing a deft balancing act in his movies between the ridiculous and the profound, in which the line between them seems to disappear, or at least become irrelevant; in "Saint-Narcisse" he earns it anew with the skill of a true master.
Still, one doesn't see a LaBruce film for its restraint, and for all its measured contemplation of themes, the purpose of "Saint-Narcisse" is to make us squirm. The relationship at the heart of the story, after all, is a forbidden one. Not only are the two star-crossed lovers boys, they're also brothers – and because it is a LaBruce film, we find ourselves wanting them to be together almost as much as they do. And also because it is a LaBruce film, we know we'll get to see it happen.
It's not just the incest that challenges our boundaries, either. There's also the complex and conflicted relationship between Daniel and the priest who is his father figure/captor/abuser, and the one between an older woman and the daughter of her own dead lover. The film is full of conflicting and conflicted impulses, shaped by the dualities that permeate our social and personal lives – male and female, age and youth, spirituality and carnality, coercion and consent – and our various loyalties to its characters collide with our preconceptions about what is or is not acceptable until our reflex toward judgment simply short-circuits. By the time his story has reached its suitably over-the-top climax, LaBruce has already set us up so well that we are ready to go willingly with him into whatever wickedly subversive happy ending he has in store.
As to that ending, it's best to leave the details spoiler-free for effect – but suffice to say it is a logical culmination of all the threads "Saint-Narcisse" has interwoven from the start, and that it will leave most viewers with a feeling of perverse satisfaction despite themselves. In other words, LaBruce has once more succeeded in turning a lot of internal taboos upside down, and whether or not the effect is permanent we are forced to question our own assumptions about self, sex, love and family – along with a good number of other social mores and institutions that have more influence over our humanity that most of us care to recognize.
All of this is precisely the point, of course. And while "Saint-Narcisse" (like all of LaBruce's films) is unquestionably a piece of queer cinema, the product of a queer sensibility and a lifetime of living outside cultural norms, it is ultimately not a movie about queer experience. It's a movie about human experience, and its observations about the way our lives are programmed by the things we believe about ourselves and the world around us are meant for everyone.
Of course, by this point it should be obvious that it's NOT for everyone's tastes. While it may not be as explicit as some of LaBruce's previous works, there's still plenty of full-frontal nudity and intense sex involved; combine that with the twisted sensibility that drives the story and dictates its outcome, and you have a movie that should be approached with caution by anyone who is faint of heart.
For the rest of us, though, it's a sinfully satisfying cinematic snack.
DC Shorts festival goes hybrid with robust LGBTQ selections
In-person, online options for local film fans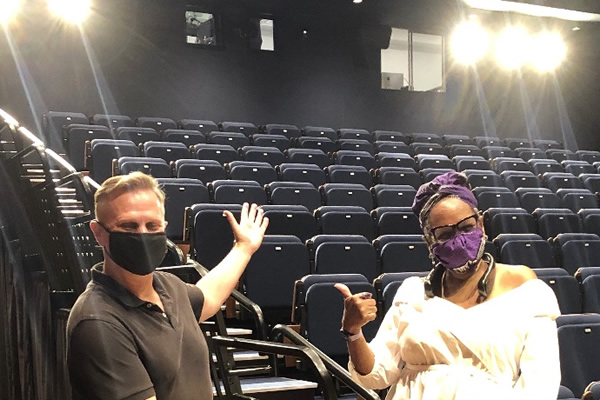 Beautiful animation and rich historical detail make a short film about gay commercial artist J.C. Leyendecker as compelling as many of the more than 900 selections showcased in this year's DC Shorts International Film Festival, running Sept. 9-19 both in-person at the Edlavitch Jewish Community Center (1529 16th St., N.W.) and online.
Director Ryan White's short film "Coded" is one of many LGBTQ, "homegrown" and international submissions to the District's short film festival, which kicks off its 18th year as a hybrid event due to the ongoing pandemic. "Coded" is a biopic about J.C. Leyendecker, a gay commercial artist from the 1920s-30s who coded gay themes in his ad drawings.
Safety protocols for the festival, which was completely virtual last year, include having an online viewing option for those uncomfortable or unable to attend events, and requiring in-person attendees to wear a mask and present their vaccination card to enter the venue.
"When they purchase the ticket online, before they can proceed to purchase, they have to click that they acknowledge the rules," DC Shorts Venue and Volunteer Manager Raedorah Stewart said.
She added that at the venue "your vaccination card must match your ticket and you must wear a mask." Extra masks will also be available at the door.
In July concerns about the highly transmissible Delta variant of the coronavirus led both the CDC and Mayor Muriel Bowser to recommend even fully vaccinated individuals to wear masks indoors.
Although 57% of the District's residents are estimated to be fully vaccinated, according to D.C.'s coronavirus website, as a precaution DC shorts will screen 95 short films online and hold five in-person showcase screenings at the Jewish Community Center and two at the Goethe-Institut (1377 R St., N.W.).
Stewart told the Blade the festival also staffed fewer volunteers this year in order to maintain proper social distancing at the venues. But despite the added precautions, enthusiasm remained high.
"The volunteers this year are excited and relieved to return to something that is familiar," Stewart, who identifies as a queer Black woman, said. "Having that shared, global experience through story has become a key to making our festival unique and stand out. And we are doing it with such stringent protocols…it advances the entire festival atmosphere."
She said the goal for her and her volunteers was to make this experience as enjoyable as possible for guests.
When asked which of the hundreds of short films was her favorite, Stewart laughed and "pleaded the fifth."
"That's like asking a mother who's her favorite child," she said, stating each one was special and unique.
Joe Bilancio, DC Shorts programming director, told the Blade normally the festival receives between 1,500 to 2,000 entries for works that must have been completed the previous year to qualify.
While the number of submissions was down this year, he said his team was surprised by how many were submitted despite unprecedented constraints.
"We were shocked that there was that much content," Bilancio said. "For example, that meant if someone were used to working with an editor in a suite collaboratively, they now had to do it over Zoom."
And he said the quality of all of the films was impressive considering the pandemic constraints.
"I liked 'Coded' by Ryan White," said Bilancio, an out gay man who also struggled to find a "favorite" among the wide selection. "He did a film about hidden messages in products coded for the LGBTQ community."
Bilancio identified with the film's idea of different people having different perceptions of the same experience, a key reason why he enjoys programming the DC Shorts film festival.
Christian Oh, the festival's board chair, identifies as heterosexual but the film "God's Daughter Dances" particularly resonated with him as a Korean American.
"Even though it focuses on the LGBTQ community from a light-hearted perspective, there is the military," Oh said of Director Sungbin Byun's comedy-drama about a transgender female dancer who gets called up by the South Korean military.
"It makes you wonder what things others are dealing with in their home countries that we don't know about."
Oh also works with DC's Asian American film festival and Stewart helps with the LGBTQ Reel Affirmation series.
"These stories are important," said Oh, a filmmaker and instructor. "And need to be told from the perspective of people who are dealing with these issues."
"And they're fun," said Stewart, who enjoys being part of an artistic community.
The in-person screenings include "Animation Domination," "Cinema 10% LGBTQ" and "Homegrown Showcase," which is a special selection of films made by local D.C. filmmakers.
The local filmmaker showcase will screen at the Goethe-Institute on the festival's opening night at 6 p.m. and includes "Miss Alma Thomas: A Life in Color" about the first Black woman to have her paintings exhibited in the White House in 2009, "Ourselves, in Stories" about the independent comics community's efforts at inclusion, and "Out to Vote" about activist Bobby Perkins and the fight to restore voting rights for the formerly incarcerated in Baltimore.
The festival also includes four free filmmaker workshops, which Oh said is critical to networking and increasing representation.
"This short format provides more equity and access to minority storytellers," he said. "Two filmmakers meet and produce a film for the next festival."
And that connection he said is important especially now with pandemic limitations, which can also cause economic harm, further limiting the reach of new and unique voices.
"A lot are dying because they don't have the economy from ticket sales," Oh said. "Support creatives, especially locally. They are hurting big time. If you can support them virtually or in person, please do. We open our doors to every community — Asian, LGBTQ, Black, Latino, everyone."
General admission for in-person showcases is $15, while individual online access is $12. An all-access festival pass, which includes all live and all online showcases, is $140. For more information, visit  dcshorts.com.
Lesbian survivor of sexual abuse reveals her 'Untold' story
A remarkable film debut from Gina Garcia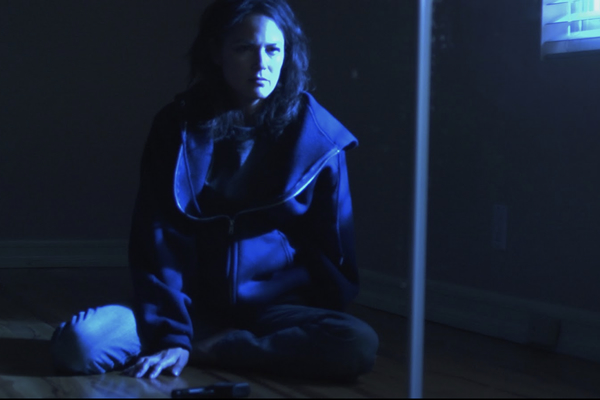 Even though her film is about to get a premiere at Hollywood's legendary Chinese Theatre, Gina Garcia is not your typical filmmaker – and her movie is not your typical movie.
"Untold: This is My Story" has been a longtime dream project for the U.S. Navy veteran, who was already a successful entrepreneur before starting her film career. And even though she made it about herself, it's far from a vanity project. Instead, it's a bold testament aimed at helping countless others who, like her, carry the trauma of childhood sexual abuse.
As an 8-year-old growing up in Orlando, Fla., Garcia was at the mall with her mother and sister when she was abducted by a man who coerced her into his car before sexually assaulting her at knifepoint. Remarkably, she was able to escape by jumping out of the moving vehicle, half naked, and running away through the parking lot. The incident was never discussed by the family; and young Gina, who had only vague memories of what happened to her, went on to experience years of self-destructive behavior and strained relationships with her parents and siblings. Twenty-five years after the fact, she finally sought help at a Veterans' Administration hospital, where she was diagnosed with PTSD and began the difficult process of healing.
Fast forward to 2009, when Garcia enrolled at a film school in the Philippines. It was a bold step that started her on the path to tell her story for the many other anonymous survivors she knew were out there needing to know that they were not alone. She wrote a screenplay, and when she attended a screening that gave her an opportunity to meet filmmaker Patty Jenkins, she approached the "Monster" director with the thought that here was someone who could direct it. Instead, Jenkins told her, "No Gina, you have to tell your story."
That meeting led to an ongoing mentorship, and three years later Garcia was filming her screenplay with a cast that featured former Calvin Klein model Jennifer Rubin and esteemed womens' rights attorney Gloria Allred.
The resulting movie is rough to watch, and that's not because it has a DIY feel – although it does, which somehow gives it an even more searing authenticity. It is shot through with first-hand awareness of the way trauma affects not just the victim, but all those around them, and manifests itself in every aspect of their lives. It's painful, horrifying, heartbreaking, and sometimes uncomfortable to watch, with a realistic depiction of mental health treatment that is a far cry from the kind of overwrought psychodrama treatment Hollywood usually gives to subject matter like this.
Why then, did it take nearly a decade for it to premiere?
Talking with the Blade, the first-time director explained what happened.
GINA GARCIA: I'm not a Hollywood person, I wasn't going to be a director. My goal in making it was to peel off the Band-Aid, to show the rawness of trauma. I wanted to show the real – but when you're raising money, everybody wants you to do something that isn't real. Initially, when I wrote the script and I was sending it out, I had feedback like, "Can you make it a boy? Can you make it a white family? Can they not be gay? Do you really have to be a lesbian?" But then I would be telling somebody else's story, and I wanted to tell my story.
BLADE: Obviously you didn't go with all those suggestions.
GARCIA: No, but still I had all these people telling me to put in a little of this, a little of that. I ended up with this love story in there, and all this other stuff. And I did a couple of screenings, and I got everybody else's opinions on my movie – and I hated it and I didn't want to release it. So I put it on the shelf.
BLADE: What made you change your mind all these years later?
GARCIA: Well, I know now that I had more healing to do. I was still broken, going through issues with trauma and triggers. But at Thanksgiving of this past year my brother watched the film, and he said 'You have to get this out. It's gonna help a lot of people.' I struggled with that, because I felt like I made myself look like a victim, but he said, 'You need to recut it, then. You're not a victim, you've gotten to the other side, you're a different person now. You have fresh eyes.' So in the beginning of 2021 I recut the entire movie. I took out all the Hollywood fluff, and I went back to the very basics of my original script.
BLADE: Not many directors get the chance to set a project aside and come back to it later.
GARCIA: Taking that time to be able to step away from it for a couple of years and work on myself as a human, and then get to come back and recut it – I love my movie now!
BLADE: What's the next step after your Hollywood premiere?
GARCIA: Hopefully a distributor will buy it and not want to recut it their way. But either way, my intention is to do a city-to-city tour of the film, kind of like the "No Hate" campaign. I have a non-profit that I'm starting with my tribe back home, it's called the 'Untold Project,' and with the tour we're going to start doing videos of people telling their own untold stories, and hopefully helping other sexual abuse survivors to have their voices be heard.
Because for me it's more than a movie. There are one in three women and one in six men who are survivors of sexual abuse. If you do the math that's over a billion people on the planet. We can talk about heart disease and all these other diseases that people die from, but people are also dying from this kind of abuse – through suicide, alcohol, and drug addiction. If you think about people who dealt with abuse in the '50s, '60s, '70s, even into the '80s – I mean, there's a reason why all the Catholic Church stuff happened, why the Boy Scouts stuff happened, the Sandusky trials, the gymnasts. It's because nobody was talking about what was happening. Nobody wants to put a magnifying glass on the dirty little secret when it's the uncle, the cousin, the coach, the babysitter.
If we can create the resources, maybe we can have the ability to have real conversations so that people can heal from this kind of trauma.
BLADE: And you want to show people that healing is possible.
GARCIA: Put it this way: I used to want to hide the fact that I was broken. Now here I am wanting to project it on a 45-foot screen.
If you live in LA, "Untold: This is My Story" screens at the Chinese Theatre in Hollywood on Monday, Sept. 6 at 7 p.m. If not, Gina Garcia will soon bring it to a town near you.