Gay Asian man, parents attacked in D.C.'s Observatory Circle area
Suspect shouted, 'faggots,' 'You are not Americans!'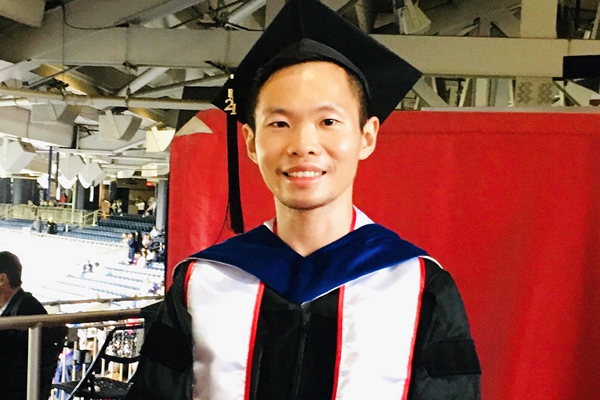 A gay Chinese man and his parents were attacked and beaten about 10:30 p.m. on Saturday, Aug. 7, on the 3700 block of Fulton Street, N.W. near the National Observatory by a male suspect who called them "faggots" and shouted, "You are not Americans!," according to charging documents filed in D.C. Superior Court.
The charging documents show that D.C. police, who arrived on the scene as the incident was unfolding, arrested Patrick Joseph Miller Trebat, 38, on one count of Felony Assault, two counts of Simple Assault, and one count of Destruction of Property. A police incident report lists the assault as a suspected hate crime.
A statement released by the Watch Commander of the D.C. Police Second District, whose officers made the arrest, said the family of three were transported to a local hospital for treatment of injuries listed as non-life threatening.
The Watch Commander, who is not identified by name, added in the statement that suspect Trebat punched and kicked the three victims as he stated, "Get out of my country."
Among the victims was Sean Lai, 30, an out gay man of Chinese ancestry who last year completed his doctorate degree in physics at Georgetown University and currently works as a data scientist. He has been a D.C. resident since 2013.
Court documents state that Trebat allegedly attacked Lai and his parents as they were walking on the street in the city's Observatory Circle neighborhood where they are currently living and which is a short distance from the National Cathedral.
The court documents show that prosecutors with the Office of the U.S. Attorney for D.C. filed documents in D.C. Superior Court, charging Trebat with two counts of Bias-related Assault with Significant Bodily Injury and one count of Bias-related Assault in connection with the incident along with a charge of destruction of property related to damage to Lai's cell phone during the attack.
But the charges filed by the U.S. Attorney's Office attribute the bias aspect of the crime only to the three victims' "actual or perceived national origin." The charges filed by the U.S. Attorney's Office do not attribute the attack to bias related to Lai's actual or perceived sexual orientation, even though one of the charging documents quotes Trebat as reciting the word "faggots."
William Miller, a spokesperson for the U.S. Attorney's Office, said the office does not comment on its reasons for charging decisions in pending cases. "The U.S. Attorney's Office is continuing to investigate the facts and circumstances of the case and has no further comment at this time," Miller told the Washington Blade.
The court documents show that Trebat is a resident of an apartment at 4201 Cathedral Ave., N.W., which is located less than a mile from where the incident occurred. The documents show he was released by a judge two days after his arrest on the condition that he be placed in the court's High Intensity Supervision release program.
Court records show D.C. Superior Court Judge Judith Pipe also issued a pretrial stay away order. The details of the order were not immediately made public, but most such orders require an arrested person to stay away from anyone he or she is charged with harming.
The court records also show that court status hearings set for the Trebat case initially scheduled for Aug. 30 and Oct. 20 were cancelled and his next scheduled appearance in court for a felony status conference is set for Nov. 15.
Details of the incident are provided in the police incident report and a two-page arrest affidavit prepared by police and prosecutors with the U.S. Attorney's Office.
Although Lai's sexual orientation is not disclosed in the police report or the arrest affidavit, a close friend who contacted the Washington Blade said Lai wishes to be identified as an out gay man. The friend said Lai plans to release a public statement about the incident after more details about the case become known.
According to the two documents, Lai, who is listed as Victim 3, told police he and his parents were walking home along the 3700 block of Fulton Street, N.W. when Suspect 1, later identified as Trebat, started following them. The police report says the family lives on the 3900 block of Fulton St.
"Victim 3 states that he and his family tried to cross the street to create distance between them and Suspect 1," the police report says. "Victim 3 states that he heard Defendant 1 call him and his family 'faggots' and that he heard D-1 exclaim, 'You are not Americans!' before D-1 began to assault his family," the arrest affidavit states.
The affidavit identifies Victim 1 as the mother, age 61, and Victim 2 as the father, age 64.
"Victim 1 and Victim 2 did not speak English," the affidavit says, adding that police arriving on the scene immediately placed a radio call for a police officer who is a Mandarin speaker who quickly arrived on the scene to provide translation services to help police interview the parents.
"V-1 stated that D-1 assaulted her husband V-2, causing him to fall to the ground," the affidavit continues. "V-1 states that D-1 then pushed her to the ground, causing the listed injury. V-2 stated that D-1 came from behind and struck him with a closed fist in the back of the head, causing him to fall to the ground," says the affidavit.
"V-3," Sean Lai, "states he turned around and observed D-1 assault his parents," says the affidavit. "V-3 intervened and pushed D-1 away from his parents, ensuing in a physical struggle between V-3 and D-1," the affidavit says.
The affidavit says the father then tried to intervene to protect his son from Trebat's assault, but Trebat "kept pushing them both to the ground." It says that at some point during the assault, each of the three victims sustained injuries serious enough to send them to a hospital.
It says that during his struggle with Trebat, Lai's phone fell out of his pocket and was damaged when it struck the ground. The affidavit says the damaged phone prompted prosecutors to charge Trebat with the single count of destruction of property.
The attack against Lai and his parents took place five months after the release of a report in March by the group Stop Asian American Pacific Islander Hate that found at least 140 hate-related incidents had been reported against people of Asian ancestry across D.C., Maryland, and Virginia since March of 2020.
Civil rights organizations have attributed the anti-Asian attacks to the bogus and racist belief by some that Asians should be blamed for the coronavirus pandemic because it originated in China.
Delaware governor vetoes legalization of marijuana possession
Carney cites impact on youth, public health, law enforcement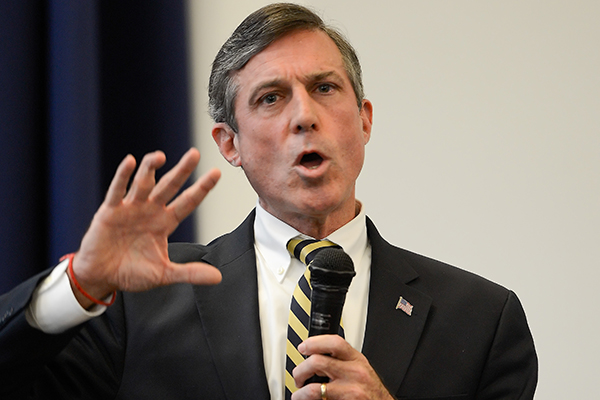 Delaware Gov. John Carney on Tuesday vetoed a bill that would have legalized the possession of marijuana in the First State. House Bill 371, which passed the House on May 5 and the Senate May 12, would legalize the possession of up to one ounce of marijuana and remove criminal and civil penalties associated with the non-remunerative transfer of marijuana for individuals ages 21 or older.
"I do not believe that promoting or expanding the use of recreational marijuana is in the best interests of the state of Delaware, especially our young people," Carney said in his veto statement Tuesday. "Questions about the long-term health and economic impacts of recreational marijuana use, as well as serious law enforcement concerns, remain unresolved."
Current state laws deem the possession of one ounce of marijuana or less a civil offense resulting in a financial penalty. Still, the possession of more than one ounce of marijuana remains a misdemeanor — a designation that would remain unchanged with the passage of the bill.
In the statement, Carney acknowledged that marijuana can help individuals with certain health conditions, and said that possession and private consumption of the substance should not lead to imprisonment. But he also noted that these beliefs are already reflected in state legislation, following his passage of marijuana decriminalization in 2019.
"I have been clear about my position since before I took office, and I have articulated my concerns many times," he added.
The Delaware Center for Justice called upon the General Assembly to override the veto in a Tuesday press release, emphasizing that legalizing marijuana is of particular importance to low-income communities and communities of color across the state.
These communities "experience police harassment and arrest for marijuana at disproportionate rates than those of white affluent communities, despite usage rates being almost the same," DCJ Director of Policy Kailyn Richards noted in the press release. She added that DCJ believes state legislators should further "pass a companion bill that sets up a safe and legal marketplace."
The American Civil Liberties Union of Delaware also emphasized that the General Assembly should override the veto.
Carney's veto of the bill "is an affront to the lawmakers, advocates, and residents of Delaware who have shown consistent and overwhelming support for this measure," Mike Bichner, ACLU of Delaware executive director, said in a statement Tuesday. "The criminalization of cannabis has been a tool of the failed, racist War on Drugs, which has caused irrevocable harm to our Black communities."
Vandals target 2 Rehoboth Beach LGBTQ-owned businesses
Staff discovers graffiti on walls, doors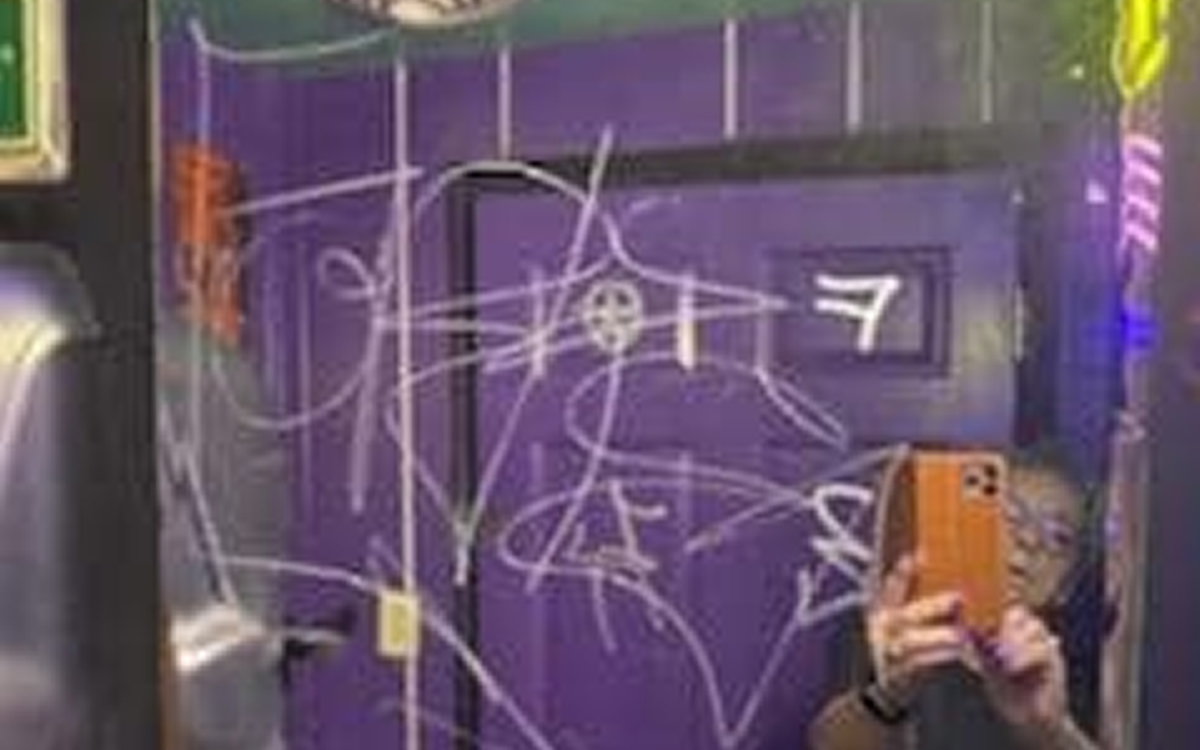 Freddie's Beach Bar and the Purple Parrot — two LGBTQ+ bars and restaurants in Rehoboth Beach — discovered that their establishments had been vandalized on Monday, according to a series of posts to the Purple Parrot's Facebook page made by Hugh Fuller, the restaurant's owner.
The vandal, whose identity remains unknown, painted on the walls and carved graffiti into the mirrors of the Purple Parrot's bathroom, and painted graffiti on the front door of Freddie's Beach Bar, the posts recounted. The establishments have since filed police reports with the Rehoboth Police Department.
Tony Rivenbark, a manager at Freddie's, said that a staff member first noticed the vandalism around 10:30 a.m. on Monday, and that it was dry to the touch, leading restaurant management to believe it was painted early in the day. Upon discovering the graffiti, restaurant staff reported it to local police and were told that other nearby locations had similarly been vandalized, he said.
Between its Rehoboth and Arlington, Va. locations, Rivenbark has worked at the establishment for almost two decades, and added that this was the first instance of vandalism at the Rehoboth venue, which has been open for less than one year. He noted that Freddie's management is currently reviewing security footage for further information, and is likely to soon install additional security cameras.
At the establishment's Arlington, Va., location, "we've had some minor spray painting done, we've had some rocks thrown at windows," he recounted. "Mostly I have attributed it to drunken antics, not so much hate. Hopefully that's the case here as well."
Rivenbark added that Freddie's staff remains positive despite the circumstances. "It doesn't seem like a huge issue. It's something we'll probably just paint over tomorrow," Rivenbark said. "I'd much rather it be some kid that's got a new little airbrush … than it being somebody that's targeting LGBT businesses."
The Rehoboth Beach Police Department declined to comment or to confirm details of the reports filed.
Pride Run returns after two-year hiatus
1,500 participants to join 10th annual event on June 10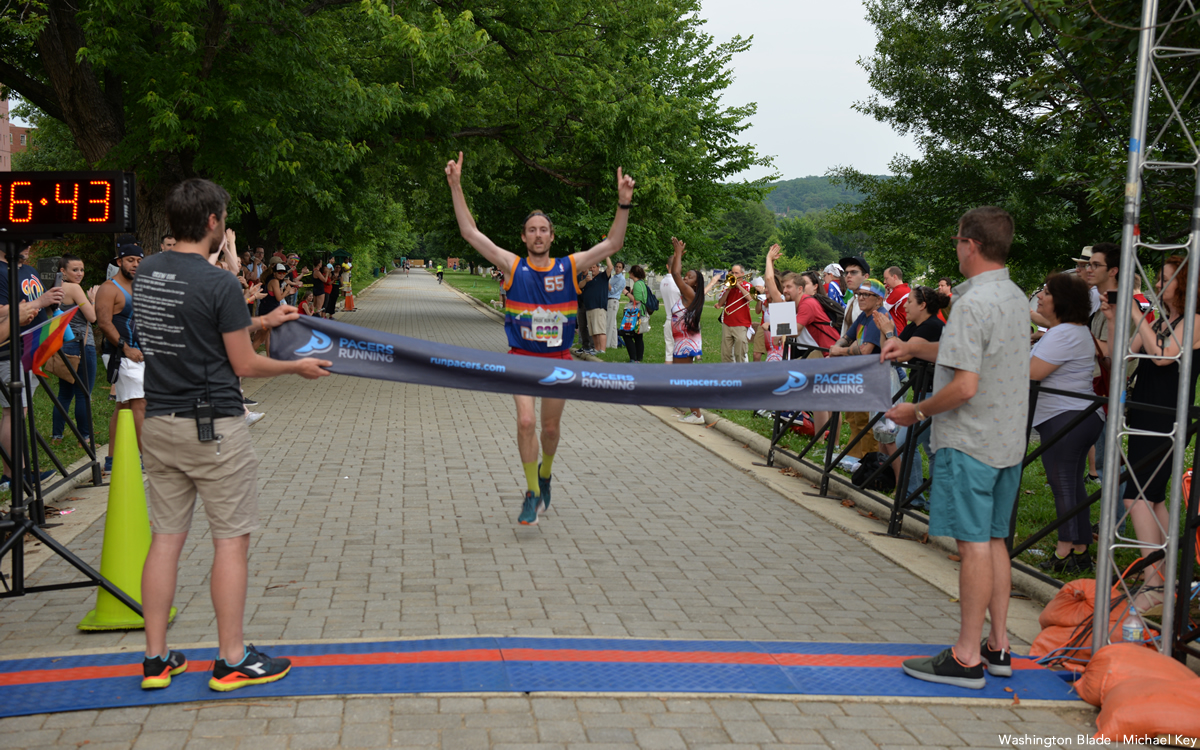 After a two-year pandemic hiatus that saw the Pride Run go mostly virtual, the DC Front Runners Pride Run 5K is elated to once again welcome nearly 1,500 runners, walkers, volunteers, and spectators back to the Historic Congressional Cemetery for their Tenth Anniversary Race on Friday, June 10.
As an official Capital Pride Partner Event, the Pride Run 5K kicks off Capital Pride weekend with a bang. Well perhaps more of a "On your mark, get set, GO!"
Join us as we run, walk, skip, shantay, and sashay on a course that starts near the cemetery's "Gay Corner" where many LGBTQ rights activists, such as Leonard Matlovich, are interred. The race then winds along the Anacostia Riverwalk Trail to finish where you started.
Gates open at 5 p.m. for packet pickup with the race beginning at 7 p.m. The post-race party includes beer and hard seltzer provided by DC Brau along with a DJ playing music until 9 p.m. Be sure to check out the return of the DCFR dance troupe performing to a hyped-up crowd.
Race proceeds benefit the following local LGBTQ and youth-supporting organizations via the Pride Run Foundation: Ainsley's Angels (National Capital Region), Casa Ruby, Team DC Student-Athlete Scholarship, SMYAL, The Wanda Alston Foundation, The Blade Foundation, and Teens Run DC. You can help support these amazing charities by registering for the race or donate directly at DCPrideRun.com.
A special thanks to the presenting sponsors, Capital One Café, Choice Hotels, KNEAD Hospitality + Design, Shake Shack, and Wegmans Food Market to the premier sponsors DC Brau, Pacers Running, and Wilkinson Barker Knauer, LLP, and our elite sponsors, AHF Healthcare Centers, Avalon Bay Communities, Casey Trees, Endorphin Fitness, and Starbucks, and of course our special partner the Historic Congressional Cemetery. Last, but not least, a big thank you to all individual donors who contribute via the race website directly to our incredible charity partners. Together, we proudly celebrate who we are in a festive, safe, and inclusive event.