Gay Afro-Latino man running for Md. House of Delegates
Ashanti Martinez hopes to represent District 22 in Annapolis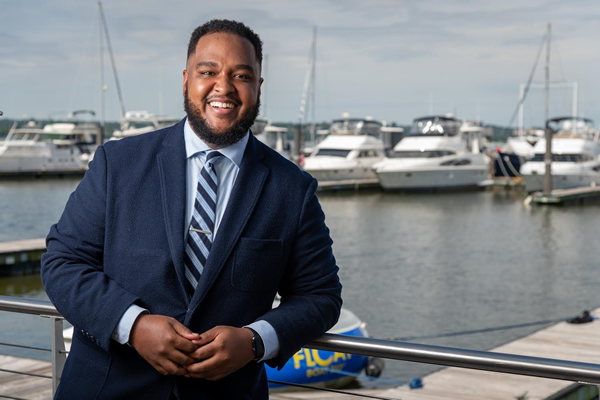 A Maryland House of Delegates candidate who hopes to become the first openly gay Afro-Latino man to represent Prince George's County in the chamber says his priority is working families.
"I'm in this race because I believe that we deserve a working class champion for working class families in Annapolis," says Ashanti Martinez. "Industry has their people, big businesses have their people, but working families haven't had someone in their corner in Annapolis in a very intentional way." 
Martinez is running to represent District 22 in Annapolis.
State Del. Gabriel Acevero (D-Montgomery County) in 2018 became the first openly gay Afro-Latino man elected to the Maryland General Assembly.
"I think [during the] pandemic we've really seen the need for a responsive government that [will] build out a safety net, hold all of us together, and [be] something that we don't currently have for workers here in Maryland," says Martinez.
He wants to "be in the ring for round two of COVID-19" fight for individuals in the working class and families of which he's a part, and most importantly, fight for himself.
Education, criminal justice reform among Martinez's priorities
Martinez's campaign hinges on six main issues: Education, transportation, infrastructure, healthcare, criminal justice reform and the environment.
He plans to expand the school meals program in Prince George's County Public Schools; create green transport initiatives that make transportation easily accessible and affordable; and craft a senior-friendly healthcare system that reduces the cost of prescription drugs, hearing aids and dental services, among myriad other initiatives, if elected.
His strategy is to connect with the seven different municipalities in District 22 and communicate with mayors, council members and other various stakeholders to better understand the shortcomings in their jurisdictions and devise solutions that will funnel resources into the district.
"One of the biggest jobs a state delegate has is [to] make sure that local governments, whether county or municipal level, have the resources necessary to deliver services to [their] residents. So I know I'll be able to do that going to Annapolis because I already understand the terrain a little bit better than most," says Martinez.
While it's premature now to forecast the course of legislation after his possible election, Martinez is certain that his paramount duty will undoubtedly be to "bring back the bacon" through the yearly budget process.
Martinez won't 'make drama out of my drama'
As someone who is entering an overly polarized American political landscape, Martinez is aware that he may have to battle the ever-present ruckus that persists in politics. He is, however, also steadfast at ensuring that this doesn't cloud his responsibility to his constituency.
"I actively have to remind myself not to make drama out of my drama," says Martinez. "I think you get so much more done when you take yourself out of a situation, analyze it from that 30,000 feet conversation [standpoint], criticize yourself and realize that intent and impact are two separate things."
Martinez further emphasized that he strives to lead by example and understands that although he may not be the best, he can always improve on his faults. Additionally, he recognizes that it is impossible to dictate people's reactions, and this has given him the clarity that he can't "make mountains out of molehills."
"I really try to power through things and understand the root causes of issues so that we can communicate through it because a lot of times things are just communication breakdowns, or just miscommunications on a large scale," says Martinez.
Howard University alum hopes to tap into HBCUs legacy
Martinez this year will be the first LGBTQ candidate to run to represent Prince George's County in the House of Delegates.
He is certain that while he is a "first," he does not want to be the last. As an alum of Howard University, one of the nation's leading historically Black colleges and universities, his modus operandi will include tapping into the legacy of HBCUs: Creating spaces and opportunities for Black people in all American institutions.
"Once I'm in and [help] get other people in, I think [we'll be able to] help break down some of the hurdles [associated] with the navigating government," says Martinez. "I think because I've been doing this for such a long time, a lot of the players already have a relationship with me and they know my style. I'm not big on tribalism; I'm really about service and people, and getting results."
Martinez is also attune to the reality that being a first also comes with the pressure of high expectations.
Given the backdrop of the pandemic and the country's sudden racial awakening, his work will be even more crucial to his community during a time where immediate change is non-negotiable.
"I have high expectations for myself [and] understand the realities of the world. I chose to be in politics, and that means I chose to be a leader in this space," says Martinez. "There are certain responsibilities that come with the territory, and so from an early age I [knew] that if I wanted to be in this space … I had to seek understanding and clearance on issues instead of just trying to regurgitate my feelings."
Martinez adds it's about having the maturity to understand that leadership isn't selfish and that there are much grander issues than why people react or respond a certain way. He says having a firm support system to help navigate and build upon that maturity is important.
Martinez is ultimately confident that he will be a success because of his vertebrae of family and friends, who he intentionally pencils onto his calendar for dinner in efforts to ensure that his demanding work life does not ravage his personal life.
2021 Best of LGBTQ DC Readers' Choice Award Finalist Voting
Vote for your favorite finalist in our 2021 Best of LGBTQ DC categories through October 3rd.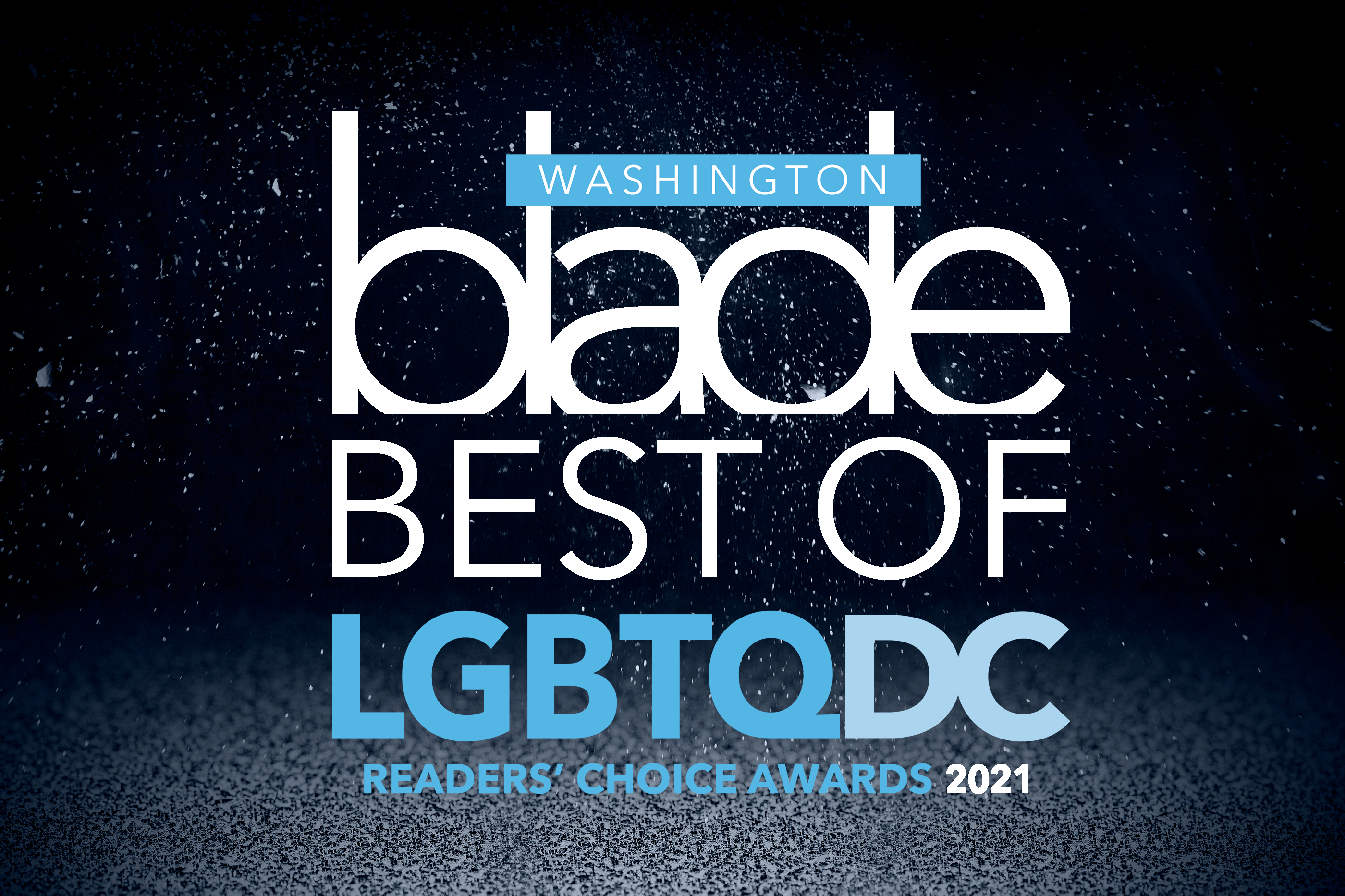 It is Decision 2021! You nominated and now we have our Top 5 finalists. Vote for your favorites in our 2021 Best of LGBTQ DC categories through October 3rd. Our 2021 Best of LGBTQ DC will be announced at the Best of LGBTQ DC Awards Party on October 21st and our special issue will come out on Friday, October 22nd.
Thank you to our sponsors: ABSOLUT, PEPCO, Washington Regional Transplant Community.
Vote below or by clicking HERE.
Veteran restauranteurs to open Drift in Rehoboth
Second Block Hospitality eyes 2022 debut for new raw bar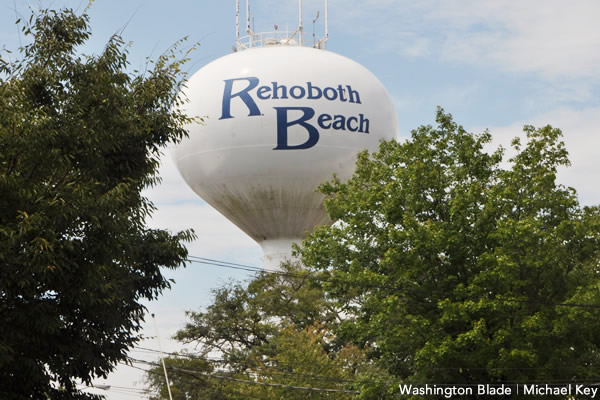 Despite the generally anti-business positions of the current Rehoboth Beach Mayor and some members of the Rehoboth Beach Commission, there are still some entrepreneurs who have faith in Rehoboth Beach.
One such group is the newly announced Second Block Hospitality Group, which brings together local industry leaders Lion Gardner, Tyler Townsend, Bob Suppies, and David Gonce.
According to the partners, "The mission of Second Block Hospitality is simple…to deliver exceptional hospitality. Second Block projects will be designed to become places that matter; that bring the community together. They aim to create unique spaces that foster positivity, a creative atmosphere, and memorable experiences. Driven by this philosophy we are thoughtful in everything we do, down to the smallest detail. In all our endeavors we are committed to crafting unique guest experiences through innovative design, authentic flavors, and warm hospitality."
Their first new venture, Drift, will be a raw bar and dining room on Baltimore Avenue. The new project, already underway, is a massive restoration designed to transform the existing building, originally built in 1890 and used as a camp meeting house, into a modern structure with historic charm. Drift restaurant will feature a refined design, open airy spaces and lots of glass for open vantage points with an indoor/outdoor bar area and intimate back patio that will add to the allure of Baltimore Avenue.
"We could not be more excited to be breaking ground on another passion project," said Suppies. "Coming through the last year brought many new challenges to our industry, but we were able to get very creative and grow as a company, so this new venture is very exciting for us."
Another of the partners, Gardner, brings his skill set as a longtime chef to the new venture.
"One of my roles in the company will be to oversee the menu and kitchen at Drift and all of our projects moving forward," Gardner said. "The great thing about our ownership group is that even though each partner has his own area of expertise, there is collaboration across the board; we are all involved in all aspects of the business. I am excited to learn and contribute in other areas as well, and luckily for me I'm working with a group of really talented, experienced and passionate guys."
Drift is slated to open sometime in early 2022, and things are in full swing for the new restaurant owners, including menu planning. Townsend said, "Drift will be a true raw bar focusing on the art of raw seafood and not just oysters, along with traditionally prepared dishes influenced by the sea. From a beverage standpoint we will feature craft cocktails and eccentric wine and beer offerings. Think small and intimate, rustic and classic, yet casual with a focus on culinary inventiveness and creative spaces." and good times. For more information visit driftrb.com.
McAuliffe participates in Virginia Pride roundtable
Gubernatorial candidate highlighted plans to keep Va. 'open and welcoming'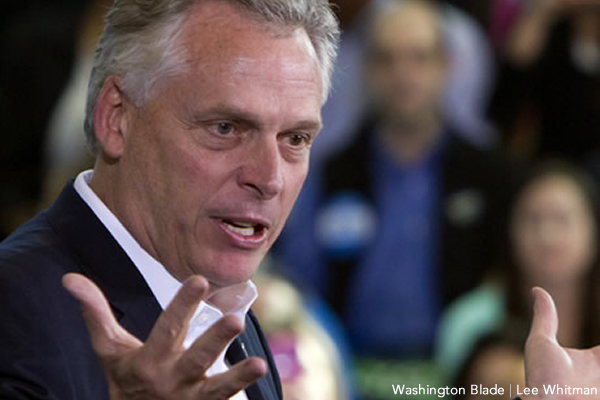 Terry McAuliffe on Monday met with Virginia Pride in Richmond to discuss his plans to keep the state "open and welcoming" for the LGBTQ community.
"Great opportunity to speak with @VA_Pride in Richmond this AM," McAuliffe tweeted following the roundtable that took place at Diversity Richmond's headquarters. "VA is the #1 state for business because we are open and welcoming — but that's all at risk this November. Glenn Youngkin's far-right social agenda would harm LGBTQ+ Virginians and send our economy into a ditch."
Great opportunity to speak with @VA_Pride in Richmond this AM. VA is the #1 state for business because we are open and welcoming — but that's all at risk this November. Glenn Youngkin's far-right social agenda would harm LGBTQ+ Virginians and send our economy into a ditch. pic.twitter.com/7VQGwGZQ7e

— Terry McAuliffe (@TerryMcAuliffe) September 20, 2021
McAuliffe and Youngkin are running a close race for the governorship, according to a Washington Post-Schar School poll released Saturday that shows the former Virginia governor leading by a 50-47 percent margin among likely voters.
The Human Rights Campaign endorsed McAuliffe, who was governor from 2014-2018, for his record of supporting LGBTQ rights, including supporting marriage equality and signing an executive order prohibiting discrimination against LGBTQ state employees as his first action in office.
"LGBTQ leaders in Richmond had a great meeting with Gov. McAuliffe where he was able to lay out his agenda for building on the tremendous progress Virginia has made towards equality," said Virginia Pride Program Director James Millner in an email to the Washington Blade. "The governor talked extensively about his record on LGBTQ issues and promised to work with us to ensure that every LGBTQ Virginian is able to live openly and authentically."
McAuliffe's legacy includes welcoming businesses turned off by North Carolina's passage of its anti-transgender "bathroom bill."
When North Carolina's House Bill 2, a law requiring students to use public restrooms and locker rooms aligned with the gender on their birth certificates, took effect in 2016, McAullife recruited CoStar, a real estate information company that operates databases for Apartments.com, ApartmentFinder.com and similar companies, to move its headquarters to Richmond. This recruitment brought 730 jobs to the state.
David Dorsch, a senior vice president at Cushman and Wakefield, which represented CoStar nationally, told the Charlotte Business Journal that CoStar's primary reason for choosing "Richmond over Charlotte was HB 2."

Youngkin is a former business executive who previously ran the Carlyle Group, a private equity firm named by the HRC in 2019 as a "Best Place to Work for LGBTQ Equality" in its annual Corporate Equality Index. HRC, however, has called out Youngkin for "anti-LGBTQ and transphobic language" during his current campaign.
McAuliffe in April released an LGBTQ rights platform that includes a call to repeal the so-called "conscience clause," which allows religious-based adoption agencies to discriminate against same-sex couples.
Governor Ralph Northam, who was McAuliffe's former lieutenant governor and has signed historic LGBTQ-inclusive legislation during his time in office, also endorsed McAuliffe for governor.