Honduras government institutions 'are murdering us'
Lack of opportunities, violence prompt LGBTQ people to migrate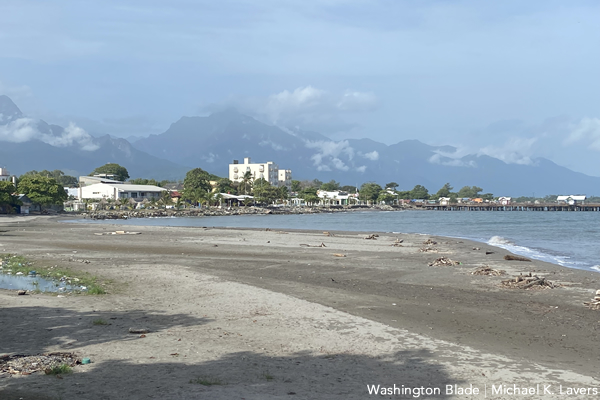 Editor's note: International News Editor Michael K. Lavers was on assignment for the Washington Blade in Honduras, El Salvador and Mexico from July 11-25.
LA CEIBA, Honduras — Leonela and Jerlín, her partner of 11 years, and their school-age daughter live in La Ceiba, a city on Honduras' Caribbean coast.
Jerlín was a bus driver in San Pedro Sula, the country's commercial capital, until gang members shot him three times in 2012 because he couldn't pay the extortion money from which they demanded from him each month. Jerlín, Leonela and their daughter subsequently fled to La Ceiba, which is about three hours east of San Pedro Sula.
"We left," Jerlín told the Washington Blade on July 20 during an interview at the offices of Organización Pro Unión Ceibeña (Oprouce), a La Ceiba-based advocacy group. "We fled from there."
Jerlín migrated to Mexico in January 2019, but returned to Honduras less than a month later because Leonela was in the hospital. The couple and their daughter migrated to Mexico a year later.
Leonela asked for a Mexican humanitarian visa for her and her daughter once they arrived in Ciudad Hidalgo, a Mexican border city that is across the Suchiate River from Tecún Umán, Guatemala.
Leonela told the Blade that she planned to ask for asylum in Mexico and wanted to go to Tuxtla Gutiérrez, the capital of Mexico's Chiapas state, to find work. Leonela said she and Jerlín instead decided to return to Honduras because they did not want their daughter to further endure the "inhumane" conditions of the migrant detention center in Tapachula, a city that is roughly 20 miles northwest of Ciudad Hidalgo, in which they were living.
"We decided it was better to allow them to deport us," said Jerlín.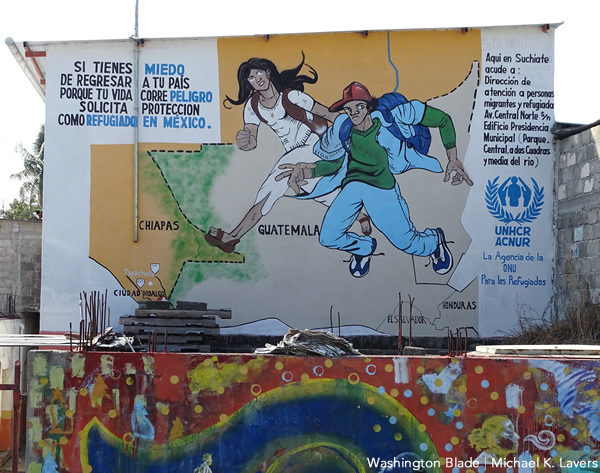 Jerlín, Leonela and their daughter returned to Honduras in May 2020. Someone shot at their house on July 10, 2020.
"They couldn't even do what people wanted them to do, perhaps even buring us alive," said Leonela.
Leonela and Jerlín are among the many LGBTQ Hondurans who have decided to leave Honduras in order to escape violence and discrimination based on sexual orientation and gender identity.
Vice President Kamala Harris and other Biden administration officials have acknowledged anti-LGBTQ violence is one of the "root causes" of migration from Honduras and neighboring Guatemala and El Salvador.
Title 42, a Centers for Disease Control and Prevention rule that closed the Southern border to most asylum seekers and migrants because of the coronavirus pandemic, remains in place. The White House has repeatedly told migrants not to travel to the U.S.
Roxsana Hernández, a trans Honduran woman with HIV, died at a New Mexico hospital on May 25, 2018, while in U.S. Immigration and Customs Enforcement custody.
Natasha, another trans Honduran woman, arrived in Matamoros, a Mexican border city that is across the Rio Grande from Brownsville, Texas, on Oct. 12, 2019. The previous administration forced her to pursue her U.S. asylum case in Mexico under its Migrant Protection Protocols. (The U.S. Supreme Court on Tuesday ordered the Biden administration to reinstate MPP.)
The Blade interviewed Natasha on Feb. 27 at a Matamoros shelter that Rainbow Bridge Asylum Seekers, a program for LGBTQ asylum seekers and migrants that Resource Center Matamoros, a group that provides assistance to asylum seekers and migrants in the Mexican border city, helped create. The U.S. less than two weeks later allowed Natasha to enter the country.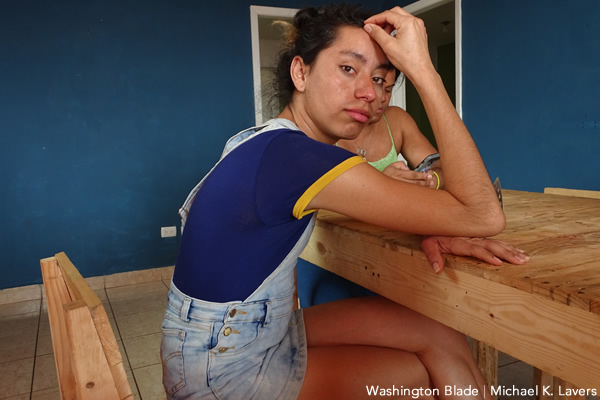 Oprouce Executive Director Sasha Rodríguez, who is trans, has participated in the State Department's International Visitor Leadership Program.
She said a lack of employment and housing associated with the pandemic has prompted more Hondurans to migrate to the U.S., Mexico and Costa Rica. Rodríguez also told the Blade the U.S. and "our countries sell an American dream that doesn't exist."
"Why don't these American organizations say don't go," she said, specifically referring to trans people who have decided to leave Honduras. "Here they see it as beautiful. They are already in the United States, but they were raped while trying to get there. They were kidnapped."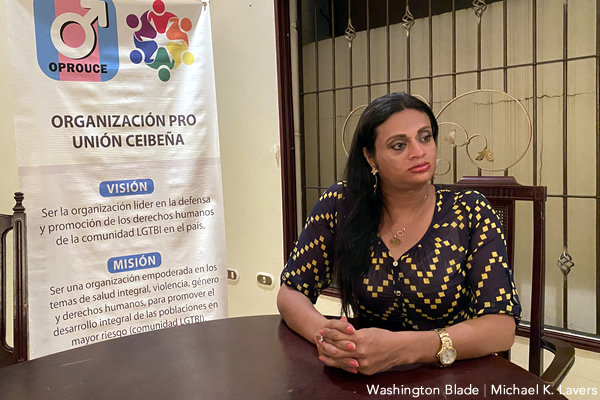 Alexa, a 27-year-old trans woman from La Ceiba, told the Blade she has friends who live in Mexico. Alexa said she would like to leave Honduras, but she doesn't want to leave her mother alone.
"I don't want to leave her alone and abandon her because I have always fought for her," Alexa told the Blade during an interview at Oprouce. "She supports me as a woman."
Alexa said she served a nearly 3-year prison sentence for attempted murder, even though she was defending herself against a woman who was hitting her in the face with a rock. Alexa began to sob when she started to tell the Blade about the Salvadoran man who raped her in prison. She said the warden then forced her to cut her hair and guards doused her with "ice cold water" in an isolation cell.
"I was a woman," said Alexa. "They made me a man."
Alexa told the Blade that other prisoners tried to kill her. She said she also tried to die by suicide several times until her release on Jan. 27.
Alexa said she has not been able to find a job since she left prison. She also told the Blade that gang members continue to threaten her.
"It is sometimes very difficult to lead the lifestyle that we lead as trans women in Honduras," she said, referring to anti-trans discrimination and a lack of employment opportunities.
Venus, a 30-year-old trans woman who is also from La Ceiba, echoed Alexa.
"To be a trans person is synonymous with teasing, harassment, violence and even death," Venus told the Blade at Oprouce.
Venus said Honduran soldiers regularly attack trans women. She told the Blade a lack of access to health care, machismo and patriarchal attitudes are among the myriad other issues that she and other trans Hondurans face.
"We don't have access to education, to health (care), to a job," said Venus. "Above all we are fighting for a gender-based law that recognizes us as women and men."
Venus added she, like Alexa, would leave Honduras "if I was given the opportunity to do so."
Landmark ruling finds Honduras responsible for trans woman's murder
Red Lésbica Cattrachas, a lesbian feminist human rights group based in Tegucigalpa, the Honduran capital, notes 373 LGBTQ Hondurans were reported killed in the country between 2009-2020.
Statistics indicate 119 of those murdered were trans. Red Lésbica Cattrachas also noted 18 of the LGBTQ Hondurans who were reported killed were in Atlántida department in which La Ceiba is located.
Vicky Hernández was a trans activist and sex worker with HIV who worked with Colectivo Unidad Color Rosa, a San Pedro Sula-based advocacy group.
Hernández's body was found in a San Pedro Sula street on June 29, 2009, hours after the coup that ousted then-President Manuel Zelaya from power. Hernández and two other trans women the night before ran away from police officers who tried to arrest them because they were violating a curfew.
The Inter-American Court of Human Rights in June issued a landmark ruling that found Honduras responsible for Hernández's murder.
The ruling ordered Honduras to pay reparations to Hernández's family and enact laws that protect LGBTQ people from violence and discrimination. The government of President Juan Orlando Hernández, whose brother, former Congressman Juan Antonio "Tony" Hernández, is serving a life sentence in the U.S. after a federal jury convicted him of trafficking tons of cocaine into the country, has not publicly responded to the ruling.
Rodríguez noted to the Blade that Oprouce and other advocacy groups have been fighting for a trans rights law in Honduras for more than a decade.
"We have had failure for 11 years, but I think that with what happened with the Inter-American Court, the recommendations that have come from the Vicky Hernández case could achieve something important," said Rodríguez. "There are very good human rights recommendations for Honduras and there are good recommendations that Honduras could automatically apply to trans women."
Rodríguez as she discussed the ruling reiterated trans Hondurans continue to face violence, discrimination and a lack of employment opportunities. Rodríguez also reiterated her sharp criticism of her country's government and its institutions.
"Societal exclusion forces us to do sex work," she said. "We are being harmed by our trade: Murder, persecution, hate crimes, torture, beatings."
"I always say that it is an institutional death because state institutions are murdering us," added Rodríguez.
'My fight is here'
In spite of these challenges, Rodríguez said there has been progress.
Oprouce — which works on a variety of issues that include the prevention of gender-based violence and fighting HIV/AIDS — offers workshops to the Public Ministry, the Honduran Armed Forces and judges. Asociación de Prevención y Educación en Salud, Sexualidad, Sida y Derechos Humanos (Aprest), another advocacy group in Tela, a city that is about 60 miles west of La Ceiba, conducts similar trainings with local and national authorities.
Aprest Executive Director Leonel Barahona Medina told the Blade during an interview at a beachfront restaurant in Tela on July 20 that city officials have given him an office from which he and his colleagues can work. Barahona said they also supported activists who raised the Pride flag on June 27 in front of Tela City Hall.
A similar ceremony took place in a park in the center of La Ceiba.
"We have good relations with them," said Barahona, referring to Tela officials.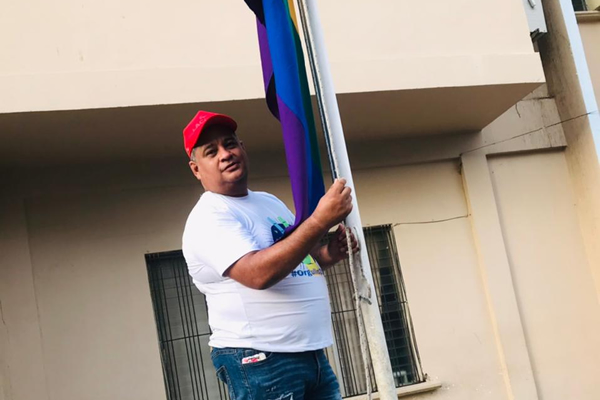 Both Barahona and Rodríguez said their work will continue.
"My fight is here," said Rodríguez. "My essence and my dreams are here."
Abdiel Echevarría-Caban and Reportar sin Miedo contributed to this story.

Far-right Israeli politician vows to cancel Jerusalem Pride
Avi Maoz rebuked by Benjamin Netanyahu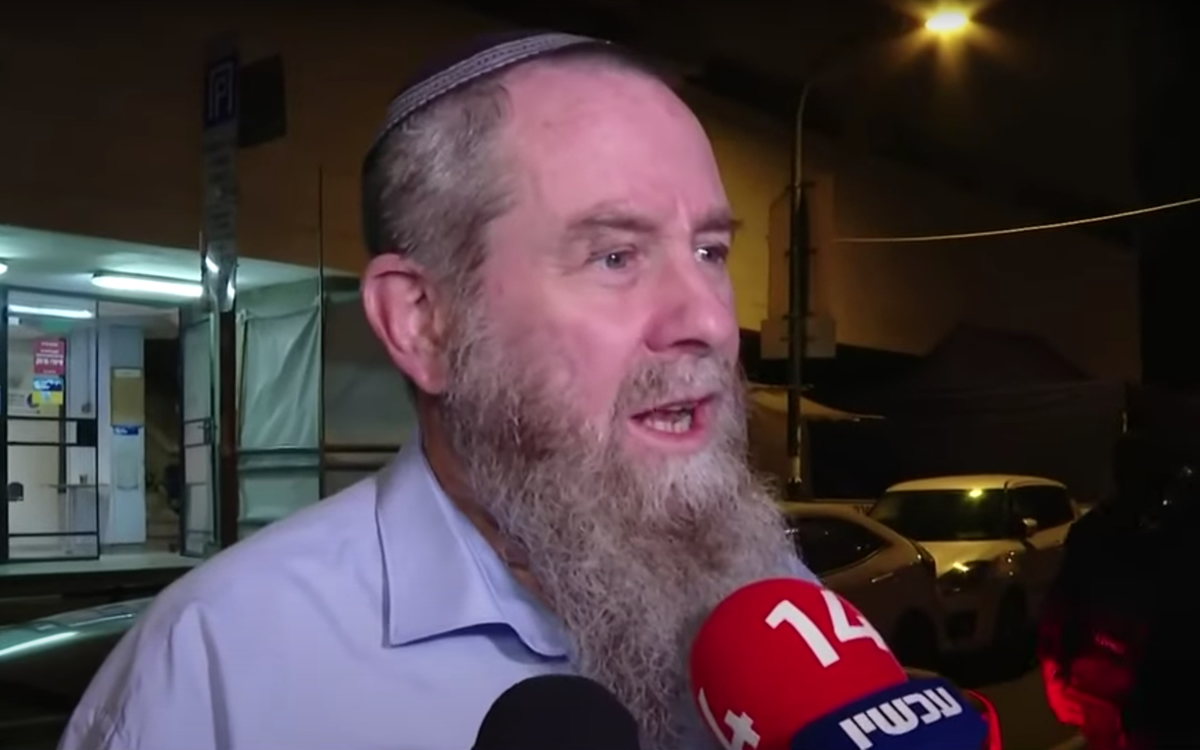 A far-right Israeli politician on Wednesday said the country's new government should not allow the annual Jerusalem Pride parade to take place.
Walla News Diplomatic Correspondent Barak Ravid noted Avi Maoz, a member of the Israeli Knesset who is a member of the far-right Noam party, told the Olam Katan newspaper the incoming government needs "to cancel the Jerusalem Pride parade."
"It's a disgrace," said Maoz. "I am as serious as I can be. It didn't come up in the coalition agreement, but I am not hiding, I want it cancelled."
President Isaac Herzog has asked Netanyahu to form a government after his Likud Party won the election that took place on Nov. 1. Maoz's party is among those that could form a coalition government with Netanyahu as prime minister.
WDG, the Washington Blade's media partner in Israel, previously reported Maoz promotes an anti-LGBTQ agenda based on the preservation of family values.
Ravid noted Netanyahu has said the Jerusalem Pride parade "will continue."
"My government will not harm the rights of the LGBT community or any of Israel's citizens," said Netanyahu.
Netanyahu: "The Jerusalem pride parade will continue. My government will not harm the rights of the LGBT community or any of Israel's citizens" https://t.co/2g9ZNGMszm

— Barak Ravid (@BarakRavid) December 1, 2022
Japanese court rules same-sex marriage ban is constitutional
Ruling said lack of legal protections violate couples' human rights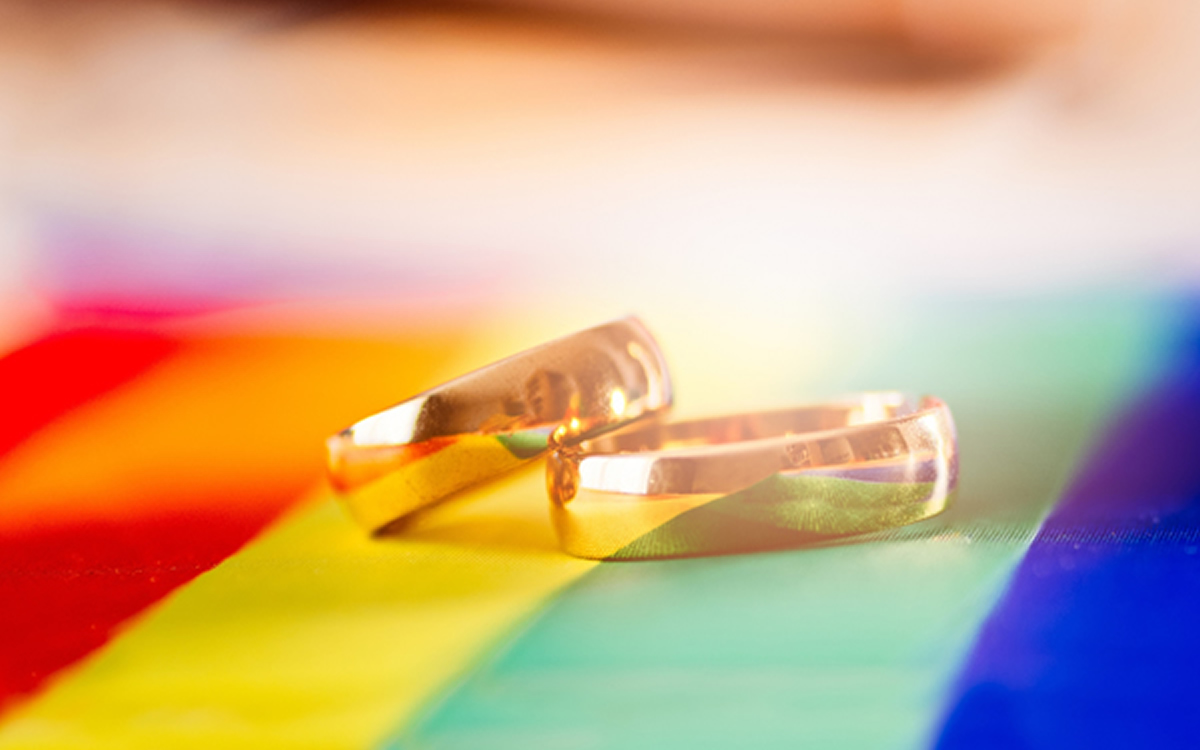 A district court in the Tokyo Prefecture ruled on Wednesday that Japan's constitutional ban on same-sex marriage is legal. The court added that the absence of a legal system to protect same-sex families infringed upon their human rights.
In a statement to Reuters, Nobuhito Sawasaki, an attorney for the plaintiffs told the wire service, "This is actually a fairly positive ruling," said Sawasaki who added, "While marriage remains between a man and a woman, and the ruling supported that, it also said that the current situation with no legal protections for same-sex families is not good, and suggested something must be done about it."
This past June in Osaka Prefecture, the district court in that jurisdiction said that the country's ban on same-sex marriage was not unconstitutional. The case had been filed by three same-sex couples — two male, one female — and is only the second legal challenge to have been filed in Japan. 
In March 2021, the Sapporo District Court issued its ruling the country's constitution does not ban same-sex couples from legally marrying and ensures them a right to marry. Under current Japanese law, same-sex couples are banned from legally marrying, which means partners cannot inherit each other's assets upon death and have no parental rights over the other's child.
In the Sapporo case, Nikkei Asia reported three couples — also two male and one female — tried to register their marriages in 2019, but local officials turned them away.
The couples sued and the court ruled the government's actions violated two provisions of the Japanese Constitution: Article 14 that ensures the right to equal treatment and Article 24, which does not expressly deny the right of marriage to same-sex couples.
Prime Minister Fumio Kishida has said the issue needs to be carefully considered, his ruling Liberal Democratic Party has disclosed no plans to review the matter or propose legislation, though some senior party members favor reform.
An opinion poll by the Tokyo Prefecture late last year found some 70 percent of people were in favor of same-sex marriage.
Reuters reported that the Tokyo ruling promises to be influential as the capital has an outsized influence on the rest of Japan.
Gon Matsunaka, head of the activist group Marriage for All Japan told Reuters "This is hard to accept. Both heterosexual and same-sex couples should be able to benefit equally from the system of marriage, as everyone is equal under the law," he said and added. "It (the ruling) clearly said that is not possible." Yet the recognition that same-sex families lacked legal protections was "a big step" he noted.
Reuters reported that two more cases are pending in Japan, and activists and lawyers hope an accumulation of judicial decisions supporting same-sex marriage will eventually push lawmakers to change the system, even if this is unlikely soon.
"I hope there will be legislative debate about this," said plaintiff Shizuka Oe. "We will keep making efforts."
Tokyo court ruling upholds ban on same-sex marriage:
New India Supreme Court chief justice seen as LGBTQ ally
D.Y. Chandrachud applauded activists during Aug. 31 speech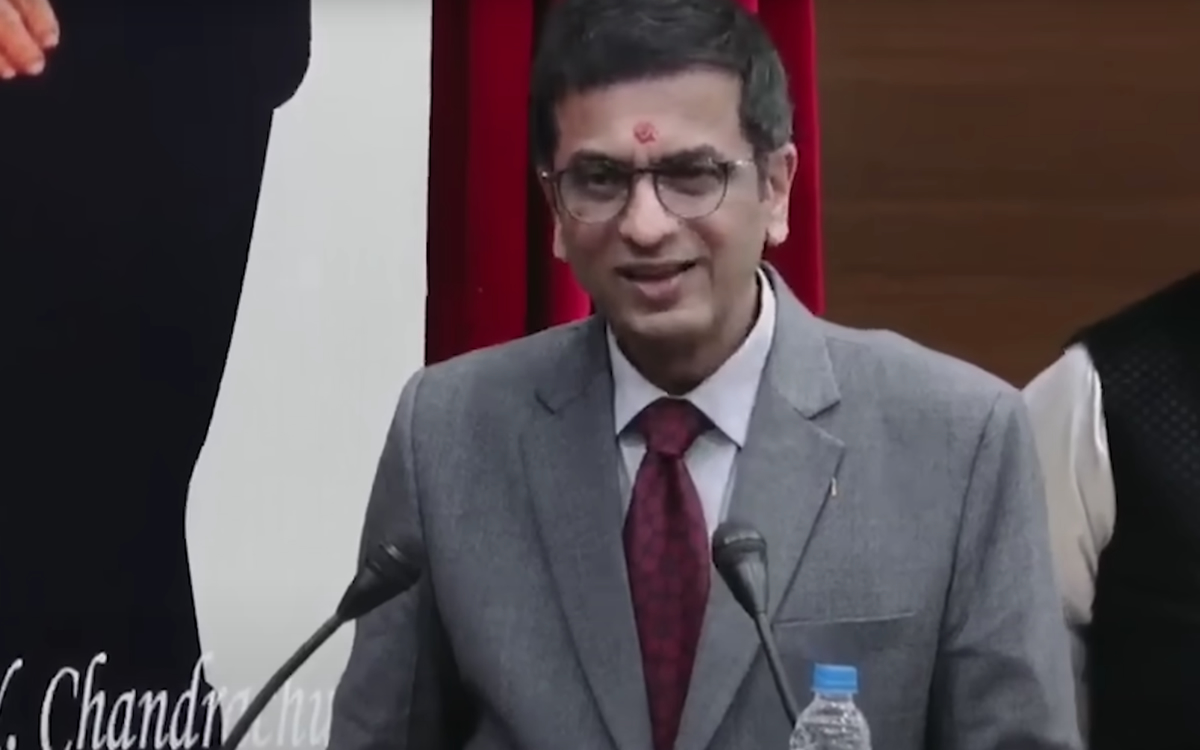 The struggle for equality in the world's biggest democracy took a giant step forward in 2018 with the decriminalization of homosexuality, but the fight is not over.
Though homosexuality is now decriminalized in India, same-sex marriage is still not legalized. In other words, same-sex couples can love but cannot marry. The pain in the community is visible. Since same-sex marriage is not legally recognized, it affects a spectrum of rights available to heterosexual couples that include the transfer of property and access to medical facilities.
Several marriage equality cases have been filed in the Delhi High Court and in other courts across the country.
Two petitions filed by gay couples came to the India's Supreme Court on Nov. 25 asking for recognition of same-sex marriage under the Special Marriage Act, 1954. A bench led by the new Chief Justice D. Y. Chandrachud issued a notice to the federal government and the attorney general and posted the matter for further hearing after four weeks.
Life Insurance Corporation of India (LIC), a public sector insurance company under India's Finance Ministry, last month appeared to recognize a same-sex couple who lives in Kolkata. The arrival of the Supreme Court's new chief justice is an additional ray of hope for the country's LGBTQ and intersex community.
On many occasions, Chandrachud has signaled his support for the community. For instance, while speaking at the British High Commission in New Delhi, the Indian capital, on Aug. 31, Chandrachud said that decriminalization of homosexuality alone cannot achieve equality, and it must extend to "all spheres of life," including home, workplace, and public places.
Chandrachud has been expressing his observations and opinions on the issue of LGBTQ rights in India, even when he was not the chief justice but a Supreme Court judge. Chandrachud, while speaking at the British High Commission event, which focused on the future of the country's LGBTQ and intersex rights movement, said society owes a debt of gratitude to every individual who formed and continues to form a part of the struggle for equality.
"Perhaps, we need a little more than love," highlighted Chandrachud at the New Delhi event while calling for structural change in society to let the LGBTQ community live a life of autonomy and dignity.
The Supreme Court in 2018 struck down the law decriminalizing homosexuality. Chandrachud was on the Supreme Court in 2018 when it decriminalized homosexuality between consenting adults and recognized sexual autonomy as a basic right of individuals.
"While the decision in Navtej was momentous, we have a long way to go. The Beatles famously sang 'All you need is love, love; Love is all you need.' At the risk of ruffling the feathers of music aficionados everywhere, I take the liberty to disagree with them and say – perhaps, we need a little more than love," highlighted Chandrachud. "At the heart of personal liberty lies the freedom to choose who we are, to love whom we will, and to live a life that is true to our most authentic selves, not only without the fear of persecution but in full-hearted joy and as equal citizens of this country."
Navtej Singh Johar v. Union of India was the historical judgment that struck down the criminalization of homosexuality in India.
"The accomplishment of this simple yet crucial task would breathe life into the decision in Navtej," said Chandrachud. "It is not merely the black letter of the law that these changes must take place in, but in the heart and soul of every Indian. Heteronormativity — in every sense of the word — must give way to a plurality of thought and of existence."
Chandrachud in August said that justice can quickly be undone if people do not continue with the right discourse to safeguard the interests of marginalized groups. Chandrachud also highlighted in the same event that the decriminalization of homosexuality is not sufficient for members of the LGBTQ community to realize their rights. He was referring to the withdrawal of an advertisement of Karva Chauth featuring same-sex couples.
Karva Chauth is the Indian festival celebrated by Hindus in northern India in which wives keep a day-long fast for their husbands and perform rituals for the long life and well-being of their husbands.
The advertisement showed female couples celebrating Karva Chauth, and faced backlash over the internet and immediately firm withdrew it. Meanwhile, the marriage equality case the Supreme Court heard on Nov. 25 and Chandrachud's position as chief justice has brought renewed hope among LGBTQ and intersex activists and the broader community.
"It is heartening that D.Y Chandrachud was recently appointed as the Chief Justice of India. His opinions on abortion, privacy, women's entry into the Sabarimala temple, adultery, and gay rights (to name a few) have been progressive and brought about much-needed change," said Kanav Narayan Sahgal, communications manager at Nyaaya, Vidhi Center for Legal Policy. "With an uncooperative central government, and a largely conservative society, the ball is now in the hands of the Supreme Court."
Ankush Kumar is a freelance reporter who has covered many stories for Washington and Los Angeles Blades from Iran, India and Singapore. He recently reported for the Daily Beast. He can be reached at [email protected]. He is on Twitter at @mohitkopinion.