Harris meets with LGBTQ activists in Vietnam
Roundtable with advocacy groups took place in Hanoi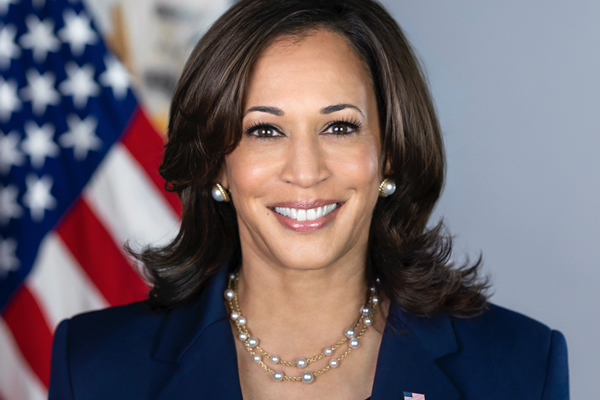 Vice President Kamala Harris on Thursday met with two LGBTQ rights activists in Vietnam.
Harris' office said Chu Thanh Hà Ngoc, a transgender activist, and Đoàn Thanh Tùng, an LGBTQ advocate, participated in a "roundtable discussion with the vice president and Vietnamese social advocacy organizations" that took place at the U.S. Chief of Mission's home in Hanoi, the Vietnamese capital.
"It is critical that if we are to take on the challenges we face that we do it in a way that is collaborative, that we must empower leaders in every sector, including of course government but community leaders, business leaders, civic society if we are to maximize the resources we collectively have," said Harris.
Harris specifically noted the Vietnamese Health Ministry "helped craft the draft — and draft — the (country's) transgender rights law" that took effect in 2017.
"Transgender people deserve and need equal access to healthcare services," she said. "This is an issue that we still face in the United States, and it is an issue here in Vietnam, I know. And we will work together and support you and the work you are doing in that regard."
Ann Marie Yastishock, the U.S. Agency for International Development's mission director in Vietnam, moderated the roundtable.
It took place on the last day of Harris' trip to Southeast Asia that began on Sunday in Singapore, one of the dozens of countries in which consensual same-sex sexual relations remain criminalized. The trip also coincided with growing calls for the U.S. to evacuate LGBTQ Afghans from Afghanistan after the Taliban regained control of the country.
Ted Osius, who co-founded GLIFAA, an association of LGBTQ employees of Foreign Service agencies, was the U.S. ambassador to Vietnam from 2014-2017. The late-U.S. Supreme Court Justice Ruth Bader Ginsburg in 2015 presided over the Hanoi ceremony during which Osius and his husband, Clayton Bond, renewed their wedding vows.
President Biden in February signed a memorandum that committed the U.S. to promoting LGBTQ rights abroad.
Visibles Executive Director Daniel Villatoro and Ingrid Gamboa of the Association of Garifuna Women Living with HIV/AIDS were among the members of Guatemalan civil society who participated in a roundtable with Harris in June when she was in Guatemala City. USAID Administrator Samantha Power also met with LGBTQ activists in Guatemala and El Salvador when she was in the countries at around the same time.
Chilean government launches LGBTQ, intersex rights campaign
Women and Gender Equity Undersecretary Luz Vidal Huiriqueo spoke exclusively with the Blade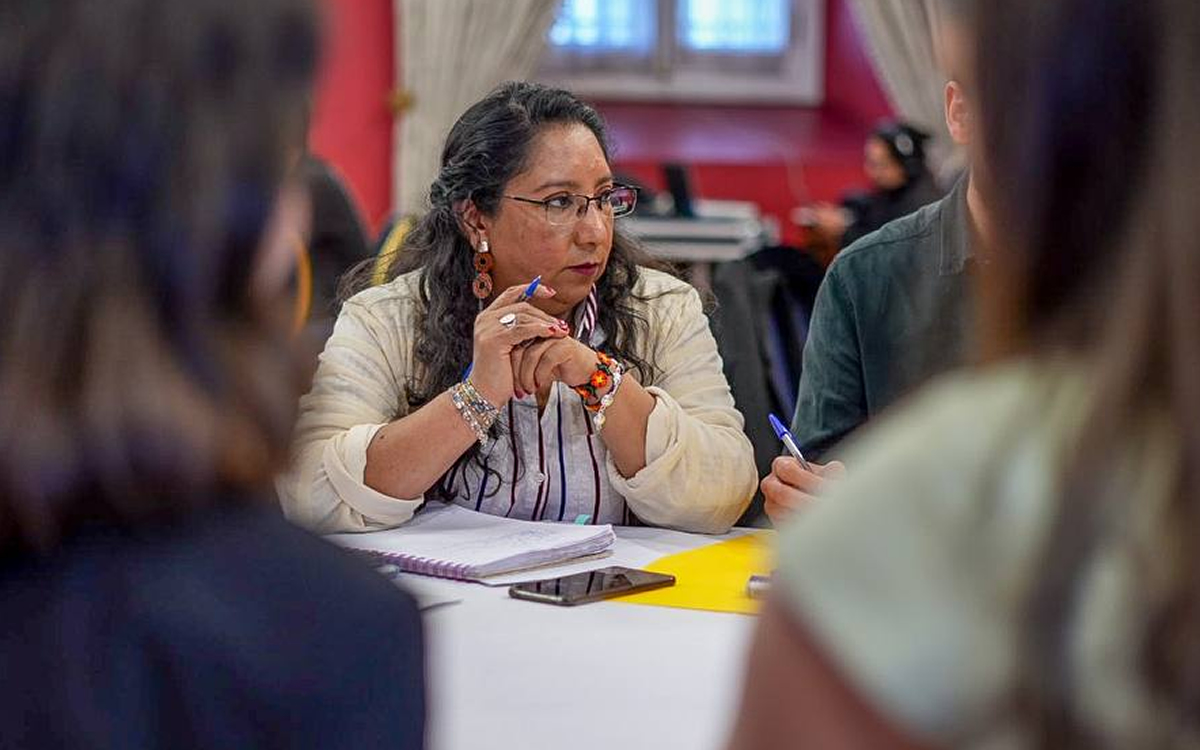 SANTIAGO, Chile — Chilean President Gabriel Boric on Wednesday launched his government's first LGBTQ and intersex rights campaign that seeks to reduce discrimination against the country's queer community.
According to the Movement for Homosexual Integration and Liberation (Movilh), a Chilean LGBTQ and intersex rights organization, hate crimes against the community have increased this year by 66 percent. Five people have also been murdered because of their sexual orientation, gender identity and/or expression.
Boric during his campaign against José Antonio Kast, a far-right former congressman, pledged to promote LGBTQ and intersex rights and policies during his administration. The #LivingWithPride campaign is part of these efforts.
Boric's first gesture towards the queer community was to appoint Marco Antonio Avila, a gay man, as his government's education minister and Alexandra Benado Vergara, a lesbian woman, as Chile's next sports minister. Ávila and Benado arrived at La Moneda, the Chilean presidential palace, with Boric on March 11 when he took office.
"President Gabriel Boric Font's government has implemented a series of measures that seek to advance in safeguarding the rights of LGBTQ+ people," Women and Gender Equity Undersecretary Luz Vidal Huiriqueo told the Washington Blade in an exclusive interview after the government launched the #LivingWithPride (#VivirConOrgullo in Spanish) campaign.
Vidal said "one of the relevant lines of work that the Ministry of Women and Gender Equity has developed since we took office … seeks to highlight the structural difficulties experienced by people of the LGBTIQA+ community, move towards state representation, since there is currently no institutionality that welcomes this community."
"This is why we have taken the mandate to welcome this population, within the legal possibilities that govern the ministry," Vidal emphasized to the Blade.
Vidal said "the gender mainstreaming network that has been reactivated with our government has opened a door to the organizations of the LGBTIQA+ community in all portfolios."
"The advisors in charge of gender mainstreaming do not understand gender in a binary way, they have the conviction that we must also develop public policies for the LGBTIQA+ community." she told the Blade.
Boric directed the Women and Gender Equity Ministry and his administration's sociocultural coordinator to create and lead an "LGBTIQA+ Roundtable," which includes organizations, activists and members of the LGBTQ Congressional Caucus to work to implement their demands because Chile thus far does not have a government institution that specifically addresses queer rights. 
"The roundtable's objective is to generate and prioritize, together with the LGBTIQA+ community, guidelines for the development of public policies on the matter, from an intersectoral perspective," said Vidal. "More than 35 civil society organizations from all over the country, representatives of the Legislative Branch and different (Executive Branch) portfolios have participated."
Vidal stressed "this space of constant linkage with social organizations has allowed us to know the reality that social organizations of the LGBTIQA+ community live when linking with State agencies." She also noted "the experience has been successful, being a valuable space that will allow us to build a work path for the design of gender equality public policies relevant to the LGBTIQA+ community, to improve their lives and eradicate gender-based violence and hate crimes against the community."
The roundtable has been meeting once a month since May. It's last 2022 meeting will take place this month, and it will resume its work next year.
Vidal told the Blade that transgender women can now use her ministry's public policies.
"We consider trans women as part of the diversity of women, which implies that they can access the different benefits of the National Service for Women and Gender Equity (SernamEG), which is the executing body of the ministry's programs," she said.
Another initiative Vidal highlighted is the incorporation of a "social name" section in the public employment pages for those who have not yet legally changed their name. This option allows people to identify themselves as trans or nonbinary.
The Education Ministry "has developed a participatory process for the design of the Bill on National Policy on Education on Affectivity and Comprehensive Sexuality. It has also made it possible for students, mothers, fathers, parents, guardians and education workers to participate in what Vidal described as "non-sexist" education workshops.
WNBA star Brittney Griner released
Olympic Gold medalist detained in Moscow in February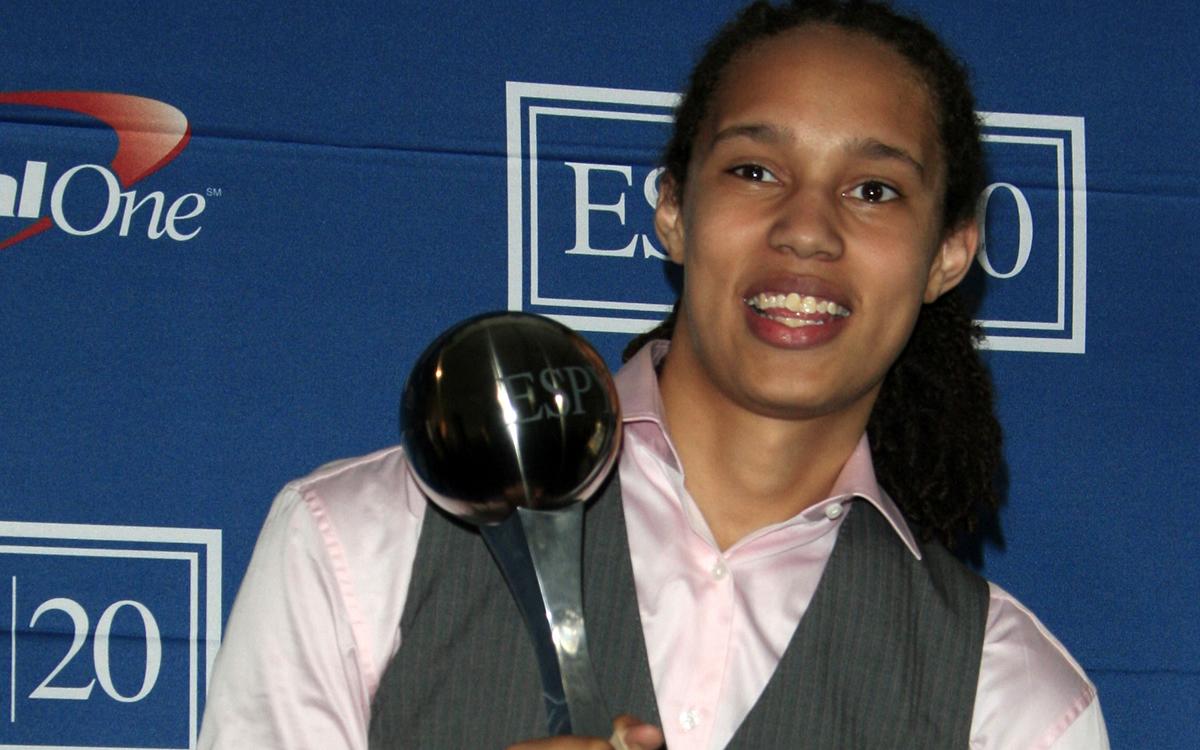 Russian authorities have released WNBA star Brittney Griner.
Griner was released in exchange for Viktor Bout, a Russian arms dealer who was serving a 25-year prison sentence in the U.S. The exchange took place in Abu Dhabi in the United Arab Emirates.
Griner had been serving a nine-year prison sentence after a Russian court convicted her on the importation of illegal drugs after Russian customs officials found vape canisters containing cannabis oil in her luggage at Moscow's Sheremetyevo Airport.
American officials had previously acknowledged their willingness to release Viktor Bout, a Russian arms dealer who is serving a 25-year prison sentence in the U.S., as part of a deal to secure Griner's release. A senior administration official on Thursday told reporters during a conference call that Russian authorities earlier this week moved Griner from the penal colony where she had been serving her sentence to Moscow.
The official said Griner flew to the United Arab Emirates on Thursday. Special Presidential Envoy for Hostage Affairs Roger Carstens greeted Griner once she landed.
"She is now in the air," said the official.
President Biden spoke with Griner before she left the United Arab Emirates. The White House tweeted a picture of Biden in the Oval Office with Griner's wife, Cherelle Griner, Vice President Kamala Harris and Secretary of State Antony Blinken.
"She is safe," tweeted Biden. "She is on a plane. She is on her way home."
Cherelle Griner was standing alongside Biden, Harris and Blinken at the White House when the president spoke about Brittney Griner's release.
"It's just a happy day for me and my family," said Cherelle Griner.
Cherelle Griner added she and her wife remain "committed to the work of getting every American home, including Paul" Whelan, a former U.S. Marine who is serving a 16-year prison sentence in Russia for spying.
A senior administration official on Thursday said the White House proposed "multiple different options" that included Whelan's release. The official added the Biden administration remains "committed" to his release.
"Today is just a happy day for me and my family."

Watch Cherelle Griner's full remarks on the release of her wife Brittney Griner from Russia in a high-level prisoner exchange. https://t.co/H0w8BNpEvR pic.twitter.com/CSW2oIRUoz

— The Associated Press (@AP) December 8, 2022
The Russian Foreign Ministry in a statement acknowledged "a Russian citizen (Bout) has been returned to his homeland."
Blinken issued a lengthy statement after Griner's release.
"This morning, I joined President Biden, Vice President Harris, National Security Advisor Sullivan and Cherelle Griner in the Oval Office as Cherelle spoke to her wife Brittney, who is now on her way back to the United States and to her wife's loving embrace," said Blinken. "I am grateful to the State Department team and to our colleagues across the government who worked tirelessly to secure her release. I especially commend Special Presidential Envoy for Hostage Affairs Roger Carstens, who is accompanying Brittney back to the United States, as well as his entire team. We also extend deep appreciation to our many partners who helped achieve this outcome, including our Emirati friends, who assisted in the transfer today."
"While we celebrate Brittney's release, Paul Whelan and his family continue to suffer needlessly," added Blinken. "Despite our ceaseless efforts, the Russian Government has not yet been willing to bring a long overdue end to his wrongful detention. I wholeheartedly wish we could have brought Paul home today on the same plane with Brittney. Nevertheless, we will not relent in our efforts to bring Paul and all other U.S. nationals held hostage or wrongfully detained abroad home to their loved ones where they belong."  
LGBTQ rights groups applauded Brittney Griner's release.
"Britney Griner's long awaited release is a relief for her wife, teammates, fans and all in the LGBTQ community who recognized the extreme danger she faced as an out gay Black woman detained in Putin's Russia," said GLAAD President Sarah Kate Ellis in a statement. "Britney's wife Cherelle never gave up fighting for her safe return, and President Biden and the State Department never wavered in their commitment to the Griners and the LGBTQ community on Britney's behalf. We can't wait to welcome Britney home."
"The wait is over. Brittney Griner is coming home, and not a moment too soon," added Human Rights Campaign President Kelley Robinson. "Brittney is so much more than a WNBA superstar and Olympian, she is an American hero who had undergone unfathomable hardship. After being wrongfully held for 294 days away from her home, her friends, and most importantly her family, we celebrate her release. The HRC family is grateful for the State Department's efforts to free her — and to any member of our community facing hate and extremism — your community will never stop fighting for you, just like we never stopped fighting for Brittney."
National LGBTQ Task Force Executive Director Kierra Johnson in their statement noted "number 42 has been hanging on my wall as a daily reminder of the violence and discrimination Black people, LGBTQ folks and women regularly endure in this country and around the world."
"After being held for months in a Russian prison on drug charges, we are overjoyed and relieved she has been released today in a one-for-one prisoner swap for international arms dealer Viktor Bout," said Johnson. "We thank President Biden and all those who relentlessly negotiated and advocated for her release and return to her family. Now her jersey will be a celebration and reminder of the resilience of our people and the power of our community."
Court orders Aruba, Curaçao to extend marriage rights to same-sex couples
'The right to same-sex marriage has been established'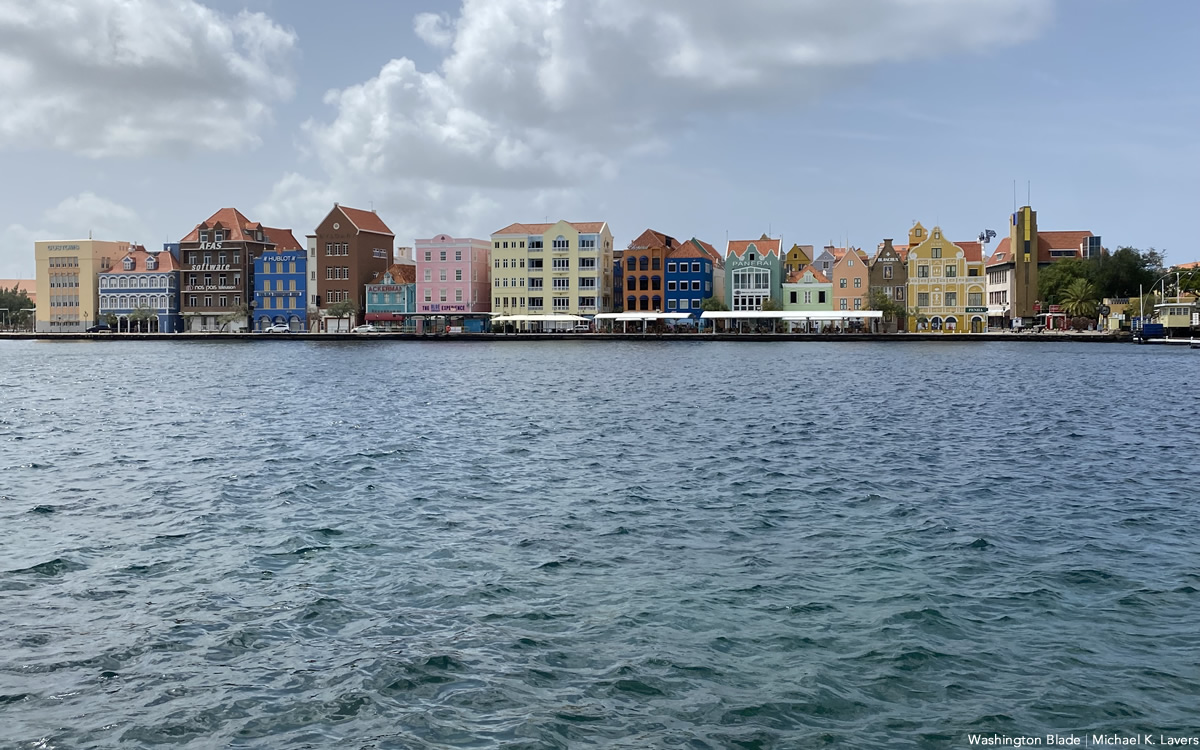 A court on Tuesday ruled Aruba and Curaçao must allow same-sex couples to marry.
The Joint Court of Justice of Aruba, Curaçao, Sint Maarten and of Bonaire, Sint Eustatius and Saba that has jurisdiction over three constituent countries (Aruba, Curaçao and Sint Maarten) and three special municipalities (Bonaire, Sint Eustatius and Saba) within the Netherlands issued the ruling in two marriage equality cases that Fundacion Orguyo Aruba and Human Rights Caribbean in Curaçao filed on behalf of two women who want marriage rights in Aruba and Curaçao.
"The court has come to the conclusion that excluding same-sex marriage is in violation of the prohibition of discrimination and incompatible with state regulations," reads the ruling, according to the Curaçao Chronicle, an English newspaper in Curaçao.
Same-sex couples have been able to legally marry and adopt children in Bonaire, Sint Eustatius and Saba since 2012.
Same-sex couples cannot legally marry in Aruba, Curaçao and Sint Maarten. The countries, however, must recognize same-sex marriages from the Netherlands, Bonaire, Sint Eustatius and Saba.
The Court of First Instance in Curaçao on Sept. 13, 2021, ruled the lack of marriage rights for same-sex couples violated the country's constitution. Prime Minister Gilmar Pisas' government appealed the decision in the Human Rights Caribbean case.
Aruba's registered partnership law took effect in September 2021. Accion 21, a centrist party that openly gay Sen. Miguel Mansur chairs, in June introduced a marriage equality bill.
Janice Tjon Sien Kie of Human Rights Caribbean on Tuesday told the Washington Blade during a telephone interview the ruling could take effect as early as March 7 if the Curaçaoan government does not appeal it to the Dutch Supreme Court in The Hague.
"As of March 7, Curaçao has marriage equality," she said. "If they (the government) go into appeal, it would only cause a delay of approximately 18 months."
Mansur and Melissa Gumbs, an openly lesbian member of the Sint Maarten Parliament, attended the LGBTQ Victory Fund's International LGBTQ Leaders Conference that took place in D.C. this past weekend.
"Essentially the right to same-sex marriage has been established by the appeals court in both Curaçao and Aruba," Mansur told the Blade on Tuesday.
Mansur noted the ruling does not address adoption rights for same-sex couples. He told the Blade on Wednesday he does not expect the Aruban government to appeal it, and the Advisory Council will receive the marriage equality bill on Dec. 16.
Gumbs, who founded the center left Party for Progress in Sint Maarten in 2019, on Tuesday told the Blade there "is precedent now within the Caribbean part of the kingdom (of the Netherlands) that it's not right to withhold same-sex marriage rights from people." Gumbs added her party plans to introduce a marriage equality bill in Parliament.
"That's something that we will be using," said Gumbs, referring to the ruling.
Cuba, Puerto Rico, the U.S. Virgin Islands, St. Martin, St. Barthélemy are the other jurisdictions in the Caribbean in which same-sex couples can legally marry.