Critics falsely claim LGBTQ books promote pedophilia in Fairfax schools
Complaints by parents prompt removal of two titles for 'detailed review'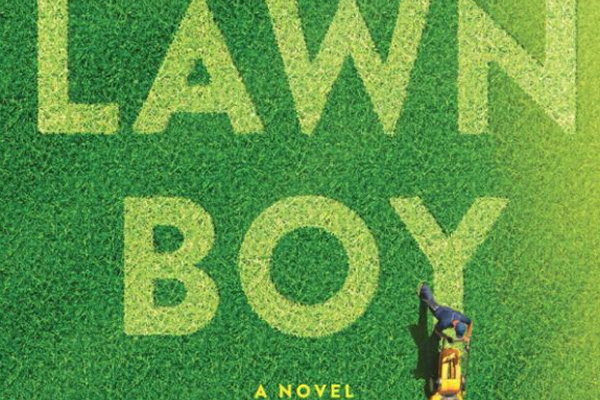 A leader of a group that advocates for LGBTQ students in the Fairfax County, Va., public school system expressed concern this week that misinformed parents and news media outlets were incorrectly reporting that two controversial LGBTQ-themed books available in high school libraries promoted pedophilia.
Following strong objections to the books by parents at a Sept. 23 meeting of the Fairfax County School Board, officials with Fairfax County Public Schools announced they had removed the books from the school libraries to reassess their suitability for high school students.
The two books, "Lawn Boy," a novel by author Jonathan Evison, and "Gender Queer: A Memoir," which is described as an illustrated autobiography by non-binary author Maia Kobabe, each contain graphic descriptions of sexual acts. But supporters and opponents of the books strongly disagree over whether those depicted as having sex in books include children having sex with an adult.
During the Fairfax School Board meeting last week, Stacy Langton, a parent of two students attending a Fairfax County high school, described in detail a passage from "Lawn Boy" in which the book's lead character tells a friend that when he was 10 years old, he engaged in oral sex with "the real estate guy" named Doug.
Langston told school board members and many parents attending the meeting that the passage in "Lawn Boy," "describes a fourth-grade boy performing oral sex on an adult male." She said the other book, "Gender Queer," "has detailed illustrations of a man having sex with a boy."
Robert Rigby, co-president of Fairfax Public Schools Pride, an LGBTQ advocacy group, strongly disputes Langston's claims that the books depict sex between adults and children.
"I have read them cover to cover and this is simply not true," he told the Washington Blade.
The Blade couldn't immediately obtain copies of the two books, which have been sold out at local bookstores. Rigby, however, provided the Blade with excerpts of other passages of "Lawn Boy" that he said Langston and others attacking the book either have not read or have chosen to ignore. Those passages make it clear that the person with whom the fourth-grade boy had sex was another boy his own age that took place years earlier and there are no passages in "Lawn Boy" where adults have sex with children.
One of the passages from the book that opponents did not read at the school board meeting includes the book's main character, Mike Munoz, telling how he liked going to a Bible study class as a 10-year-old kid because the boy he later says he had sex with was also attending the class.
"All told, there were eight or nine other kids, including my hero, Doug Goble, long before he became the hottest real-estate agent in Kitsap County."
Rigby said he and others who have read and viewed the illustrations in "Gender Queer" do not believe the comic book style drawings depicting sexual acts include a child having sex with an adult as claimed by opponents of the books.
"The scene published is a scene between genderqueer adults in their early 20s," Rigby said. "Someone pointed out an imagined scene of a Greek vase in which some folks brought up the idea of Ancient Greek 'pederasty,'" said Rigby, who added that the book could not be interpreted to show an adult having sex with a juvenile. "Instead, a genderqueer person is imagining themselves a genderqueer person in the scene," he said.
"Our position on the books controversy is that it is not so much about the books," said Rigby. "It is an effort to continue the crisis about schools over the next few months targeting libraries and LGBTQIA+ people," with the aim, he said, to drive up conservative turnout for the November Virginia gubernatorial election. "We have seen this movie before in Fairfax," he said.
Langston, the parent who spoke at the school board meeting, said she and other parents consider the two books to be a form of pornography because they include explicit descriptions or illustrations of sexual acts regardless of who is engaging in those acts.
"I'm not one of those activist moms or disgruntled moms," she stated in an interview with Fox News. "This is not about being anti-gay, anti-trans or whatever. I would have been there and said every single word I said if this had been the depiction of a heterosexual couple with heterosexual acts – pornography is pornography and I don't care what the gender is," she told Fox News.
"And by the way, it's even worse that the pornography involves children," she said. "That takes it to a whole other level of evil."
The Fairfax Public Schools released a statement announcing it had suspended circulation of the two books from its libraries.
"FCPS is in the process of convening two committees made up of staff, students and parents led by our Library Services Coordinator to assess the suitability of both texts for inclusion in our high school libraries," the statement says. "The recommendation of the committees will be put forward to the Assistant Superintendent of Instructional Services who will make a final decision as to whether FCPS continues to provide access to these books in our high school libraries," it says.
Both books have received the American Library Association's Alex Award, an annual award that recognizes the year's "ten books written for adults that have special appeal to young adults ages 12 through 18," according to the Associated Press.
A review by the publication Book Browse describes "Lawn Boy" as a "funny, angry, touching, and ultimately deeply inspiring novel" that takes the reader "into the heart and mind of a young man on a journey to discover himself, a search to find the secret to achieving the American dream of happiness and prosperity."
A review by the Cartoon Art Museum based in San Francisco describes "Gender Queer" as an "intensely cathartic autobiography" by author Maia Kobabe that tells of a "journey of self-identity, which includes the mortification and confusion of adolescent crushes, grappling with how to come out to family and society." The review says that the book, which starts as a way for the author to explain what it means to be nonbinary and asexual, becomes more than just a personal story.
"It is a useful and touching guide on gender identity – what it means and how to think about it – for advocates, friends, and humans everywhere."
Rigby and Fairfax County School Board member Karl Frisch, who is gay, have said they have become the target of hostile social media postings by opponents of the two books. The Associated Press reported that Frisch "offered a defense of sorts" for the two books in a Twitter message he posted following the school board meeting in which the subject of the books came up.
He stated, "nothing will disrupt our Board's commitment to LGBTQIA+ students, families and staff. Nothing," the AP quoted his message as saying. But the AP said he wasn't explicit about whether his tweet was referring to the attacks against the two books and he declined comment when contacted by the AP.
"The past 36 hours have been surreal," Frisch stated in another social media posting. "Led by a local, right-wing, anti-schools advocate who claimed I was defending pornography and perversion, I've received nearly 1,000 comments, emails, voicemails, etc. from around the world attacking me as some sort of child predator," he wrote.
46 out commissioners join ANC Rainbow Caucus
Raising the profile of issues unique to D.C.'s LGBTQ residents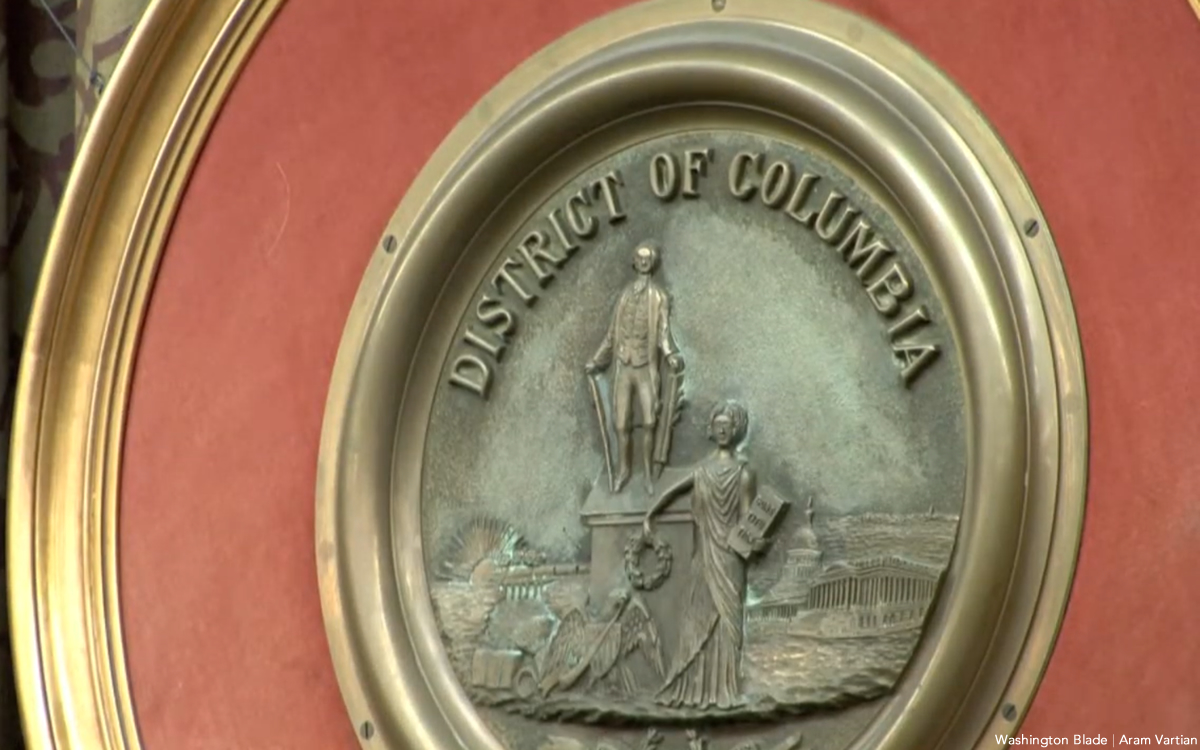 At least 46 out members of the city's Advisory Neighborhood Commissions who were elected in November have joined the ANC Rainbow Caucus, according to caucus co-chair Vincent Slatt, who won election to the Dupont Circle ANC Single Member District 2B03.
Slatt said he and ANC Rainbow Caucus co-chair Ryan Cudemas-Brunoli of ANC 3F01 plan to continue the caucus' activities since its founding in 2018 of raising the profile of problems and issues unique to LGBTQ residents throughout the city and to use caucus members' positions to push for a D.C. government response to those issues.
At least 34 straight-identified commissioners have signed up as allies to work with the Rainbow Caucus, Slatt said.
The city currently has a total of 46 ANCs representing neighborhoods throughout the city that have between two and as many as 10 single member districts (SMDs) each with an elected commissioner, with a total of 345 commissioners. Under the city's Home Rule Charter, ANC seats are nonpartisan, unpaid positions whose elected members are charged with advising the D.C. government on local neighborhood issues.
Among the caucus' past accomplishments, Slatt said, was the active role it played in lobbying the D.C. Council to amend the city's hate crimes law to ban the so-called LGBTQ "panic defense." Defense attorneys have used that defense to argue that a client charged with physically assaulting or murdering an LGBTQ person did so after they panicked upon learning the victim was gay or LGBTQ.
Slatt noted that the caucus, among other actions related to crime targeting LGBTQ people, submitted a community impact statement to a D.C. Superior Court judge at the time of sentencing for a man charged with a violent hate crime assault targeting a gay Asian man and his elderly parents. The judge denied a request by the defendant's attorney to issue a suspended jail term with probation and instead sentenced the man to seven months in jail.
Slatt said the ANC Rainbow Caucus is currently closely monitoring the police investigation into the January 2023 murder of D.C. transgender woman Jasmine Star Parker.
"As in previous caucus work, we'll have letters, resolutions, and proclamations on different matters," Slatt said, which will be posted on a website the caucus plans to launch soon.
The caucus can currently be contacted via email at ancrainbowcaucus.org.
Newly diagnosed HIV cases increased slightly in D.C. in 2021
Report cautions fewer people were tested during COVID-19 pandemic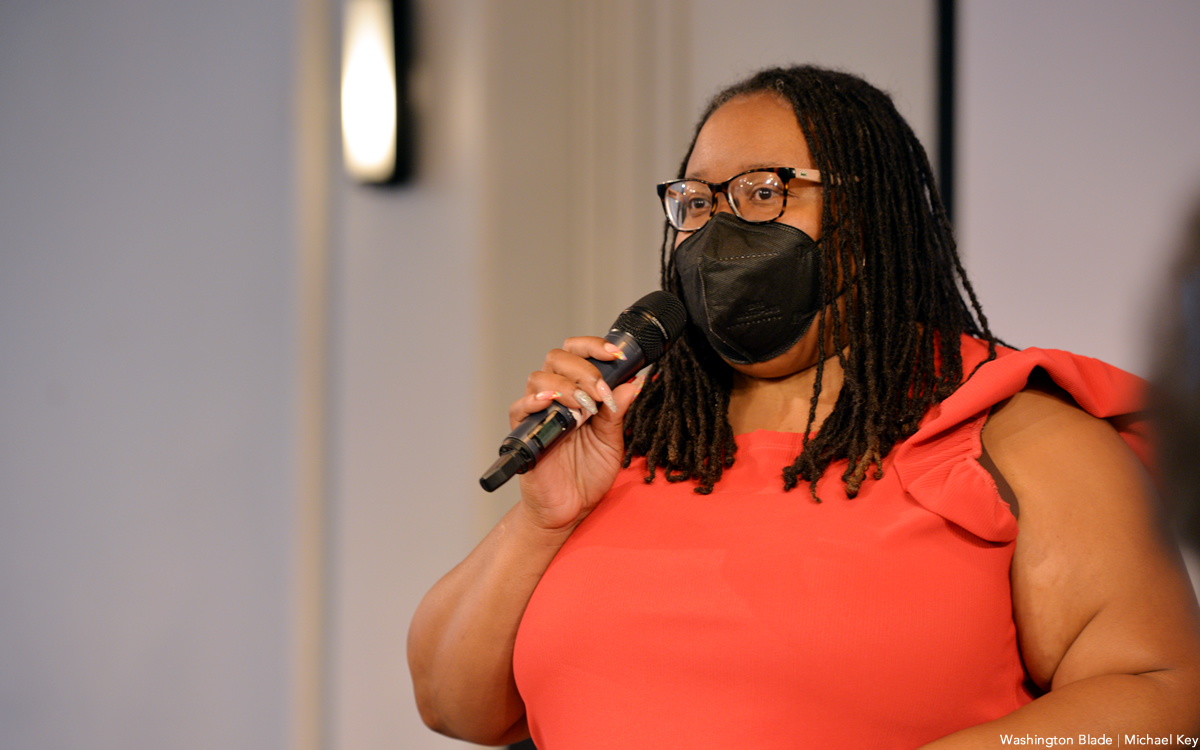 The D.C. Department of Health's Annual Epidemiology and Surveillance Report released on Tuesday shows there were 230 newly diagnosed HIV cases in the D.C. in 2021, the most recent year in which data have been analyzed.
The report says the 230 cases in 2021 represents an 83 percent decline in new cases from the peak number of 1,374 cases in 2007, but a slight increase from 219 cases reported in 2020. The report shows there were 273 newly reported HIV cases in 2019, 331 cases in 2018 and 386 in 2017.
In addition to HIV, the report includes data related to the number of newly reported cases of hepatitis, tuberculosis, and other sexually transmitted infections such as syphilis, gonorrhea and chlamydia.
"Annual surveillance data is critical to our understanding of disease trends and our planning and programmatic efforts to control and prevent disease," the report says. "However, the data in this year's report must be examined in the context of the COVID-19 pandemic. The pandemic continues to have an immense impact on the availability, accessibility and utilization of disease screening, prevention, and care services," according to the report.
Among other things, the report says the D.C. Department of Health, to which it refers as D.C. Health, saw a 20 percent decline in the volume of HIV, chlamydia, gonorrhea, syphilis and hepatitis laboratory reports received in 2020 compared to 2019, indicating fewer people were being tested and diagnosed for the diseases.
"HIV lab volume decreased further from 2020 to 2021 with a 20 percent decline, and an overall decline from 2019 to 32 percent," the report says. "Given disruptions to screening services, the potential for underdiagnosis and underreporting is most substantial for those with asymptomatic infections," it says.
The Annual Epidemiology and Surveillance Report was released at a Tuesday event at the city's Town Hall Education Arts Recreation Campus in Southeast D.C. in commemoration of Black HIV/AIDS Awareness Day.
Among those who attended or spoke were Harold Phillips, director of the White House Office of National AIDS Policy, and Dr. Demetre Daskalakis, deputy coordinator of the White House Mpox Response who's on leave from his role as director of HIV/AIDS Prevention at the U.S. Centers for Disease Control and Prevention.
Also participating in the event were Rita Harcrow-Flegel, drector of the U.S. Department Housing and Urban Development's Office of HIV/AIDS Housing; Dr. Sharon Lewis, interim director of D.C. Health; Clover Barnes, senior deputy director of D.C. Health's HIV/AIDS, STD, and TB Administration, and Erin Whelan, executive director of the D.C. LGBTQ youth advocacy group SMYAL.
Statements at the event by the White House and D.C. officials and a statement released by the office of D.C. Mayor Muriel Bowser point to stepped up efforts by D.C. to provide HIV testing and treatment services to all those at risk for HIV, including services free of charge for those unable to pay for them.
Among the services announced is the availability of Post Exposure Prophylaxis, or PEP, a medication D.C. Health is offering free of charge that is taken to prevent HIV infection if taken within 72 hours of being exposed to HIV. Also available, officials said, is the medication known as Pre-Exposure Prophylaxis, or PrEP, which, when taken as a daily pill, prevents people from becoming infected with HIV. That too is available free of charges for those in need, the statement from the mayor's office says.
"We want people in D.C. to know their status and get connected to the right care at the right time — with no shame or stigma attached," Bowser said in the statement. "We have so many fantastic healthcare partners in D.C., and they have helped us expand access to free PEP, free PrEP, free condoms, free at-home tests, and more," the mayor said. "Now, we need to make sure people know what's available and how to access it."
The statement calls on the public, especially those at risk for HIV, to access information about the city's HIV prevention and support related services through a new website: sexualbeing.org.
It says the city continues to push for its "bold goal" of having fewer than 21 new HIV diagnoses each year by 2030. It says the city is also stepping up efforts to ensure that everyone who tests positive for HIV will quickly access the anti-retroviral medication that, if used as directed, prevents HIV related illness and suppresses a person's HIV viral load to a point where they cannot transmit HIV to another person through sexual contact.
The newly released report includes these findings for the year 2021:
• There were 11,904 current D.C. residents, or 1.8 percent of the population, living with HIV in 2021.
• Sexual contact was the leading mode of transmission of newly diagnosed HIV cases in 2021.
• There were 230 newly diagnosed HIV cases in 2021, a small increase over the 219 new cases reported in 2020, but a significant drop from the 1,373 cases in the peak year of 2007 and the continued decline in cases in subsequent years.
• The proportion of people living with HIV in D.C. in 2021 that are Black is 71 percent
• The proportion of Black men diagnosed with HIV in 2021 who have sex with men (MSM) was 35 percent.
• The proportion of white men diagnosed with HIV in 2021 who have sex with men (MSM} was 8 percent.
• The proportion of Black heterosexual men diagnosed with HIV in 2021 was 8 percent.
• The proportion of Black heterosexual women diagnosed with HIV in 2021 was 15 percent.
• The report does not show the proportion of white heterosexual men who tested positive for HIV in 2021.
• The proportion of transgender persons diagnosed with HIV in 2021 was 3.5 percent.
• In 2021, the overall gender breakdown in the proportion of newly diagnosed HIV cases was 73.9 percent male and 22.6 percent female.
The report was expected to be posted for access on the D.C. Health website at www.dchealth.dc.gov
Va. House passes two anti-transgender bills
Measures likely to die in Democratic-controlled state Senate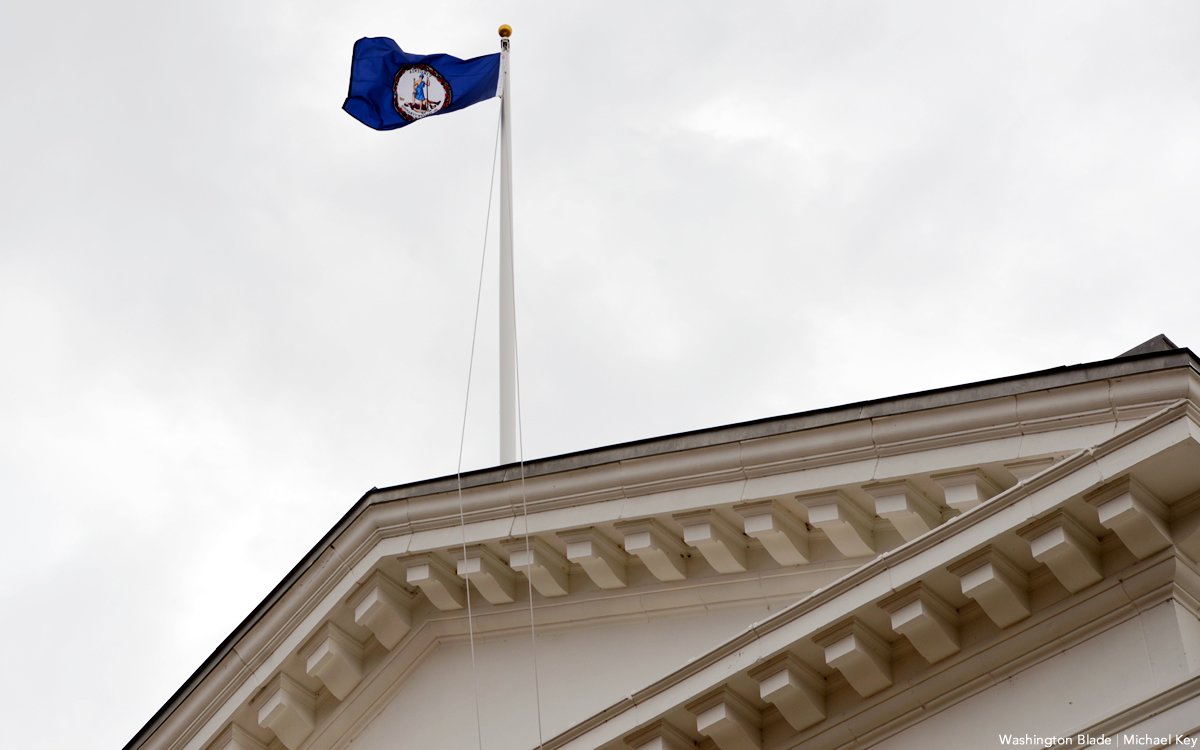 The Republican-controlled Virginia House of Delegates on Tuesday approved two anti-transgender bills.
State Del. Karen Greenhalgh (R-Virginia Beach)'s House Bill 1387, which would ban trans athletes from school sports teams that correspond with their gender identity, passed by a 51-47 vote margin. State Del. Dave LaRock (R-Loudoun County)'s House Bill 2432, which would require school personnel to out trans students to their parents, passed by a 50-48 vote margin.
"We are dealing with forcibly outing kids regardless of the safety of their home," said state Del. Danica Roem (D-Manassas) on Monday when she spoke against HB 2432. "You have no idea of the harm you're causing. Do better for them."
Roem, who is the first openly trans woman seated in a state legislature in the U.S., also spoke against HB 1387 on the House floor.
WATCH: Del. @pwcdanica's powerful statement on the House floor today, calling out the hypocrisy behind the anti-trans sports ban.

Trans youth playing sports isn't a problem. Period. pic.twitter.com/kLdcjivQZB

— ACLU of Virginia (@ACLUVA) February 6, 2023
Equality Virginia and the Human Rights Campaign are among the groups that condemned the bills' passage.
"It can be hard for people to understand what it means to be a transgender or nonbinary young person if they've never met one. But trans and nonbinary young people are our friends, family members and neighbors, and like all young people, they deserve safe and inclusive learning environments where they can thrive and be supported as they are," said Kasey Suffredini, vice president of advocacy and government affairs at the Trevor Project, in a statement. "These bills would only contribute to further isolation and stigma at a time when trans young people are already struggling."
The two bills will now go before the Democratic-controlled Virginia Senate.
The Senate Education Committee last week killed six measures that would have banned transition-related health care for minors in Virginia and prevented trans athletes from school teams that correspond with their gender. It is likely HB 1387 and HB 2432 will meet a similar fate.