New doc sets the record straight about 'Fauci'
Film offers humanizing overview of hero's life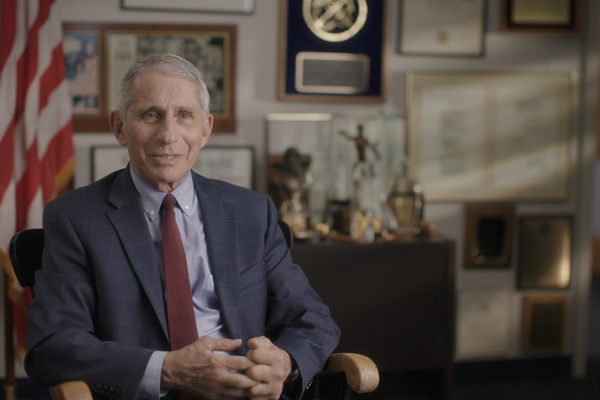 For those who lived through the AIDS epidemic, the onset of COVID-19 in early 2020 was accompanied by an inescapable air of déjà vu. There were plenty of reasons for this, of course: it was a terrifying new disease, not much was known and even less understood about how it spread, there was no effective treatment or cure available, the government's response to it sparked a political firestorm, and—most significantly—lots of people were dying. As if all that weren't enough, right in the middle of the public conversation about it was the same familiar face, none other than Dr. Anthony Fauci himself.
For many who worked as activists during the peak years of that earlier epidemic, Fauci was the adversary. Then, as now, he found himself in the crosshairs of a whole angry sector of society, bearing the brunt of the anger that arose from their fear of an uncertain future and becoming, once again, one of the most polarizing public figures in American politics, without even being a politician. Ironically, this time around, instead of being perceived as the face of government inaction and establishment obstructionism, he has been elevated to the status of progressive icon.
To understand how that seeming transformation is possible—as well as to look past the surface parallels between cultural response to the two plagues and see the profound differences instead—it's necessary to look past the broad strokes of the headlines and the two-line bios that make up most of the knowledge most Americans have about AIDS, COVID and Fauci, and get a more detailed knowledge of the history that links them all together. Fortunately, a new National Geographic documentary, which began streaming on Disney Plus on Oct. 6, is here to provide exactly that.
The film came about when two filmmakers, Emmy-winners John Hoffman and Janet Tobias, joined forces after being separately inspired to make a film about Fauci, who, for those who have been in an isolation module for the past 40 years, was appointed director of the National Institute of Allergy and Infectious Diseases (NIAID) in 1984 and has advised seven presidents on domestic and global health issues during the decades since. Aided by unprecedented access to their subject, who was not only supportive but fully cooperative, along with access to decades of deep archival material and a wide array of prominent public figures eager to participate, the result of their collaboration is an impressive piece of cinematic journalism titled, simply, "Fauci."
Starting out with a humanizing overview of Fauci's early life, the film offers us a protagonist whose dreams of a private Park Avenue practice gave way to a passion for the study of infectious diseases, and whose enduring marriage to Dr. Christine Grady began with a "meet-cute" that would have been right at home in a Hollywood rom-com. It then tracks his professional career, not just the two epidemics that have bookended his time in public service to date, but details from the intervening years that most people have either forgotten or never known, like his efforts in stemming the threat of Ebola when it began to appear in the U.S., and his role in ensuring global action to the AIDS crisis that was unfolding in Africa and the Caribbean.
Still, it's inevitable that the documentary concentrates most of its attention on his most famous contributions—spearheading the fights against AIDS and COVID in America—and it does so by highlighting the aforementioned parallels between the two epidemics while also giving us a Fauci's-eye view of how each played out. Throughout, we go back and forth across the decades, with the help of news footage and extensive interviews, to gather insight from the defining moments of each of these historic public health battles; we are reminded that, while Fauci was seen as the opposition by ACT UP and other AIDS activist organizations seeking to speed up the availability of drugs and treatment for HIV. He also listened to their concerns and learned from them. Bucking resistance from his colleagues, he gave activists and community members directly affected by AIDS a seat at the table and opened the door for their participation in designing the clinical trials that would ultimately bring the life-preserving drug cocktails that stopped a positive diagnosis from being a death sentence. While social media feeds over the past two years have been full of anti-Fauci posts reminding us of his early obstructionism in the AIDS fight, few have bothered to include the rest of that story, but "Fauci" sets the record straight.
In focusing on this end of history, however, the movie gives us a refresher course—as if one was needed—on the unprecedented level of opposition Fauci faced from the very administration it was his job to serve in the campaign against COVID. It reveals the pressures put on Fauci and his family by the vitriolic hatred of his detractors, the hardships imposed on his life and routine by the security protocols enacted in response to the death threats that come as a natural consequence of being used as a political scapegoat. And it makes quite clear that those who protest his methods this time around are working from a very different motivation than the one that drove the heroes of ACT UP.
More important than any of this, perhaps, is the chance "Fauci" gives us to get to know the man himself. The filmmakers position him squarely in his rightful place at the center of their movie, allowing us a look past the professional veneer that has become a fixture on news broadcasts and at press conferences. What we see there is the man we know, amplified by the freedom to let his compassion, his humanity, his intelligence, and yes, his sense of humor show. It's a winning portrait that never rings false, and the eager participation of a widely varied crowd of interviewees to sing his praises—from George W. Bush to Susan Rice to Peter Staley to Bono—only reinforces its sincerity.
Of course, those who dislike Fauci are unlikely to be swayed by the sympathetic portrait offered by Hoffman and Tobias' film—which, though it, like Fauci himself, is candid in acknowledging his missteps along the way, offers little in the way of negative commentary about its subject—and will doubtless brush it aside as "woke" propaganda. To answer that phenomenon, it might be best to offer a quote from the good doctor about why he is so hated by his critics. "I represent something that is uncomfortable for them. It's called the truth."
Director of 'They/Them' on queering the horror genre
John Logan puts conversion therapy where it belongs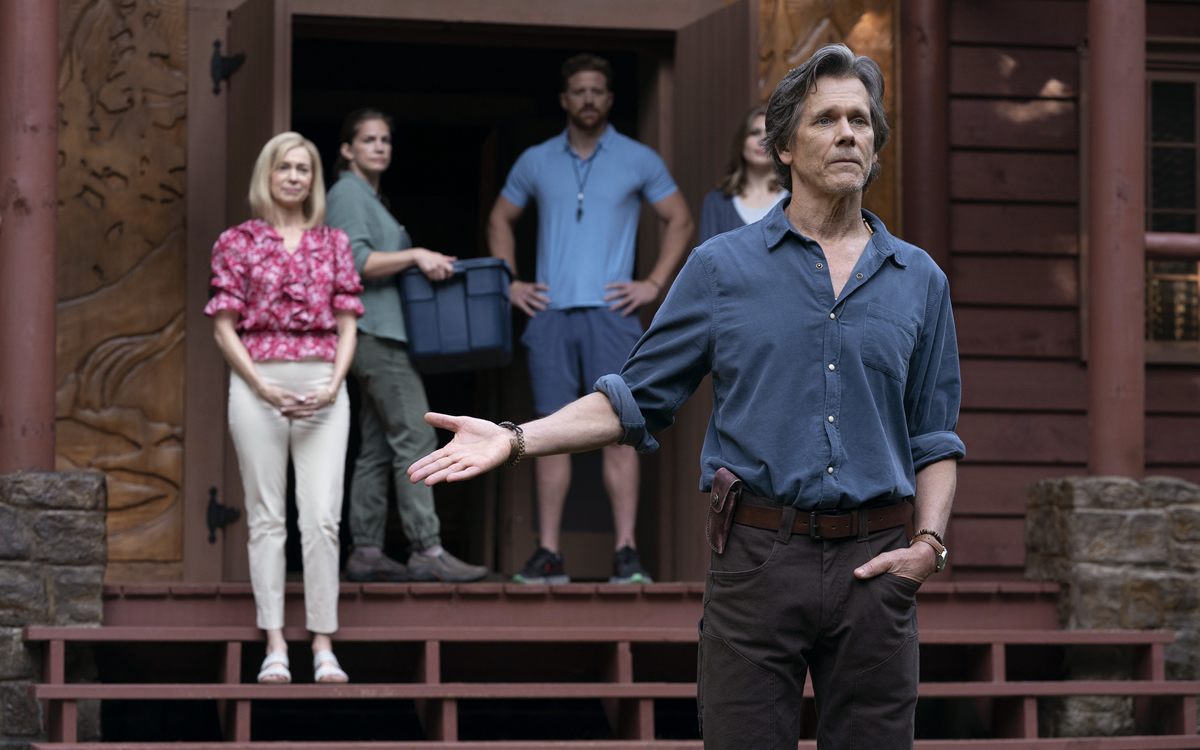 Even if you've never heard of John Logan, the odds are pretty good you've heard his words.
That's because the former playwright, now writer and director of the new horror film "They/Them" (premiering on Peacock Aug. 5), has been bringing his literate sensibilities to Hollywood screens for more than two decades now, earning three Oscar nominations during a career that has included screenplays for movies ranging from "Gladiator" to "Sweeney Todd" to "Star Trek: Nemesis," not to mention a pair of James Bond blockbusters ("Skyfall" and "Spectre"). He's also the man behind "Penny Dreadful," Showtime's Victorian horror "mashup" series that became a cult sensation during its all-too-brief three season run.
Now Logan has returned to the horror genre he loves to make his debut as a feature film director, and he's brought more than just a queer sensibility. He's brought a whole bloody queer story, as well.
Diving headlong into classic '80s slasher movie territory from its very first frames, "They/Them" brings together a collection of queer teens at a retreat deep in the woods – the Whistler Camp, run by third-generation proprietor and chief counselor Owen Whistler (Kevin Bacon) – where their parents have sent them in hopes of making them straight. Though the staff seems friendly and understanding enough at first, it's not long before the "therapy" starts to become more aggressive; to make matters worse, a sinister outside presence seems to be menacing the camp, and the campers, led by trans nonbinary rebel Jordan (Theo Germaine), are soon fighting for their lives as well as their identities.
Apart from the genius of putting conversion therapy into a horror movie where it belongs, Logan's movie scores high points all around for solid LGBTQ representation. Indeed, it's as much a rousing queer empowerment story as it is a horror tale, and though hardcore horror geeks might find its scares to be relatively tame, it reaches beyond shock value to turn the genre itself into a vehicle for cinematic queerness – something long overdue for the countless queer audiences who have always been drawn to horror.
The Blade talked with Logan about his vision for "They/Them" on the eve of the film's world premiere at LA's Outfest. Our conversation is below.
BLADE: Queer audiences have always loved horror movies, but horror movies haven't loved them back until recently. Is that part of the reason behind this one?
JOHN LOGAN: That was the entire reason behind this one. When I was a kid, it would have meant so much to me to see a gay hero in a horror film. It's a genre that SHOULD celebrate queerness, because horror is about the "other" – about the realization that people are not all the same. But queer characters in the '70s and '80s were mostly nonexistent, or they were jokes, or victims, or killers. They were never admirable people you'd aspire to be. And horror cinema has always had a very complicated relationship with gender and sexual identity, even back to the 1930s and the classic Universal cycle of horror films – except for "Frankenstein," made by a queer filmmaker, where the most sympathetic character is the monster.
When we engage with storytelling in cinema, we want to see ourselves represented in some way. I wanted to write the movie that I didn't get to see when I was 14 or 15 years old.
BLADE: You mentioned wanting to see a gay hero. One of the things that stands out about your movie is that none of these kids are "scream queens." They're all pretty heroic.
LOGAN: We wanted to take the tropes and subvert them completely. So, we have joyously celebrated things like, "There's the camp in the woods, and it's scary, and there's a masked killer, and the killer uses different weapons," and all the things I personally love about slasher movies – but it's all in service of the great subversion, which is that these kids are not victims. They are not running and hiding, they are fighting for their identities. They are heroes.
BLADE: Speaking of subversion, the setting isn't the only "camp" in the movie. There's a lot of humor in it, from a certain perspective.
LOGAN: [Laughs] I would like to think there's a "raised eyebrow" throughout. I mean, we have a singing and dancing musical number in it, we have some outrageous humor in it, as well. It's meant to be a sort of exuberant exploration of the queer lifestyle in all its forms, from the most extravagant to the most romantic to the most erotic – as extreme as we could possibly get it. But it's all played very straight, which is a testament to the actors, really.
BLADE: That's another thing that stands out. You have a terrific cast, and Theo Germaine is a charismatic lead.
LOGAN: Thank God Theo fell into my lap. The movie begins, essentially, with Jordan's face and it ends with Jordan's face, so I knew it was really going to be important to find the right actor. Theo is so extraordinary, they're so accessible to the audience. My heart breaks watching that character, because they're emotional, but they're empowered and strong – and that's all from Theo.
Also, I'm not trans, I'm not nonbinary, and I'm also 60 – so I had to ask Theo to help me understand this character – not just the language around them, but how this young, trans, nonbinary human being moves through the world. And not only Theo, but Quei Tann and all the other actors were very generous with their own experiences, which is what, for me, makes them seem very authentic on screen, because they are playing versions of themselves that they can believe in.
BLADE: That's the difference authentic representation can make.
LOGAN: Yes, and it also helped that the process of shooting really mirrored the story, in a way. None of the actors knew each other, and they were suddenly in Georgia, all slammed together in the middle of nowhere with no phone reception – and gradually, they built this tribe, this family, going through an experience much like the campers in the film go through. It was amazing to watch how they bonded and got together.
BLADE: One last thing – for the cinema buffs among our readers, it will be impossible not to notice shots and references that seem like nods to some of their favorite classics of the past. Are those on purpose?
LOGAN: All intentional. I may never direct another movie as long as I live, so I want to tip my hat to all the movies I love. There are shots that are a direct mirror of 'Psycho,' for example, or 'Blue Velvet,' or obscure slasher movies like 'The Burning' that nobody would know but me – and I worked really close with my DP, Lynne Moncrief, to find those moments. It felt important for us pay homage to the whole continuum of horror movies behind us, because we are building on all those as we try to step gingerly – or bravely – into a future where queer horror is finally the popular mainstream entertainment it deserves to be.
Porter makes directorial splash with 'Anything's Possible'
An exploration of two shy kids feeling their way through first love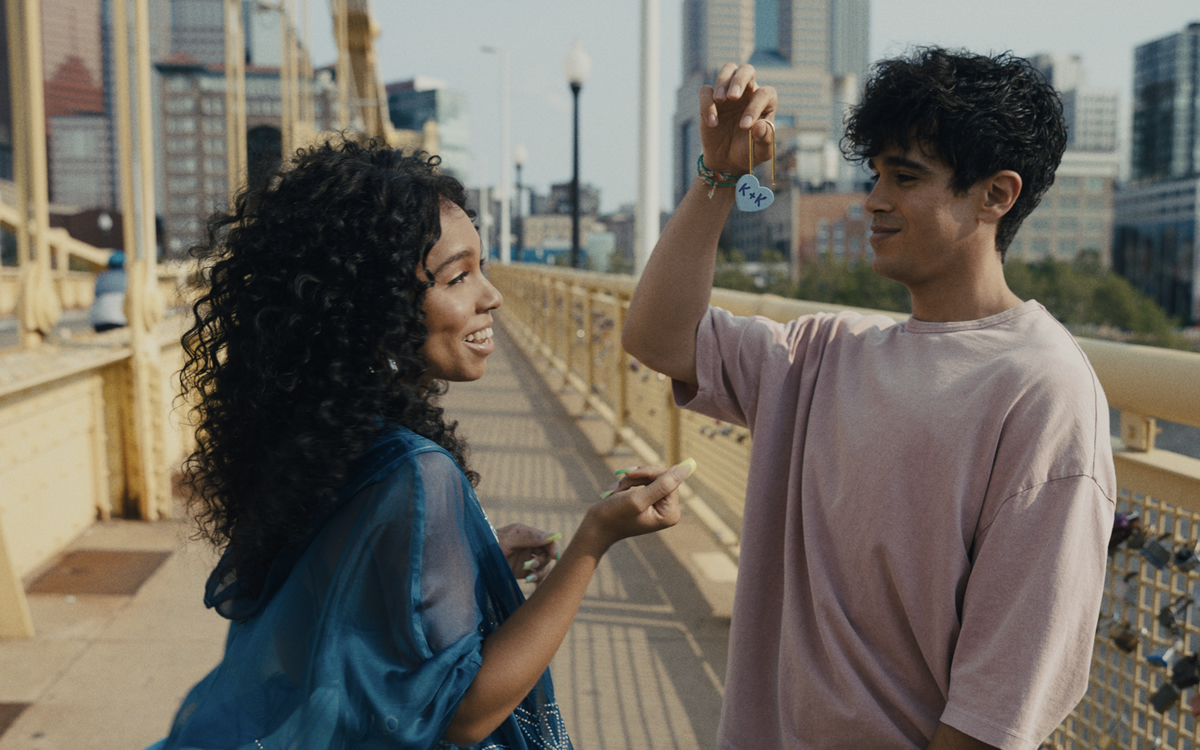 Hollywood has given us so many queer teen romances over the last few years that it's easy to forget a not-so-distant past when LGBTQ people had to grow up watching movies that only showed the pangs of first love through a heteronormative filter, and relate to the experience as best they could via the pretty straight kids enacting it on the screen. It was a take-what-you-can-get situation that left a lot of people feeling left out, isolated, and unseen.
That, among other things, is what makes "Anything's Possible," premiering globally July 22 on Prime Video, a benchmark in the still-evolving queer teen romance genre – because while many members of the LGBTQ community may now feel represented by movies like "Love, Simon" or "Booksmart," there's still a large gap when it comes to love stories about teens who are trans. Directed by Billy Porter, in his feature film debut behind the lens, this buzzy new movie goes a long way toward filling that gap; and for good measure, it raises the bar for the genre itself.
The script, written by trans screenwriter Ximena García Lecuona (another feature film first-timer), is a Gen Z tale of first love between two teens entering their senior year at a Pittsburgh high school: Kelsa (Eva Reign), a trans overachiever who plans to focus her confidence and determination on getting into a college as far away as possible, and Khal (Abubakr Ali), a sensitive "nice guy" with artistic leanings who has different ideas for his future than the high-intensity career track his Muslim parents have planned for him. Partnered for an art class assignment, these two seeming opposites have an instant spark, and despite obstacles in their social circles (this is high school after all), they eventually give in to their attraction. Almost immediately their newfound love is being put to the test, as they are forced to navigate the pitfalls of staying together through all the drama their "couplehood" has created in their lives – just like any other pair of teenagers in love.
Lecuona's script, inspired by a real-life Reddit thread involving a boy who asked advice on how to tell a trans girl that he liked her, is a cut above the usual amusing-but-forgettable teen rom-com for a lot of reasons; while it embraces and reinvents the familiar tropes of its genre, it doesn't hesitate to go deeper. Like the '80s John Hughes films to which it has already been compared, the movie allows space for a little goofy teen comedy while taking seriously the more complex and adult problems in its characters' lives, and its savvy teenage perspective allows it to both celebrate and lampoon the absurdities of modern culture with razor sharp accuracy. Most significantly, it highlights and transcends trans issues in a story asserting that gender, biological or otherwise, has nothing to do with being in love. Kelsa's trans identity may play a part in the blowback she and Khal experience from the crowd at school, but it's irrelevant when they are alone together – except when it comes to the delicately handled treatment of negotiating physical sexuality, a topic that few other films have managed with as much sensitivity.
All of this comes to life with pitch-perfect finesse under the guidance of Porter, whose bold and stylish directorial style and determination to "lift up" queer experience within the public imagination is evident in every choice he makes – from the unapologetic soapboxing he allows himself to the behavioral modeling he drives home without making it feel forced. He has the attitude and vision to mine the story's most essential points and bring them out, and the showmanship to keep us interested and entertained all the way. He embellishes the film with his personal touch – even to the point of showcasing the Pittsburgh locations with the obvious love of a hometown boy – and delivers a work that exhibits the same loud, proud, and loving dedication to shared humanity so abundantly clear in his performances on the stage and in front of the camera.
It would be unfair not to also credit the film's cast for making "Anything's Possible" shine. Reign and Ali have a natural ease and chemistry together, and the intelligence and understanding they bring to their characters is the glue that holds the movie together. Courtnee Cox and Kelly Lamor Wilson give likeable, memorable turns as Kelsa's two BFFs, and Renée Elise Goldberry brings Broadway star power to the role of her fiercely protective mother.
Likewise, the efforts of Porter and Justin Tranter as music producers for the film should not be discounted; the infectious, lush, and dreamy pop music soundscape in which they bathe the film goes a long way toward creating its appeal – and "Anything's Possible" has plenty of that, even for curmudgeonly adults.
There are moments, admittedly, when the movie's insistence on aspirational self-determinism threatens to overpower its delicate reverence for the freeing power of love. After all, Kelsa and Khal are exceptional teens, attractive, smart, and more self-aware than most of their peers; their families are supportive and emotionally available, and the school they attend would be a dream come true for most American students. In its efforts to uplift and inspire, the film's idealized vision sometimes feels like it might be as inaccessible to many teen viewers as those straight Hollywood love stories were to our queer elders.
Still, even in this seemingly idyllic setting, the cruelty and ugliness of high school life intrudes, and transphobia is just one of many ugly human traits that lurk beneath the surface – reminding us that such things are always there to hold us back. If we can't quite believe in the movie's too-good-to-be-true world, perhaps it's because we recognize just how much we still must conquer to achieve it. In any case, this movie is far too wise to merely promote an agenda, and it ultimately rises beyond its sociopolitical messaging with its recognition that our individual realities are governed by the personal, not the political.
The romance between Kelsa and Khal moves us not because one of them is trans, but because it exists beyond such restrictive constructs. In a world of labels, each of them longs to be seen as something more; they rankle at being defined by their surface traits and long to be appreciated for the more nuanced qualities underneath. Their tentative steps toward a relationship are the awkward explorations of two shy kids feeling their way through first love, not savvy negotiations in a culture war, and it's a testament to the authenticity that comes from letting queer people tell their own stories that what we take away from this one has more to do with the happiness that comes from living beyond boundaries than it does with the empowerment that comes from breaking them.
It's that state of mind that resonates throughout "Anything's Possible," because most of the young people in the movie – and, perhaps, watching it – already live in a world where many of the boundaries that limit our humanity have already become meaningless.
If they can stay there, maybe their future is brighter than we think.
In 'Neptune Frost,' the future is nonbinary
Praise for an 'Afrofuturist sci-fi punk musical'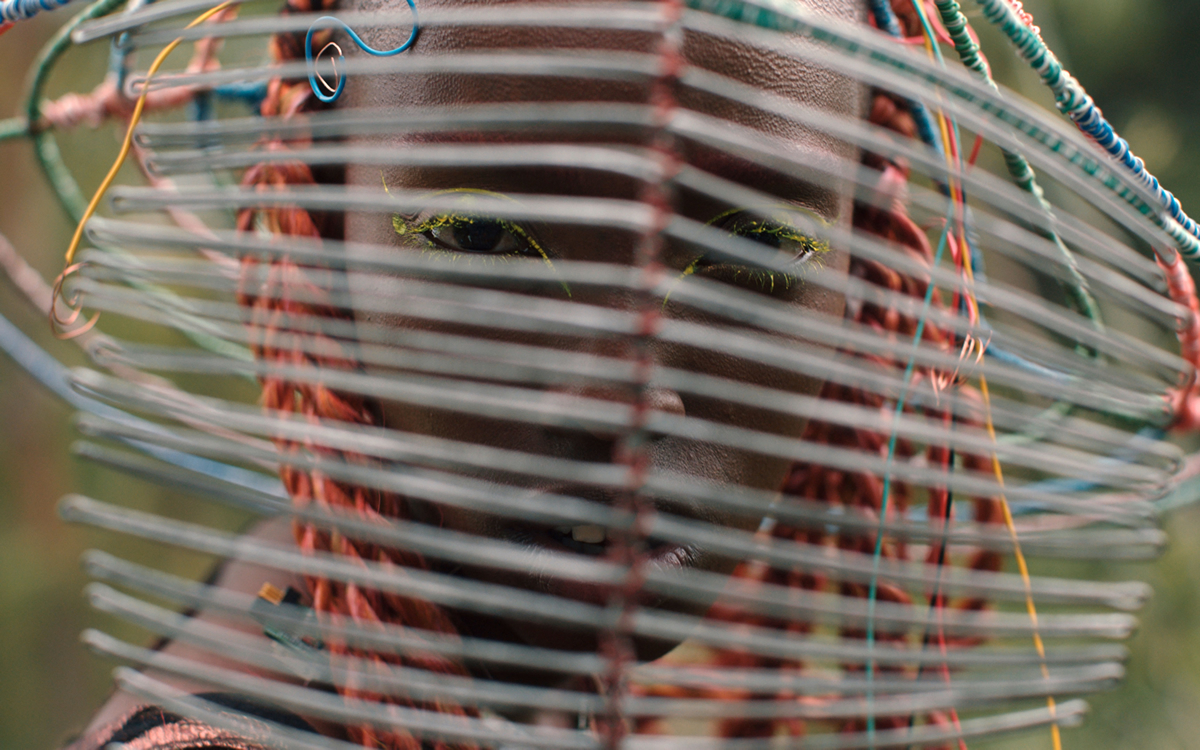 With all the big queer movies that came our way for this year's Pride month, it's inevitable that a few would be lost in the mix – an unfortunate fate, because it's often the under-the-radar titles that most deserve to stand out from the crowd.
Fortunately, it's never too late to discover (or to recommend) a hidden gem, and the upcoming digital release of "Neptune Frost," which premiered at last year's Cannes Festival and enjoyed a brief but critically acclaimed theatrical release in June, is a perfect opportunity to do both. Created by Saul Williams – an acclaimed American poet, screenwriter, musician, and actor – and co-directed by Williams and Rwandan-born artist and cinematographer Anisia Uzeyman, it's described in its publicity material as "an Afrofuturist sci-fi punk musical," but while that label may convey something close to the movie's general "flavor," it falls far short of capturing the multi-layered essence of the film itself.
Set in the African hilltops of Burundi, the film intertwines the separate flights of two refugees – Matalusa (Bertrand Ninteretse "Kaya Free"), who is fleeing a life of enforced labor as a coltan miner, and an intersex runaway named Neptune (Elvis Ngabo/Cheryl Isheja) – as they journey across the countryside; led by dreams and visions, their paths converge at a mysterious outpost in the wilderness, where a would-be hackers' collective dreams of disrupting "The Authority" by exposing its lies and corruption. The newcomers quickly fall in love, and their connection provides the fuel the group needs to enact its plan for elevating the world's consciousness – but even with the help of a mystical power grid and guidance from higher dimensions, will their efforts be enough to make a difference?
If the plotline seems vague, that's because "Neptune Frost" is not a movie that follows strict narrative rules. Instead, it uses its setting and characters to transcend those expectations and take us into a frame of mind more conducive to an unrestricted flow of ideas. Equal parts primal myth and dystopian techno-drama, it exists in a state of pluralities, where past and present, dream and reality, freedom and enslavement, and all of the other "binaries" whose interplays define (and limit) our existence can be revealed as spectrums in states of constant flux.
Key among the rigid constructs that the film challenges, of course, is the idea of gender. Neptune, the film's eponymous intersex narrator, whose escape from a repressive tribal village is just as much an escape from repressive strictures about gender and sexuality, is empowered by transcending those boundaries. Other characters, too, tend toward the nonbinary in presentation; in the enlightened collective, gender is just one of the many irrelevant differences exploited by the powerful to maintain control over society. Yet the ignorance that persists around such matters in our world cannot be disregarded, as we are reminded when repercussions from a gender trauma in Neptune's past become a threat to the security of the entire commune.
The gender binary, prominent as it is in Williams's screenplay, is not the only "illusion of duality" that "Neptune Frost" endeavors to shatter, something it effects by taking us on a wild ride in which thematic threads intertwine and conflate until they all blend together like a fun house mirror maze built of metaphors. Does that get a little confusing sometimes? Yes, it does, and gloriously so. It's precisely because it confounds our efforts to make linear sense of what we are seeing that the movie has the power to break our programming – and appropriately enough for a movie so heavily laden with the language, imagery, and conceptual building blocks of computers, programming is what it's all about.
Williams and Uzeyman don't just rely on short-circuiting our rational brains to get their points across, however; they draw generously from the ability of cinema – and theater, where both directors have spent considerable time honing their sensibilities – to guide us into the heightened "meta-reality" in which their story lives. Bathed in an exquisite color palette, laden with bold visual strokes and striking imagery, interwoven with symbolism as potent as it is delicate, their movie mesmerizes us; indeed, one could watch "Neptune Frost" with the sound turned off and still absorb the full gist of its messaging.
To do so, however, would be to miss out on one of its highlights: the music. It might be tempting to be skeptical about a science fiction musical, but the song score (composed by Williams) quickly dispels any concerns of gimmickry. There are no showy, glitzy Broadway-style earworms here; visceral yet erudite, observational yet fierce, the musical numbers bear more resemblance to the interjections of a classical Greek chorus, filtered through a rich musical legacy that stretches from traditional tribal chants and rhythms to soulful laments and fiery rap. They are fully realized set pieces, each crucial to telling the story, and they deliver some of the film's most potent imagery and ideas.
On that subject, its tempting to delve into comparisons with great films and filmmakers evoked by "Neptune Frost" — the near-psychedelic dream cinema of Alejandro Jodorowsky, for example, or the reggae-fueled rebellion of Perry Henzell's anti-heroic masterpiece "The Harder They Come." Such observations seem moot, however, in relation to a movie whose uniqueness is part of its very essence; after all, Williams – who conceived the story as a graphic novel, explored it through three musical albums, and finally brought it to life on film – always intended it to be unlike anything else you've ever seen, because the stakes in our world are too high to retread old ideas.
"Maya Angelou once said that anything an artist writes should be written with the urgency of what they would write if someone were holding a gun in their mouth," Williams writes in his director's notes for the film. "The state of this country and the world has my mouth propped open enough to swallow whole timelines. We need art that is unafraid to challenge the narrative structure of our programming. Computational propaganda circulates at the speed of colonial diseases through indigenous populations. Music is a time-machine."
That quote tells you everything you need to know going into "Neptune Frost." It helps to be reassured that the cast of unknowns (in America, at least) is stellar, each giving an impassioned and luminous performance, and that the film's whirlwind of heady sociopolitical deprogramming is balanced by moments of sheer, incandescent humanity – and it's undeniable that, without such elements, none of Williams's and Uzeyman's conceits would work. Ultimately, though, the purpose of "Neptune Frost" is not to make you comfortable, or to reassure you with hope for the future, or to reinforce your faith in whatever spiritual center to which you like to anchor yourself; and though it reverberates with a proud and defiant Black voice, crying out against centuries of colonization, subjugation, exploitation, and genocide, it's not even trying to raise awareness about Black issues, because the issues it thrusts into your consciousness go far deeper than race.
This movie is a call to action, no less urgent for being a musical, and it wants us to hack the world.
"Neptune Frost" releases on all major VOD platforms July 26.